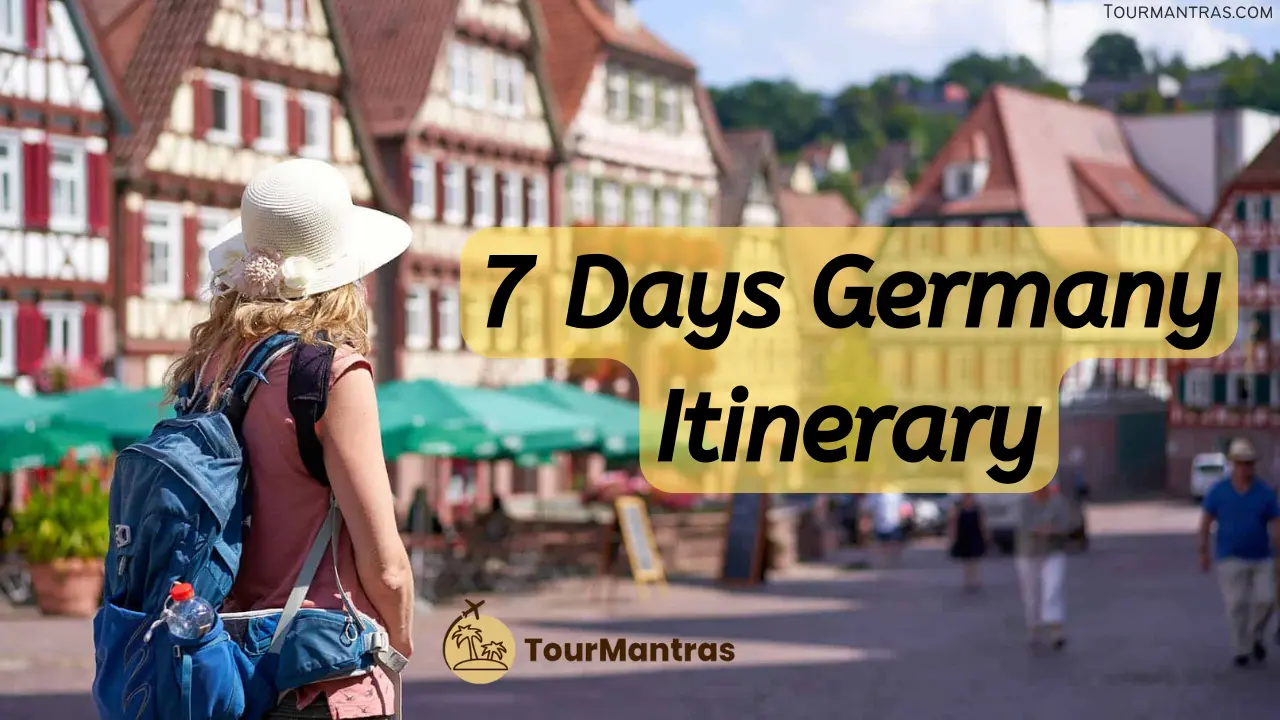 Germany, a land of beer and castles, is also home to amazing history, architecture, and art. If you are planning for a 7 Days Germany Itinerary via train, there's a variety of Inter-City and Inter-Regio options. Just check it. In today's topic, I will tell you about the places for a 7 days Germany Itinerary in 2023.
The German national rail pass allows you to travel via train unlimited times. However, you can visit neighbours in Italy, Austria, Belgium, and Poland with the help of this rail pass.
Even you can get an unlimited pass a weekend pass or a day region/state pass like the 'Bayern Ticket' that offers unlimited access to Subway, and you can get a flat discount over Regional Trains as well as Public Transport.
Moreover, you can get additional discounts on bus and boat tours. But, check this from the tourist office located near the train station.
Another option is the car. Hire a car for a week and independently enjoy your 7 days Germany Itinerary.
7 Days Germany Itinerary
Getting to Germany is very easy and affordable via well-developed, connected, and affordable airports. Check out the latest flight deals and tickets to begin Germany Itinerary. In today's post, I will try to cover the best of Germany Itinerary in one week.
Day 1: Munich
You should start your trip from Munich – the gorgeous capital of Bavaria. Munich is one of the most stunning cities in Bavaria not too disappointed. If you've arrived at Munich station, you can walk over to the city centre easily whereas it takes 30min. to reach Marienplatz station from the Munich Airport.
Munich Old Town
Head to the Old Town after arriving in Munich to start your trip in the majestic architecture offered by this country. A walking tour to the Old Town, exploring the medieval architecture, and the Neo-Gothic Bell Tower New Town Hall are some of the popular places to visit.
Also, check - 10 Day Germany Itinerary for Tourists
Englischer Garten
Englischer Garten, an 18th-century park, is one of the largest, most traditional, and delightful beer gardens especially located at the lakeside. This place is chirping with visitors during summer and you can relax after having lunch (eating and drinking).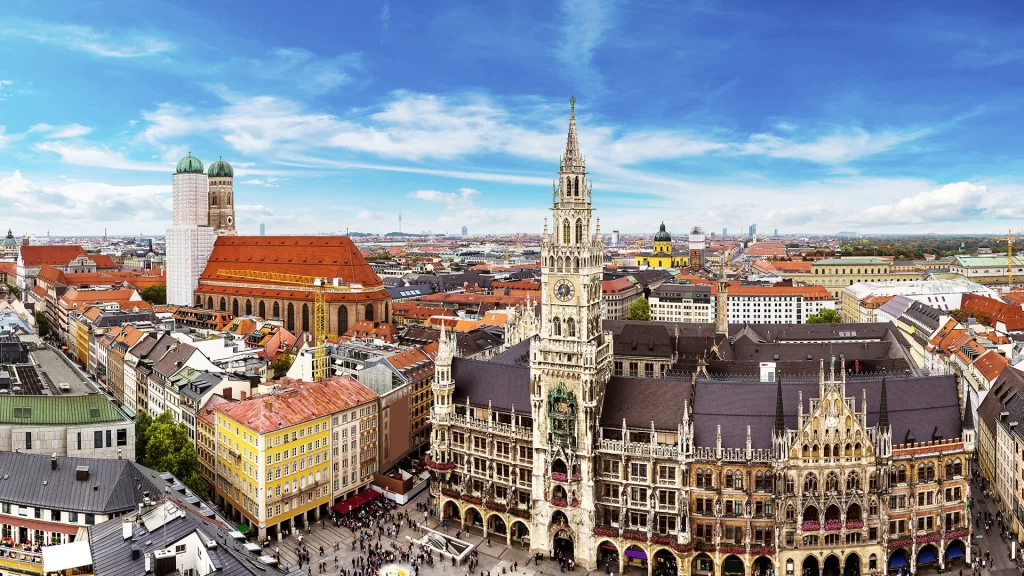 St. Peter's Church
Next is St. Peter's Church. It's the oldest church in the area. Various elements comprise mixed architectures including Asamkirche (Asam Church), a Baroque-styled church.
Munich Museums
There are so many museums in the town, you can visit to learn about history, sculpture, and art. Deutsches Museum is famous for science and technology, Glyptothek is the house of solely ancient sculptures and you will also find an Egyptian Art Museum.
Victuals Market
In the evening, you can visit the Victuals Market, a more than 200-years old market that has 100+ food stalls and a beer garden. Moreover, as a cheese lover, you don't have to look further.
Even though Munich has a huge 3-floor beer hall, Hofbrauhaus feels like the 16th century, where you will also get amazing food. But you have to wait as it always remains packed. So, you can end up your first day here.
Day 2: Neuschwanstein Castle, Munich
You can start the 2nd day of the Germany Itinerary by visiting the castles in Munich. You should travel 2 to 4 hours to visit two castles and enjoy the cafes out there. Later, head back to your hotel in Munich.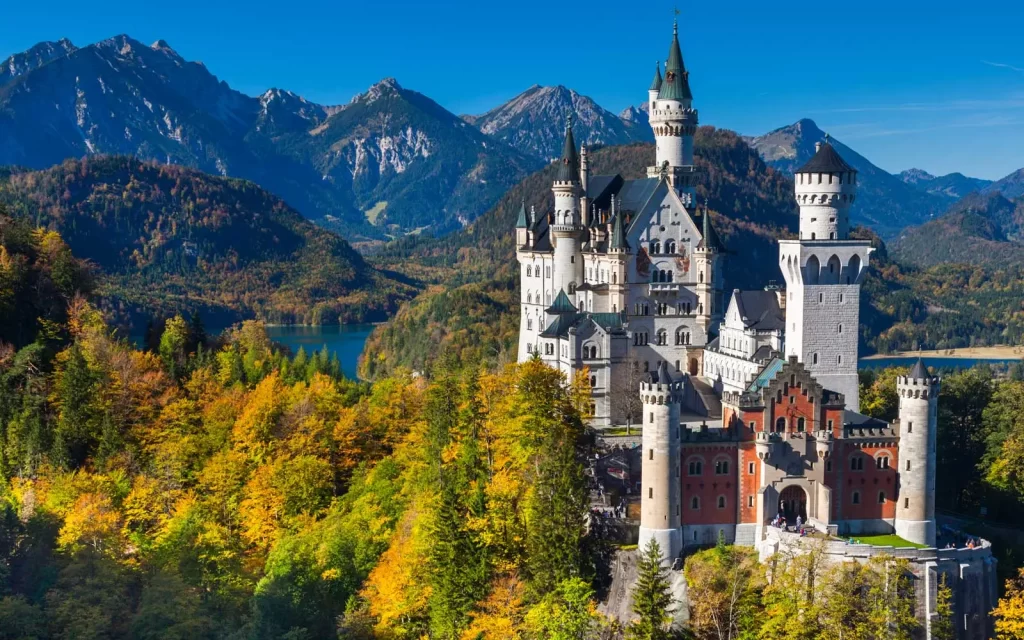 Neuschwanstein Castle
Neuschwanstein Castle is about 2 hours away from Munich. So, you can make a trip to Fussen to explore the 19th-century hilltop fairy tale castle of King Ludwig II of Bavaria.
Heidelberg Castle
Moreover, you can explore Heidelberg Castle which is about 3 to 4 hours away from Munich. However, the Schloss Heidelberg comprises the ruins of the 16th-century castle. It's perched atop a hill. You can take the mountain railway (Bergbahn) to reach here. It is known as the world's largest wine barrel.
Even you can spend your evening at one of the lovely cafes, just like the museums in the city. As a cafe lover, you will get a cosy retro one, an Instagrammable one, a terrace one, and a modern one. Now, head back to Munich and end the day by going to one of the pub crawls in Munich to experience the nightlife.
You May Like - 27 Best Tourist Places in Germany to Explore Now!
Day 3: Romantic Road, Rothenburg ob der Tauber
Walking through the romantic road would be a great start to day three. Let's move forward in this tour of the Germany Itinerary.
Romantische Strabe
Romantische Strabe, the Romantic Road is a route through forests and nearby towns of Wurzburg, Augsburg, Rothenburg, and others. It offers views of the mountains and ultimately ends in the Alps at the Neuschwanstein Castle. So, you need to do it to explore the castle.
This Romantic Road reaches you to the quaint town of Rothenburg from Munich in around 3 hours including timbered colourful houses and its cobbled streets. It's a one-day tour from Munich to cover all.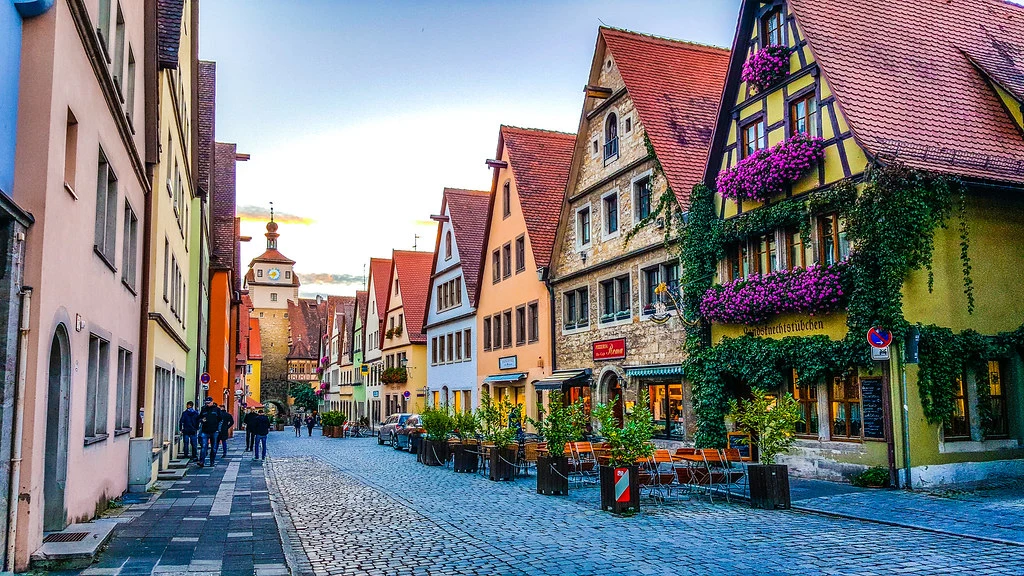 Rothenburg ob der Tauber
Rothenburg ob der Tauber means 'red fortress above the Tauber River' as once at a time this medieval town was well-known for its red-roofed houses. You can visit the Christmas Museum if you are a lover of all things Christmas or in a Christmassy mood. And, it remains open all year round.
On the other hand, there's a Criminal Museum where you can witness the torture devices and techniques used in medieval times. To get a wonderful aerial view of the town, you can go to the Roedertor Tower and even visit the imperial Rothenburg Castle. Here's a garden in the castle, you can spend a peaceful evening and relax.
Moreover, you can take a unique experience of the Rothenburg Night Watchman tour. Walking through the dark alleyways and dimly lit paths sounds exciting.
Day 4: The Black Forest and Lake Constance
The next stop is the Black Forest and Lake Constance in the tour of the Germany Itinerary. You will enjoy it here.
Black Forest
The Black Forest is one of the iconic forested and mountainous regions in Germany popularly known as the birthplace of the Grimm Brothers' tale of Hansel & Gretel. It takes a 3-hour drive to reach here from Rothenburg. However, it's the perfect destination for a family filled with adventure and relaxation options including Gothic-style hamlets and vineyards.
You should also give a look at - Germany Tour Guide: 13 Coolest Things to Do in Germany
Theme Park
If you are an adventure lover, you must visit Steinwasen Theme Park. It's also known as Europa Park which is the 2nd largest theme park in Europe with roller coasters and various themed rides. And, everyone whether you're a kid or adult, you will love it!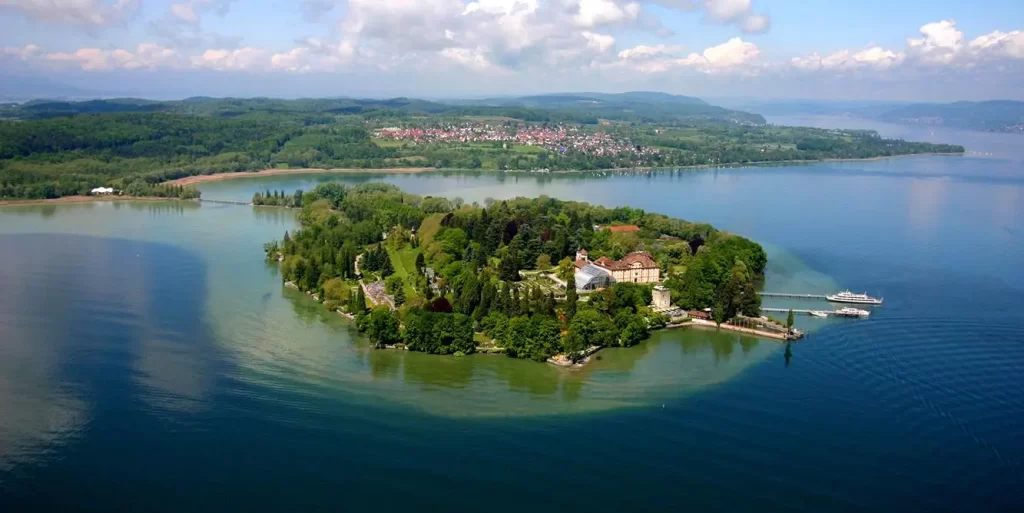 You May Also Like - Ecotourism in Germany – Top 14 Eco-Tourist Places
Triberg Waterfall
Germany's highest waterfall, Triberg Waterfall will lead you to several top viewing platforms from where you can enjoy the view.
Rhine Valley
You can also visit the Upper Middle Rhine Valley, well-known as Rhine Valley to explore the gorge. UNESCO remarked the Rhine Valley is a World Heritage site. Even it's the home to some of the best German vineyards.
Lake Constance
Let's move ahead to another UNESCO World Heritage site, Lake Constance also called Bodensee. It is 2 hours away and surrounded by four countries, giving a gorgeous view of the Alps.
Reichenau, a small island is another UNESCO-listed site that is ironically the largest on Lake Constance. It has a monastery, named similar to the island and chapels dating back to the 9th century. You can enjoy the stunning view of Lake Constance from the island.
You can take a leisurely boat or ferry ride on the lake, enjoy a thermal bath, and ride on the Zeppelin to see Lake Constance from above. Enjoy the view of the sunset by the lakeside. Then, dine at one of the nearby restaurants, and don't forget to taste the Lake Constance wine.
Day 5: Dresden
The next stop in 7 days Germany Itinerary, is the city of Dresden. It is situated on the banks of the Elbe River, and 6-7 hours away from the Black Forest. However, you can start day 5 by visiting the Baroque-style Dresden Frauenkirche church or Lady Church. It contains a small story on this iconic landmark of the town.
The original Romanesque-style 11th-century church was torn down and redesigned into a larger Baroque-styled one in the 18th century. But it was destroyed during World War II during the bombing of Dresden. And, the remainder was left as the decade of the war memorial.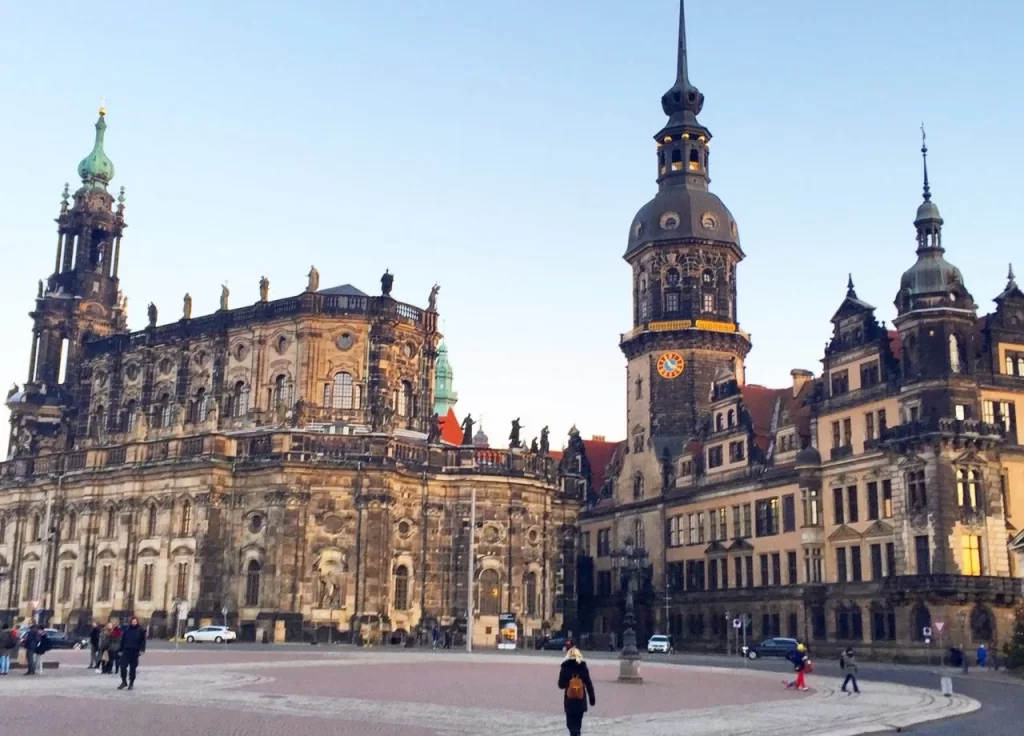 Later, the church was rebuilt and completed by 2005 after the reunification of Germany. It has an unconventional high bell-shaped dome which is recognised as a symbol of Dresden city's skyline.
Green Vault
The Green Vault (Grunes Gewolbe) is one of the most guarded chambers of Europe where you will find the royal treasury. Dresden also has numerous European-style cafes and bistros along with a vibrant and charming recreational area on the bank of the Elbe River.
In Germany Itinerary, our next stop is Hamburg.
Day 6: Hamburg
Catch a train from Dresden to Hamburg or drive for 5 hours to reach the port city for the day. Although Berlin is closer to Dresden, I've placed it for day 7 of the Germany Itinerary. As it's a convenient exit point from Germany. The Central Boulevard of Hamburg connects the Old Town to the New Town.
Chocoversum
As a chocolate lover, Chocoversum is the best place to step inside. You will get Willy Wonka's chocolate factory and you can learn how chocolates are made. Moreover, you get to taste a variety of chocolates. The best part is that you can also create your own custom chocolate bar.
Miniatur Wunderland
Then, move ahead to the star attraction of Hamburg, Miniatur Wunderland. It's the largest model railway and miniature airport museum in the world. You will be amazed to see the sync in which the whole setup works.
Hamburg Dom
Have you ever heard of a festival which is held thrice a year? Well, Hamburg has such a festival, called the Hamburg Dom. It is held in Summer, Winter, and Spring over a period of a month each time. Moreover, it's the longest festival in Germany.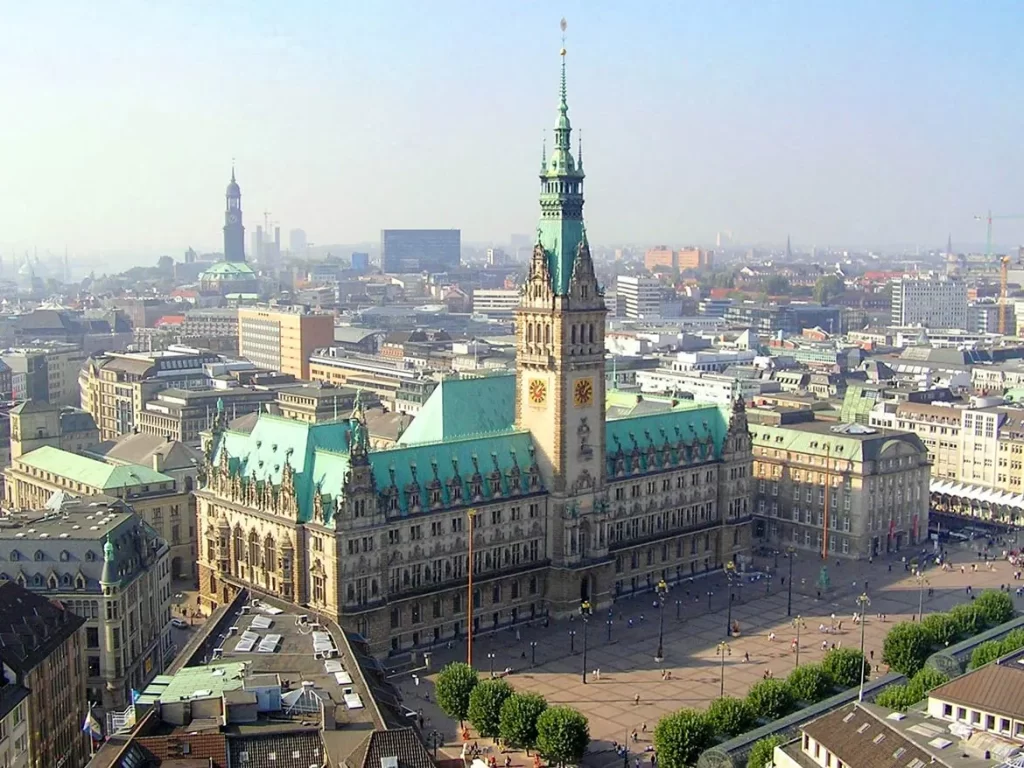 Lake Alster
Besides the River, Hamburg also has Lake Alster in the heart of the city. You will find swans over the waters gliding gracefully.
Reeperbahn
Finally, end your day by enjoying the nightlife on Reeperbahn. It's the entertainment district and red-light area of Hamburg. Therefore, go out and enjoy the lively streets.
You May Like - Culinary Tourism of Germany – 16 Places for Food Tour
Day 7: Berlin
There are hourly trains heading to Berlin from Hamburg that take about 90 minutes to reach your last stop on the 7 Days Germany Itinerary. There are so many places to see in Berlin that you should plan for a separate tour to Berlin.
Reichstag dome
You can start your day by experiencing the aerial view of the city from the Reichstag dome. It's the glass dome built above the most significant and iconic historical building of the German empire, the Reichstag. Located in the district of Berlin, it's also known as the Imperial Diet or the Parliament.
Brandenburg Gate
Next, come down on the roads for a walking tour of the Brandenburg Gate. It was a popular political gathering spot during the Cold War. Moreover, the Brandenburg Gate is the only surviving historic city gate that symbolises a reunified Germany.
Holocaust Memorial
Even you can go on a walking tour to the Holocaust Memorial. It's a painful reminder of lost lives, consisting of thousands of concrete slabs on grey pillars.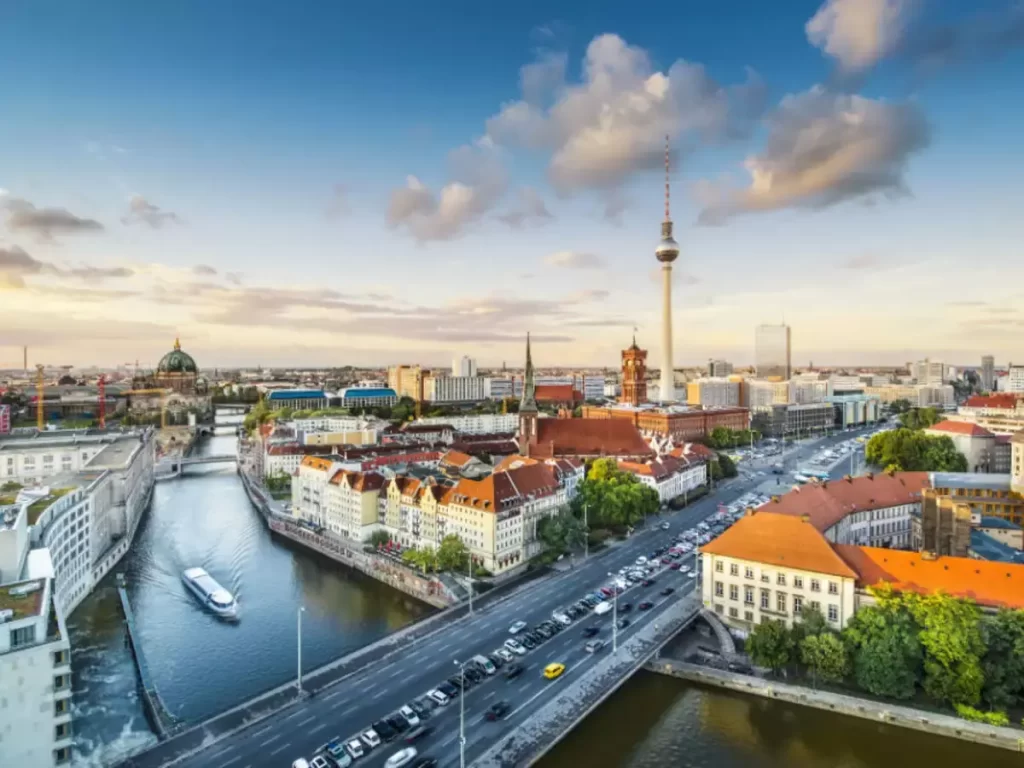 Berlin Wall
Berlin Wall is the largest open-air East-side gallery that lifts your spirits up a little through exploring the murals and artworks. It remains a heritage-protected landmark.
Museum Island
Museum Island houses five world-class museums and is a World Heritage site. Each museum has a different collection of architecture, arts, and more.
The Pergamom is home to ancient architecture, the Bode Museum has works of the Byzantine Empire, The Altes Museum hosts Greek and Roman art, and the Alte Nationalgalerie shows glimpses of the 19th century and the Neues Museum has archaeological artefacts.
Berlin TV Tower
From there, visit the Berlin TV Tower (Berliner Fernsehturm) for aerial views of the city. You can chill at the cocktail bar for the last sundowner in Germany and enjoy the skyline.
Tiergarten
You can spend the last night at Tiergarten in Germany. It is the largest garden and a famous landmark in Berlin for a leisurely late evening stroll.
Kreuzberg
You can also go to the hip neighbourhood of Kreuzberg to chill at a cafe. There are so many fast-food joints and restaurants where you can enjoy craft beer. Even these neighbourhood clubs are open till the wee hours of the morning.
Finally on 7 Days Germany Itinerary
A trip to Germany is obviously exciting, but 7 days Germany Itinerary is not a relaxing beach trip. Explore all the exciting cities, mountains, and historic old towns in one week. I hope you will be helpful with this article and let us know your experiences in Germany.
If you have not travelled yet, this 7 days Germany Itinerary will be tremendous and comment on how you felt after travelling to this lovely country. Check out the latest deals online here. Thanks for reading and stay tuned with us.!!
FAQs
1) Are 7 days enough for Germany Itinerary?
1 week of Germany Itinerary is enough to explore some beautiful regions and fascinating cities.
2) What should I avoid in Germany?
While visiting Germany you need to avoid Jaywalk, Nazi salute, Drive in the middle lane, etc. Read our previous article to explore more about the
things to avoid in Germany
.
3) Is food expensive in Germany?
Generally, the prices of the foods in Germany are considered to be quite low compared to the neighboring countries like Italy, France, Austria, Sweden, and Belgium.
4) Is Germany friendly to tourists?
Germans are known as friendly and welcoming people, having a non-existent sense of humor.
5) Is Germany Crowded?
Germany is one of the most densely populated nations in Europe.
You may also like: