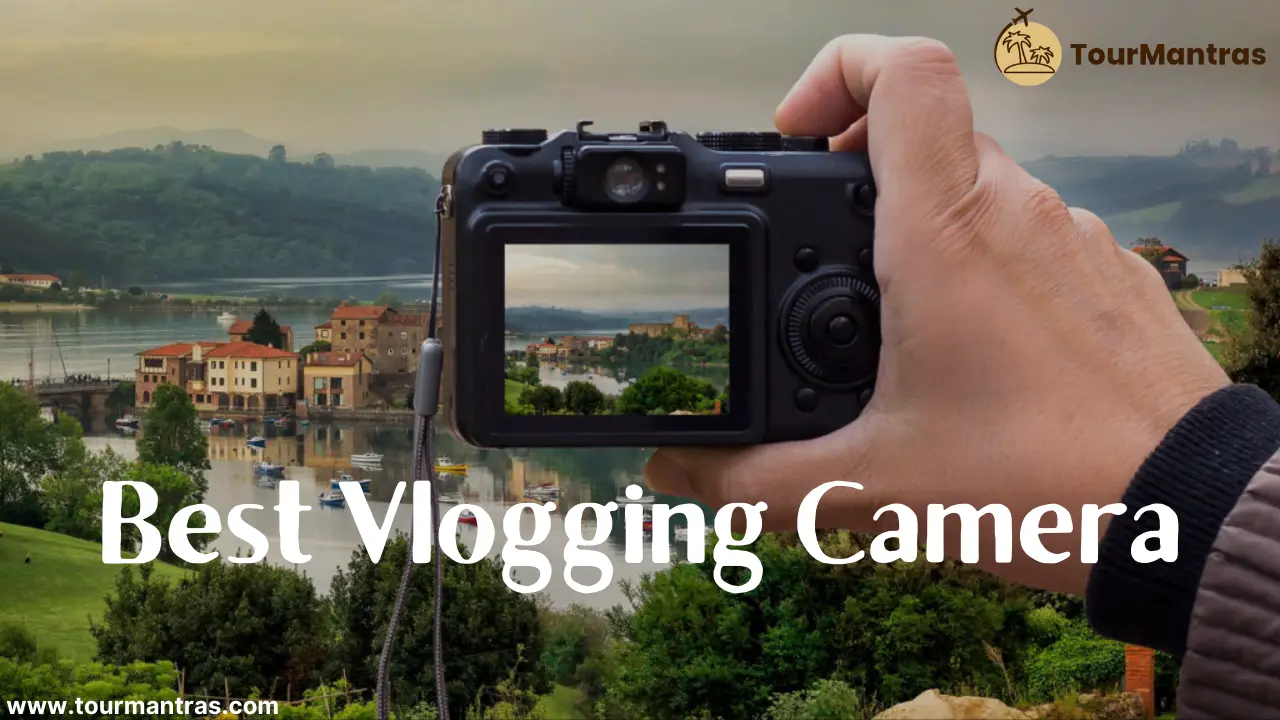 The best vlogging camera has certain features that make it perfect for new content creation. As solo content creators, vloggers can rely on things like a flip-out screen, decent stabilisation, and an input mic. Vlogging cameras can be compact action cameras or larger mirrorless systems for shooting great pictures.
We've gone through small research and prepared a list of the 5 best vlogging cameras that cover the different needs of the vlogger. So, stick till the end to learn about the 5 best vlogging cameras.
Also, Read 👇

Top 25 Cool Travel Gadgets – A Traveller Must Have in 2022
What should the best vlogging cameras include?
A vlogging camera is defined by the features the vloggers looking for and different types of vlogs need different features. So, here are the important specifications that should be available in the best vlogging camera.
Stabilisation
If you are planning to use your camera with a gimbal or on a tripod, stabilisation doesn't matter too much. However, stabilisation helps to take a smoother shot while shooting hand-held videos.
Tripod
While recording static shots any tripod will be fine. Whereas, a tripod with a fluid video head will help you to capture the incorporating movement.
Audio
Sometimes camera microphones can't record the best quality audio. They aren't directional and even pick up the sound of the wind. So, you should invest in an external microphone for high-quality audio recording.
External recorder
Most cameras offer a sudden limit of recording. Suppose, you are trying to shoot through a camera for more than 30 minutes. After a certain amount of size, it will stop recording automatically.
Here you need to use external recorders. Besides providing a bigger screen, they will also offer more storage for recording and allow you to capture high-quality video.
Follow Our Blogs Here 👇

Tourmantras Blogs about tourist places, tour tales, travel gadgets, travel activities, tour tips, and much more
The Best Vlogging Camera in 2022
After doing a little research on vlogging cameras, I have prepared a list of the 5 best vlogging cameras. I hope you will be helpful with this, so read till the end.
1) GoPro Hero10 Black
The latest GoPro Hero10 Black is a worthy upgrade over its previous model and changes on the inside. It comes with an improved processor which allows you to record 5.3K video at 60fps, 4K at 120fps, and 2K at 240fps.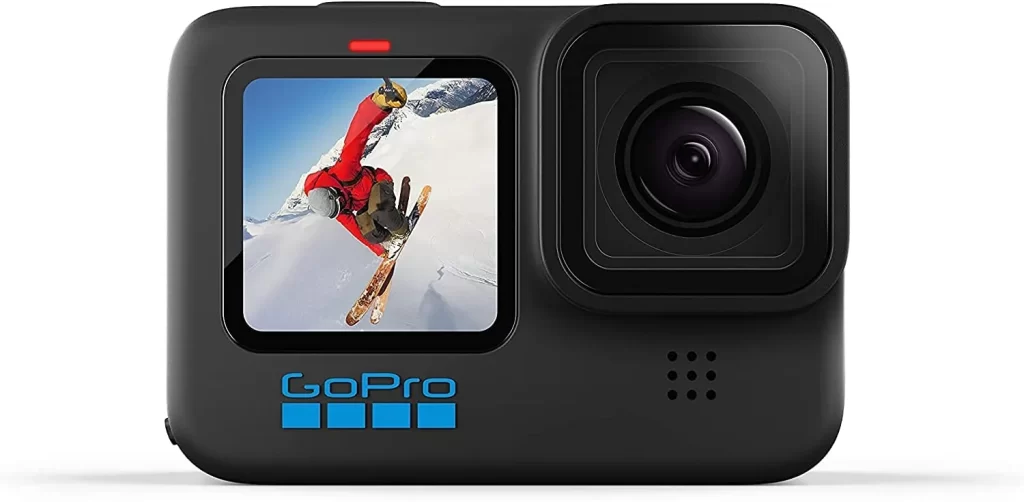 It has a larger 23MP image sensor with an upgraded image stabilisation feature. It even works while tilting by up to 45 degrees. The vloggers who spend a lot of their time shooting silky smooth footage in every situation will be a big deal for them.
Although the audio recording isn't so impressive, it has done a good job with a trio of microphones. Moreover, you can add GoPro's own Media Mod Accessory or an external mic easily. Overall, it's the best choice for action-minded YouTubers.
Why Choose GoPro Hero10 (Black)?
Pros
✅ Excellent image stabilisation
✅ Media "Mods" add functionality
✅ Front-facing screen
✅ Removable lens
✅ New 4K /120p mode
Cons
❌ Larger and heavier than earlier GoPro
❌ 5K video takes up a lot of memory
❌ Not a low-light king
Price
GoPro Hero10 Black is available on their official website at $349.98. However, you can get it on Amazon at 51,999 INR. (Subject to Change)
2) Sony ZV-1
Sony ZV-1 is designed, keeping the thoughts of vloggers in mind. It offers a long list of 'must-have' features, including the stabilisation, 4K video recording to a fully-articulated touchscreen LCD. The camera comes with an integrated 24-70mm f/1.8-2.8 lens that helps you to create a soft background by selecting a wide-open aperture.
Instead of fiddling with manual exposure, you can use one-touch defocus to achieve similar results easily and quickly. Eye-AF, soft skin, and excellent tracking help you to keep focus while filming. Even the Face Priority AE of ZV-1 adjusts the settings automatically to keep you exposed during lightning changes.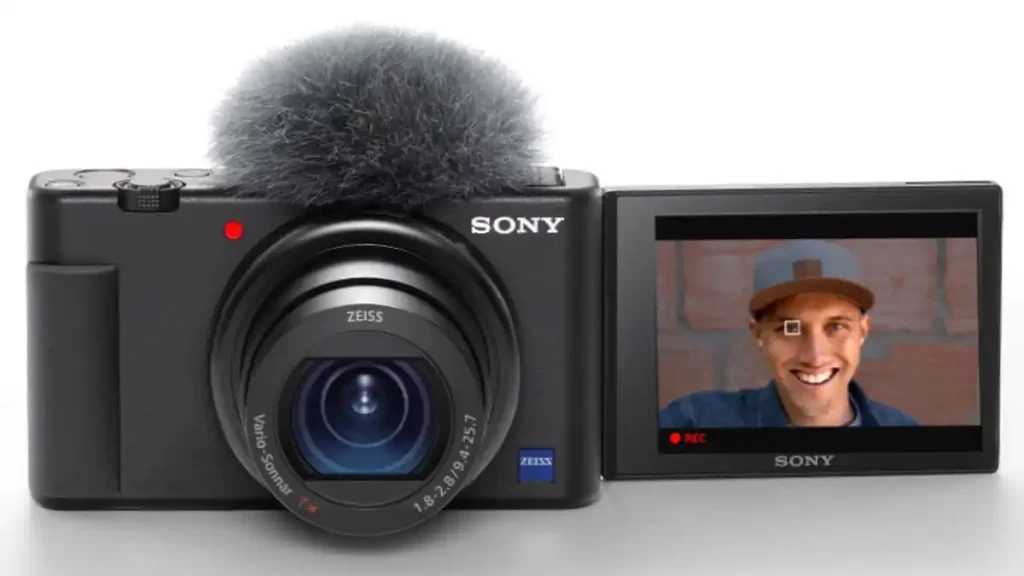 Moreover, it offers video-centric features like focus peaking and Zebra stripes, a front-facing recording indicator light, and a good quality in-built microphone. It has a windscreen and is equipped with a 3.5mm microphone jack for connecting an external mic and additional accessories too.
It comes with an additional Vlogger Kit having a shooting grip, wireless remote control, and a 64GB SD card. The grip can be used as a mini tripod as well as a gimbal for run-and-gun shots and provides a good grip while shooting. Even the camera is mounted on the grip till the Bluetooth Connection remains active.
Why Choose Sony ZV-1?
Pros
✅ Easy to use supplied mic windshield
✅ Compact, lightweight, and Super-fast AF
✅ Fast 24-70mm zoom lens with a vari-angle screen
Cons
❌ Exposure controls are not easily accessible in selfie mode
❌ Small-ish rear screen and not 16:9
❌ No EVF
Price
Sony ZV-1 is available on their official website for 67,999 INR. However, you can get it on Amazon at $720.75. (Subject to Change)
3) Fujifilm X-S10
Fujifilm is a great option with its five-axis in-body image stabilisation (IBIS), fully-articulated touchscreen display, and excellent video quality for vloggers. Depending upon the lens, the IBIS provides up to 6 stops of stabilisation that helps to keep the camera steady during shooting walk-and-talk clips.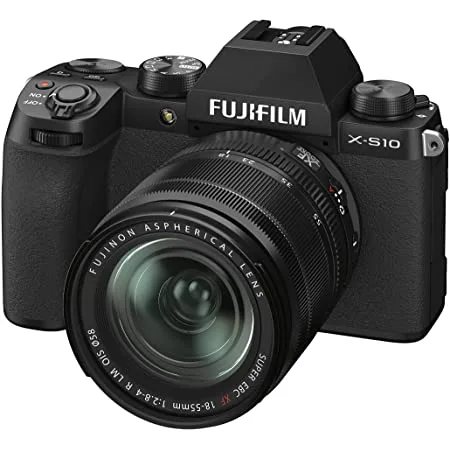 Fujifilm's notable film simulation modes offer you to affect the video quality and aesthetics from a variety of options. A 3.5mm jack allows you to connect an external microphone, and use the USB-C port with the supplied adapter to hook up a headphone. Even the same port can be used to charge the X-S10, so you can take a power bank to charge it while travelling.
You can record one 4K clip for up to 30 minutes, which is the longer capture rate in Fujifilm X-S10 for 4K. The deep grip of the camera helps you to shoot the B-roll one-handed easily. Although the Fujifilm X-S10 is expensive compared to the other cameras in this round-up, features like IBIS Image controls and video quality controls will be a plus point for more advanced bloggers.
Why Choose Fujifilm X-S10?
Pros
✅ Great sensor
✅ IBIS in a small body
✅ Creative film simulation modes
✅ USB power charging
✅ Vari-angle touchscreen
✅ In-body image stabilisation
Cons
❌ No weatherproofing
❌ Limited touchscreen controls
❌ Not the cheapest
Price
Fujifilm X-S10 is available on their official website for $999. However, you can get it on Amazon at 91,000 INR. (Subject to Change)
4) Canon EOS M50 Mark-II
Canon EOS M50 Mark-II is an affordable, compact, powerful, and easy-to-use vlogging camera. You can carry it while travelling and all manner of content creation features enhance the regular photography as well. Except for the hybrid mirrorless camera that performs an excellent job in shooting stills and video recording, the Canon EOS M50 Mark II remains almost the same as the original Canon EOS M50.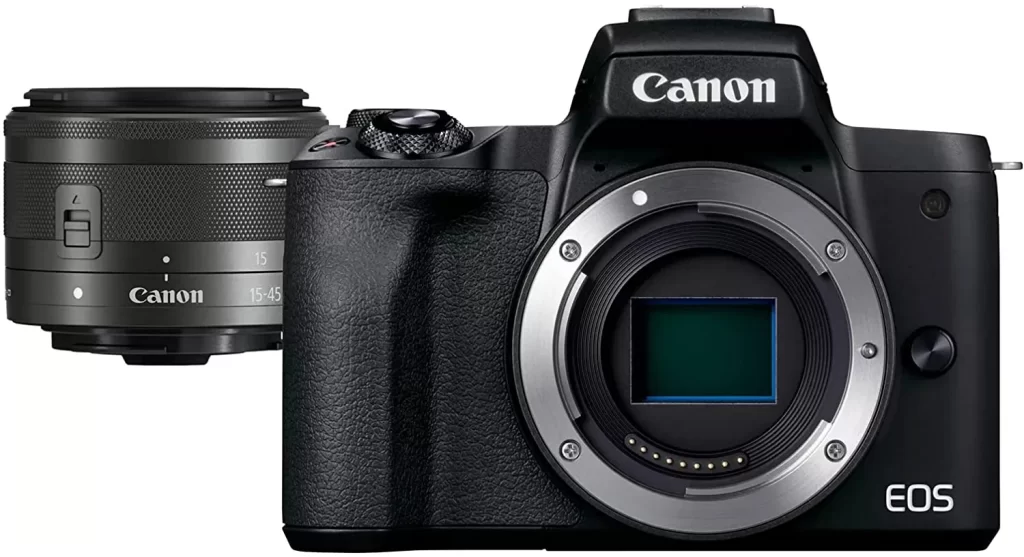 It carries several caveats while recording 4K videos. The Dual Pixel AF of Canon is replaced by Contrast Detect AF while not shooting in 1080p and 4K, as it results in a significant crop factor. Thus, Enchantrixto doesn't recommend an M50 Mark-II camera if you want to film a 4K video.
However, M50 Mark-II is a powerful, and easy-to-use body with great autofocus for vlogging, run-and-gun videography, and creating reels on Instagram and TikTok. Similar to the Canon EOS M6 Mark-II, the M50 Mark-II also offers powerful APS-C cameras to deliver superior results while shooting stills and videos, especially in 4K.
Why Choose Canon EOS M50 Mark-II?
Pros
✅ Fully articulating touchscreen
✅ Lightweight and portable
✅ Brilliant Dual Pixel AF in 1080p
✅ Vari-angle touchscreen
✅ Excellent Dual Pixel Autofocus
Cons
❌ No Dual Pixel AF (focus in 4K)
❌ 4K invokes significant crop
❌ Limited native lenses
Price
The Canon EOS M50 Mark II is available on their official website for 58,999 INR. However, you can get it on Amazon at 57,990 INR. (Subject to Change)
5) Panasonic Lumix S5
Panasonic Lumix S5 provides excellent performance in both shooting photos and recording videos for serious, enthusiastic photographers and videographers. A compact body, full-frame display, and the extensive higher-end S1H sibling qualifying factor for videos make Panasonic Lumix S5 a candidate for vloggers. But it costs so much that everyone can't afford it.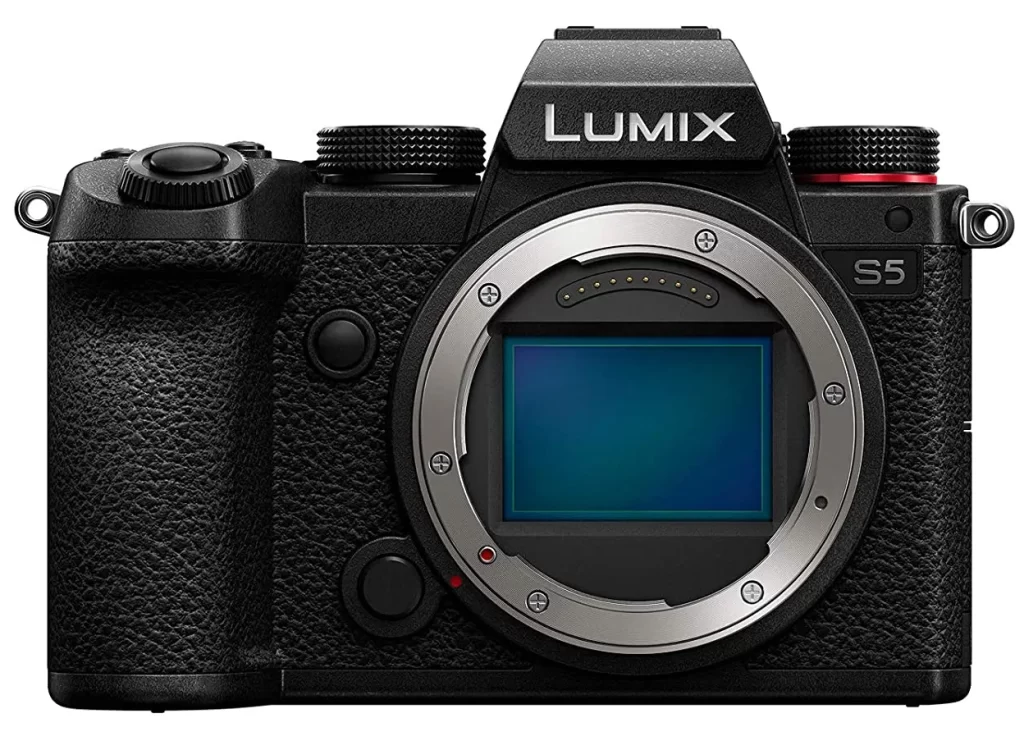 The S5 goes beyond the vlogging with such capabilities and features of a hybrid camera that hasn't been found in a sub-$2000 camera normally. However, S5 would be a good value for the money having features like waveform, time code, vector scope, and LUT for video lexicon and, five-axis image stabilisation that delivers 5 stops of OIS and bumps up to 6.5 stops with a stabilised L-mount lens.
It also offers a bright, fully articulating LCD, microphone and headphone jacks, dual card slots, and a USB power charging facility. Panasonic Lumix S5 has a dust-proof and splash-resistant body. It's not a vlogging camera for everyone, but this full-framer S5 is packed with a lot of offers for the right person.
Why Choose Pansonic Lumix S5?
Pros
✅ Near-pro-level features
✅ 5-axis image stabilisation
✅ Full-frame sensor
✅ Magnesium frame and a vari-angle screen
✅ Dual SD card slots
Cons
❌ Heavy and Expensive
❌ HDMI port is not full-size
❌ Only contrast AF
Price
Panasonic Lumix S5 is available on their official website for $1,797. However, you can get it on Amazon at 172,490 INR. (Subject to Change)
Wrapping Up
These all are the best vlogging cameras used by several vloggers nowadays. You might start your vlogging with some lower-budget camera, but as you grow, you need the best vlogging camera out there. I hope this list of the best vlogging cameras will help you to get the best one according to your budget.
Share this article to help others, and comment on your experience if you are already using any one of the listed vlogging cameras. If you have anything to ask, feel free to ask in the comment section. Stay tuned with us for more interesting and informative blogs. Thanks for reading.!
FAQs
1) What camera do most vloggers use?
According to a survey, most the vloggers uses Fujifilm X-S10, Sony ZV-1, Panasonic Lumix S5, GoPro Hero10 Black, and more in 2022.
2) Is a DSLR good for vlogging?
DSLRs might not be the best choice as a vlogging camera as they will be heavier side with large sensors and big interchangeable lenses.
3) Is GoPros good for vlogs?
You can use the GoPro Hero10 Black as a vlogging camera, but it's made for recording videos on the move, well-known as an action camera.
4) Can I use my phone for vlogging?
Yes, you can use your phone for vlogging, but for creating a high-quality vlog, you should use a professional camera, a tripod, lights, a microphone, and a cable or two.
You may also like: