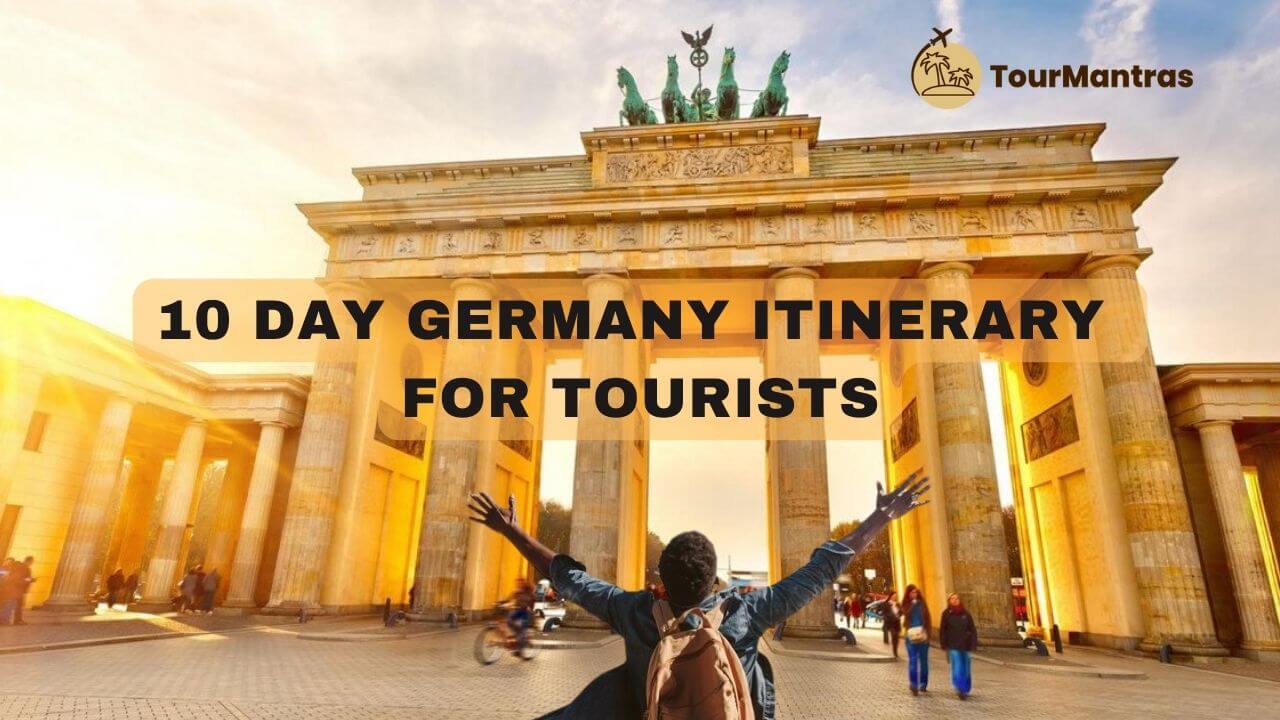 Whenever it comes to mind a tour in Europe, there is no other place better than Germany to spend the first trip. Germany is the biggest country population-wise and geographically one of the European region's biggest countries. So, planning a trip to Germany can be overwhelming, there is quite a lot to see and do.
There are so many hidden gems scattered throughout the country. However, if you only have about 2 weeks in Germany, you can get a very good glimpse of the country.
All of what you'd expect on a trip to Germany is here: sunny beer gardens, fairytale castles, mysterious forests, towns, modern cities, and medieval mountains. But it, unfortunately, isn't enough to see all the country's main tourist attractions. That's why figuring out what to do in Germany in 10 days is bound to bewilder and confusing.
I've created this 10 day Germany itinerary with the time-crunched independent traveller in mind. No, it won't cover Germany in depth. For a time-crunched trip plan, I had to leave some beautiful places out. And fill it with even more beautiful places. But it will provide an introduction to Germany that will leave you wowed and wanting to explore Germany further. Cause, in the end, this is what I consider the country's best in a nutshell.
Things to Keep in Mind Before Going To Germany
Before knowing about the complete 10 day Germany itinerary, here are some things to keep in mind for tourists while exploring the best tourist places in Germany!
1) Best time to go to Germany
Germany is a mostly year-round destination with each and every season bringing its own positives and negatives. Summer in Germany is generally hot, humid & winter days can be wet and blustery, and chilly.
Spring and autumn fall is somewhere between mild to warm temperatures. In my opinion, April to June and early September to October is the best time to visit Germany. These months also fall outside Germany's tourist high seasons. It means a better selection of accommodations and awesome flight deals.
2) Cost of Travelling in Germany
Prices for food, fuel, and accommodations in Germany are generally higher than in Southern Europe or Eastern Europe. Within Germany, Bremen or even Berlin is much cheaper than Southern Germany, Bavaria especially, and Hamburg.
I think if you travel using trains or rent a car and are on a budget, you should plan a minimum of 90-110€ a day per person. It includes accommodations, activities, food, and public transportation.
If you are planning for a shorter trip, check here - 7 Days Germany Itinerary [2022]
3) Travel Insurance for Germany
Travelling without Travel Insurance is the dumbest thing ever. In Germany, it's most important as travel insurance is required for the Schengen Visa. German regulations require visitors must have at least €30,000 in medical coverage for all 26 Schengen states to receive the Schengen Visa.
Even without any emergency or hospitalization case, the possibility of trip cancellation lost or damaged baggage, and theft you'll see why getting travel insurance for Germany makes a ton of sense.
Travel insurance is available to people from 140 countries. It's designed for adventurous travellers with cover for overseas medical, baggage, evacuation, and a range of activities.
4) Communicate in Germany
The official language is German with many different dialects. Everyone understands high German even though not everyone speaks it perfectly.
But not to worry, Basic English is spoken in all the tourist areas. And younger people often speak it quite well.
5) Getting Connected in Germany
Not like Europe, it's quite easy to find an Internet connection in Germany these days. Throughout major German cities, you'll find free public WiFi hotspots all over the place from hotels and cafés to restaurants and fast food joints. But the problem with public WiFi is that it's not always super reliable or fast, you'll often get stuck tethered to a certain location to keep your signal strong and avoid dropped connections.
So, it is better to be safe and use a reliable VPN connection. NordVPN is best for travellers. NordVPN gives you plenty of options to keep your connection safe and quick, with over 4,400 servers in 62 countries.
Safety for Visitors in Germany
Keep your belongings and wallet close to you. Avoid tricks (dancing on the street or photography), that can be a way to steal your things.
Be careful at train and underground stations, especially in the evening and night.
Don't leave valuables on display.
Keep your eyes open and exercise common sense.
You may check the list of 11 things to avoid doing in Germany!
6) Food in German cities
German people mostly eat meat, especially pork. But for vegetarians, there are universities in cities like – Berlin, Bremen, Hamburg, and Munich, you can find vegan options.
10 Day Germany Itinerary: Places to Visit in Germany in 10 Days
When planning a trip to Germany for only 10 days, I'd always recommend ratcheting your travel plans down to a smaller geographic area.
Sure, Germany isn't massive, but it isn't small either.
Berlin (3 days)
Spending 10 days is incomplete without visiting Germany's bustling, hip, and trendy capital Berlin. Berlin is not necessarily a beauty and it does always make a good first impression but there's something intangible about Berlin; it always leaves a lasting impression either good or bad. I have shared the list of 23 Best Places to See in Berlin. Some of those places are mentioned below which you must visit during your 10 day Germany itinerary.
Places to Visit in Berlin
Unter de Linden: Berlin Mitte's most famous boulevard, there's no better place to start exploring Berlin. Many of Berlin's attractions lie on and around Unter de Linden. Like- Museuminsel, Deutsches Historisches Museum, Altes Museum, Neues Museum, DDR Museum etc.
East Side Gallery: It is an open-air art gallery gracing sections of the former Berlin Wall. The over one hundred murals at the East Side Gallery stand as a reminder of the reunification of Germany following the fall of communism in Europe.
River Spree: Floating down Berlin's waterways by moonlight is the best relaxing way to end your day.
Checkpoint Charlie: Checkpoint Charlie was the setting for many thrillers and spy novels, from James Bond in Octopussy to The Spy Who Came In From The Cold. During the Cold War, it was the best-known Berlin Wall crossing point between East Berlin and West Berlin.
Holocaust Memorial: The Holocaust memorial stands as an everlasting symbol of German national identity. Not to forget, that the Holocaust is now a permanent memory of Germany's history and landscape.
Kurfürstendamm: Berlin's most famous and popular shopping boulevard is Kurfürstendamm. It is the heart of the western city centre. You'll be sure to enjoy a successful shopping trip there.
Potsdam: The former Prussian royal capital percolates with grace, springing palaces, and gardens upon you as you tread through the city.
Accommodations in Berlin: If you want a suggestion, I suggest staying in or around Berlin Mitte. You can check out – Art'otel Berlin Kudamm, Arte Luise Kunsthotel, NH Collection Berlin Mitte am Checkpoint Charlie.
Hamburg (2 days)
Hamburg, the largest city in Germany after Berlin. Though Hamburg is totally opposite of Berlin, it has a posh, beautiful, and more conservative touch. The Port of Hamburg is the city that is best known for its famous harbour area. Its location makes it an important link between the sea. Germany's network of inland waterways and numerous islands are bonded with Hamburg.
But not forget that Hamburg has one of the world's most famous red-light districts, a popular party hotspot.
Places to Visit in Hamburg
Miniatur Wunderland: Hamburg's Miniatur Wunderland is really much more than simply a toy train layout. If you wanna visit the city's historic Speicherstadt warehouse district, then this is definitely one of the best places to visit. As you know, this is one of the most visited attractions in Germany. You can only avoid a long wait by reserving your ticket online.
The Hamburger Rathaus (City Hall) and Mönckebergstraße: In the centre of Hamburg's Rathausmarkt stands the majestic City Hall or Rathaus. Notable features include the spectacular painted ceiling in the Kaisersaal, which depicts the importance of German merchant shipping. From the Rathaus, the wide Mönckebergstraße, Hamburg's principal shopping, and business district leads past 14th-century St. Peter's Church, a cathedral and fine example of brick Hansa architecture notable for its 133-metre bell tower.
The Alster Lakes: It's here you'll find Hamburg's most picturesque city squares and historic avenues, as well as its famous pedestrian areas, the passages. The lakes are also popular for sailing and kayaking in summer and skating in winter and are lined by many beautiful parks and gardens. The area is also popular among cyclists.
Ohlsdorf Cemetery: Ohlsdorf Cemetery (Ohlsdorfer Friedhof) is the world's largest rural cemetery and it's one of the most important. The cemetery is also where you'll find the Hamburg Commonwealth War Graves Commission Cemetery, where more than 400 Allied prisoners of war are buried, along with many who died in battles on German soil.
Accommodation in Hamburg: If you are looking for a nice place to stay, check out Central Hotel Bel étage, Urlaub Hamburg Altes Land, The Fontenay, etc.
Dresden (2 days)
Dresden might just be the most grandiose, among all the resurrected cities in post-war Germany. The palaces and churches of Dresden Altstadt are larger-than-life restored. Too much overwhelming sight to behold as the evening sun reflects off the Elbe River.
Places to visit in Dresden
Altstadt: Most of the postcard-gracing architecture in Dresden lies within Altstadt. On your journey through Dresden Altstadt, keep on the lookout for the 19th-century Fürstenzug on Augustusstraße, the world's longest porcelain tile mural depicting a procession of Saxon rulers. Frauenkirche imposes itself on any visitors who lay beneath in its shadows, just like Soaring over the expansive Neumarkt square.
Dresden Neustadt: Unlike the now unbattered Altstadt, Neustadt is Dresden's untamed wild. You know what makes it ever so fun to explore, cause it's a little rougher around the edges with an artsy and creative vibrance.
The Zwinger: There's no doubt the Zwinger is Dresden's finest architectural moment—and that's clearly saying a lot. Built-in Roccoco (Late Baroque) style, the Zwinger long ago shed its use as an orangery and festival grounds to become the most popular museum complex in Dresden.
Munich (3 days)
Munich is Germany's second-biggest city is about the simpler pleasures. Walking around Munich's heart is like fiction. It'll fuel up at leafy beer gardens and brewpubs, peeking into regal palaces and galleries and scaling up Gothic church towers, which is the German urban travel experience you've been waiting for. And here it is, everyone's favourite festival on the Theresienwiese, Oktoberfest.
Places to visit in Munich
Altstadt Munich: A block southeast of Marienplatz, climb the tower of Peterskirche for an incredible panoramic view of Old Town Munich. Other places to seek out in central Munich include Munich's most famous church with its twin domed towers, which is called Frauenkirche; a two-hundred-year-old market, named Viktualienmarkt; and, of course, the world-famous Hofbräuhaus München.
Mad King Ludwig's Bavarian castles: Nothing in Germany will leave you more in awe than King Ludwig II's fairytale Bavarian castles. If you want the full Mad King Ludwig II experience, start off driving from Munich towards Füssen. Hohenschwangau Castle is the first castle you'll encounter off the main road to Füssen, where King Ludwig II spent his childhood.
Munich's famous beer gardens: Munich's best beer gardens and brewpubs aren't always the most convenient for tourists. No matter where you choose to stay in Munich, you won't be far from enjoying a great Münchner beer cause they're spread all around the city.
Finally on 10 Day Germany Itinerary
A trip to Germany is obviously exciting, but it's not a relaxing beach trip. This country is famous for its exciting cities, mountains, and historic old towns – and you have all that in 10 days. Explore as much as you can!
Let us know your experiences in Germany and how you felt after travelling to this lovely country. If you have not traveled yet, we hope this 10 day Germany Itinerary will be of tremendous use. Stay tuned to our blogs!
you may also like: