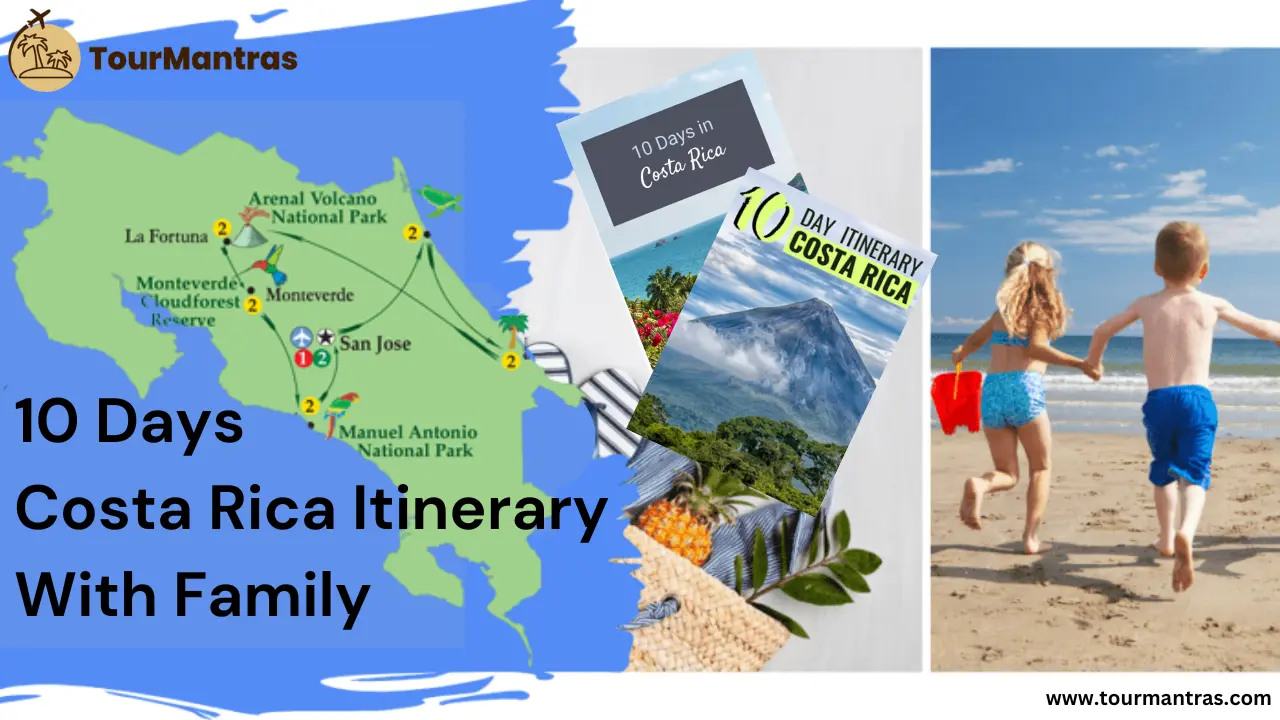 Are you planning for 10 days Costa Rica Itinerary with your family? If yes, this article is for you. Costa Rica is an excellent vacation destination for families. A 10-day Costa Rica itinerary with kids can include everything from rainforests to hot springs to beaches.
This 10-day Costa Rica itinerary is ideal for families who want to see everything the country has to offer. So, gather your belongings and prepare for an adventure! Here's the complete guide of 10 days Costa Rica Itinerary with family.
Things to Consider While Planning Costa Rica Itinerary
There are a few things you should think about before embarking on your Costa Rica 10-day trip.
Budget – Costa Rica is not budget-friendly
Carry essential supplies for 10 days Costa Rica Itinerary
Consider places for getting around and transportation options in 10 days Costa Rica Itinerary.
Internet connectivity is very poor.
Plan a daily activity in Costa Rica itinerary with your family.
If you are interested to plan a trip for the North or South America, check here:
Free Travel Countries: Top 5 Countries Where You Get Paid For Travelling
Top 5 Must Visit Places for Travel Destination Without Wearing Mask
10 Days Costa Rica Itinerary with Family
With so much to see and do in Costa Rica, a minimum of 10 days will allow you to complete the major activities without rushing or running out of time.
Costa Rica Itinerary Day 1: Arrive in San Jose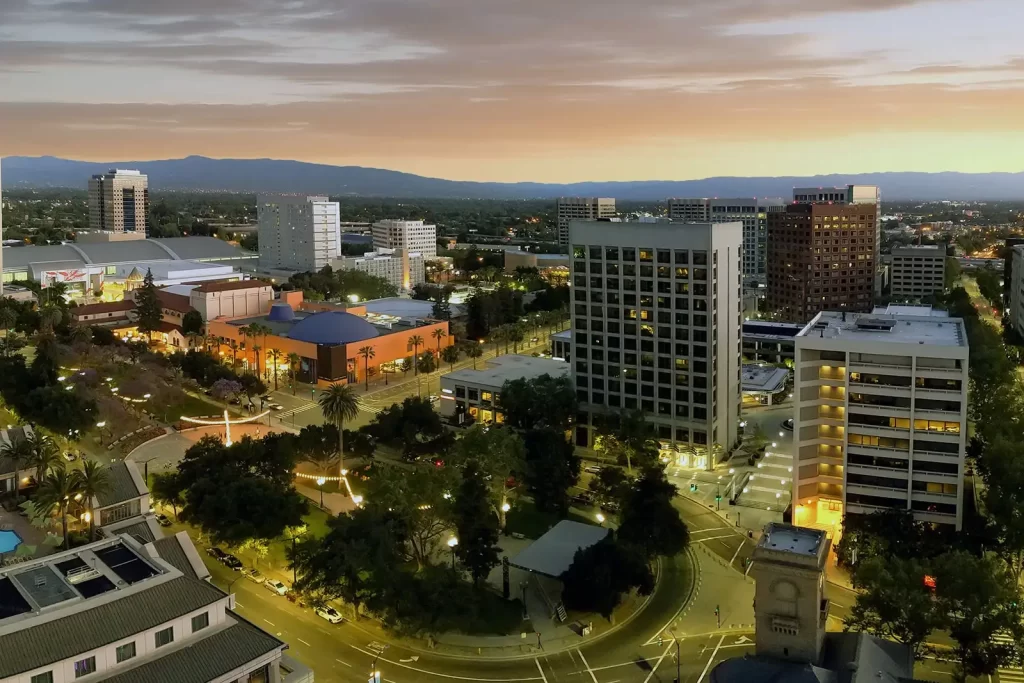 Start your trip to Costa Rica at the airport in San Jose, where you'll pick up your rental car or be taken to your lodging. You might have time to visit the National Museum of Costa Rica, the Jade Museum, or Mercado Central before your flight lands, depending on how early it is.
Looking to sample a dish from Costa Rica? Order "Casado," which is a dish of rice, beans, salad, and protein that can be found at almost any stall or restaurant (usually chicken, fish or beef). There are also three types of hotels – budget-friendly, mid-range, and luxury available to stay.
Costa Rica Itinerary Day 2: Explore Orosi Valley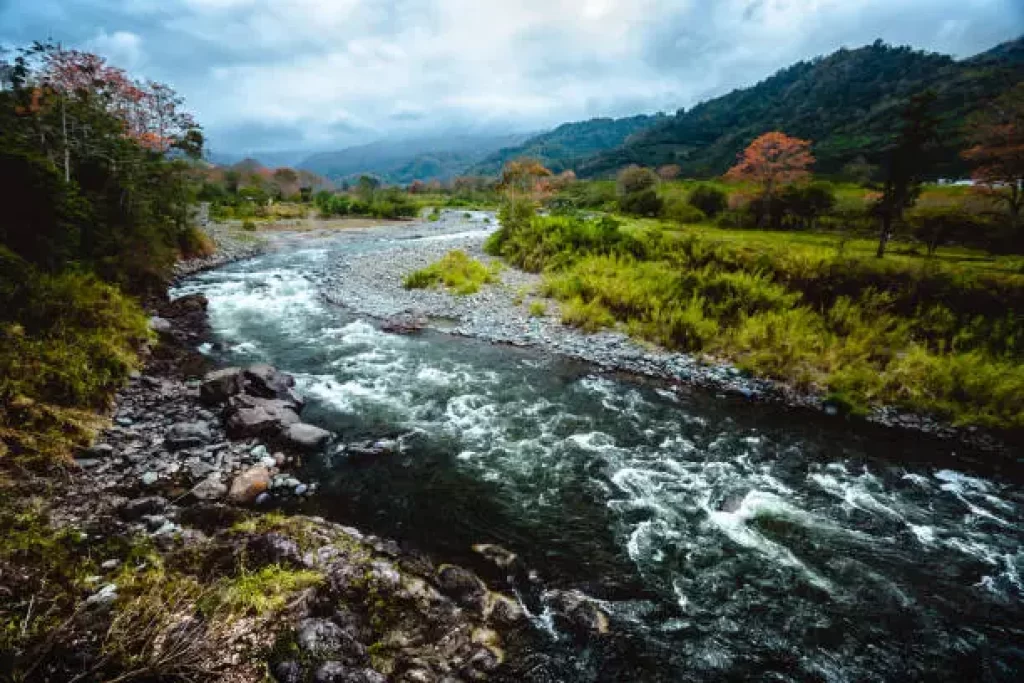 The peaceful Orosi Valley is located only 50 kilometres from San Jose's bustle. With rolling hills and luxuriant vegetation all around, Orosi is positioned along the Reventazón River. Having numerous benches, picnic tables, and water fountains, Mirador de Orosi is a free park.
Getting around on horseback is one of the best options. Visiting Hacienda Orosi hot springs is another unforgettable experience you can have in Orosi Valley.
Costa Rica Itinerary Day 3: Drive to La Fortuna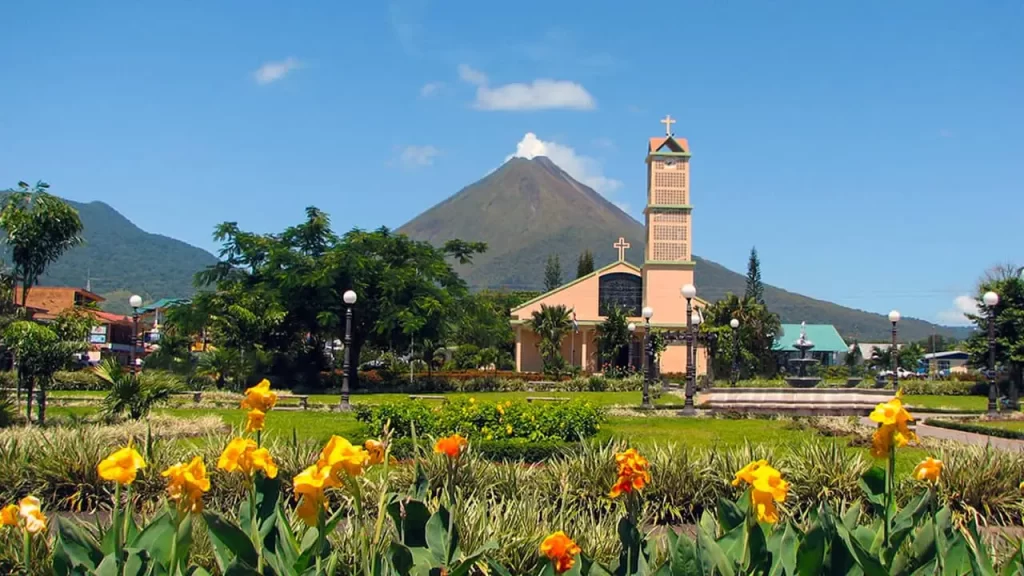 Stop at Volcan Poaz on the way to La Fortuna; you must register for a time slot before visiting; tours last about 45 minutes. Then visit the La Paz Waterfalls and the various animals in the sanctuary (jaguars, monkeys, toucans, frogs, and snakes). Continue driving to La Fortuna.
Take advantage of the numerous activities available in La Fortuna, such as ziplining or walking along the hanging bridges.
There are several tours to choose from, including Arenal Hanging Bridges and Mistico Hanging Bridges Park. Relax and soak in the hot springs in the afternoon.
Costa Rica Itinerary Day 4: Visit Arenal National Park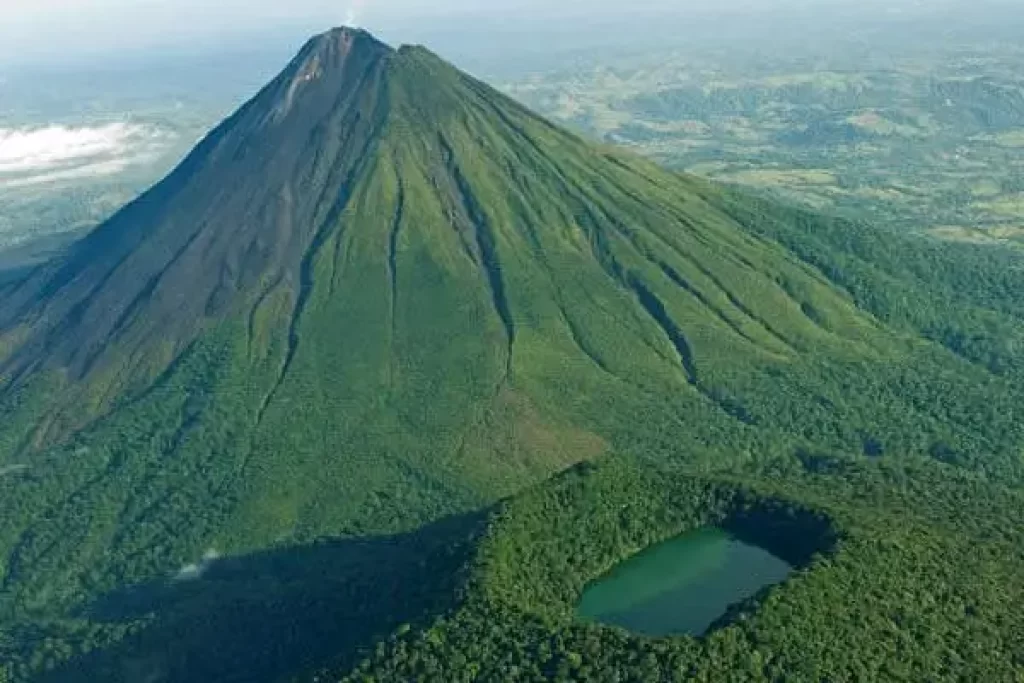 Continue your Costa Rica Itinerary from La Fortuna to Arenal National Park. There are so many things to see in the area. The Arenal Volcano is the youngest volcano in Costa Rica. It was active until about a decade ago.
Since it is no longer active, a hike through Arenal Volcano National Park takes you over lava fields.
You will get a breathtaking view of the volcano's summit and Lake Arenal on the other side. The trail also includes a 400-year-old Ceiba tree and several lookout points. In the afternoon, go to La Fortuna Waterfall, where you can swim near the base and along the river.
It's a steep 500-step descent to the waterfall, which isn't difficult going down. But it's a bit of a challenge coming back up!
Costa Rica Itinerary Day 5 & 6: Travel to Tortuguero
You can take a ferry to Tortuguero. The ferry ride itself is an adventure. Expect to see a lot of wildlife on the ride, including iguanas and crocodiles in the shallows.
Book an early morning ferry ride so you can spend the entire afternoon in Tortuguero. Prepare to have your mind blown once you arrive at Tortuguero National Park.
You can interact directly with Costa Rica's wildlife in the stunning, far-flung Tortuguero National Park. There are a number of well-liked viewpoints and walks to pick from, like the 'jaguar trail', which travels through the forest and along the beach. You can even go on a turtle tour if you visit during the right season.
In Tortuguero National Park, you can zip-line across the treetops, go on a night forest walking tour to spot unique animals, go on a sunrise canoe safari, and even see turtles!
A pretty unique experience is flying through the treetops while taking in the lush surroundings of the rainforest.
You can be sure that you'll have a good time while getting a close-up look at the magnificent natural setting of this tropical rainforest. The best time to see wildlife in the rainforest is at night because many of them are only active then.
Costa Rica Itinerary Day 7 & 8: Travel to Monteverde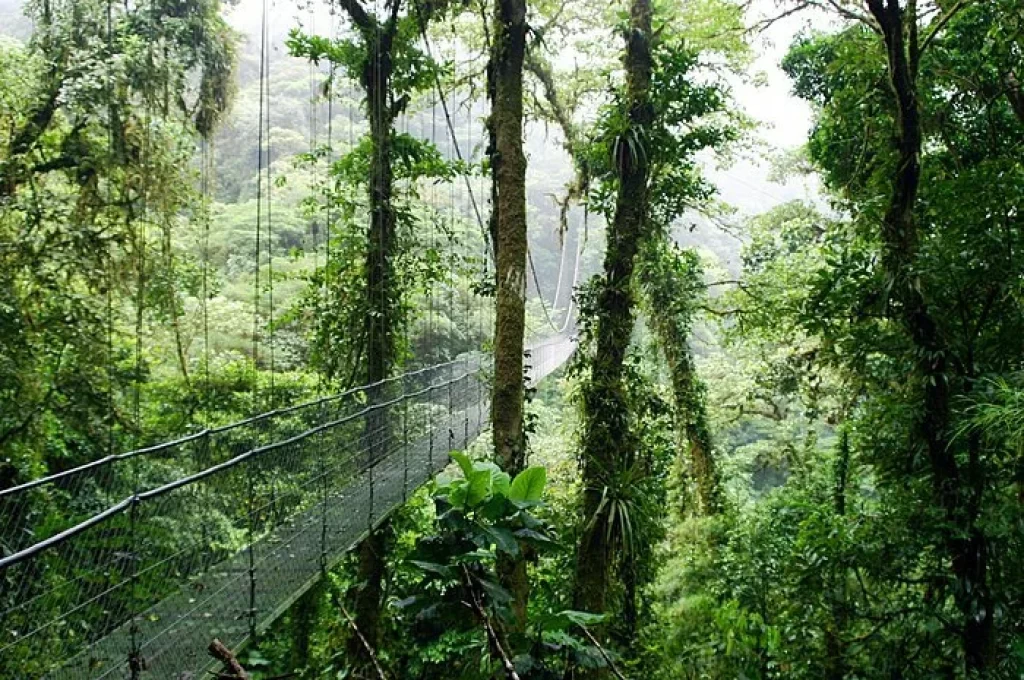 If you rent a car, the drive to Monteverde takes about 3 hours because you must drive around Lake Arenal. If you don't have a car, the taxi-boat-taxi ride to Monteverde is the quickest way to get there. Depending upon the time you reach, do a night walk or relax and explore the town of Santa Elena.
On your first full day in Monteverde, explore the Cloud Forest. Santa Elena has three cloud forest reserves: the most popular, the Monteverde Cloud Forest Reserve, the Children's Eternal Rain Forest, and the Santa Elena Cloud Forest Reserve, which is less crowded but just as worthwhile to visit.
In the afternoon, go ziplining or walk along the hanging bridges at one of the adventure parks. But you have to book the hanging bridge walk separately. You could also visit another of the cloud forest reserves. There are also numerous opportunities to observe wildlife up close, such as bats, frogs, and butterflies.
Take a coffee tour and discover why the Monteverde region is one of the best coffee-growing regions in Costa Rica.
Don Juan offers a popular 3-in-1 tour in which you learn about the coffee process, make sugarcane juice, and then learn about the cacao bean and sample some delicious chocolate.
Costa Rica Itinerary Day 9: Travel to Santa Teresa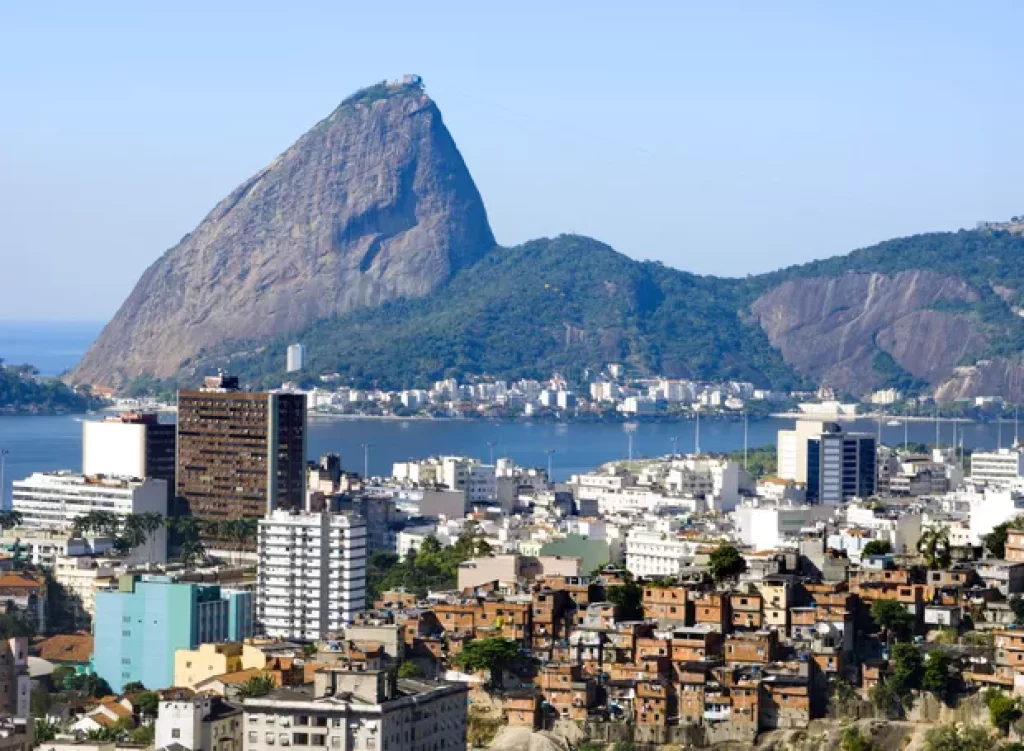 On the Nicoya Peninsula, Santa Teresa is a charming beachside community. In Santa Teresa, life is straightforward. Locals and visitors alike enjoy the area's fishing, farming, and surfing.
The Santa Teresa beaches are renowned for their expansive stretches of white sand, warm blue water, and tall palm trees. The view is unmatched as the sun paints the sky in a variety of orange and pink hues.
Famous for its top-notch surfing waves, Costa Rica. Santa Teresa is among the best surfing locations in Costa Rica. As a well-known surfing community, it has an abundance of board rentals and lessons.
You can still enjoy the stunning Costa Rican coastline if surfing isn't your thing by participating in other exciting water-based activities. Go snorkelling at Isla Tortuga, which is a fantastic option.
Costa Rica Itinerary Day 10: Travel to Manuel Antonio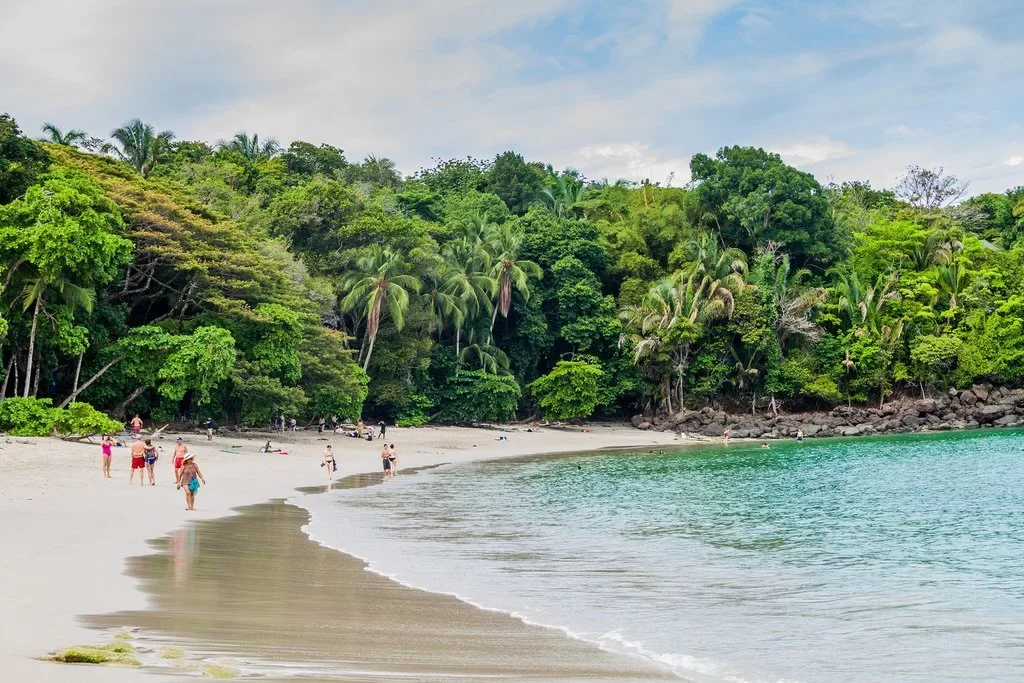 You can spend your days relaxing at the beach, kayaking through the mangroves, or taking day trips to Uvita or Dominical, both of which are located further down the coast. Stop in Tarcoles on the way to Manuel Antonio to see the Crocodile Bridge.
It's a busy area, but it's worth a quick stop to see the many crocodiles basking in the sun on the river bed beneath the bridge.
After checking into your Manuel Antonio hotel, head to the beach to watch the sunset. The sunsets in Manuel Antonio are spectacular! While Manuel Antonio has a large public beach, visiting Manuel Antonio National Park is a real treat.
The park has hiking trails, wildlife to see, and some absolutely stunning beaches. Spend the day walking around the park and then relaxing on the beach. Tickets and time slots must be reserved online, and there is a daily limit, so make your reservations early.
Back to San Jose at the end of the 10 Days Costa Rica Itinerary
The journey is long, so plan accordingly. Expect a 5- to 6-hour drive with a 1.5-hour ferry in between for returning back to San Jose. The good news is that the route is beautiful, and if you have your own car, you can go at your own pace.
Obviously, if you intend to return home on the same day, you must carefully plan your timing.
That's all about the 10 days Costa Rica itinerary with family. Costa Rica is an incredible destination, from its long stretches of sandy beaches to its wild jungles and rugged mountains. We hope this guide will be helpful to you. Please share it with others, and share your thoughts in the comments below.
Frequently Asked Questions
1) Which part of Costa Rica is best for families?
San Jose and the Central Valley are ideal places to begin a Costa Rica itinerary with family. Not only will the activities on offer impress your family, but so will the breathtaking scenery.
2) Is Costa Rica suitable for a family vacation?
Costa Rica is a huge – and famously safe – playground for tropical adventures for families. Whether you prefer sandcastles on palm-lined beaches or white-water rafting down raging jungle rivers, you'll find family fun at every turn, often with an environmentally friendly twist.
3) How to see Costa Rica in 10 days?
We have covered a 10 days Costa Rica Itinerary in the above topic. So, you can plan to visit the main places in 10 days. Go and read the complete guide to explore more.
4) Is Costa Rica safe for children?
Costa Rica is without a doubt the best country in Latin America for family vacations. It's an adventure playground for families, complete with beautiful beaches, tropical jungles, and plenty of wildlife.
5) When is the best time to visit Costa Rica?
The best time to visit Costa Rica is between December and April when the weather is at its driest and brightest.
6) Is Costa Rica a cheap vacation destination?
Costa Rica is generally more expensive than other Central American countries such as Nicaragua or El Salvador.
you may also like: