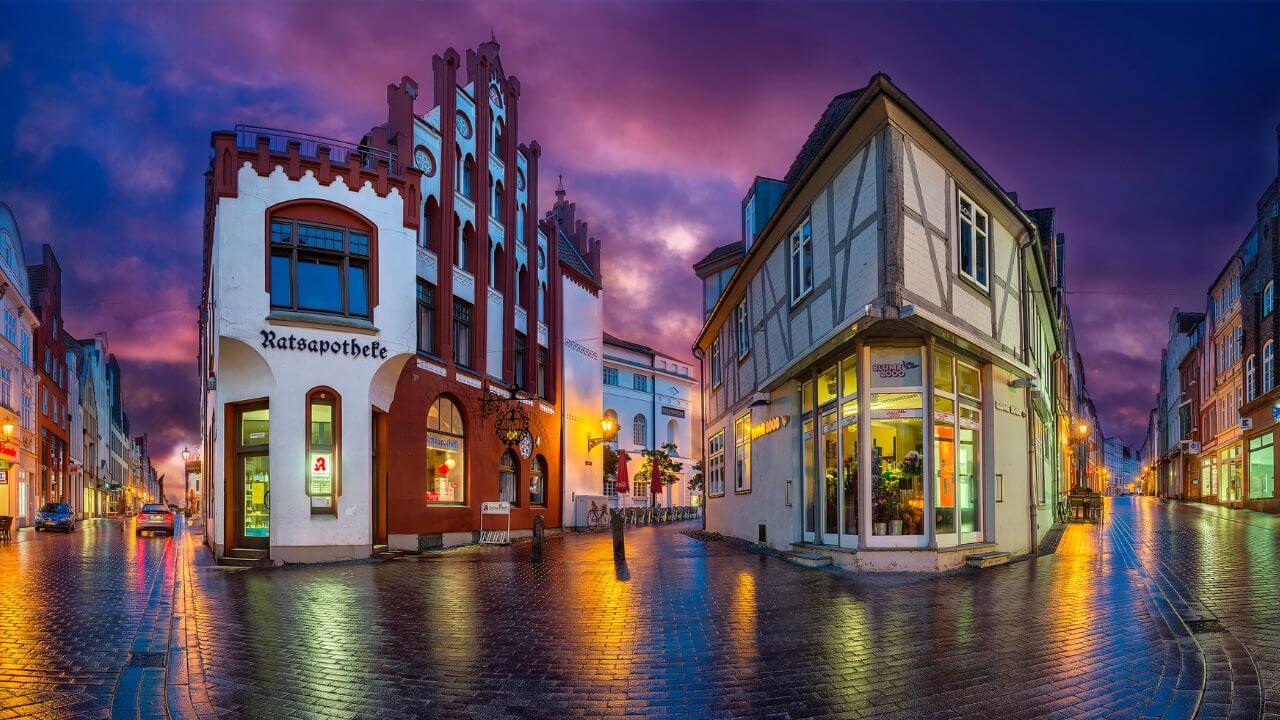 There is no other place better than Germany to spend the first trip if you have a tour plan in Europe. Among the best places to visit in Northern Germany, you can find incredible destinations full of outstanding natural beauty, historical attractions, religious landmarks, and exciting culture.
Although hotspots like Munich and Frankfurt are definitely worth exploring, you won't want to miss the many great cities found further north.
Recommended Post: Germany Tourism Guide – Places, Cuisines, Essential Gadgets, and Much More!
Whether you're planning on being based in a single location, such as the magnificent capital of Berlin, or a historic city, such as Munich – or perhaps even embarking on a road (or rail) trip to smaller must-visit places in Germany, like the beautiful spa town of Baden-Baden in the Black Forest or the medieval fortress town of Rothenburg – the list of things to do here is limitless.
Northern Germany boasts an array of lesser-known destinations like the port city of Lübeck, the bustling city of Hamburg, and the Gothic city of Stralsund. Enjoy your time in Deutschland by exploring these fantastic and unforgettable best places in Northern Germany.
11 Best Places to Visit in Northern Germany
Here is the bucket list of the best places to visit in Northern Germany.
1- Best Places to Visit in Germany: Schwerin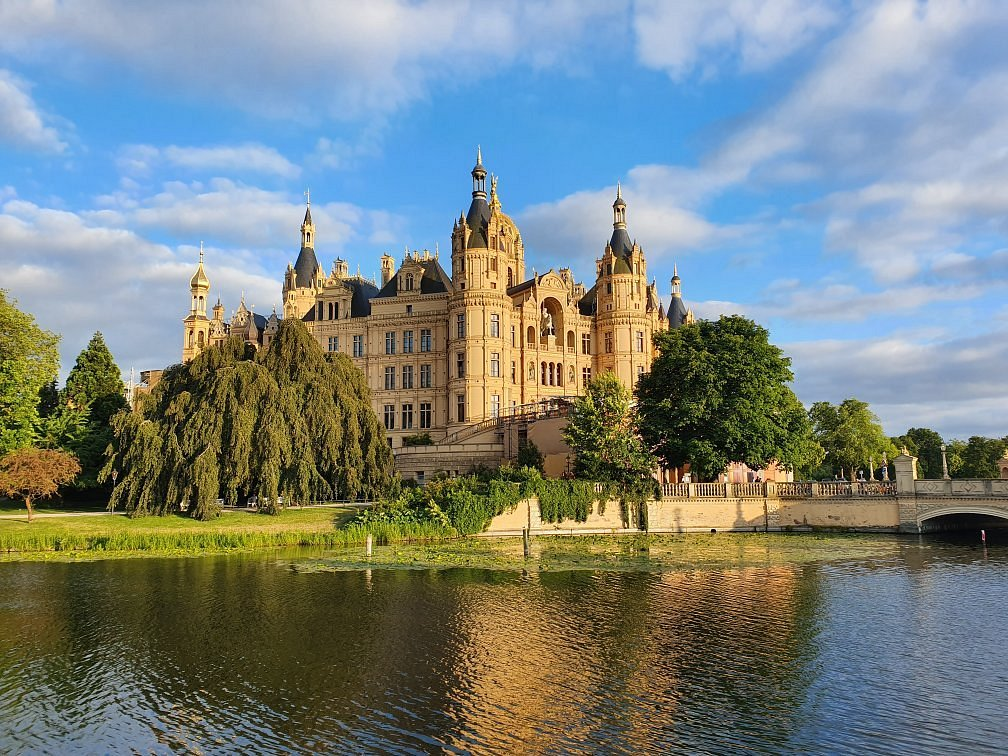 Schwerin is the capital of the province of Mecklenburg-Western Pomerania. It is a beautiful yet quiet city known for its lakes and castles.
Pay a small fee to walk all the way to the top of the city's cathedral and soak in breathtaking vistas of the entire region, if you're in the mood for great views and a quick workout.
Things to Do in Schwerin:
Admire the grounds, take a tour, and dine at the restaurant in Schwerin Castle
Take a trip just outside the city to see some more castles such as Ludwigslust Palace or Güstrow Palace
Enjoy your time while doing some outdoor activities on the lake: paddling, swimming, hiking, biking, and much more are all available in this land of lakes
Visit the Schwerin Cathedral and take the steps to the top for a view of the town from above.
2- Hamburg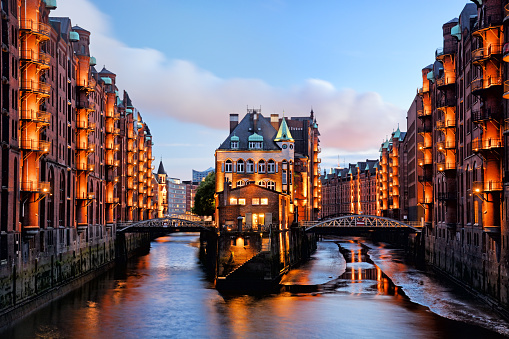 As one of the best places to visit in Northern Germany, Hamburg is one of the largest and most popular cities in Germany. It has more bridges than London, Venice, and Amsterdam together, so try a guided boat ride to explore as many of them as possible.
You can also spend time catching a sporting event in Hamburg. Also watching a performance at the Deutsches Schauspielhaus or enjoying some drinks and nightlife in the Sternchanze district can make your day.
But let's not forget that Hamburg has one of the world's most famous red-light districts, a popular party hotspot.
Things to Do in Hamburg:
Miniatur Wunderland is not simply a toy train layout in Hamburg, it's really much more than that. Try to visit the city's historic Speicherstadt warehouse district.
Not to mention you'll find Hamburg's most picturesque city squares and historic avenues, as well as its famous pedestrian areas in The Alster Lakes. You can do sailing and kayaking in summer and skate in the winter, it is also popular among cyclists.
Hamburg's Rathausmarkt and Mönckebergstraße depict the importance of German merchant shipping. It can be a great memory if you visit once.
Ohlsdorf Cemetery is the world's largest rural cemetery, you'll find the Hamburg Commonwealth War Graves Commission Cemetery, where more than 400 allied prisoners of war are buried, along with many who died in battles on German soil. Try to visit.
3- Wolfsburg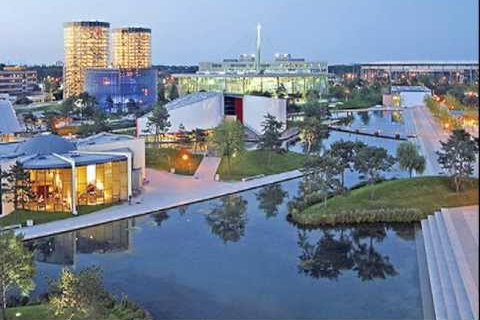 Wolfsburg has to be the family destination in Germany's northern region due to the abundance of unique, exciting activities in the area. But don't worry, adult-only travellers: these activities are great for everyone!
Wolfsburg is best known as the home of Volkswagen, therefore there are car-related attractions such as a museum and race circuit.
Aside from that, this little community surrounded by farms and forests will include water activities, science institutes, and amusement parks.
Things to Do in Wolfsburg:
The Autostadt is a Volkswagen supercenter offering a variety of vehicle experiences as well as eateries.
The classics may be found at the Foundation Auto Museum Volkswagen.
Warm up or cool down at BadeLand Wolfsburg, an indoor-outdoor waterpark with saunas and hot springs.
At the Planetarium Wolfsburg, you may reach for the sky while simultaneously enjoying excellent children's programming.
Take a day excursion to nearby Brunswick, which is just about 20 minutes away by rail and has its own culture, character, and eateries.
4- Best Places to Visit in Northern Germany: Berlin
Visiting Germany is incomplete without visiting Germany's bustling, hip, and trendy capital Berlin. This place is not necessarily beautiful or it does always make a good first impression but there's something intangible about Berlin; it always leaves a lasting impression either good or bad.
Things to Do in Berlin:
Berlin Mitte's most famous boulevard, there's no better place to start exploring Berlin. You can visit: Museuminsel, Deutsches Historisches Museum, Altes Museum, Neues Museum, DDR Museum etc.
Floating down Berlin's waterways by moonlight is the best relaxing way to end your day, so don't forget River Spree.
East Side Gallery is an open-air art gallery on the former Berlin Wall. The over one hundred murals at the East Side Gallery stand as a reminder of the reunification of Germany following the fall of communism in Europe.
During the Cold War, Checkpoint Charlie was the best-known Berlin Wall crossing point between East Berlin and West Berlin. It was the setting for many thrillers and spy novels, from James Bond in Octopussy to The Spy Who Came In From The Cold.
The Holocaust memorial stands as an everlasting symbol of German national identity. The Holocaust is now a permanent memory of Germany's history and landscape, make sure to visit.
5- Stralsund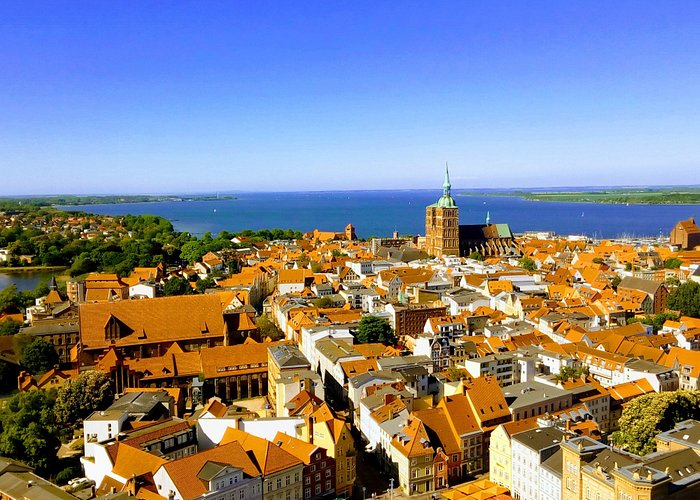 Someone who enjoys history or architecture will love visiting the city of Stralsund. This Northern German city is packed with Gothic architecture and in Stralsund, you will find a charming old town with well-preserved Gothic, medieval buildings.
In Stralsund, many of the shops, local pharmacies, and restaurants are housed in old churches or medieval buildings.
Things to Do in Stralsund: 
To really appreciate the Baltic and North Seas, it's a great way to visit The Ozeaneum
Visit the Gorch Fock I, a ship docked in Stralsund with a unique story: built-in 1933, then sunk, then raised again, it was used by the Russians in the Second World War
Take a harbour cruise for some sunset views of Rügen and the mainland
To appreciate the town's identity must visit the Stralsund Museum of Cultural History
6- Best Places to Visit in Northern Germany: Lubeck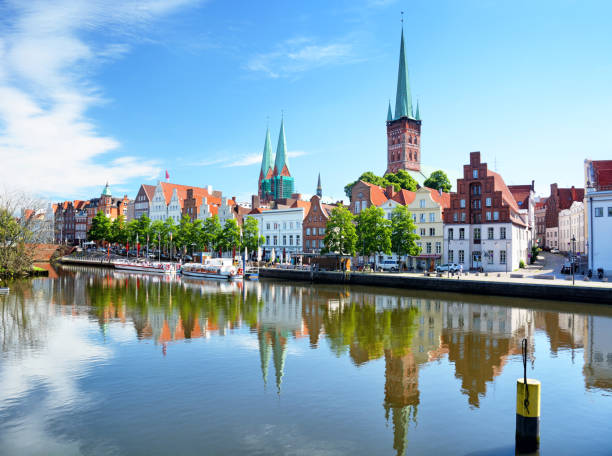 Lübeck is famous for having been the cradle and the de facto capital of the Hanseatic League. Not only is it one of the most romantic towns in Germany and the best place to learn about the Hanseatic League, but it also boasts beautiful medieval architecture, abundant culture, and delicious marzipan treats.
Things to Do in Lubeck:
Visit the medieval entrance to the city at the Holstentor, now it is also serving as a museum
The Willy Brandt House Lübeck is an honour of the late politician who was born in the city and had a considerable impact on German history.
Marienkirche cathedral, the other symbol of the city, was once regarded as a sign of the city's prosperity and influenced church design across Northern Europe
Admire a unique type of museum at the Lübeck Museum of Theatre Puppets
7- Heligoland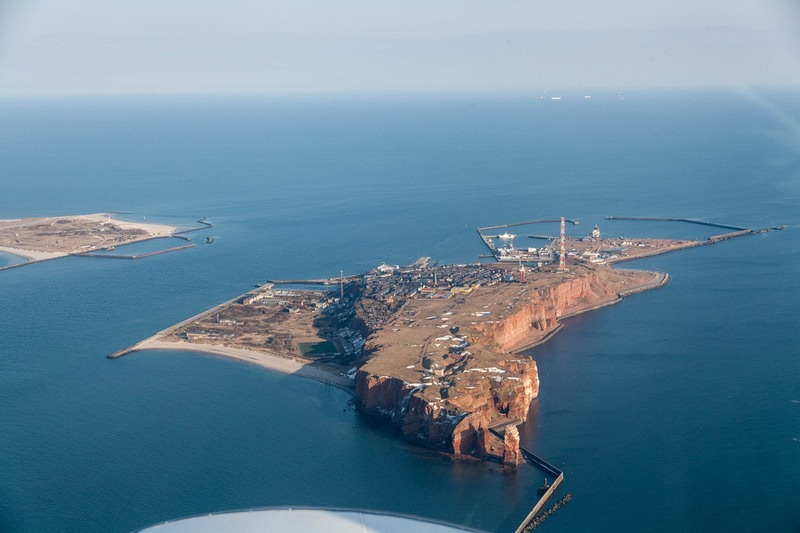 Heligoland is a very cool experience if you are really looking to get away from the typical continent and do something unique.
Heligoland off the German coast is located in the North Sea, and it is known for its absence of car traffic.
Things to Do in Heligoland:
To gather some lessons on this overlooked island's history, visit the Heligoland Museum
To separate yourself even further from civilization, relax on the secluded beaches of Düne and enjoy the rare phenomenon of the region of crystal-clear seawater
8- Rostok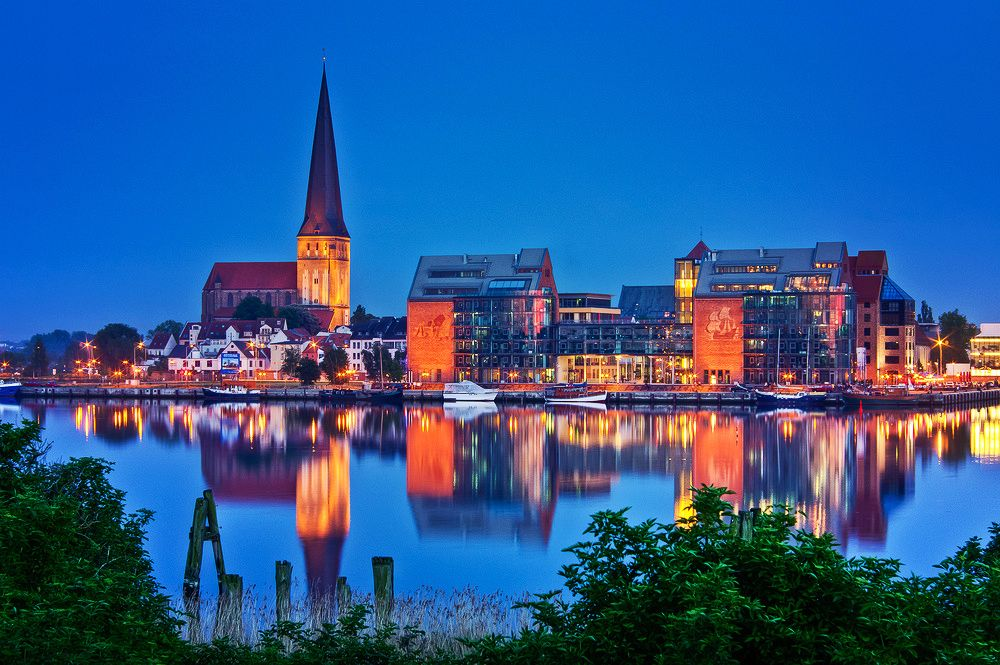 As one of the best places to visit in Northern Germany, Rostock boasts several fun attractions like historic buildings, though devastated in World War II.
There's a zoo and one of the prettiest beaches in Northern Germany. Make time to visit Petrikirche and climb its enormous tower in Rostok, admire the remaining city gates and city walls called Stadtmauer, and check out the City Hall.
Things to Do in Rostok:
Spend some time in Neuer Markt, for a classic old-town experience with plenty of dining and shopping
Another historical cathedral, with its incredible view over the city, heads to the other side of town for Saint Petrikirche
Nearly 800 years old with its massive organ and astronomical clock, visit the Gothic-style St. Mary's Church
Relax at Warnemünde Beach on a local favourite warm summer day, with its old lighthouse
9- Bremen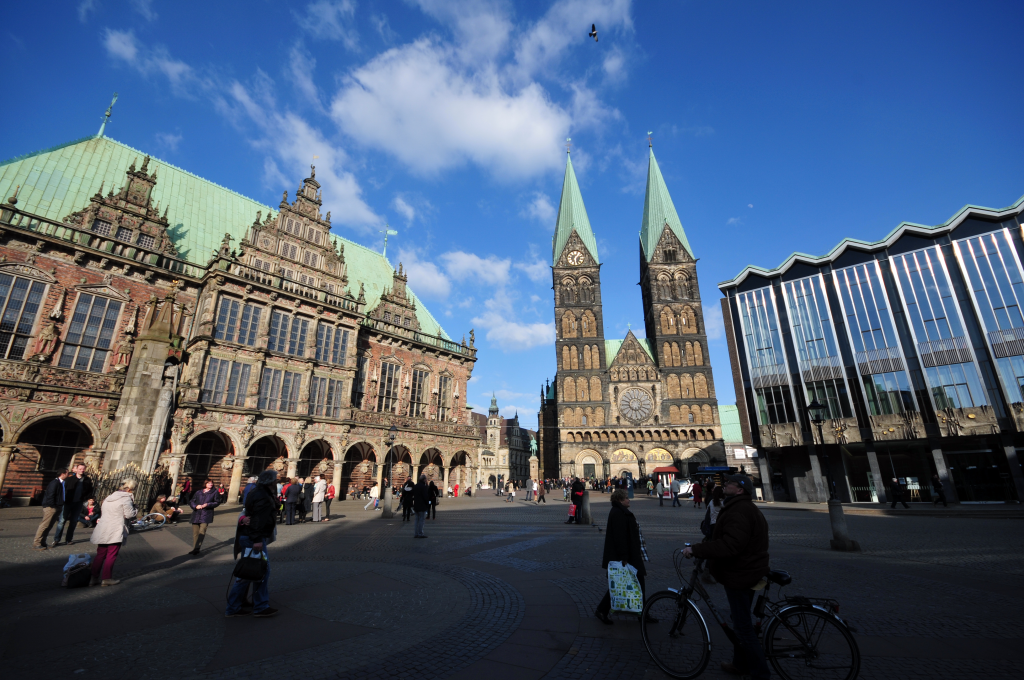 Bremen is a port city surrounded by the rich farmland of the Lower Saxony region. It is a wonderful place to visit in our pick for budget travellers.
Bremen has always had strategic importance for maritime trade, from medieval times through today, with its easy access to the river out to the North Sea.
Tourists enjoy the unique architecture of the old town, including the city hall which is an attraction itself.
Things to Do in Bremen: 
Climb the tower of St. Petri Dom, to get views of the city and a look at this amazing 11th Century basilica.
Visit the gothic town hall, which while might not sound exciting, is a super-beautiful 600-year-old building with pieces of art and a gourmet restaurant inside!
Walk the ruined old city walls in Wallanlagen Park and Böttcherstrasse, following the moat around the city now dotted with sculptures, and in the neighbourhood of Schnoor, to see the historic architecture of this medieval city
10- Rugen Island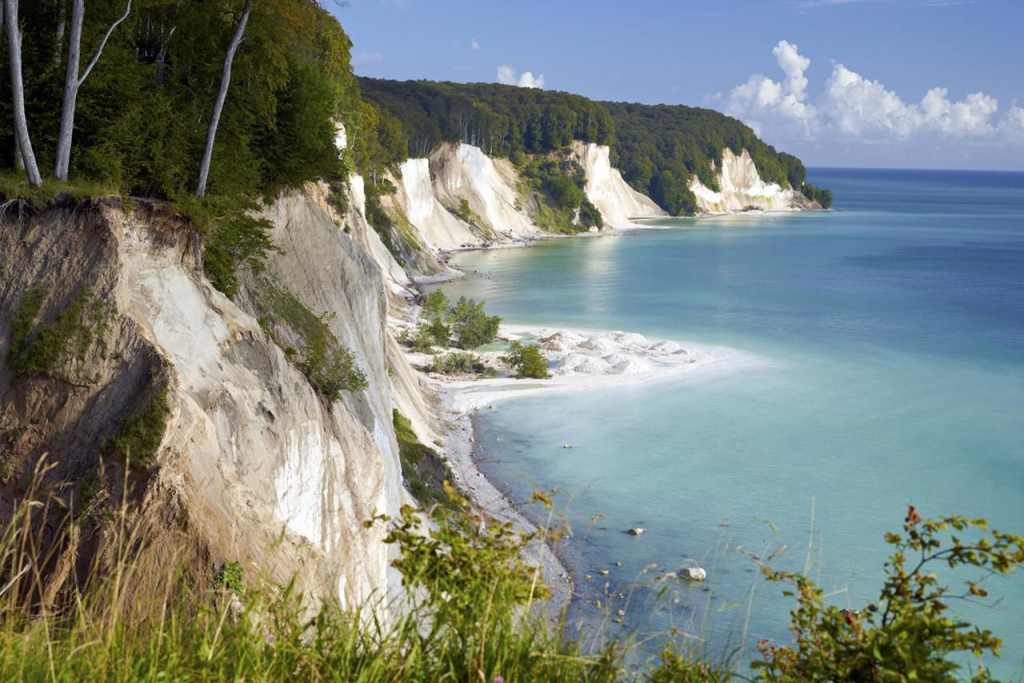 Rugen Island is located in the Baltic Sea off the northern coast, It is Germany's largest island. This island is known for being a place of relaxation and scenic beauty, and it boasts an array of gorgeous beaches and breathtaking cliffs.
Recommended Post: 9 Budget Travel Tips 2023: Low Budget Trip
This large island is connected by a bridge to the mainland, with many towns and infrastructure.
Hiddensee is an island strip of land off its west coast that is car-free, leaving you the option of hiking, boating, or riding on horseback around!
Things to Do on Rugen Island:
Walk across the locally famous Sellin Pier for great views, a diving spot, and a tasty restaurant.
Visit the Oldtimer Museum Rügen to appreciate an awesome collection of vintage German cars and more.
Swim in the Baltic Sea at a beach like Thiessow, where you can also camp nearby if you'd like.
Hike the trails of the Jasmund National Park to some secluded beaches, chalky cliffs, and perfectly silent forests.
Rent bikes from a small shop on Hiddensee like Freizeitladen and tour the peaceful island on wheels.
11-Kiel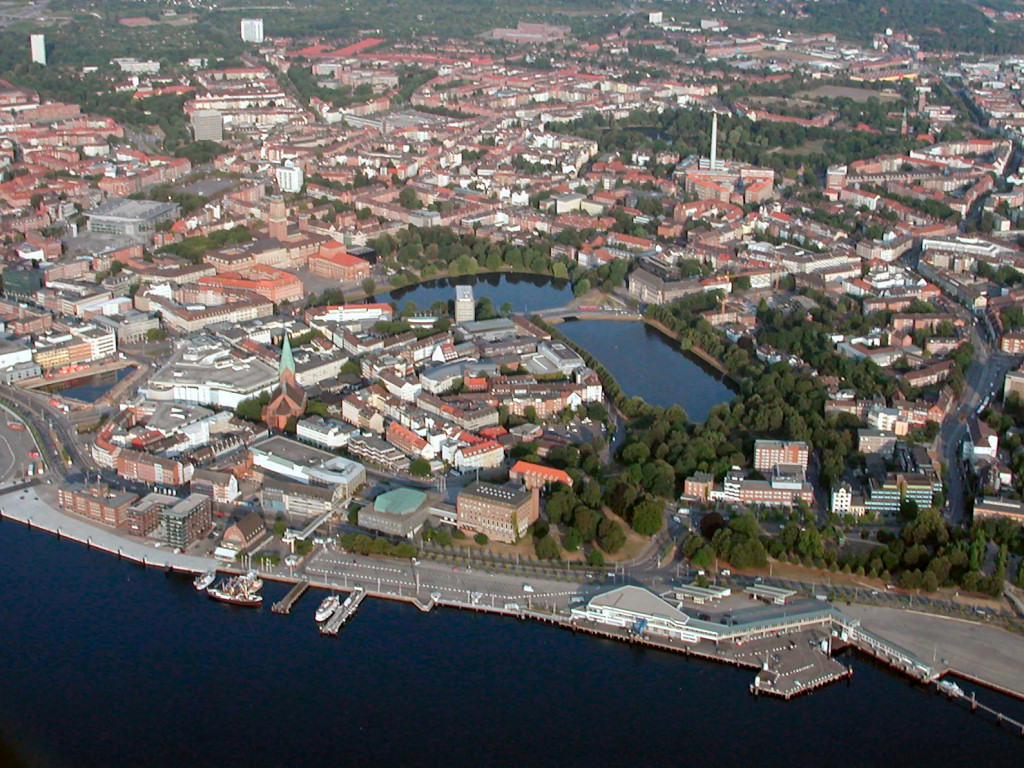 Kiel has a port-town, maritime vibe rather than giving the feeling of being in a large city. It is one of the main cities of the Schleswig-Holstein region and is home to a very large German naval base.
This city is located on the Baltic Seaside, not far from the border with Denmark.
Things to Do in Kiel: 
At the end of June, enjoy Kiel Week, when thousands of sailors bring their historic boats from around the world for all kinds of marine-themed activities and entertainment.
Visit the U-995, a real German submarine that fought in World War II, which is now on the beach, and a museum for machine geeks.
Get your shopping done at the fascinating shops of Holstenstrasse, the main pedestrianised commercial street.
Climb the tower of the local town hall for awesome views of the city and the sea.
Taste the flavours of northern Germany at a restaurant like Lüneburg-Haus.
Bring the kids to the Wildpark Schwentinental, an animal park with trails and even a pool.
A trip to Northern Germany is obviously exciting, it's not a relaxing beach trip. This country is famous for its exciting cities, mountains, and historic old towns, so explore as much as you can!
FAQs on Best Places to Visit in Northern Germany
1) Is North Germany worth visiting?
Yes, of course. A trip to Northern Germany is obviously exciting, it's not a relaxing beach trip. This country is famous for its exciting cities, mountains, and historic old towns. Northern Germany always attracts people for its amazing diversity. 
2) What is North Germany famous for?
Northern Germany is a popular tourist destination for its beaches and gentle rolling, windswept hills. You can find incredible destinations full of outstanding natural beauty, historical attractions, religious landmarks, and exciting culture throughout Germany. 
3) Which are the nicest cities in Germany?
Berlin, Munich, Hamburg, Nuremberg, etc. There are many more amazing cities in Germany to explore. 
You may also like: