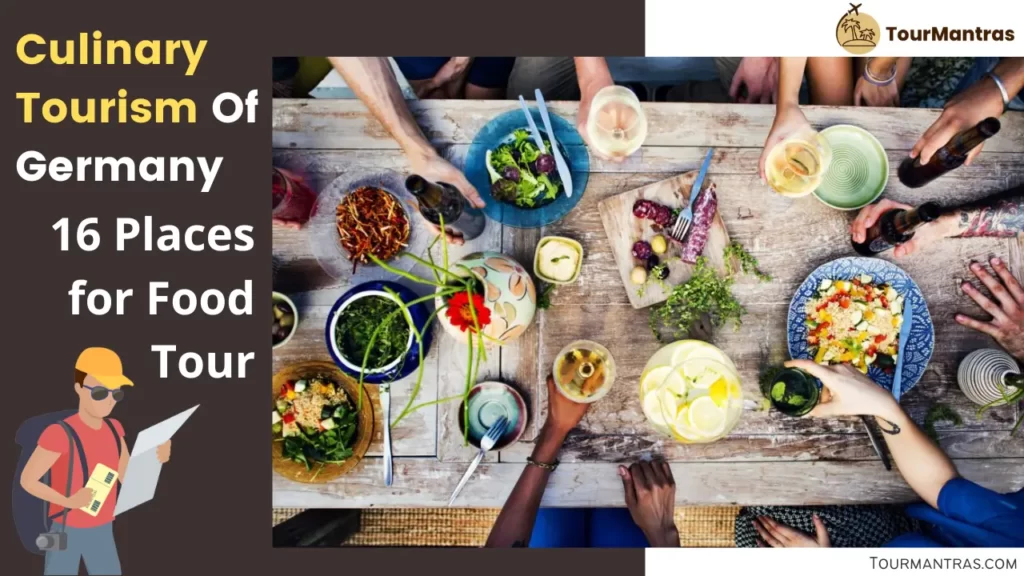 Culinary Tourism of Germany includes the active pursuit of unique and memorable eating and drinking experiences. Culinary Tourism is a new category of tourism that is the exploration of food as the purpose of tourism. From Weisswurst sausage to gherkins from the Spreewald – Tourmantras will take you on culinary tourism of Germany.
Benefits of Culinary Tourism
Before going deep into the topic here are some benefits of culinary tourism of Germany!
Develops social and cultural awareness.
Connects tourists with different levels of destination society.
Generates additional income and distributes product chain.
Provides opportunities for minority groups.
Preserves cultural heritage and enhance biodiversity.
Contribution of local communities to broader development and entrepreneurship.
Reduces regional asymmetry and disperses tourists to more cuisine locations.
Works in harmony with a sustainable way, diversity, and seasonality.
Also, read -

Ecotourism in Germany – Top 14 Eco-Tourist Places 

Germany Tourism Guide – Places, Cuisines, Essential Gadgets, and Much More!
Culinary Tourism of Germany: Best Places to Explore for Food Lovers!
German food with a ton of variety and history is one of the most popular cuisines in the world and stems from this incredible country. Let's have a food tour in Germany
1) Baden-Wurttemberg
Visiting Baden-Württemberg and don't even taste Swabian Maultasche – a German version of ravioli, what are you waiting for? It's one of the popular Dishes (food) that plays an important role in German cuisine. Moreover, you will get a wide variety of regional delicacies starting from Zwiebelkuchen (onion cake), Maultasche with fried onion, to the classic Black Forest gateau.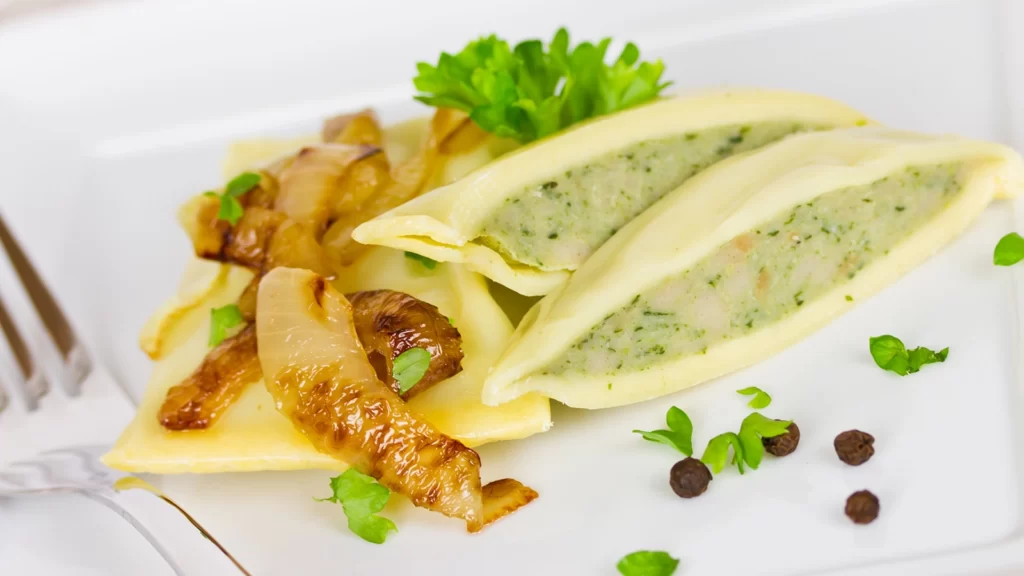 2) Bavaria
You will find foods like sausage, pretzels with sweet mustard – a vital ingredient, and beer during breakfast in Bavaria. Instead of eating Weisswurst sausages with a knife and fork, Bavarians like to enjoy eating in a proper Bavarian way called 'zuzeln' – which means sucking.
You just have to cut a corner of your Weisswurst to open it and suck the ingredients inside it. Although it sounds a bit strange, try next time when you will start your day with a Weisswurst breakfast in Bavaria.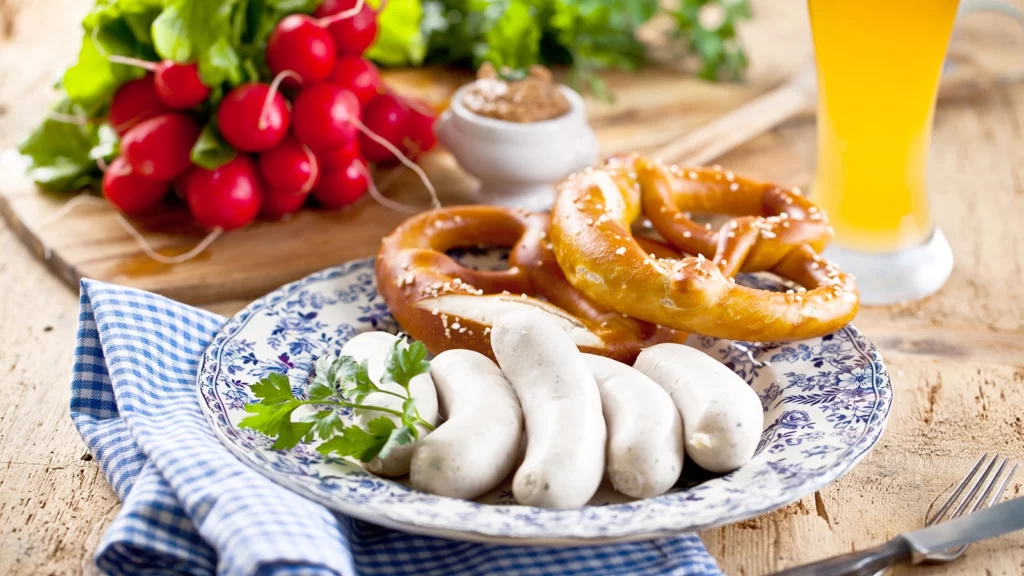 3) Berlin
You will be surprised by listening to the number of Currywurst sausages, eaten by Berliners each year is 70 million. This is not the end, as the number goes to 800 million curried sausages eaten by all Germans during the same period.
Such a cult dish comprises the 1950s German cuisine – a Bratwurst sausage, curry sauce, and curry powder. Berliner Herta Heuwer invented it incidentally in 1949.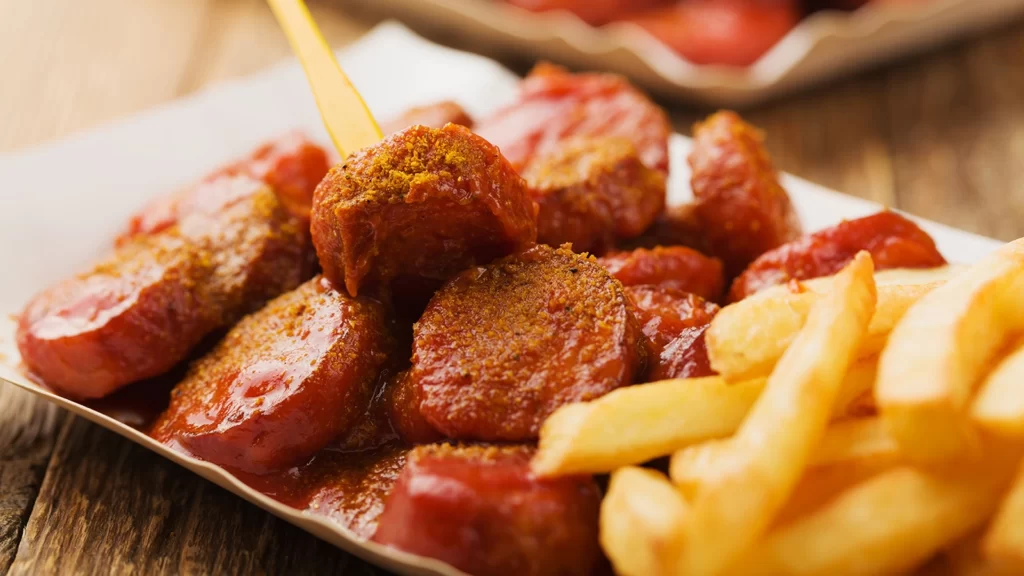 4) Brandenburg
Gherkins, the crunchy little pickled cucumbers are as important as tea to the Spreewald region. Lower Bavaria is at the top for cucumber growing whereas Spreewald is second in the position, but these gherkins enjoy cult status and become world-famous. That's why 'Spreewald gherkin' is an EU-protected designation that you can't use with any other pickled gherkin.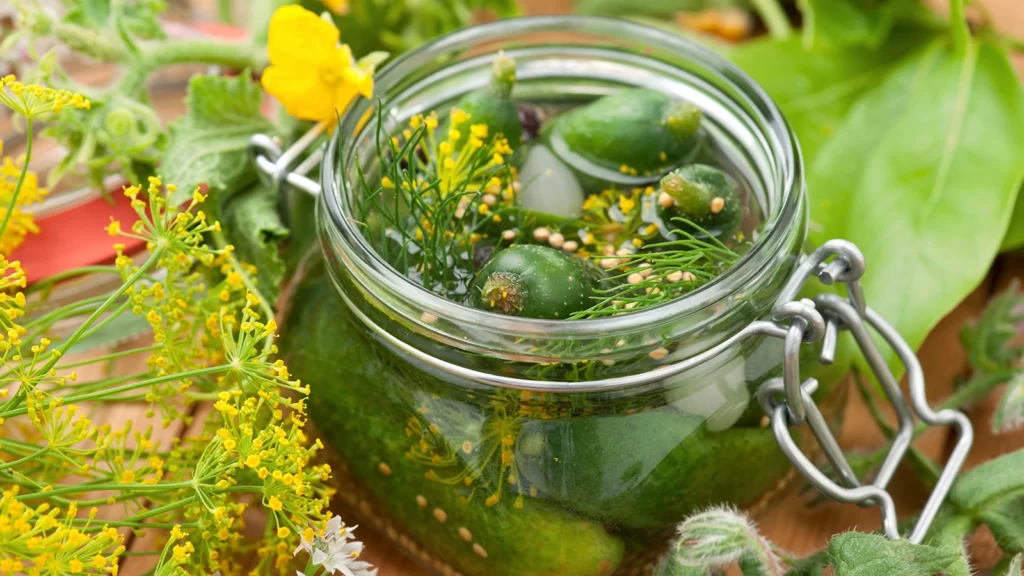 5) Bremen
Kale, used in green smoothies and salads, can be enjoyed as a global superfood. The food which is known to the people of Bremen for many years, the world has discovered recently. Kale, known as 'cabbage' or 'brown cabbage' in the city, is extremely good for you and more delicious especially when served with 'Pinkel' – the smoked sausages.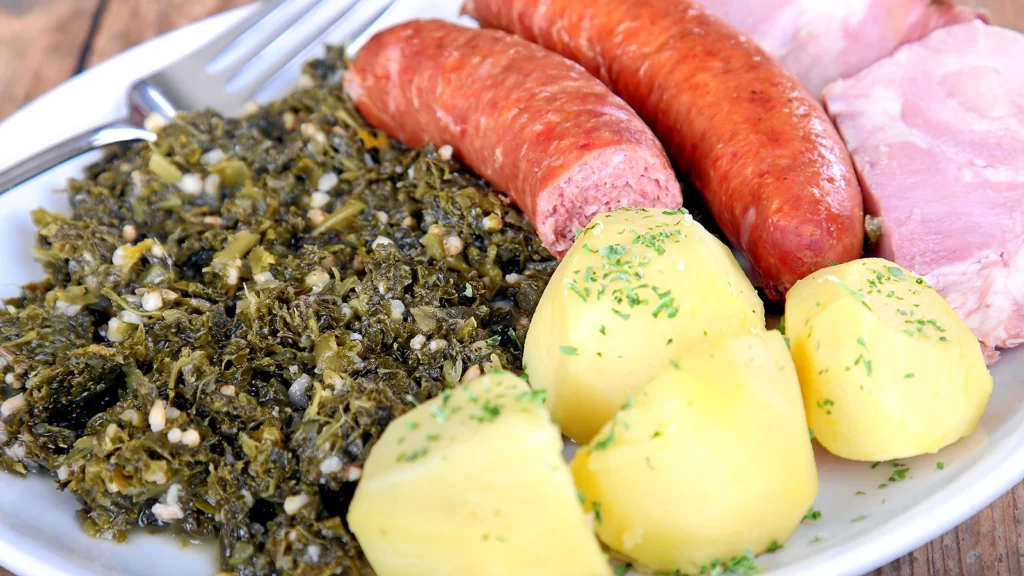 6) Hamburg
As seagoing folk need good hearty food, Labskaus is such a tasty and nourishing dish that helps to keep up their strength. Because this potpourri of all kinds of different ingredients is only found in northern Germany.
The eclectic combination of corned beef and mashed potato is served with a fried egg, rollmops, beetroot, and gherkin pickled. It seems to be strange to landlubbers at first but tastes surprisingly good.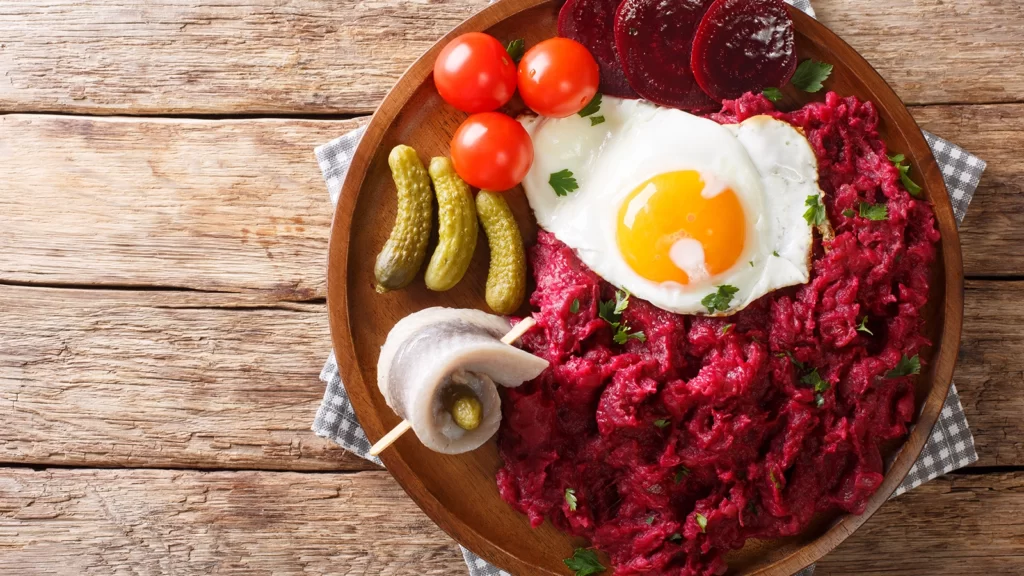 7) Hesse
The green sauce, 'Grie Soss' is prepared with seven different herbs and served up at every traditional Frankfurt inn. The people of Frankfurt like to eat 'Grie Soss' with a combination of either potatoes and schnitzel or potatoes and hardboiled eggs.
Based on borage, chives, burnet, chervil, cress, sorrel, and parsley, this sauce is prepared. Even this 'Grie Soss' was the favourite dish of Johann Wolfgang Goethe printed 'Genuine Frankfurt green sauce – Goethe's favourite' on it.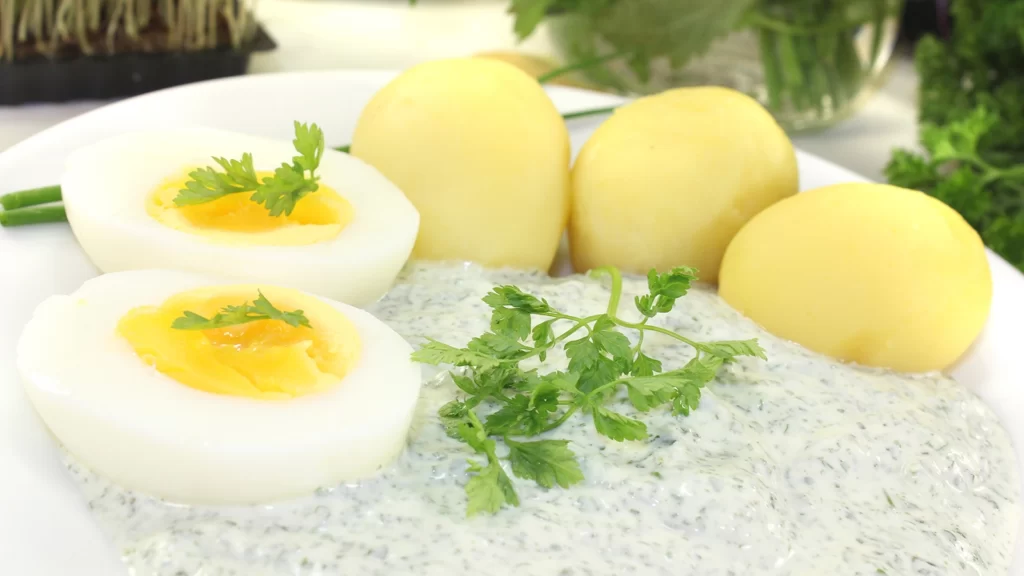 8) Mecklenburg-Vorpommern
Although the origin of the Matjes pickled herring is in the Netherlands, Matjes has increasingly become popular in Germany since the 16th century. During May and July of the year, there's a thick layer of fat, built by the fish and Matjes is a herring caught to make the filets particularly tender. The people of North Germany like to eat Matjes filled in a classic roll or Matjes with boiled potatoes and cream sauce.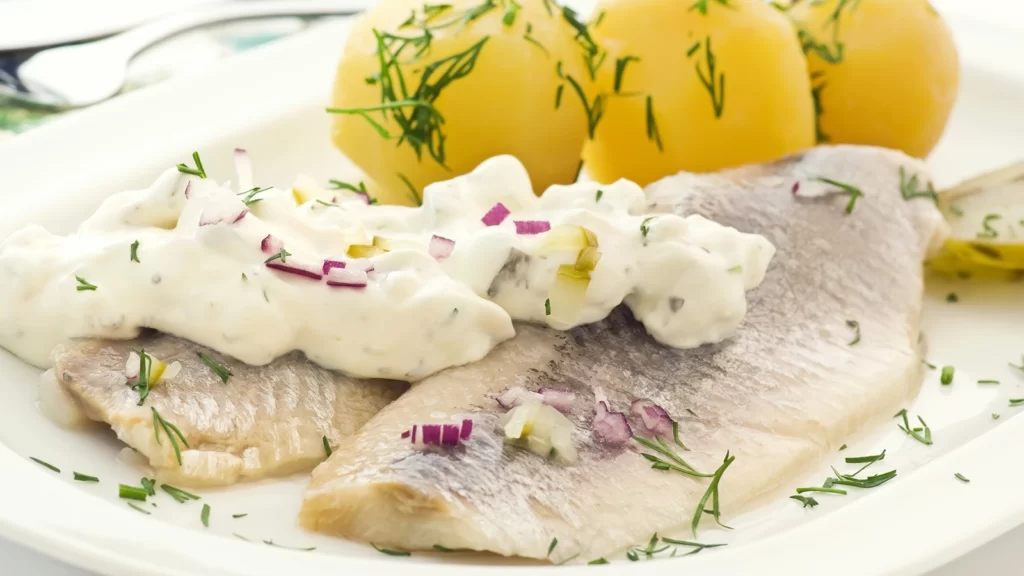 9) Lower Saxony
Virtually, tourists can't avoid eel in Lower Saxony. This is a fairly rare and popular delicacy, especially in the smoked version called Smoortaal. The people of Lower Saxony can eat this dish in a variety of ways either with bread and butter or with a side of potato salad or pasta. However, the most important thing is that you can eat smoked eel with your fingers. Locals use schnapps to avoid smelling fish.
10) North Rhine-Westphalia
'Himmel und Ad', is a delicious rustic dish which combines 'heaven' which means stewed apple sauce and 'earth' which means potato – the main ingredient it. The word 'Himmel' refers to heaven, and 'Ad' refers to the Earth – both served together with either liver sausage plus fried onion or fried black pudding in North Rhine-Westphalia.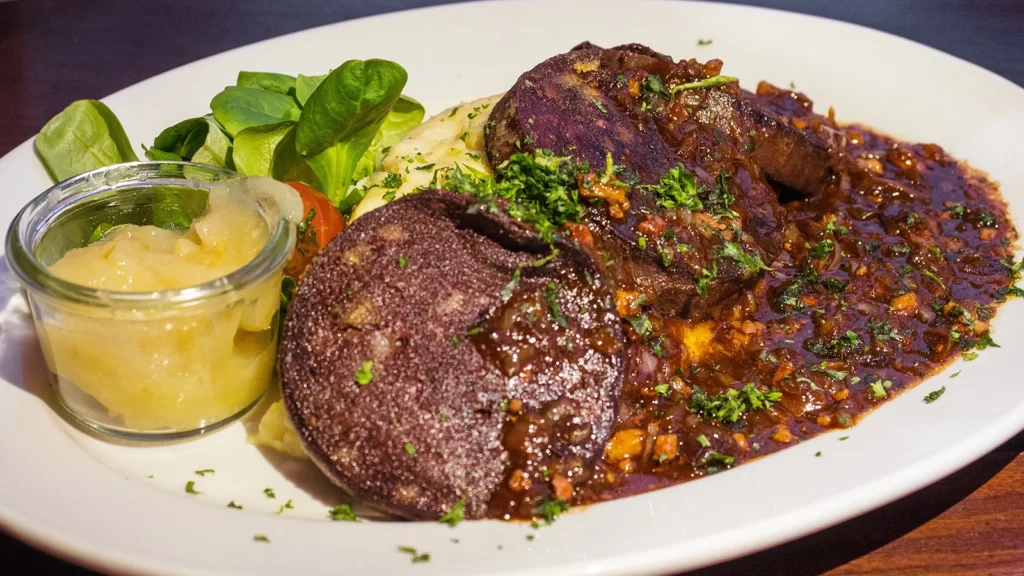 11) Rhineland-Palatinate
'Pfalzer Saumagen' – is probably the least appetizing dish on our list. It means 'Palatine sow's stomach' – a mixture of potatoes, bacon, pork, and sausage meat packed into the stomach of a pig. Although it sounds weird, it's a delicious cuisine if properly prepared. Simmering the filled stomach of the pig for three hours, cut the fried one into thin slices and serve with mashed sauerkraut and potatoes.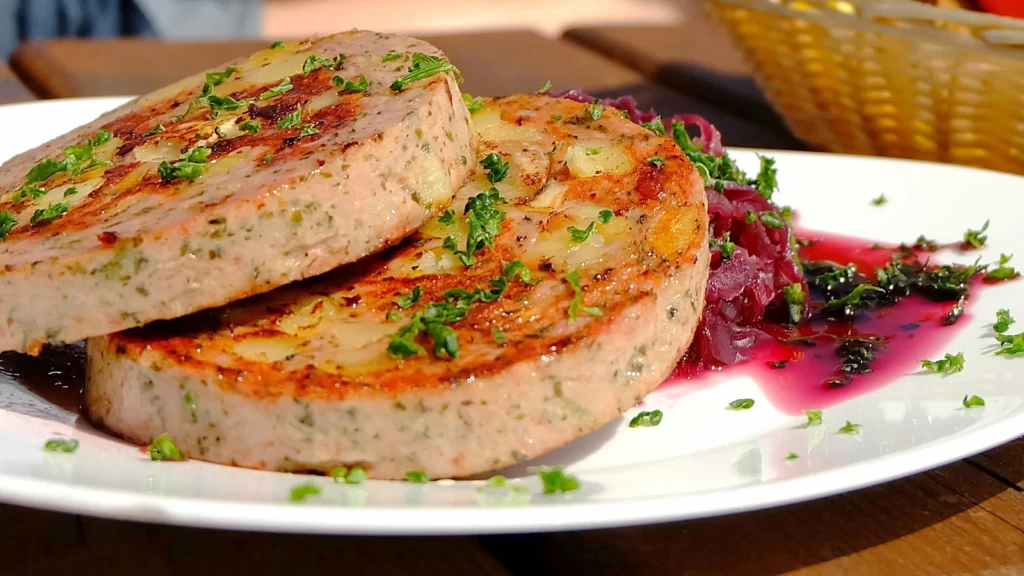 12) Saarland
Dibbelabbes, Doppekooche, Dibbelappes, Dippedotz, Dibbekoche, and Dobbekuchen – all the different names of a traditional dish from the Saarland. Made by locals of Saarland, it is pretty similar to a potato cake, frying and constantly flipping a mixture of potatoes, vegetables, and bacon in a pan. The Dippedotz is torn into pieces and baked in the oven for some time. Later, serve this hearty dish with an endive salad or stewed apple.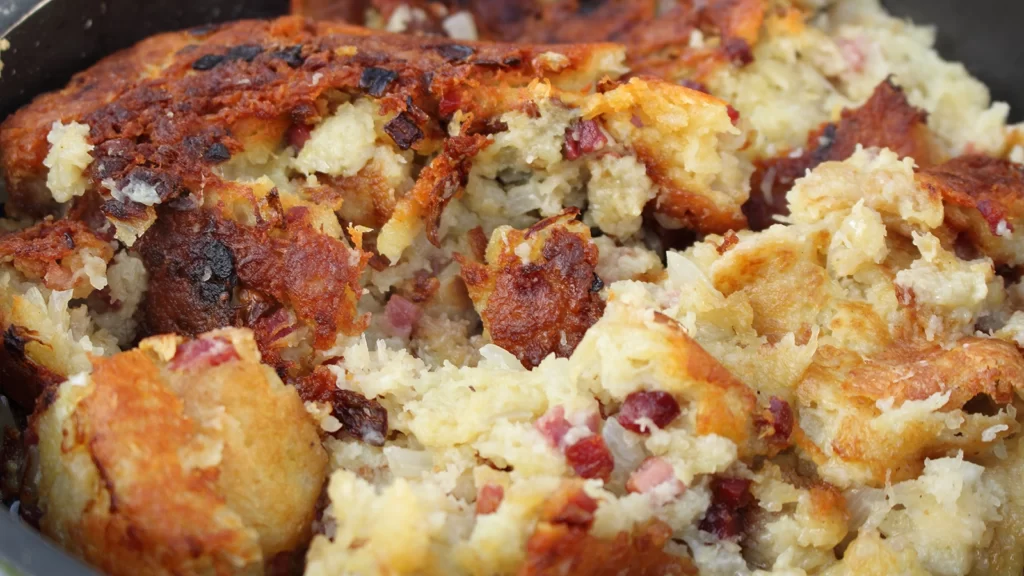 13) Saxony
Besides gingerbread, another speciality of Germany is buttery and sweet Dresden stollen during Christmas packed with raisins and candied lemon and orange peel. It was not intended to be Christmas special at the time of the invention of the stollen.
In the 15th century, it was made of flour, yeast, and water to be eaten during a fast. Till the 17th century, the stollen was not popular as a Christmas cake. The addition of ingredients like milk and butter into it by Dresden stollen bakers in 1670 makes it a popular Christmas gift
.
14) Saxony-Anhalt
Harzar cheese is a small, round, a little bit greasy, and strongly smelled ingredient that contains less than 1% fat. It is used by those keen to lose a few pounds, but don't want to compromise the strong flavour. However, the term 'Harzer cheese' is not protected as the 'Spreewald gherkin', and almost all of it is nowadays produced outside the Harz region. But there are a handful of small producers who still make the cheese themselves in the Harz.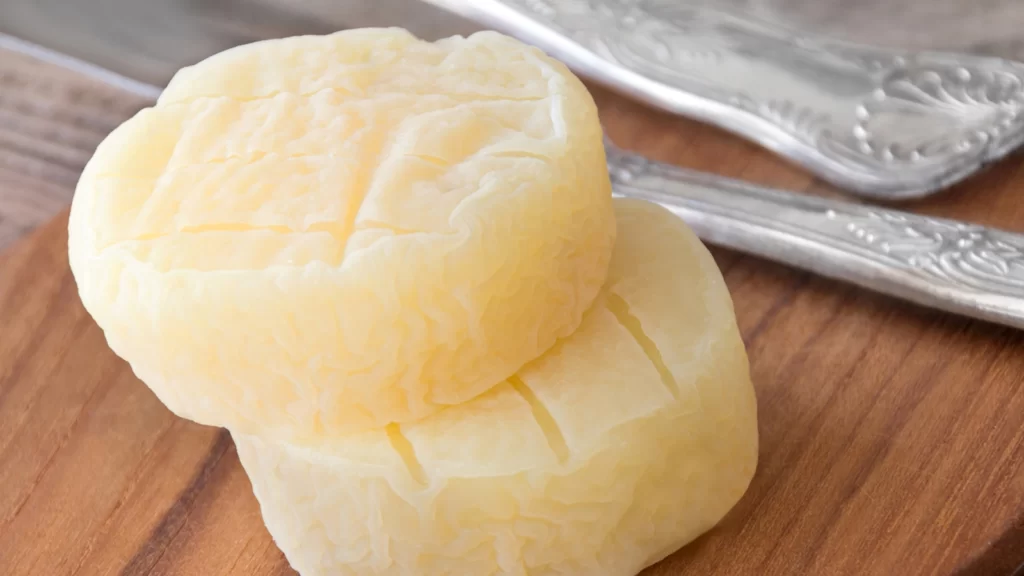 15) Schleswig-Holstein
Beans, pears, and bacon are simple, cheap, and regional ingredients in Schleswig-Holstein. Although the dish doesn't have any interesting name, Bohnen, Birnen, and Speck are the synonyms of beans, pears, and bacon for their taste. Such a typical North German combination of savoury and sweet is also known as "Broken soot" in the local Schleswig-Holstein which means broken sweet.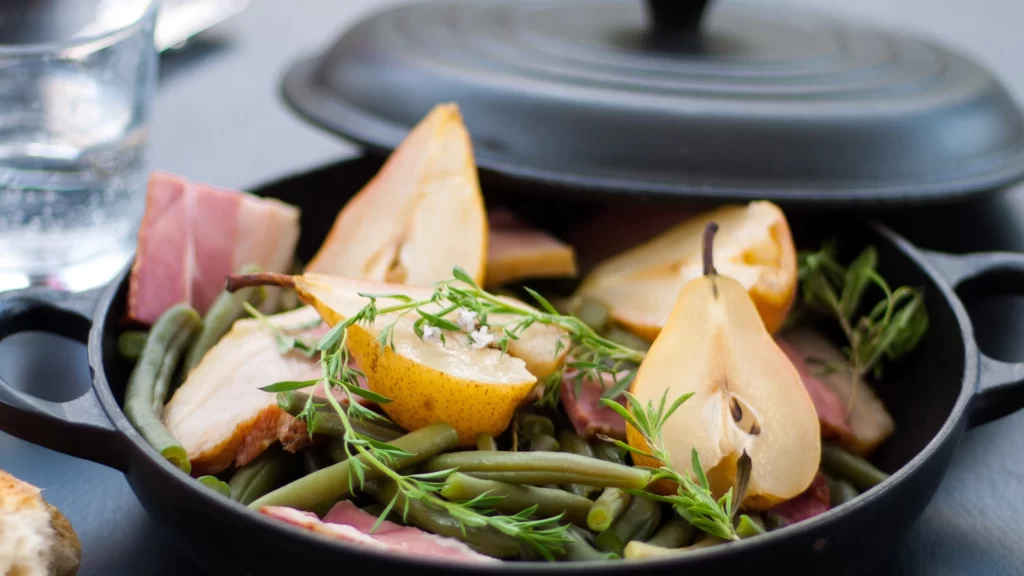 16) Thuringia
The important variety of the popular and well-known German Bratwurst is the Thuringian sausage or Rostbratwurst. It's a medium-fine dish 15 cm to 20 cm long and has a diameter of 2 cm. Since 2003, the European Commission has granted the status of protected geographical indication. This means the sausage can only be called a Thuringian sausage or Rostbratwurst.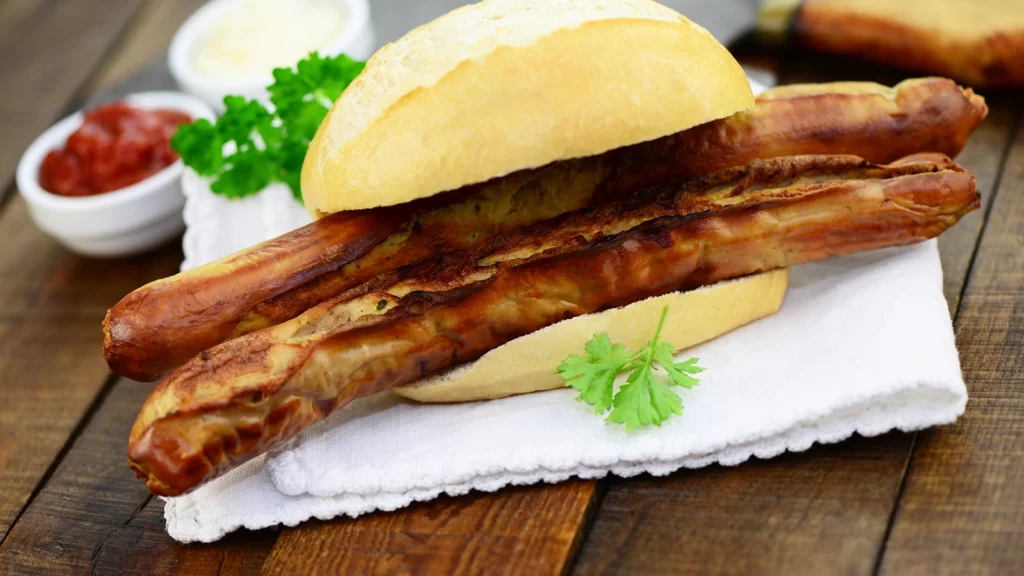 Wrapping Up
These are all the most popular cuisines in Germany. If you are foody or have a group of food lovers people, then you must go on culinary tourism of Germany. I hope you will be helpful with this article while planning for culinary tourism in Germany. Share your thoughts regarding culinary tourism in the comment section. Also, you can share this article to inform others about the culinary tourism of Germany. Thanks for reading…
FAQs
1) Which German city has the best food?
Hamburg Is the hottest food city in Germany.
2) What is the most widely used meat in Germany?
Pork is the most consumed meat product in Germany, followed by poultry and beef.
3) How many meals are eaten a day in Germany?
There are mainly three meals breakfast, lunch, and dinner.
4) Is culinary part of tourism?
Culinary tourism focuses on food as an attraction for exploration and a destination for tourism.
5) Why is German food so bland?
German Food is surprisingly bland. From young to old age, every German palate is adapted to enjoy the simple flavour of salt, wurst (sausage), and breadcrumbs, shunning anything too sweet, too spicy, or too complex.
6) What is the culinary background in Germany?
German cuisine has been labeled as fatty and stodgy, which can attribute to the lack of variety in the rural countryside of Germany. Germany has adopted many spices and cooking methods with a twist. However, it benefited from the close association of Italy and France.