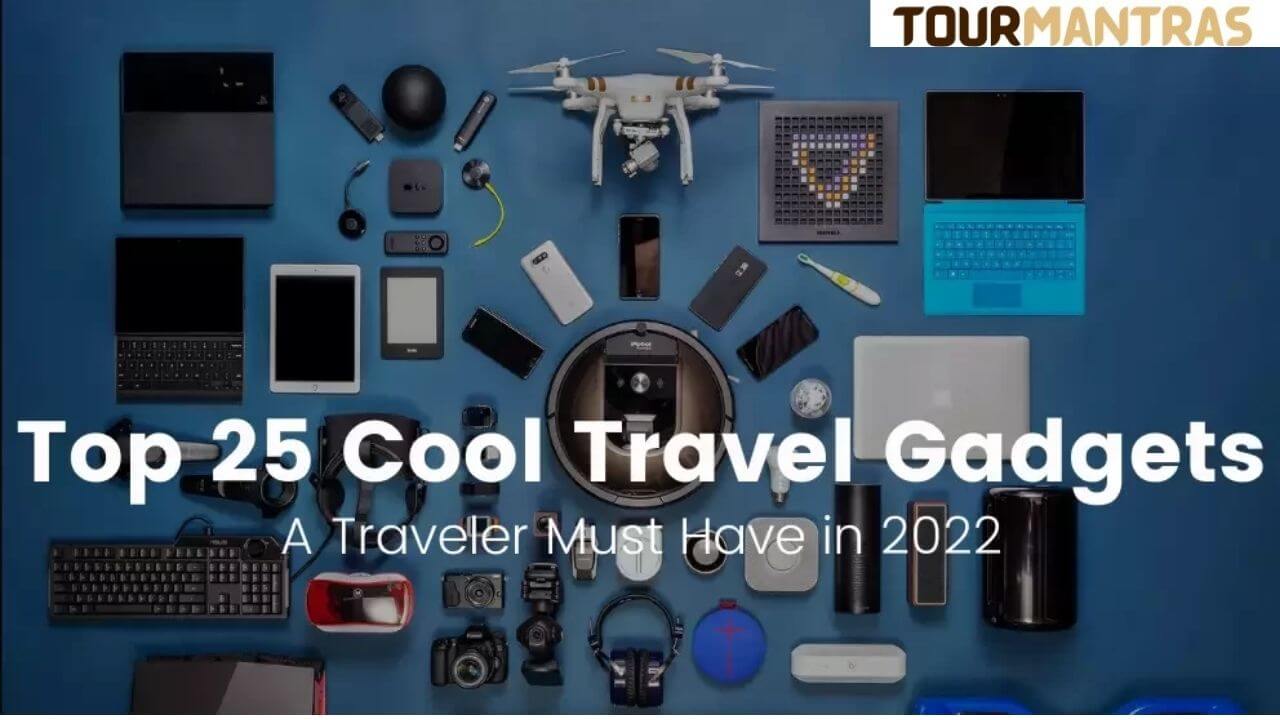 Are you looking for cool travel gadgets for travelling during the holidays? Tourmantras presents a list of the top 25 cool travel gadgets you must have while travelling.
Starting from luxurious electronic gadgets to nifty little travel gadgets, all cool gadgets make travel simpler and easier. These cool travel gadgets will help you to plan a better upcoming trip.
Let's take a closer look at 25 of the coolest travel gadgets you can buy. Stick till the end to know about the cool travel gadgets in 2022.
List of the Cool Travel Gadgets in 2023
There are so many cool travel gadgets available in the market. Among them, I have chosen the top 25 cool travel gadgets for you. Without taking more time, move ahead to the list.
1- The Ergonomic Travel Pillow
The smart design of this travel pillow prevents your head from falling while sleeping. You can use these travel gadgets on trains, buses, airplanes, cars, and camping. Even it can be used while backpacking, watching TV, airport terminals, and in wheelchairs.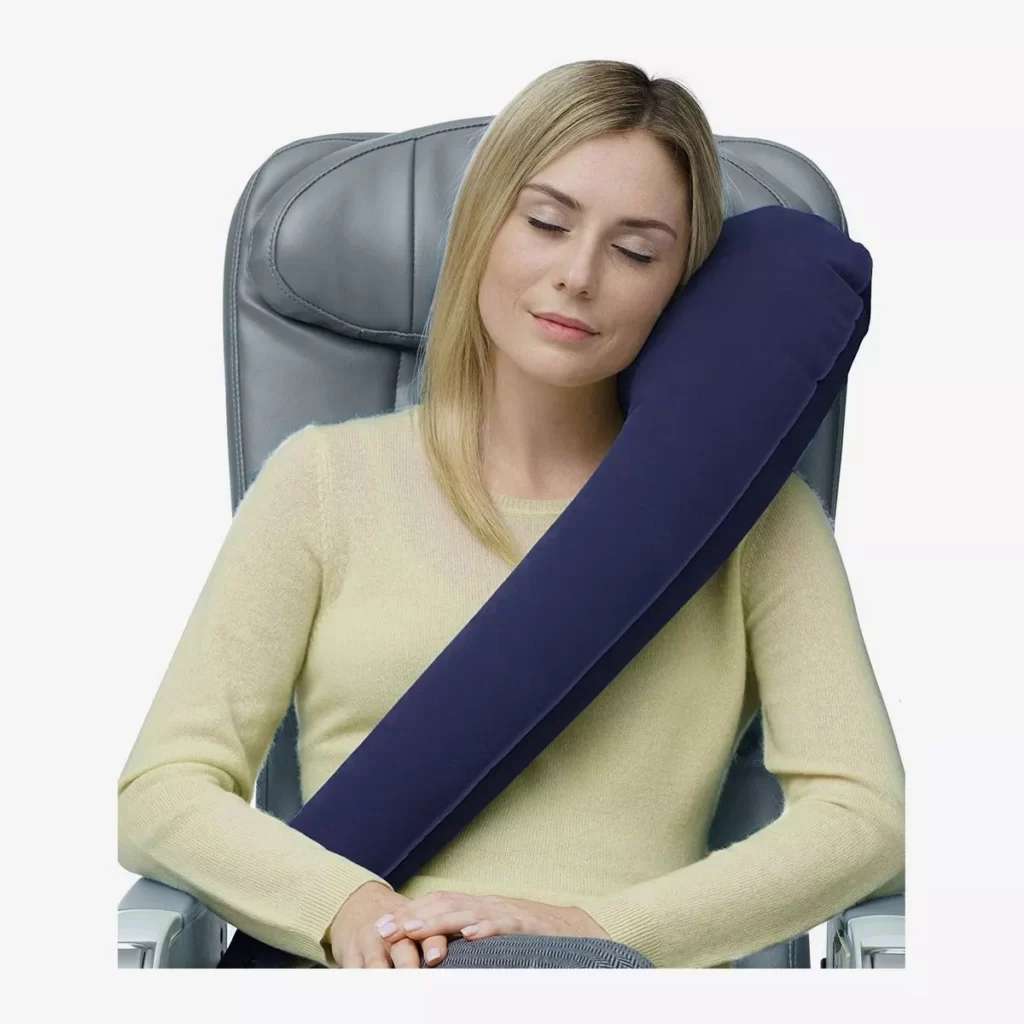 Features
✅ It is washable.
✅ Easy to use and eco-friendly.
✅ Suitable for both children and adults.
2- Go-Pro Hero9 Black
GoPro Hero9 is perfect for recording outdoor activities and adventure. It offers laser-crisp resolution, Wide FOV, a range of features like lifelike sharpness, fluid motion, and in-camera horizon levelling for impression. However, it's able to film in all types of rugged and wet terrain.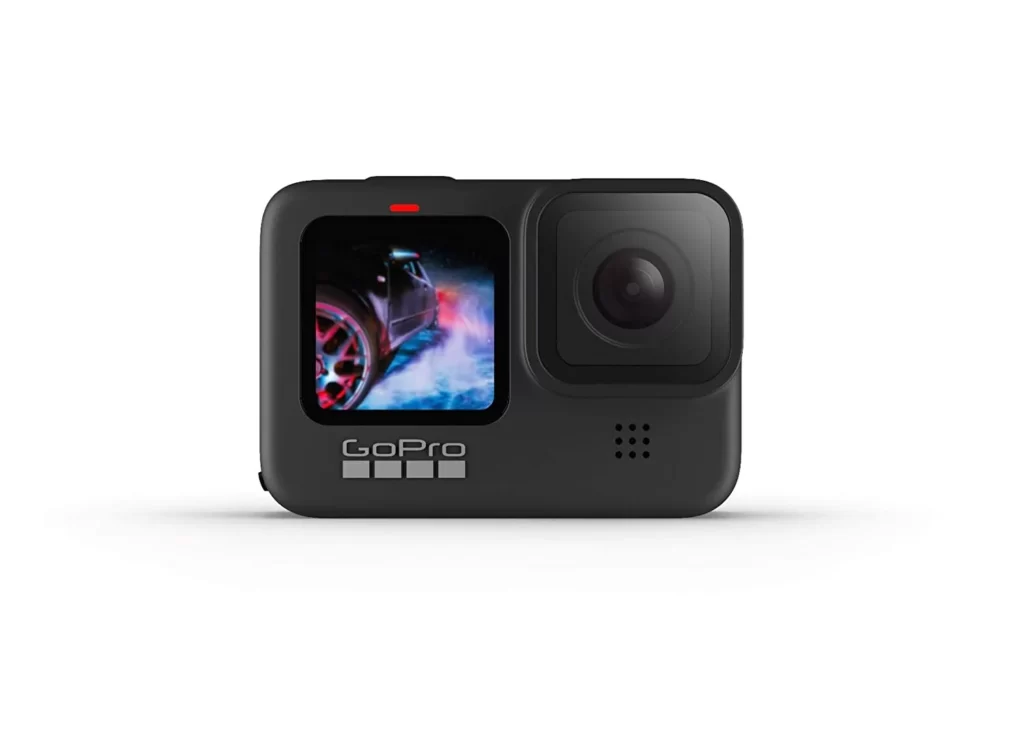 You will get too much fun while recording video with the complete and essential accessories pack. Moreover, SuperPhoto picks the best image processing for you. 1720mAh battery boosts the battery life up to 30% longer.
Features
✅ Easy framing and intuitive camera control.
✅ Offers 5K and 4K video recording at 30 and 60 fps, respectively.
✅ Screen touch and compatible with Quik app.
3- DJI Mavic Mini Drone
Mini drones are one of the costlier and cool travel gadgets. It's the perfect companion for capturing the breathtaking shots and angels of the world from above. You can easily capture the best moments while hiking mountains or chasing waterfalls with a mini drone. Also, it's easy to carry while travelling.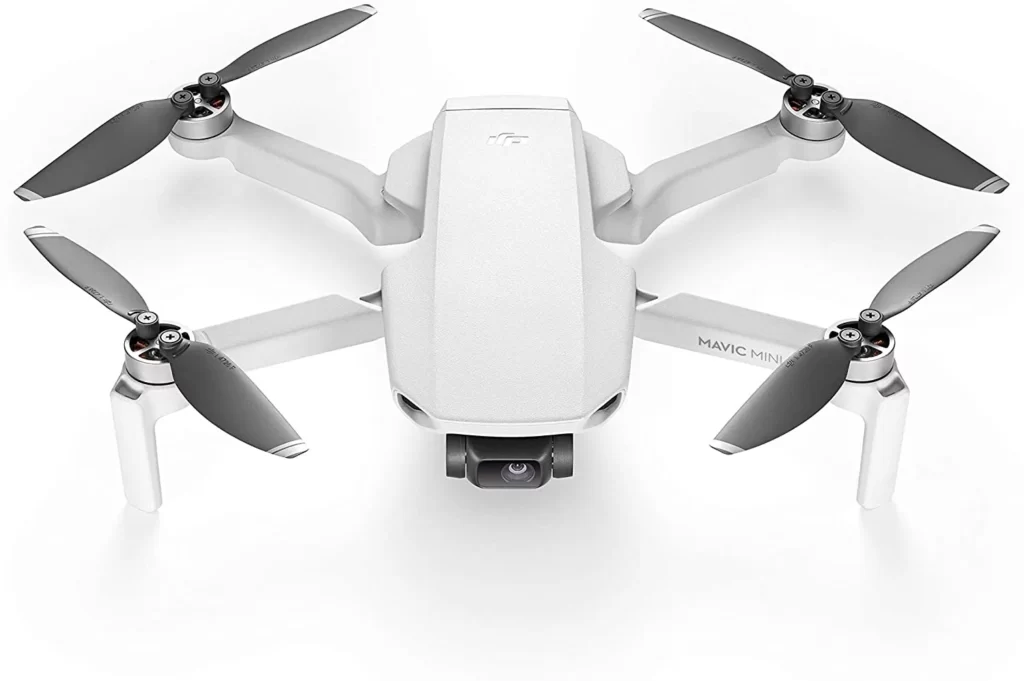 DJI Mavic Mini Drone supports 12MP aerial photos and 2.7k HD videos. A 3-axis motorised gimbal provides superior camera stability and takes clear ultra-smooth footage. With a fully charged battery, you can fly it for 30 minutes.
Features
✅ Compact, portable, and powerful enough.
✅ As light (weight less than 250gm) as a smartphone.
✅ Compatible with all Android devices above Android version 6 and iOS devices above v10.0
4- Bose Quiet Comfort Noise Cancelling Earbuds
Earphones, earbuds are the all-time necessary travel gadgets. For doing focused work, sleeping on a flight, or reducing background noise and keeping silent, then Bose Quiet Comfort Noise-canceling Earbuds are the best option. These noise-cancelling earbuds produce lifelike sounds over a bed of virtual silence.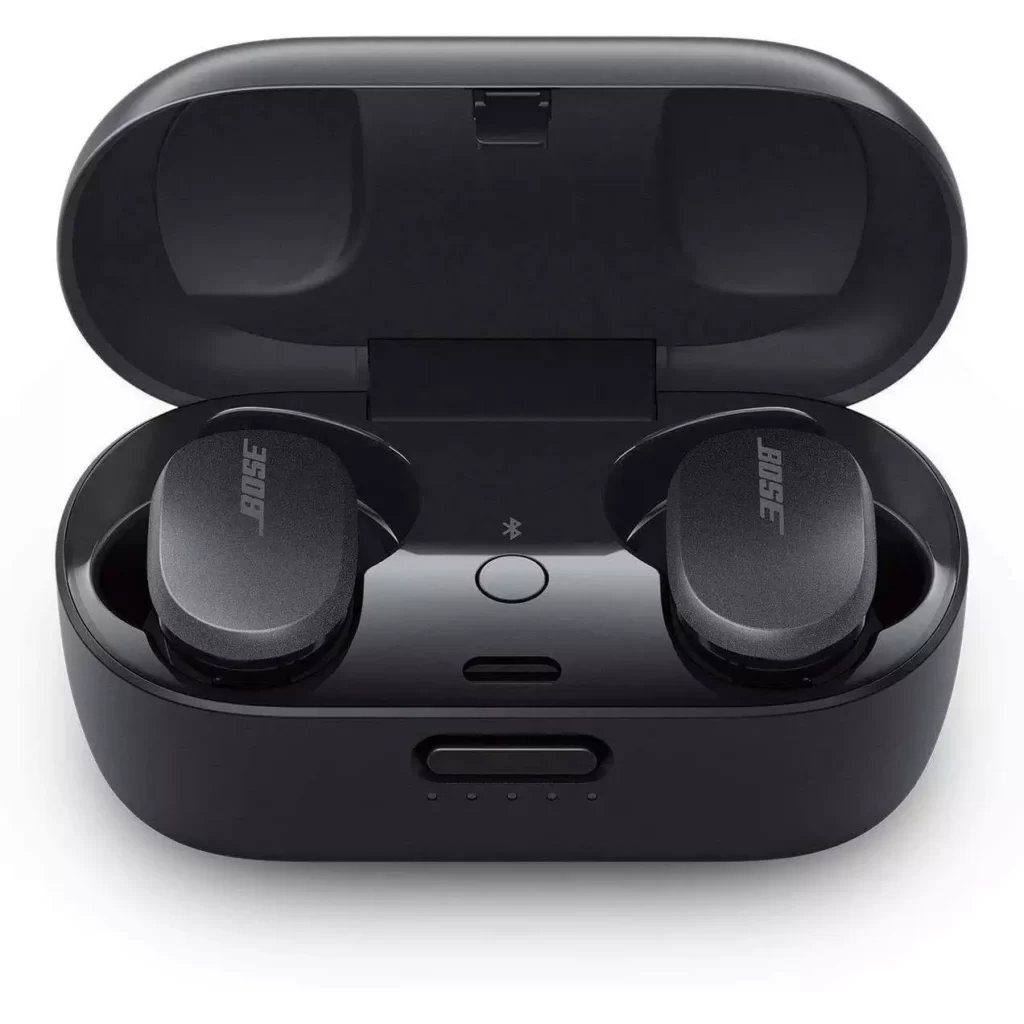 You can control the noise-cancelling to eliminate distractions virtually. For a conversation, you can lower the level of noise cancelling. Also, transparency mode offers to feel like you are not wearing earbuds. With the change of volume, it automatically recalibrated and balanced its sound.
Features
✅ Sleek design with acoustic noise-cancelling technology.
✅ It produces deep, low notes and exciting lifelike sounds.
✅ Best possible fit, comfortable to wear for hours.
✅ Designed with a special microphone to pick up your voice and reject most noises.
✅ Offers 6 hours of playback on a single charge. 15-minute charge will give two more hours.
5- LifeStraw Go Water Filter Bottle
A water purifying bottle filters the water from a range of sources to deliver clean water to drink. A hollow fibre membrane eliminates bacteria & protozoa, and a carbon capsule reduces the bad taste, odour, chlorine, and organic chemical matter.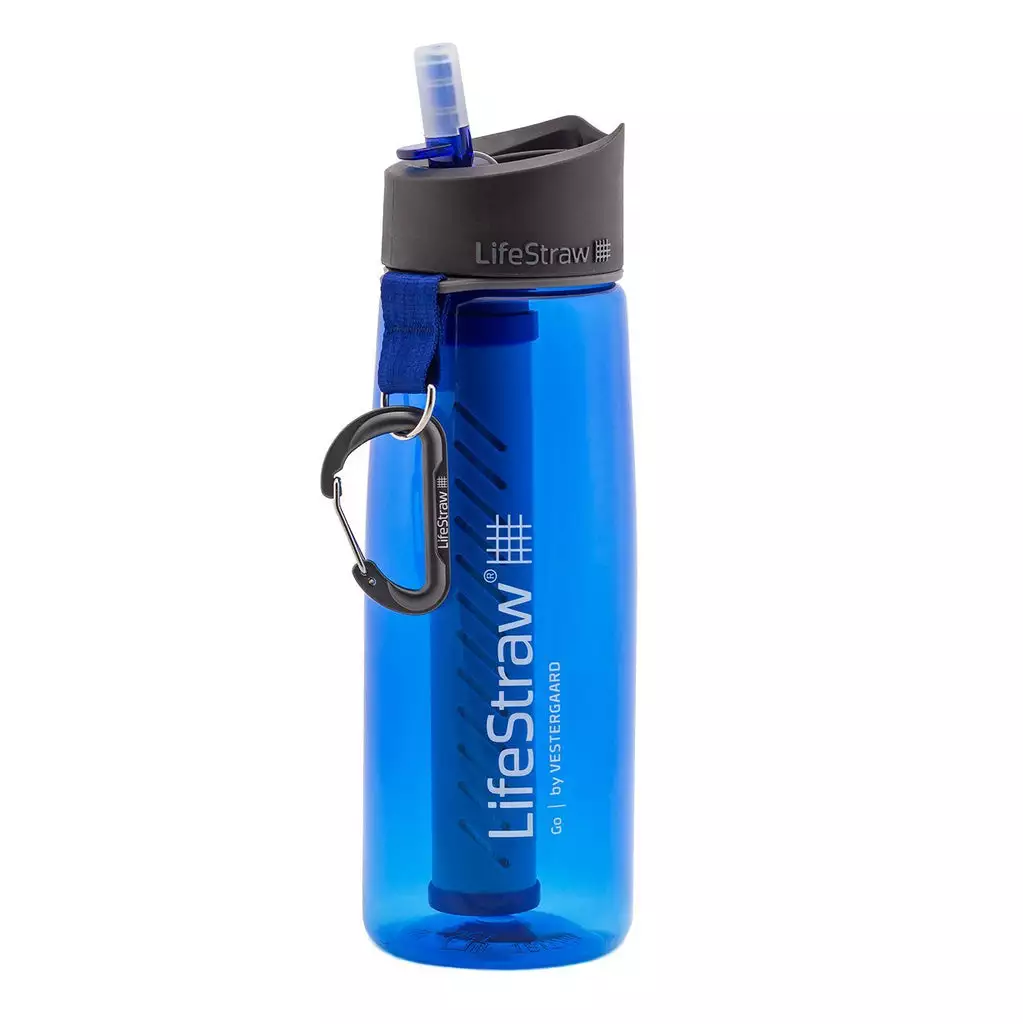 Such a travel essential gadget gives you peace of mind while hiking, camping, or travelling, and scoop water from any pond, stream, or river without worrying about safety. It surpasses EPA standards for removing E.coli, Giardia, Cryptosporidium oocysts, and other waterborne contaminants.
Features
✅ Easy to carry and simple to use.
✅ Removes 99.99% of waterborne bacteria.
✅ Reduces turbidity, filtering down to 0.2 microns.
✅ Produced from high-quality food-grade plastic as per US FDA standards.
6- Waterproof Backpack
A backpack is the most important travel companion without any doubt. While travelling in both rural and urban areas, you can carry clothes and essential items in it. Suppose, sudden rainfall or monsoon rainfall during hiking can soak your backpack including all the things in it.
So, a waterproof backpack protects here. It will prevent showers, and rainfall and hold up against the elements. Even you can use it for seeping. Such a backpack could be a lifesaver while planning for frequent travelling.
Features
✅ Completely waterproof.
✅ Offers a large splash-proof zipper for a quick grab.
✅ D-rings at shoulder straps and MOLLE system looping at anchor points to resist latching.
7- Travel Towel
You need a comfortable, soft, and suitable towel while travelling somewhere. It's a basic need of daily life. Microfiber towels are ideal for any type of travel. Even these microfiber towels dry quickly without depending on the moisture absorbed. The towel is a trusted companion while hiking through rainforests or lying out by the pool.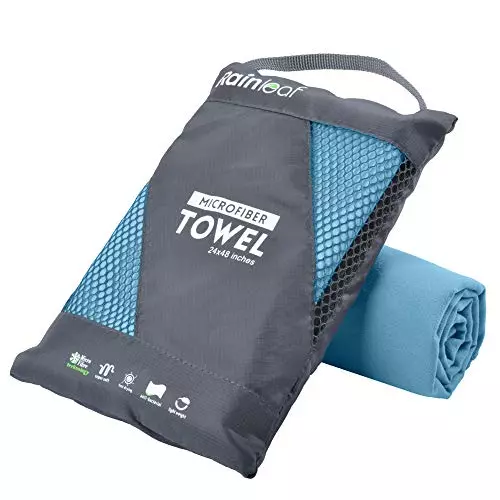 Interlock stitching made it strong and durable. And, towels are easy to roll and stow. So, it takes up far less space in your waterproof backpack. It comes in four different colours, choose among them the choice that suits you.
Features
✅ Compact, Lightweight, and convenient.
✅ Ultra-soft, suede feel on the skin, wicking away sweat and water.
✅ Strong and durable build quality for long-lasting.
8- Adventure First-Aid Kit
The Adventure First Aid Kit revolutionises the way of travelling with a first aid kit when you are planning for the great outdoors. With a slim and cylindrical design, it packs everything in an organised way. A number of carefully curated first aid essentials like a medical face mask, disposable thermometers, and first aid roll are carried in the vessel.
Made of military-grade aluminium, its durable, and waterproof casing allows it to hold up in challenging conditions. A traveller must have a first aid kit to enjoy the outdoors. With an innovative design, this kit makes first aid easier to carry and quicker to use.
Features
✅ Virtually indestructible, watertight, and ultra-compact.
✅ Slim, cylindrical design makes it easy to pack.
✅ Offers 46 first aid essentials and 4-mode LED lights to access VSSL's signature first aid roll.
✅ Keep everything in a perfectly organised manner for quick and easy access.
9- Travel Blanket and Pillow
For long flights and overnight bus or train journeys, you would like to snuggle up in a warm blanket and rest your head on a pillow. In such cases, a travel blanket and pillow are essential things for overnight trips and long-haul.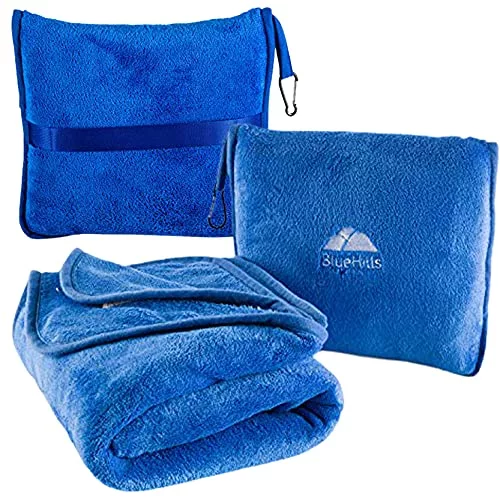 Made of microfiber results in scratch-free. A travel pillow will keep your head and neck supported during a nap on a train, plane, or bus. And, the travel blanket helps to snuggle you up to stay warm while taking a rest. Cabeau is committed to the user's complete satisfaction. It will replace all the defective and damaged products.
Features
✅ Extra soft, warm, and scratch-free.
✅ Easily foldable to pack in a case and carry out.
✅ Both the blanket and case are washable. You can do a machine wash also.
10- Waterproof Portable Bluetooth Speaker
Loud music injects plenty of fun and rhythm into the party. Whether you are going for beach trips or lazy days by the pool, a waterproof Bluetooth speaker increases your enjoyment. You can connect speakers via Bluetooth seamlessly and play or stream music from any app.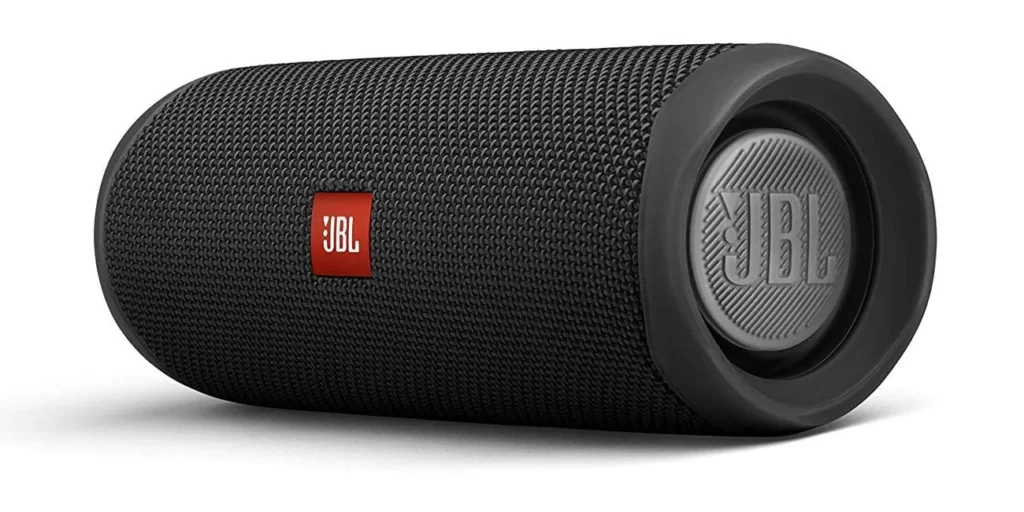 Normally, all the Bluetooth speakers beat the music for up to 6 hours or more. Normally, all the Bluetooth speakers beat the music for up to 6 hours or more. However, you don't have to carry your phones by the pools or at the beach because of waterproof speakers.
These truly cool travel gadgets remove the stress and anxiety of having lost or damaged your phone while the party is going on. Normally, all the Bluetooth speakers beat the music for up to 6 hours or more.
Features
✅ Wireless, waterproof, and stylish.
✅ Portable, and good build quality.
✅ Battery lasts for 6 hours or more.
✅ Comes with a warranty.
11- Paper White (11th Gen.)
Many people's hobby is reading. While going on a long trip or journey, reading is one of the best ways to spend time. Books will help to kill time on flights and make you relax.
A Kindle Paper White made e-reading easier by storing thousands of books into one simple, comfortable notepad. With an e-ink, a much brighter display is easy to use for a reader.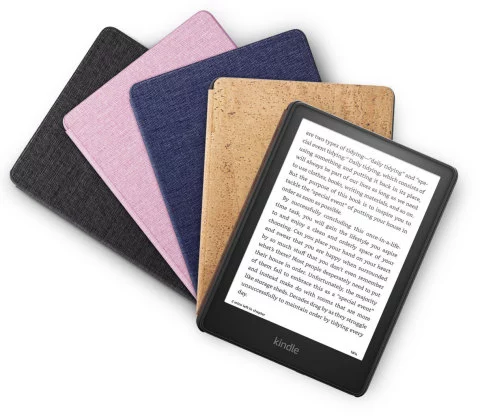 It offers a faster processor, USB Type-C charging, and longer battery life. As it's water-resistant, it can withstand up to 2 metres of normal water for up to 60 minutes, and up to 0.25 metres of seawater for up to 3 minutes.
With Kindle Unlimited, you can access more than 2 million titles. Moreover, a subscribed member can access tens of thousands of books every month.
Features
✅ Battery lasts up to 10 weeks and supports fast charging.
✅ IPX8 rated to protect from accidental immersion in water.
✅ Latest software experiences a new, intuitive, and easier Kindle reading feature.
✅ Only prime members can access thousands of titles including eBooks, magazines, and more.
12- Ultra-Compact Portable Charger (Power Bank)
Portable chargers are essential travel gadgets. If your phone's battery dies all of a sudden at mid-flight or mid-trip, then it will be stressful.
At that time, a power bank was the saviour. The Ambrane 27000mAh Power bank will be a great option as a portable charger.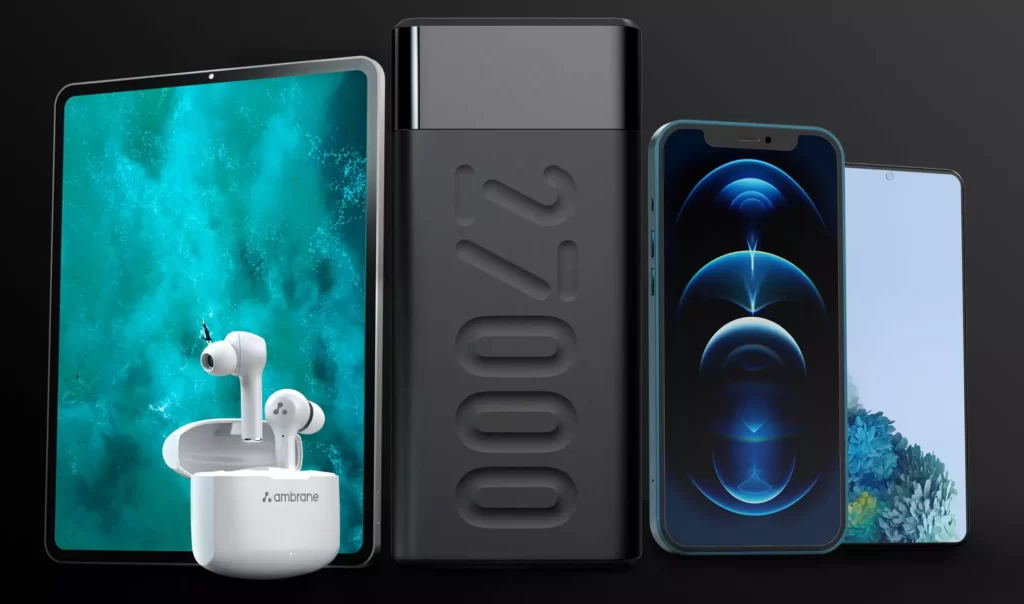 It can charge 3 devices at a time and supports fast charging also. You can charge any phone including iPhone. It offers a thunderous 20W PD and 3.0 QC output port to boost the charging speed. Don't take that risk, carry a power bank on a trip to give yourself peace of mind.
Features
✅ Robust build quality with a massive 27000mAh battery and support 20W fast charging.
✅ Compact, stylish, secure, reliable, and widely compatible for a traveller.
✅ Took 12-13 hours to be charged and charge your phone 50% within 30 min.
✅ Offers 12 layers of advanced chipset protection certified by the Bureau of Indian Standards.
13- USB-or Battery Operated Mini Humidifier
Humidifiers convert water into moisture to feel like an office cubicle or hotel room. It can carry 500ml water and offers a 3600mAh battery that lasts for 5-6 hours on a full charge. One or two nozzles sprays a minimum of 30-40ml to meet the needs of the atmosphere.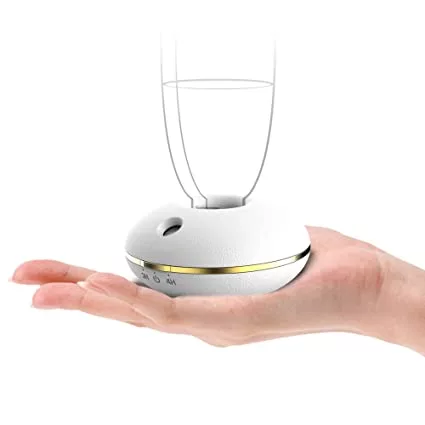 With the help of a regulator, you can adjust the mist in the air by controlling the knob of this travel humidifier. It's easy to clean, just remove the lid and wipe the tank with a wet cloth.
It also delivers a night lamp to comfort in the dark. It easily fits in a handbag, or briefcase, and can be carried with luggage during travelling.
Features
✅ Great gadget for use while travelling.
✅ Automatically shuts off when the water bottle will be empty.
✅ Has lower noise level to 30dB for humidification.
✅ Control the emission of mist during humidification.
14- Wireless and Waterproof Bluetooth Speaker
SoundBot SB510 HD Water Resistant Bluetooth 3.0 Shower Speaker is a portable Speakerphone with in-built mic control buttons for volume up and down, fast-forwarding and reversing, play and pause. You can use it for music streaming and hands-free talking for up to 6 hours.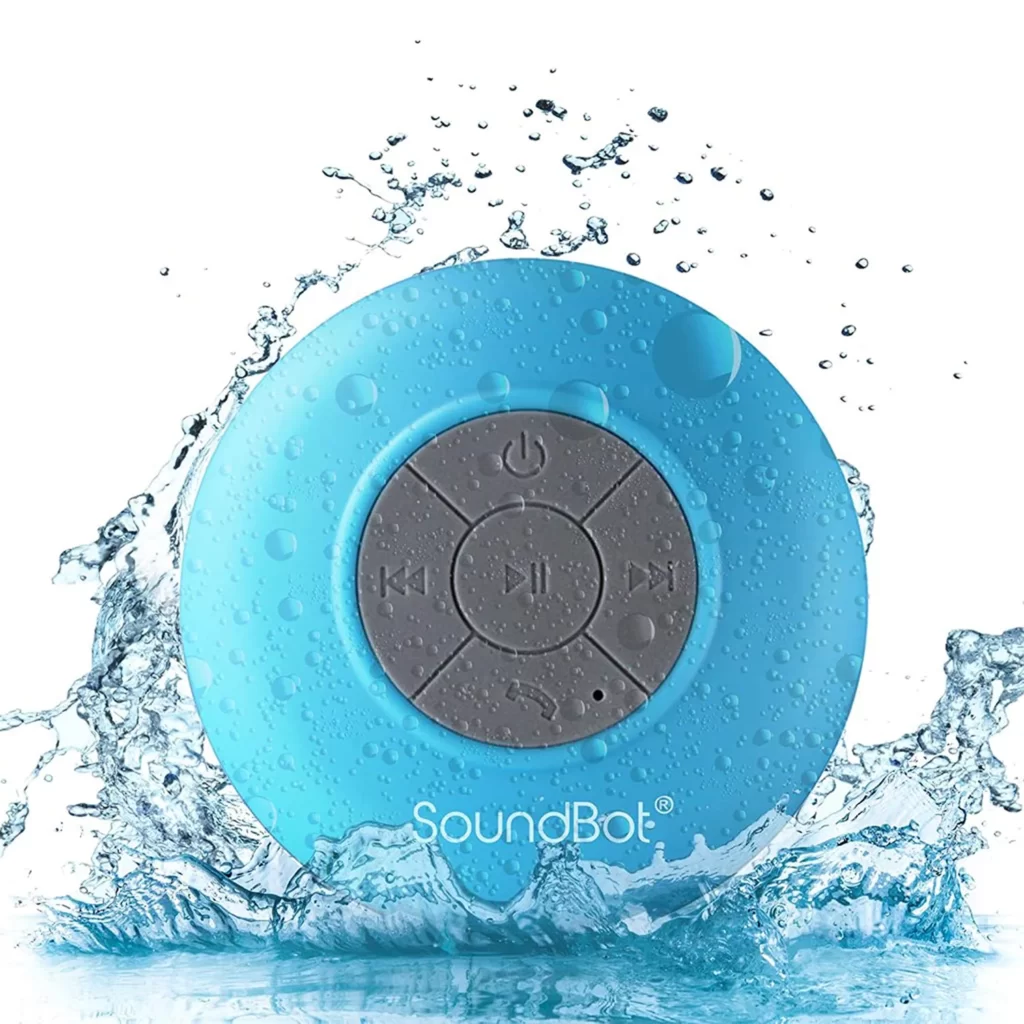 The water-resistant loudspeaker has a dedicated suction cup to secure from wet shower surfaces, ceramic, glass, car windshields, and even flat smooth outdoor environments.
It will be a premium gift for Christmas, birthdays, Valentine's Day, and other special occasions. Supports all the devices comfortably.
Features
✅ Premium water-resistant HD loudspeaker that gives an advanced digital sound and experiences enriched music.
✅ Up to 33 feet of effective wireless remote distance.
✅ Up to 6 hours of wireless music streaming from a single charge.
✅ Support all the Media players, Android devices, iPhone, iPad, Tablet, PCs, Laptops, Smartphones, etc.
✅ Acoustic back side loudspeaker design.
✅ In-Built mic for hands-free talking.
✅ Intuitive easy access control buttons for music playback or call management.
15- Life-Straw Water Filter
The LifeStraw Water Filter is an award-winning water filter straw that allows you to drink water directly from rivers, lakes, streams, and other water sources.
A hollow fibre membrane micro-filter removes bacteria (like E.coli), parasites (like Giardia and Cryptosporidium), and micro-plastics to protect against waterborne diseases.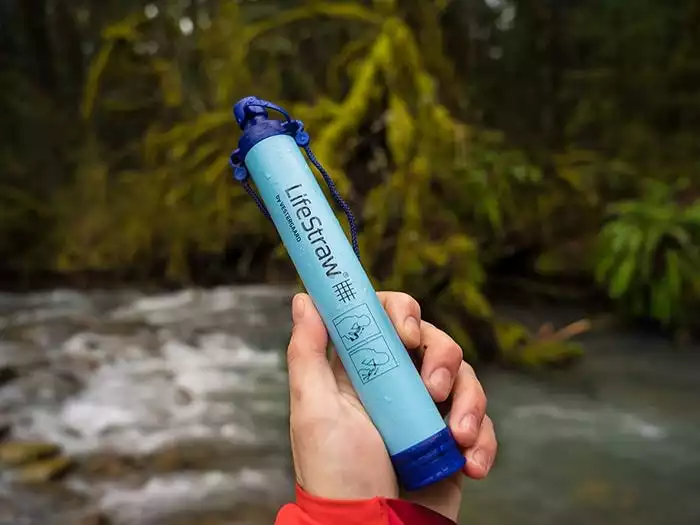 We believe everyone deserves safe drinking water, and this water filter provides the highest protection from unsafe water.
It can filter up to 1000 litres of water and lasts for 5 years. It's one of the cool travel gadgets on this list.
Features
✅ Drink safely from rivers, lakes, streams, and other water sources.
✅ Removes 99.99% of bacteria, parasites, and microplastics.
✅ Meets US EPA drinking water standards for bacteria and parasites reductions
✅ Ultralight (less than 1.7 OZ) and easily fit into backpacks and first aid kits.
✅ Durable, BPA-Free materials, and long-lasting up to 5 years of use.
16- Smartest Carry-on Suitcase with Built-in USB Charger
The suitcase is made of 100% ABS material and allows you to get a better travel experience with the necessary components like TSA locks, telescopic rods, 360-degree rotating double wheels, a rechargeable USB interface, and a special pocket.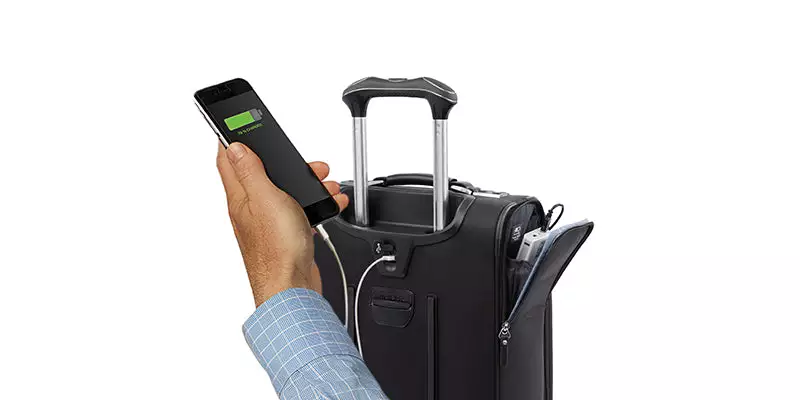 It has a 3-Level height adjustable with a durable, lightweight design for long-lasting. Moreover, it uses finger-protection materials and is sturdy enough to carry. If you face any problem, feel free to contact customer service and it's available for 24 hours.
Features
✅ Durable, lightweight, and used for the long term.
✅ Offer TSA locks, telescopic rods, and 360-degree rotating double wheels.
✅ Heat-resistant, pressure-resistant, and waterproof.
✅ Comes with a rechargeable USB interface and special pocket.
✅ 24 hours available customer service.
17- Ultimate Ergonomic Neck Supporter
Travel blankets and pillows aren't only a way of delivering comfort, but Ergonomic Neck Supporter also provides relief.
Neck pain is one of the most common problems whether it's caused by a sleeping position or lack of support.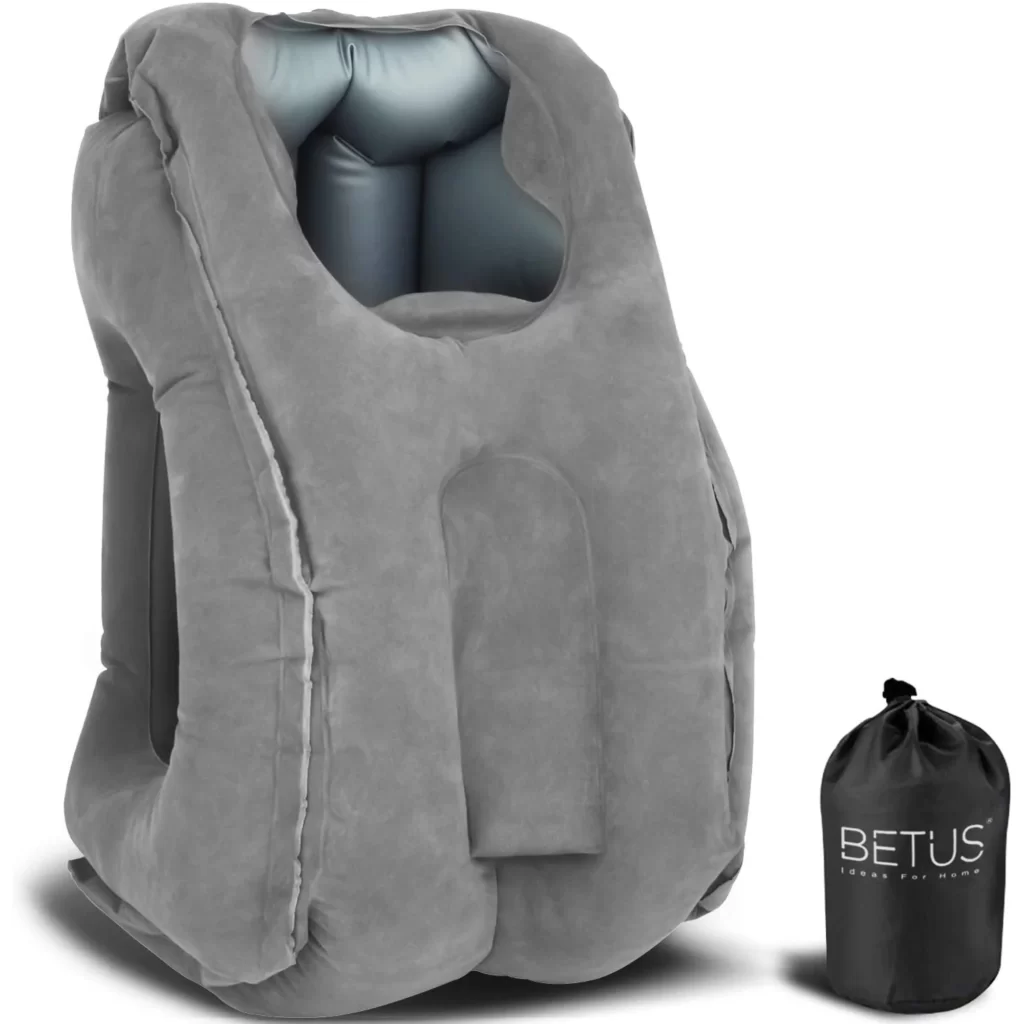 A U-shaped pillow ends up the neck pain. Here the neck pillow can be utilised to avoid such pain. A U-shaped pillow ends up the neck pain. It takes less than 1 minute to fully inflate and provides a more comfortable trip. You can take it while travelling by train, airplane, car, and office.
Features
✅ No more neck pain.
✅ 60 Seconds Inflation.
✅ Practical and Versatile.
✅ Super compact and portable in airplanes, trains, cars, and offices too.
18- Cool Travel Gadgets: Insulated Stainless Steel Mug
The Contigo Byron 2.0 Stainless Steel Travel Mug keeps your drink hot for up to 7 hours and cold up to 18 hours. It comes with SNAPSEAL Lid, THERMALOCK double-wall vacuum insulation, and Grip Blue Corn.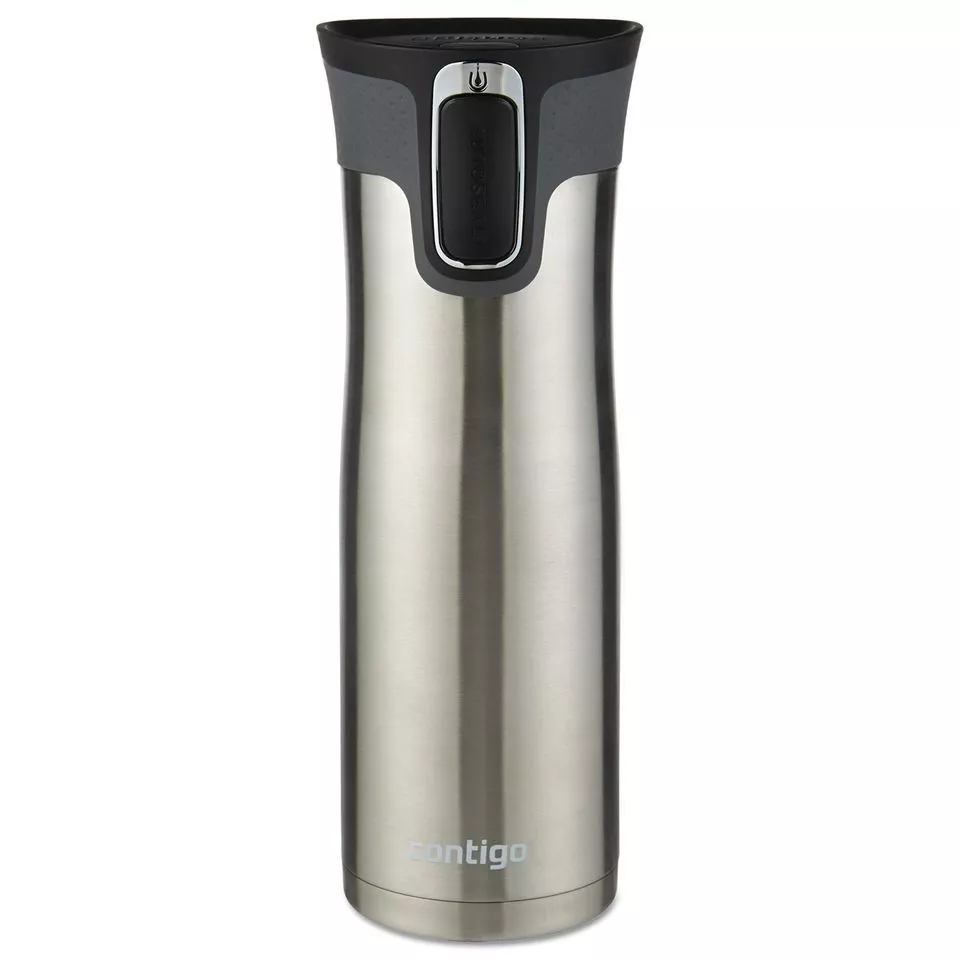 The one-piece SNAPSEAL lid allows one to drink one-handed without removing lids or caps. However, a subtly textured grip offers a secure hold. It's fire-resistant and one of the cool travel gadgets for keeping your drink hot or cold for a time while travelling.
Features
✅ Leak-proof lid for on-the-go convenience when closed.
✅ Insulation of double-wall THERMALOCK inside the stainless steel keeps drinks hot for up to 7 hours and cold for up to 18 hours.
✅ One-handed drinking with no lids or caps to remove or misplace.
✅ Subtly textured grip with fluid movement for a secure hold on the go.
✅ Fits car cup holders and under most single-serve brewers.
✅ Top-rack dishwasher-safe lid, hand wash body.
✅ Limited lifetime guarantee.
19- Mini-electric Tooth Brush
The mini-electric toothbrush by Colgate is a rechargeable smart toothbrush connected through Bluetooth and covers all the target spots in the mouth. It guides you to brush better by tracking the duration, and frequency, and covering your individual brushing style.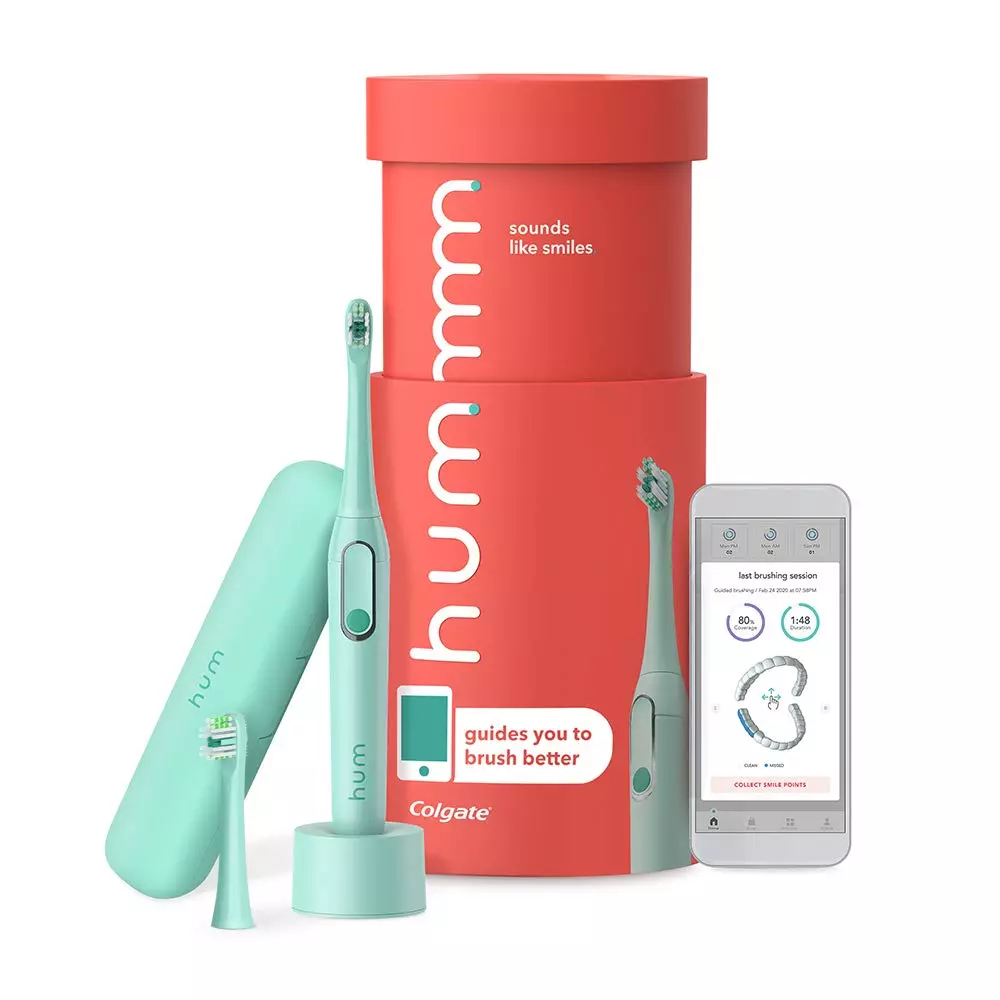 This mini-electric toothbrush takes good oral care with the help of a brush that knows you and a mobile app that shows you.
It goes beyond the guesswork with its soft bristle toothbrush and takes care of your smile in fun activities and challenges.
Features
✅ Bluetooth-connected toothbrush targets the needed spots.
✅ 3 modes of powerful sonic vibrations, among which you can choose normal, sensitive, and deep clean that suits you.
✅ Way to clean with a sonic toothbrush and improve your brushing to earn points.
✅ This Electric toothbrush comes with a timer that reminds you to stick it out for 2 minutes.
✅ Rechargeable battery lasts for 10 days
✅ Able to track the frequency, duration, and coverage of unique brushing styles.
✅ Replaceable soft toothbrush head: Keep brush heads as fresh as your mouth
✅ Also available in a battery-operated toothbrush option
✅ The Hum by Colgate app is available on iOS and Android devices
✅ Powerful vibrations: multiple modes let you choose the vibration level that best suits you.
✅ Smart sensors: connected smart toothbrush technology helps you target spots that need extra love.
✅ Brush better: to help you brush your best!
20- Vintage Laptop and Travel Backpack
Vintage laptops and travel bags are specially made for women. With a durable exterior build quality, and lightweight, this backpack is made of polyester material and soft inner material.
It comes with an external USB with an in-built charging cable, but you have to place a power bank to charge your electronic devices.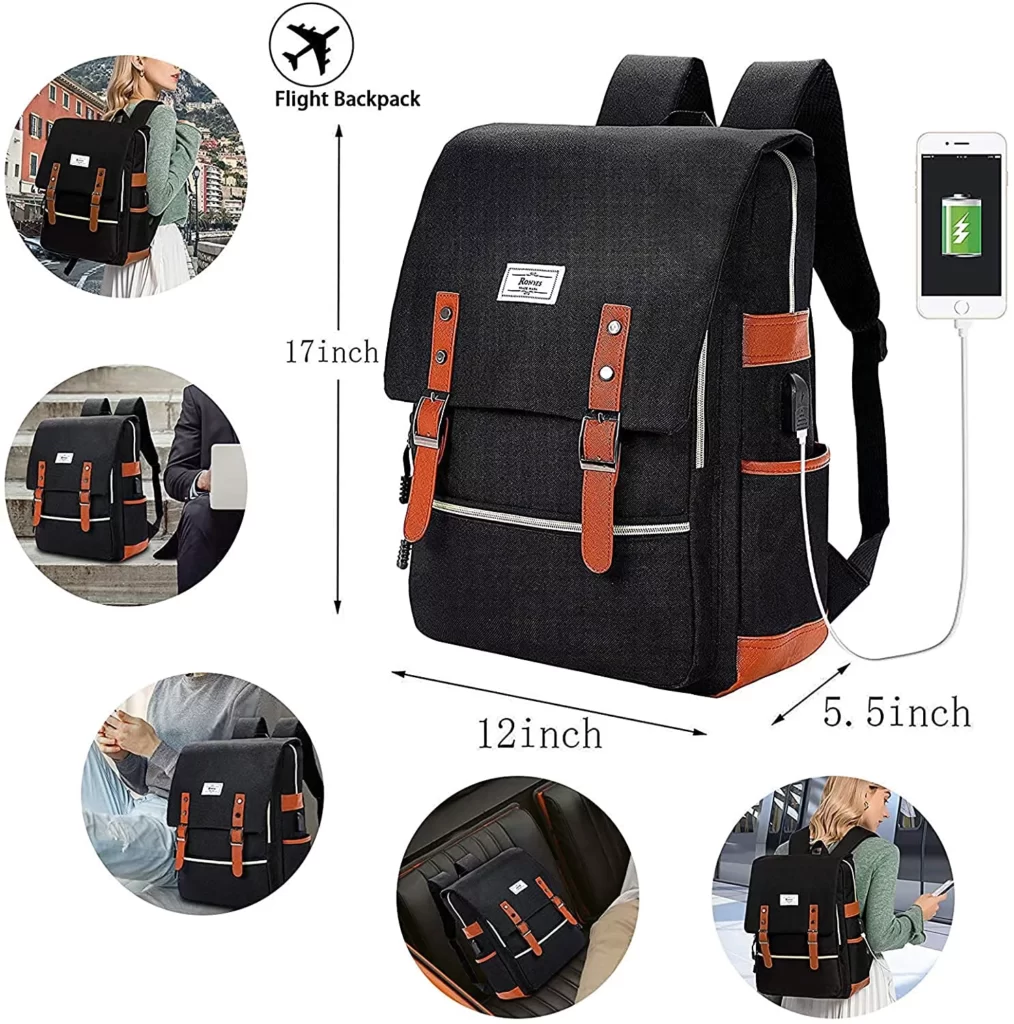 Moreover, it offers adjustable and padded shoulder straps to fit comfortably on your shoulders. It also has a padded sleeve for a laptop.
This backpack is lightweight. You can even take it while going to school, work, gym, weekend get-away, travel, biking, camping, etc.
Features
✅ Durable build quality and lightweight.
✅ Well-padded shoulder straps.
✅ perfect option for day-to-day use.
✅ Scratch-resistant, Anti-tear, and Anti-Water splashing.
21- Cool Travel Gadgets – Digital Luggage Scale
Solid baggage rules at the airport forced the passengers to pay charges for their extra luggage. So, it's commonly seen that passengers are removing extra stuff from their bags at the check-in counter of the airport.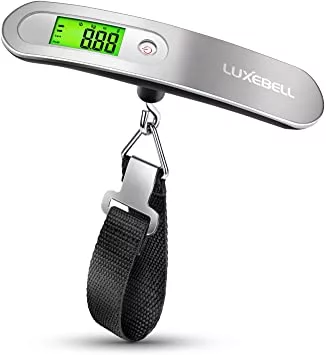 In such a case, a digital luggage scale will help you to weigh your bag before going airport. With an adjustable strap and lightweight, it can measure the weight and display it on an LCD screen.
The luggage scale can measure up to 50 kg or 110 pounds. It features an in-built battery, a light indicator for overload, and a low battery.
Features
✅ Compact and lightweight.
✅ Straightforward and easy to use.
✅ Measures up to 110 lb weight.
✅ In-built battery with overload and low battery indicator.
✅ Limited lifetime warranty.
22- Anti-theft Shockproof Backpack
It's important to keep your essential things safe and secure while going on a business trip. With code lock, this laptop backpack not only protects your stuff but also offers to charge your electronic devices by providing a USB charging port and USB cable.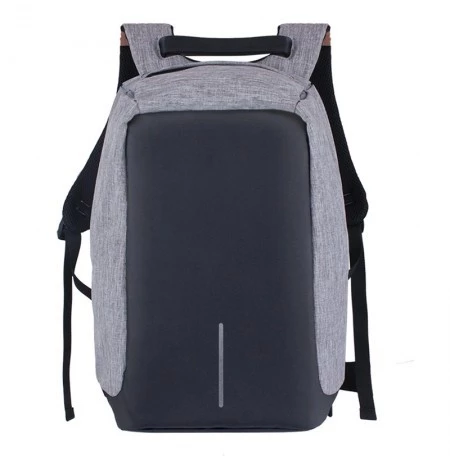 Made of Splash-proof Fabric with a soft and comfortable experience. It features a large compartment and pockets with ultra-smooth zippers, meshes padded shoulder straps, and a back panel with a solid top handle. Even timely heat radiation creates amazing comfort and great breathability.
Features
✅ Ant fleece, nylon lining, stylish and long-lasting.
✅ Tear-resistant, Shockproof, breathable, and splash-proof.
✅ Designed with luggage fixing strap and reflective strip.
✅ Delivers large capacity with ultra-smooth zipper and safety attachments.
✅ Comes with a security code lock, USB port, and built-in USB cable.
23- ADDTOP Portable Solar Power Bank
ADDTOP Solar Power bank comes with three solar panels capable of charging a device up to 10 times. It is made of high-quality plastic and synthetic leather to deliver a durable and aesthetically pleasing design.
Even a small panel covers two USB ports that can charge two devices at the same time, for water and dust protection.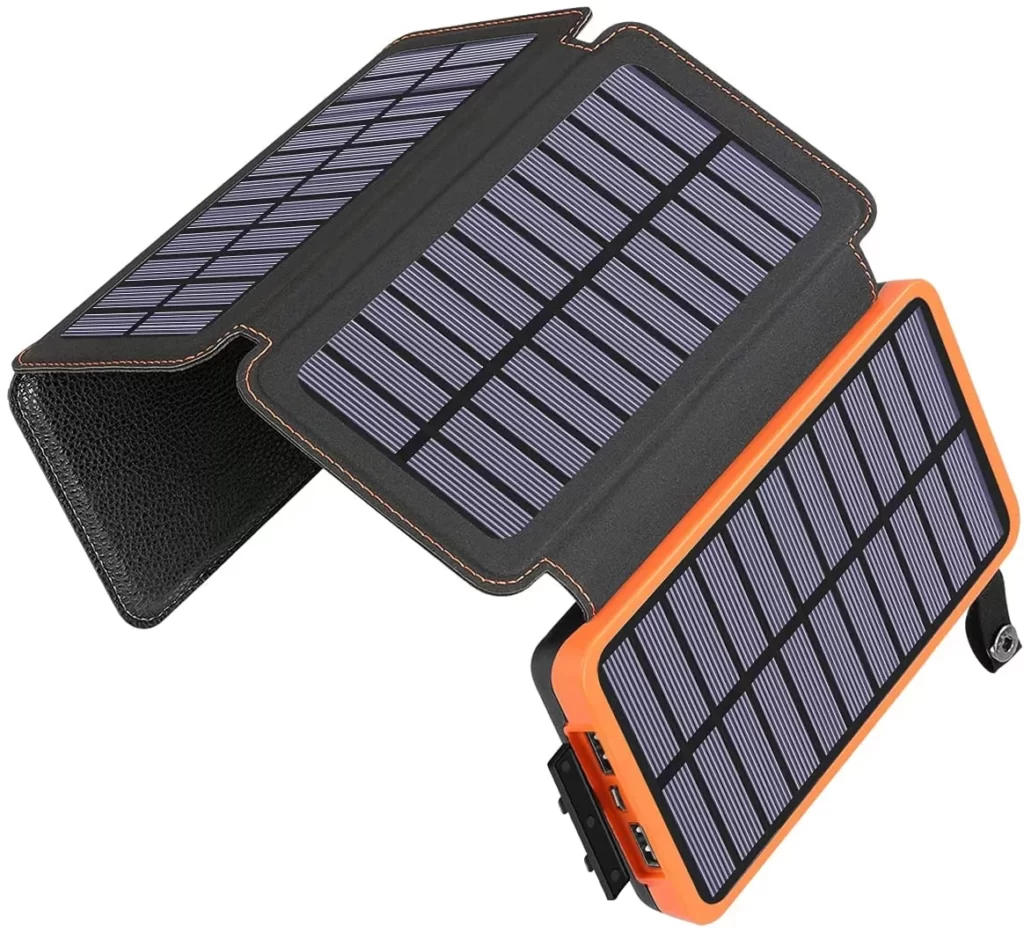 It will take 30 hours to charge in direct sunlight. IPX7 rated made this solar power bank entirely waterproof. Moreover, it can withstand submersion up to 3 feet into the water. It's enough for everyday users.
Features
✅ Smaller in size and shaped like a smartphone when folded up.
✅ Durable and aesthetically pleasing design.
✅ IPX7 rated Water resistance.
✅ Portable for most backpackers and campers, supporting with the quickest charging device.
✅ Delivers three Steady modes, SOS and Strobe.
✅ Offers an in-built LED flashlight.
24- Shirt Transporter
When you are going to spend a night out on the town or in a boardroom, a shirt trekker protects your dapper shirt from wrinkles and dust. This Tupperware for shirts, called Shirt Trekker, perfectly keeps your shirt wrinkleless for long trips.
It comes moulded and ready to keep the collars stiff while travelling. When you are going to spend a night out on the town or in a boardroom, a shirt trekker protects your dapper shirt from wrinkles and dust.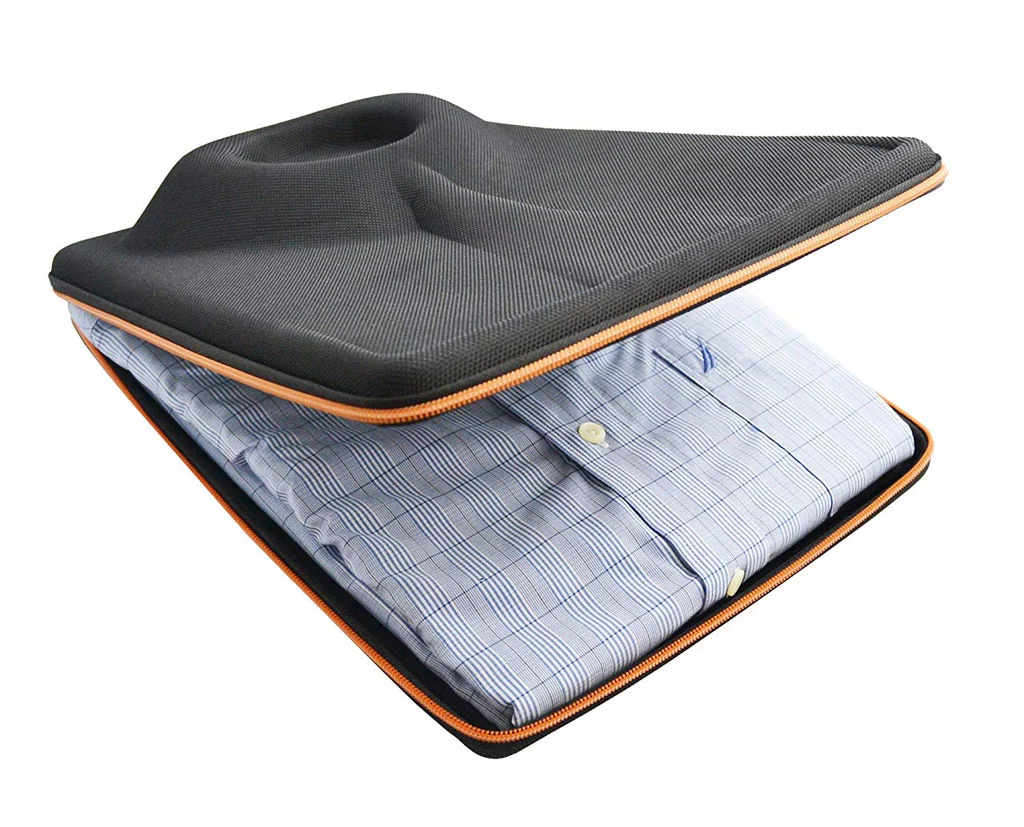 Even biking in the rain or leaving it on the beach or going for a swim, it resists soaking. These cases are a little thick and heavy, but you can pack them in a backpack easily. You can keep max to max 3 shirts in one case. Moreover, it saves the time of ironing.
Features
✅ Easily transport and protect your shirts from dust, moisture, and wrinkles.
✅ While travelling, it makes the pre-packing easy to get up and go.
✅ Use for storage at the office, home, and the car.
✅ Always have a fresh shirt.
✅ Water Resistant.
25- Contoured Sleep Mask
While going to sleep, we usually turn off the light and create a dark room for a comfortable sleep. But, during travelling, it's not possible to create darkness in the whole compartment.
Here you can use a contoured sleep mask to create darkness in front of your eyes.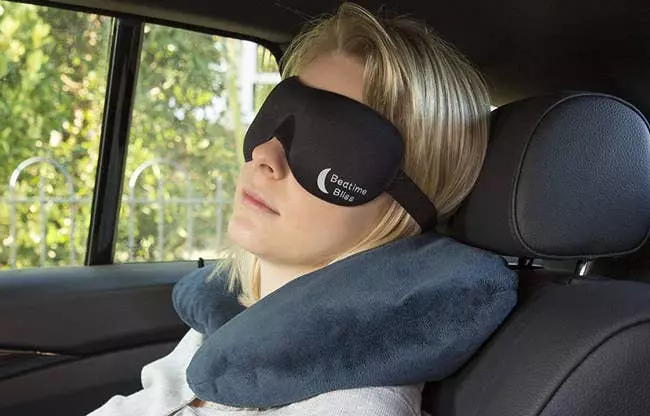 It's comfortable, soft, and adjustable with a 3D contoured shape design, an anti-skid silicone elastic belt to keep the mask on your head. You can use it for different occasions like indoor, outdoor, camping, and travelling by airplane, trains, etc.
Features
✅ Comfortable, lightweight, and soft sleeping eye mask with no smell.
✅ Great quality material to enhance your sleep and make your eyes relaxed at a full night's sleep.
✅ Mask with 3D contoured shape design, features a protective curve with more contour space.
✅ Sleeping mask with adjustable soft elastic strap, comfortable to wear, doesn't fall off when you move while sleeping.
✅ Eye space is wider and deeper, has no pressure on the eyes, and allows you to blink freely without touching your eye makeup.
✅ Naturally improves mood, energy levels, and cognitive function, soft foam core blocks out light for a faster deeper sleep.
✅ Fit for all Men, Women, Children, and Travel, Shift Work, Meditation, etc. for home, travel, office, and rest in the car.
Last Words on Cool Travel Gadgets
These all are cool travel gadgets you can use on a short or long trip. Many of them are a basic need for a traveller while going for a trip such as a backpack, pillow, power bank, and so on. Whereas some are the really cool travel gadgets out there that amaze you.
I hope you will be helpful with the list of cool travel gadgets and use these gadgets while planning a trip. Share your thoughts about the travel gadgets you use most of the time.
However, let me know about your likes and dislikes about today's topic of Tourmantras. And, share this informative article with your friends who love to travel.
FAQs
1) Which are the basic travel gadgets for a trip?
As a traveller, you must carry a waterproof backpack or an anti-theft backpack or suitcase, a Power bank (either solar-powered or normal), headphones, camera, multi-port charging cable with a power adapter, travel drone, and more.
2) Which things you can't carry on an airplane?
You cannot carry any explosive and flammable objects like fireworks, flares, gas torch, any fuel, aerosols, etc. in the plane.
3) What is the 3-1-1 liquid rule?
Each passenger may carry liquids, gels, and aerosols in a travel-size container that is 3.4 ounces or 100 millilitres. Common travel items must comply with the 3-1-1 liquids rule including toothpaste, shampoo, conditioner, mouthwash, and lotion.
4) Does rolling clothes save space?
If you have hand luggage, then rolling clothes will definitely save space in your backpack. Thus you can organise in a better way.
5) Is it better to roll or lay flat when packing?
As a rule of thumb, always folding clothes are always natural. A flat fold will take space but it keeps your clothes fresh and wrinkle-free. Whereas the rolling will take less space and cause wrinkles.
You may also like: