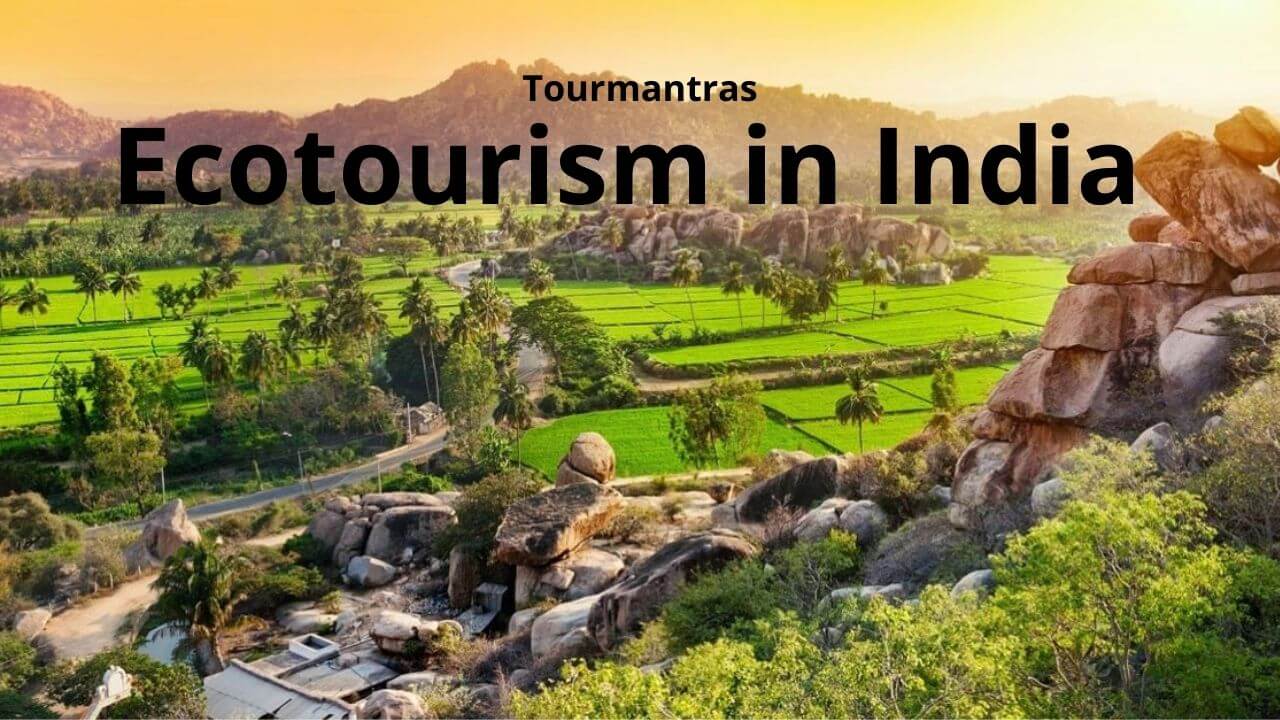 Travelling has become more than a stress buster. For most people these days, travelling is a passion. Each traveller has a specific interest. For a few of them, for a few others, its beaches and lakes. Ecotourism is one such aspect of travel that is best for nature lovers. You will find a plethora of places for Ecotourism in India. Nature includes all forms of landscape, from plains to forests to deserts and wetlands.
India, with around 32 lakh square kilometres of area, has almost all kinds of landforms. This includes the mountains of the Himalayas, the plains of the North, the deserts of Rajasthan, plates, and coastal strips. The main aim of ecotourism in India is to promote tourism without destroying nature. The country will continue to promote tourism without destroying its natural wealth.
Ecotourism in India that Every Nature Lover Must Visit.
Ecotourism in India: The Lane to Ladakh
The Himalayan ranges are known throughout the world for their snow-covered peaks and eye-catching mountain ranges. Currently, several Non-governmental organisations are actively involved in promoting the lives of natives of Ladakh. There are several tourist attractions in and around the region of Ladakh. This includes the ancient Buddhist monasteries that can kindle the spiritual person in you.
You can also plan for bike travel or even trek the rural villages to experience breathtaking mountain views.
Major Ecotourist Spots in Ladakh
✅ If you are an animal lover, then the Hemis National Park and Tsomoriri Wetland Conservation Reserve are must-visit spots.
Ecotourists worldwide visit this place, thus making it one of the favourite spots for Ecotourism in India.
---
Trekking in Himachal
The state of Himachal Pradesh borders Jammu Kashmir and Tibet. Further down from Jammu and Kashmir, you will find the best travel triangle in India. Some of the well-known ecotourism places in India are here. The frost-filled Shimla, Kullu, and Manali are known for their scenic beauty around the world. The confluence of cultures and the traditional lifestyle of people add to nature's beauty. Tourists who visit Himachal are in awe of the culture and tradition that the people here follow.
Ecotourism in India – Himachal Eco-Tourism Places
✅ The Great Himalayan National Park and Pine Valley National Park will ensure that the traveller gets to see several indigenous florae that you can find nowhere else.
✅ One other must-visit place in this region is Chandratal Lake. Located at an altitude of 4300 metres above sea level, this is one of the most beautiful lakes in the world.
✅ The vibrant shades of the blue lake, surrounded by mountain ranges with snowy peaks, will give you a heavenly experience.
---
Most people consider New Delhi, the national capital of India, to be a city filled with buzzing traffic and shopping centres. Hidden behind this chaos are serene locations that most people never know. Several well-known spots are among the top ecotourism places in India.
Being a national capital, there are a couple of organizations that promote ecotourism in this region.
Ecotourist Spots in Delhi
✅ For example, the Chawla-Kanganheri National Park is luxuriously natural. To promote ecotourism in this region, these organizations have come up with ideas like camping, boating, and other fun-filled activities.
✅ The Yamuna diversity park, at around 15 kilometres from the buzzing traffic, is home to several endangered plant species.
✅ Apart from these JNU caves, the Ridge and Yamuna are also a few must-visit ecotourism spots in New Delhi.
---
Beyond Spiritual Sites for Ecotourism in India
The state of Uttarakhand is known as the holy place of Rishikesh. But did you know that this place also houses several ecologically rich sites? The village of Kumaun is known for its rich tradition. This village has a history that dates back even before the Ramayana and Mahabharata. The attire, food, music, and dance are unique and attract several hundred tourists from India and around the world.
Eco-Tourism in Uttarakhand
✅ The forest department also organises State Bird Spring Festival, which serves as a major attraction.
✅ The tiger reserve of Ramnagar, Seven Lakes of Nainital, Valley of Flowers and Nanda Devi Biosphere Reserve are must-visit places in Uttarakhand.
Next time you plan a spiritual trip to Uttarakhand, do not hesitate to visit these sites.
---
The Farthest point in East
The North East of India is known exclusively for the rainforest. Arunachal Pradesh is simply known as the bird-watching ecotourism state in India. The Eaglenest, West Kemang in Arunachal Pradesh, provides opportunities for ecotourists to watch exotic bird species. Apart from the 650 species of birds, the state is also home to around 500 different species of Flora and Fauna. This includes Tigers, leopards, clouded leopards, snow leopards, and several exotic species of the Feline family.
Ecotourism in Arunachal Pradesh
✅ The Dihang-Dibang Biosphere Reserve is one of the largest and most biodiverse spots in India.
✅ The other sanctuaries in Arunachal Pradesh like – Kamlang Wildlife Sanctuary, Mouling National Park, and Sessa Orchid Sanctuary will give a visual treat to the nature lover in you.
✅ The Pakke-Paga Hornbill Festival is a promotional activity that aims to promote ecotourism places in India.
---
Mesmerising Meghalaya for Ecotourism in India
One another state in the northeast that is known for ecotourism is Meghalaya. The state is known for its dense forest and has many spots for ecotourism in India. The high rainfall in this region is the reason why it has a thick forest cover.
Ecotourism in Meghalaya
✅ The sacred grooves of Khasi hills protect and conserve several plant species. This includes the Castanopsis Kurzii trees and Khasi pine. Within these gigantic trees twine hundreds and thousands of ferns, orchids and pipers.
✅ If you wish to smell nature, then this is where you should travel. The Nongkhnum island is the second biggest river island in Asia.
✅ The fishing pools, sandy shores and lush grasslands make this place splendid.
✅ Jakrem Hot Spring is one of the favourite winter spots in Meghalaya. This place has improvisations with bathing compartments to help tourists relish this place.
✅ If you visit Meghalaya, you will also get the chance to see the cleanest village in India. The Mawlynnong village is known for its root bridge and its scenic beauty.
✅ The tradition of this village is to maintain its cleanliness. Do you know, even the dustbins here are made out of Bamboo!
---
At the Gateway of Seven Sisters
Assam is a state that is filled with green forests, mountain ranges, gushing waterfalls, and subtle forests. The state has sites that interest people of diverse interests. From history to religion to wildlife to flora. The state of Assam is known for its naturally woven silk, which makes it one of the best souvenirs. The state has five national parks and two bird sanctuaries that conserve indigenous species of plants and animals. Thus, it has some best-known places for ecotourism in India.
The rare one-horned rhino is conserved in these national parks. To promote tourism, diving, swimming, and rafting in the rivers of Brahmaputra have been initiated. You can also take a rail journey amidst the lush forest of Dibru-Saikhowa National Park.
Ecotourism in India – Ecotourist Places in Assam
✅ The Kaziranga and Orang National Park are places you should never miss if you ever plan a trip to Assam.
✅ Majuli, the world's largest river island, is also located here. The water body attracts several indigenous and migratory birds, including the Pelicans and Siberian Cranes.
✅ The monasteries and spiritual sites in this location will help your mind reach a state of tranquillity.
This state has always been a favourite on the list of ecotourism places in India.
---
Ecotourism in India – En Route Sikkim
Sikkim is a state that houses various tribal groups. With their diverse traditional practices and religion, the three most prominent ethnic communities in Sikkim live in harmony. The Bhutias and Lepchas mostly follow Buddhism and Hinduism. However, they vary in their costumes and food culture. There are several festivals that these communities celebrate. Planning your travel during these times will help you visualise their rituals and practices.
Ecotourism in India – Sikkim Tourist Spots
✅ Sikkim is where you will find the third highest mountain peak, the Kanchenjunga. There are 28 other mountain peaks in Sikkim that are worth visiting.
✅ The snow from these peaks melts and flows into the prominent rivers of Sikkim, which are Teesta and Rangit.
✅ The colourful Rhododendrons, chirping birds, vibrant and fluttering moths and butterflies, make Sikkim the best place on Earth. 
✅ Apart from this, the mountain ranges also protect several medicinal species that are native to this state. The varsity Rhododendron sanctuary, with its colourful flowers, is simply alluring.
✅ Apart from this, Kanchedzong National Park, Fambong Lho Wildlife Sanctuary, and Kyongnosla Alpine Sanctuary are all places of scenic beauty, that every ecotourist must visit at least once.
---
Trailing in Karnataka
The state government of Karnataka has taken several steps to promote ecotourism. The western ghats run through the state, thus covering a part of the state with forest. Activities like camping and trekking are organised in the western ghats to promote ecotourism in India. The Bisle forest is a biodiversity hotspot that looks splendid in the monsoon with a mist-filled view.
Karnataka Eco-Tourism Places
✅ Nagarhole, located in the Kodagu district, is for travellers who love the wild. It is a national park and also a tiger reserve.
✅ Devbagh Beach is known for its resorts and surfing sites.
✅ The Bhadra Wildlife Sanctuary at Chikmanglur, surrounded by acres of a coffee estate, adds scenic beauty.
✅ Tourists can walk up the Mullayanagiri Peak to have a breathtaking view and visit the summit temple.
In short, Karnataka is a state with ecotourist spots for all nature lovers.
---
Travelling to God's Land for Ecotourism in India
Kerala, also known as God's own country, protects several species of flora and fauna. The state is known exclusively for the spices and plantation crops that are grown in abundance.
Ecotourism in India – Kerala Ecotourist Spots
✅ Apart from this, the western ghats also add to the scenery. There are 18 biodiversity hotspots in Kerala that protect and conserve a few endangered wildlife species.
✅ The state has various places which are known for the best ecotourism places in India.
✅ The Thenmala ecotourism project is widely known in South India.
✅ Periyar Tiger Reserve and Deer Rehabilitation Centre offer several activities for tourists.
✅ The Dhoni waterfall, Varayadumotta, and the woods of Aralam are places you should never miss out on your travel to Kerala.
The state government has initiated several projects that facilitate ecotourism in Kerala.
---
Ecotourism in India – Final Words
Eco-tourism in India helps to promote the aesthetic value of nature. For people who are used to city life, a vacation to these spots will indeed be rejuvenating. The vibrant colours of nature, the petrichor of soil, and the roar of the wild will give you a memorable experience. But there are a few things that you need to keep in mind while visiting an eco-tourism hotspot.
---
Ecotourism in India FAQs
1) What is Ecotourism in India?
Ecotourism in India means visiting certain places teeming with wildlife, flora, fauna and nature everywhere. This can be forests, national parks, wildlife sanctuaries, hills and mountains, etc.
2) Which are the best Ecotourist spots in India?
India is full of variety and diversity with respect to tourism. Some of the best places for ecotourism are:
a) Ladakh
b) Himachal Pradesh
c) Kerala
d) Delhi
e) Uttarakhand
f) Assam
g) Meghalaya
h) Sikkim and many more.
3) Why is Ecotourism Important?
Ecotours inculcates and cultural awareness in humans and help them understand importance of wildlife. Ecotours lead to environmental conservation and benefits mankind.
4) What are the types of Ecotourism in India?
Ecotours are categorised into 3 types – Adventure Ecotours, Soft Ecotourism, Hard Ecotours. Hard Ecotourism includes trekking, bird watching, camping in forest, etc. Soft Ecotourism means participating in some cultural activities of an unique culturally place. Adventure Ecotours means taking part in adventure activities like Scuba Diving, Surfing etc.
5) How Ecotourism helps the Economy?
Ecotourism in India helps tourists to visit the remotest of the places. Thus, it helps those places to earn money through tourism. It also leads to environment preservation, and enhance biodiversity. This also in turn drives the economy.