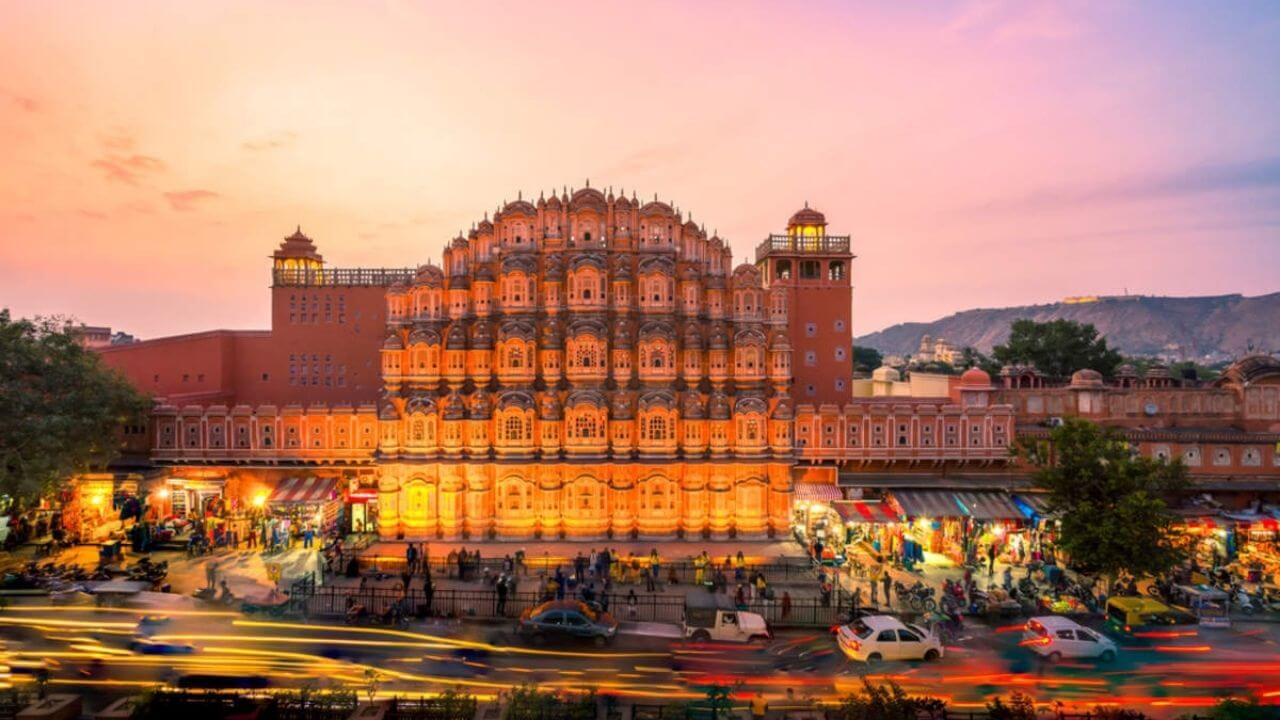 Every colour on nature's great canvas may be found in Rajasthan. A vibrant fusion of enormous forts, gorgeous palaces, various cultures, wonderful cuisines, and friendly people, all set against a rugged but inviting backdrop. It is a place that has influenced me and many others. Here, I will share the 7 must-visit tourist places in Rajasthan
If Shimla, Manali, and Nainital are known for the hills, Rajasthan is famous for the crimson dunes, royal blue, pink cities, and golden sunsets. These will invite you to be charmed by the sounds of the trinkets or the whistling desert winds, views, and aromas. Let's find the must-visit tourist places in Rajasthan for the ultimate travel experience.
Must-Visit Tourist Places in Rajasthan
You will find miles and miles of desert sand if you like to get lost on your way and never want to be found. Not to forget, its colourful art, culture, and ethnicity is every photographer's paradise. Here, are the 7 cities that I have covered for the Rajasthan tour in this article. Check out the things to see, do, and food to try in these must-visit tourist places in Rajasthan.
1) Jaipur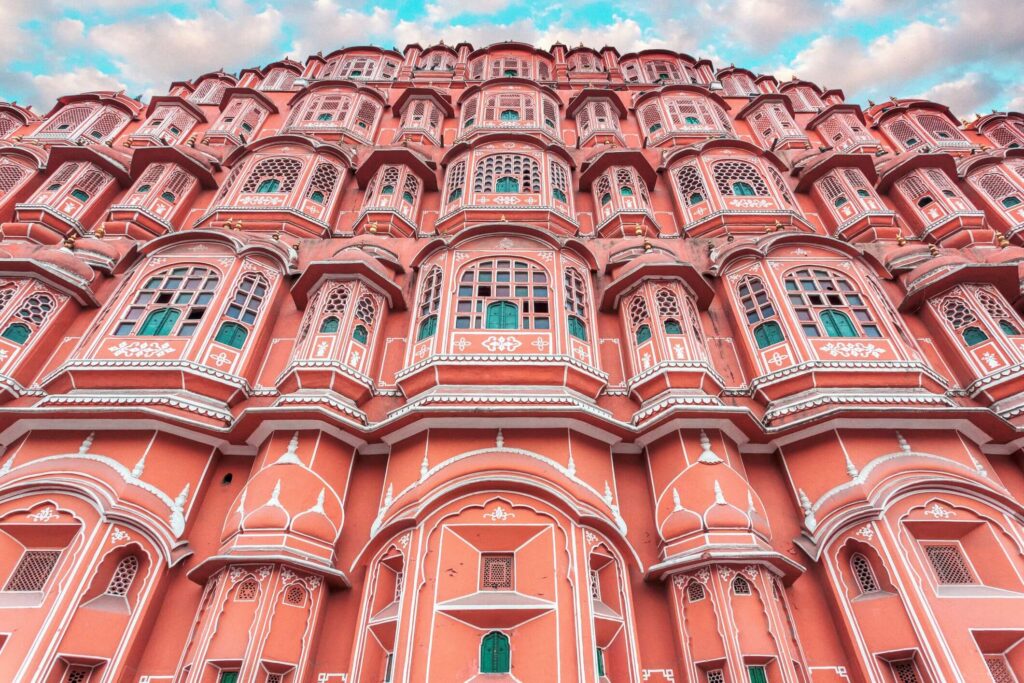 As soon as you step into the heart of this town, you will realise why Jaipur is nicknamed 'The Pink City. With never-ending rows of identical pink shops and buildings on both sides of the streets, you feel a sense of ethnicity and grandeur.
Jaipur, the capital of Rajasthan, is a renowned tourist hotspot in India. Along with Delhi and Agra, it is part of the Golden Triangle, a popular tourist route. Jaipur was voted the 7th most excellent destination to visit in Asia in the 2008 Conde Nast Traveller Readers' Choice Survey. Check out the coolest places to visit in Jaipur.
Places to Tour in Jaipur
Step outdoors to visit the Birla Auditorium, Albert Hall Museum, Hawa Mahal, Jal Mahal, City Palace, Patrika Gate, Nahargarh Fort, Jaigarh Fort, and Jaipur Zoo, which are among the city's top tourist attractions.
One of the World Heritage Sites is the Jantar Mantar observatory (a collection of 19 astronomical apparatus) and the Amer Fort. The Hawa Mahal is a five-story pyramid-shaped structure with 953 windows that rise 15 metres (50 feet) above the ground.
The important parks in Jaipur include Sisodiya Rani Bagh and Kanak Vrindavan. Raj Mandir is one of the oldest and the best cinema halls in Jaipur. You can also visit the Fun Kingdom Amusement Park for a kid-friendly vacation in Pink City.
Cuisines to Try in Jaipur
Dal Baati Churma, Missi Roti, Gatte ki Sabzi, Ker Sangri, Bajre ki Roti, and Laal Maans are some of the most popular cuisines that you will find here as a local speciality. Ghevar, Feeni, Mawa Kachori, Gajak, Meethi thuli, Chauguni ke laddu, and Moong Thal are some sweets popular in Jaipur.
2) Must Visit Tourist Places in Rajasthan – Jodhpur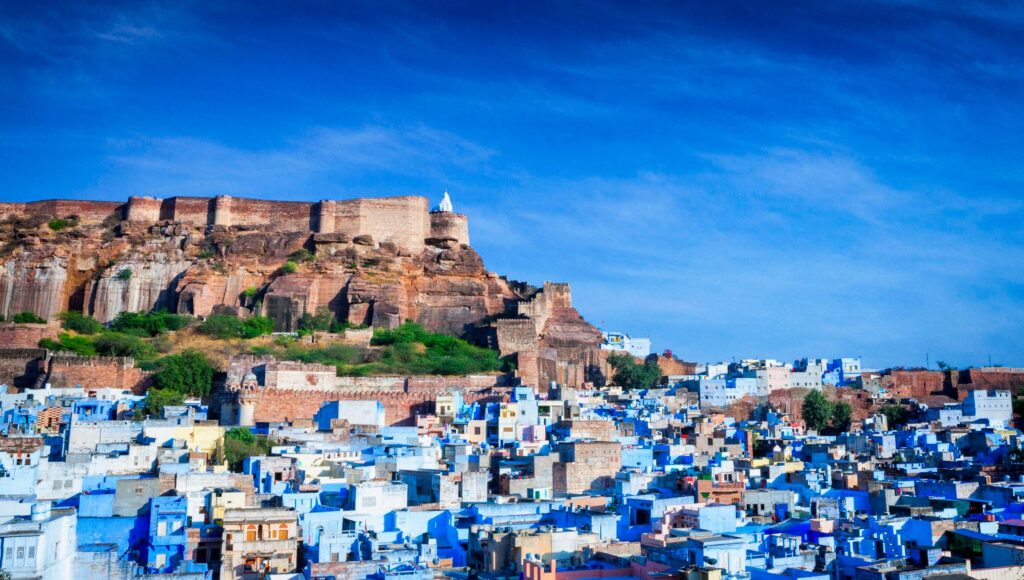 Bustling with locals and tourists, you are swept along with them in the narrow lanes of Jodhpur. Jodhpur is among the must-visit tourist places in Rajasthan, with numerous palaces, forts, and temples nestled amid the rugged Thar Desert landscape. Check the best places to visit in Jodhpur.
Tourist Places in Jodhpur
The Mehrangarh Fort (and museum) overlooks the city, the blue bylanes, Umaid Bhawan Palace, Jaswant Thada, and the Ghanta Ghar, or Clock Tower, are among Jodhpur's most prominent attractions. Mandore Garden, Kaylana Lake and Garden, Machia Biological Park, Masooria Hills, Veer Durgadas Smarak (monument, park, and museum), and Bhim Bhadak Cave are also some of the must-visit outdoor attractions for visitors.
Known for its art and culture, people also flock to the streets of Jodhpur to shop for food, antiques, traditional clothing, and traditional shoes (also known as Jodhpuri Mojari).
Cuisines to Try in Jodhpur
Jodhpur is the birthplace of a lot of Indian delicacies. The city's specialities are Pyaaj Kachori, Mirchi Bada, and Mawa Kachori.
3) Jaisalmer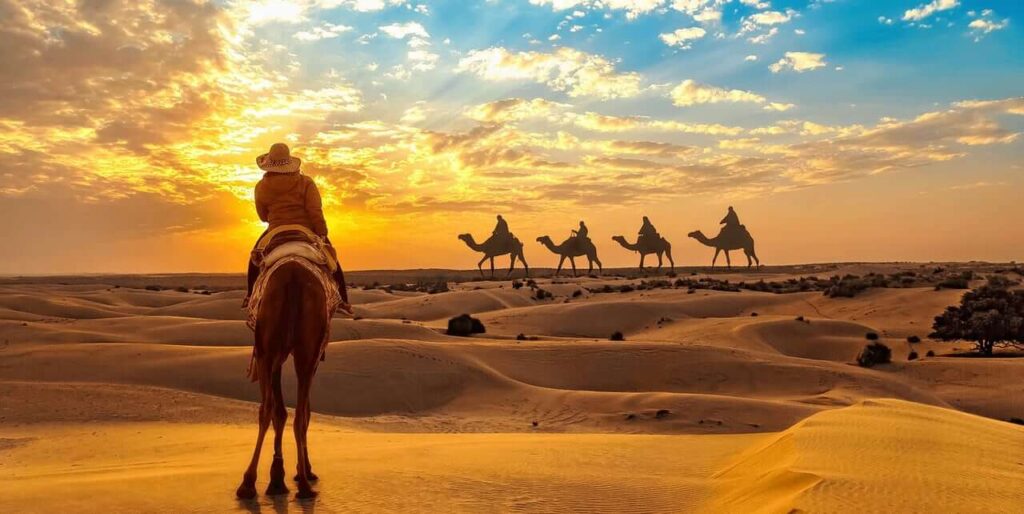 Jaisalmer, which the magnificent Jaisalmer Fort crowns, is also known as the 'Golden City of India'. This is because the yellow sandstone used in the construction of both the fort and the town below gives it a golden-yellow glow.
Now, check the must-visit tourist spots in Jaisalmer below.
Where to Visit in Jaisalmer?
The settlement, which includes the residents of the fort, is located in the midst of the Thar Desert (Great Indian Desert) and has a population of roughly 78,000 people. A royal residence with a glorious history and several exquisite Jain temples can be found within this fort. Many of the residences and temples in the fort and the settlement outdoors are carved out of beautiful yellow sandstone.
The beautiful Maharaja's Palace and ornately decorated Jain temples are hidden behind its huge walls. Mandir Palace, Patwon ki Haveli, Gadisar Lake, Bada Bagh, Tanot Mata Temple, Longewala Border, War Museum, and the Desert National Park are other tourist attractions.
Cuisines to Try in Jaisalmer
The genuine Rajasthani cuisine of Jaisalmer is well-known among visitors and locals. The fragrance of popular delicacies such as Daal Baati Choorma, Gatte ki Sabzi, Mutton Saag, Pyaz Kachori, and Ghotua Laddoos fill the streets, attracting foodies from all over the world.
Quick Tip – The wholesale shops outside the fort sell good quality traditional Rajasthani-style clothing for men and women at unbelievably low costs—one of the cheapest and must-visit tourist places in Rajasthan.
4) Must Visit Tourist Places in Rajasthan – Udaipur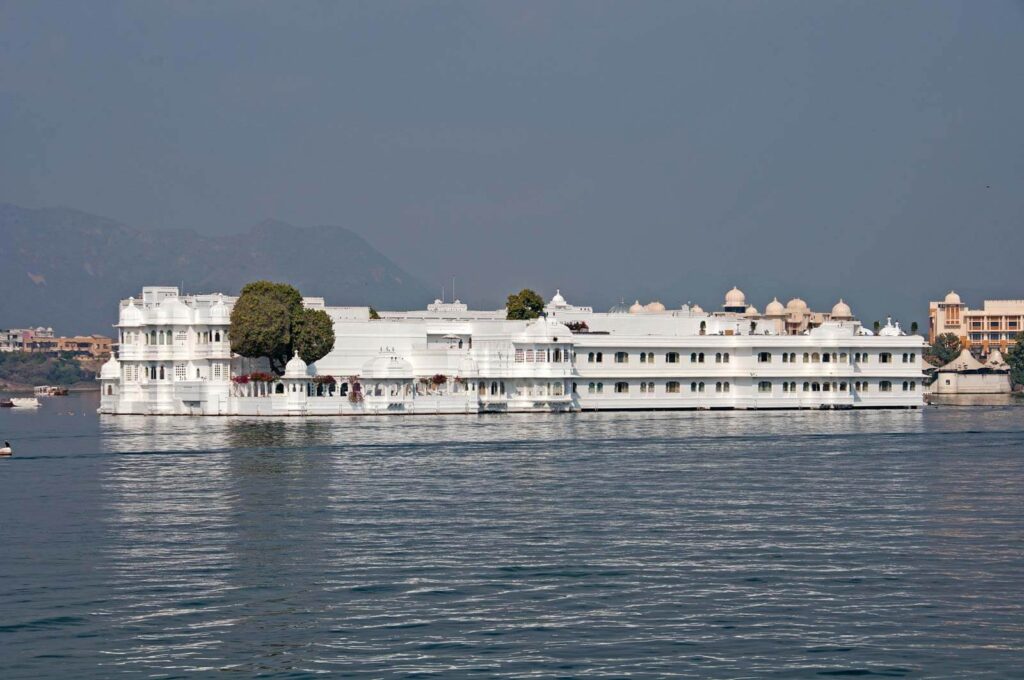 Udaipur is hands down the most scenic and prettiest city in Rajasthan. It has a soothing charm of its own, almost romantic. Hence, it is also called the 'Venice of the East.' Many couples favour this location as a wedding and honeymoon destination. Now, check out the best places to visit in Udaipur.
Where to Visit in Udaipur?
The five main lagoons add to the city's radiance because of which it is aptly named the 'City of Lakes.' There are some of the most gorgeous lakes you will ever see. By day and night, the major ones, such as Lake Pichola, Lake Fateh Sagar, Swaroop Sagar, Dudh Talai, and Badi Talav, have their distinct features.
A few other popular tourist attractions are City Palace, Bagore ki Haveli, Jagdish Temple, Monsoon Palace, Saheliyon ki Baari, Gulab Bagh, and the Vintage Car Museum.
Tourism is the backbone of Udaipur's economy as it tops the list of 'must-visit tourist places in Rajasthan.' Udaipur is also popular for its history, art and culture, forts and palaces, natural locations, museums, galleries, gardens, architectural temples, and traditional fairs and festivals. Once visiting this dazzling city you will fall in love with its beauty and elegance.
Food to Try in Udaipur
You can try out Vada Pav, Falooda, Boiled Egg Bhurji, Mini Mirchi Bada, etc.
5) Ajmer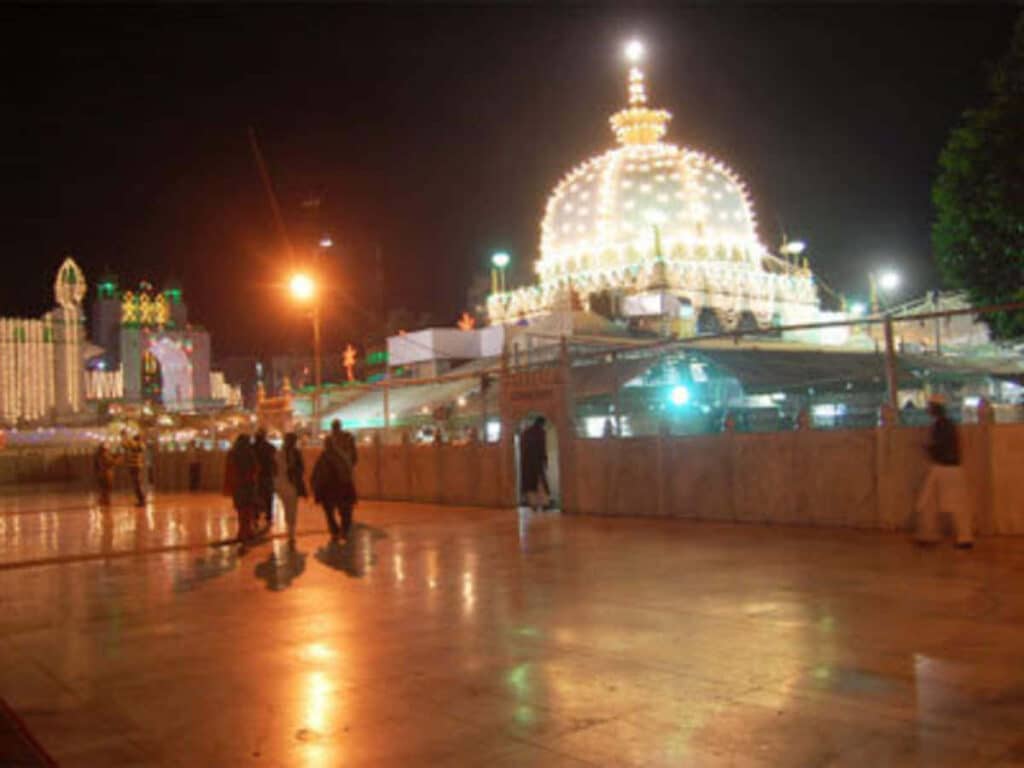 Ajmer is a lively city 130 kilometres southwest of Jaipur and 14 kilometres from Pushkar, a pilgrimage centre. The city of Ajmer takes its name from 'Ajay Meru', which means 'invincible hill' in Hindi. Ajmer, which is home to many tourist attractions, is a superb example of the diversity of Indian culture and ethics, with the right combination of history, religion, community, art, and culture, all coexisting and growing in harmony.
Now, check the must-visit tourist spots in Ajmer below.
Tourist Spots in Ajmer
Ajmer is a famous tourist spot as well as a Hindu and Muslim pilgrimage destination. The city is flanked by the vast Ana Sagar Lake and the rocky Aravalli Hills. Muslims from all over the world pay their respects to Khwaja Moinuddin Hasan Chisti's ultimate resting place, and the Dargah is revered equally by Hindus and Muslims.
Although the Ajmer Sharif Dargah is the most renowned place in the city, Ajmer is also well-known for the Jain religion, with a beautiful golden Jain Temple.
Ajmer is a cultural melting pot, and one of the must-visit tourist places in Rajasthan. From the Dargah to the Jain Temple, Ajmer's tourist attractions demonstrate this. This mingling of cultures has also influenced the city's dining scene. Traditional Rajasthani food can be explored, as well as dishes influenced by Mughal and British cultures.
Food to Try in Ajmer
Kadi Kachori, Sohan Halwa, Gajak and many more. Explore one of the best places to visit in Rajasthan to try out such delicacies.
6) Pushkar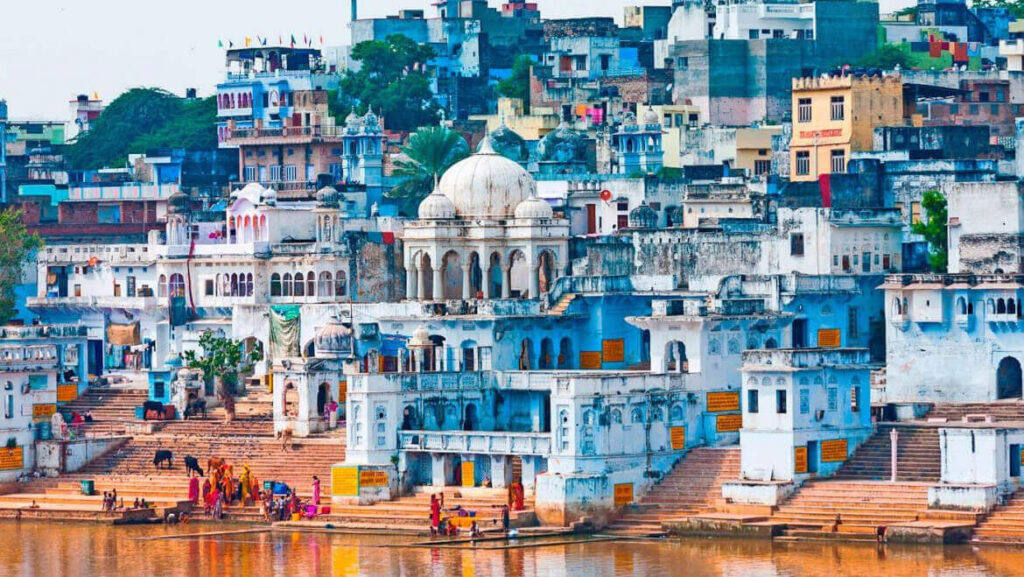 Pushkar is one of India's oldest cities. The calm city of Pushkar, located northwest of Ajmer, is a popular destination for thousands of tourists and pilgrims visiting Rajasthan. Pushkar is bordered on three sides by hillocks at a height of 510 metres.
Now, find the best places to visit in Pushkar below.
Tourist Places in Pushkar
Between Ajmer and Pushkar, the 'Nag Pahar,' or Snake Mountain, forms a natural barrier. The essence of the famed Pushkar rose is transported worldwide, earning it the nickname 'the rose garden of Rajasthan'. Pushkar is a beautiful city with a fantastic mythological history and a legacy of ageless architectural heritage.
According to tradition, Lord Brahma, the creator of the Universe, placed a lotus on the ground, resulting in the immediate formation of a lake. Pushkar was born as a result of his decision to name the town after the flower.
The only temple devoted to Lord Brahma in the entire world is there in Pushkar. Hindus consider a pilgrimage to Pushkar the most extraordinary pilgrimage that must be completed to achieve salvation.
The Pushkar Mela is one of India's largest fairs that takes place in November every year. Apart from livestock trading, it is a significant Hindu pilgrimage season to Pushkar Lake. The fair is also kid-friendly as I found local handmade wooden, leather, and marble toys. You can also check out delicious street treats for your little ones.
Given the colder season, the art and culture, the history, and the plethora of colourful ethnic outdoor themes, the Pushkar Fair has become a major tourist magnet for local and international visitors.
Cuisines to Try in Pushkar
These are some of the cuisines that you can try in Pushkar – Kachori, Dal Bati Churma, Malpuas, Jalebis, and many more.
7) Bhangarh Fort in Alwar District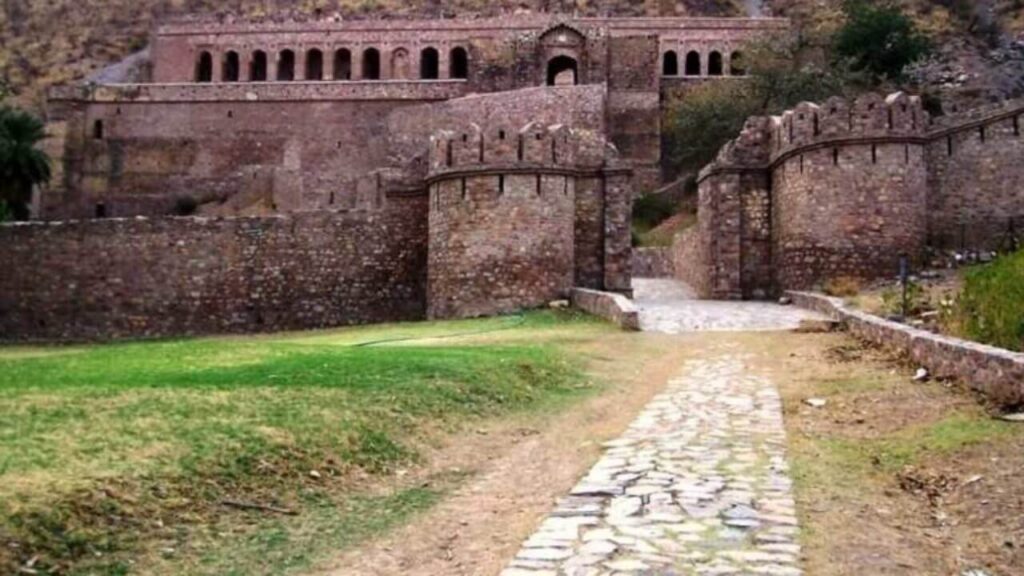 Rajasthan tourism is incomplete without a visit to the Bhangarh Fort in the Alwar district. You must explore this fort. It is one of the most fascinating places to visit you should not miss it. This fort has a long, intriguing history, having been established in Rajasthan in the 17th century.
The famous Bhangarh Fort is located in the Alwar district, roughly 83 kilometres from Jaipur. On the lower slopes of the hills, the remnants of the king's palace may be found; trees encircle the pond region, and a natural stream flows into the pond within the palace grounds.
Located on the sidelines of the famous Sariska Tiger Reserve, the famous Bhangarh Fort is not for the faint of heart. It's one of India's and the world's Most Haunted Places, and just hearing the story of its freaky incidents, let alone witnessing it, made me feel uneasy. However, this is what the adventure is all about, right?
Fort timings: 6 am – 6:00 pm on all days. Entry fee – Rs. 20
Please Note: Staying after 6 pm is ill-advised.
My Final Words on Must-Visit Tourist Places in Rajasthan
As a traveller, what fascinated me the most about Rajasthan, is that it will appeal to all kinds of people. It has hills that trekkers would love to climb, palaces and museums for the history buffs, beautiful lakes to dazzle those who like to dip their feet in the water, the most delicious and soul-satisfying food ever for all foodies in search of a taste that leaves them craving for more.
Placed comfortably above Gujarat, besides Haryana, Delhi, UP, and MP; Rajasthan is a centre of attraction for tourists from across the country.
That's all, folks, for now! These are the must-visit tourist places in Rajasthan. Comment here if I missed any place to tour in Rajasthan. Otherwise, share my blog among travellers who like to explore new places all the time.
FAQs on Rajasthan Tourism
1) How much does it cost to visit Rajasthan?
The cost depends on the number of people travelling and the tour itinerary. If you are planning to cover all the places, then it will cost higher. Also, your location is a factor in determining the cost while visiting the must visit tourist places in Rajasthan. On average a Rajasthan tour package ranges between Rs. 13,000 – Rs. 30,000.
2) What is the best time to visit Rajasthan?
It is October to March as the temperature remains cooler. This makes it easier to travel.
A full-time traveler, having explored 40+Indian cities and 1 overseas. Currently freelancing as a travel blogger and creative writer.