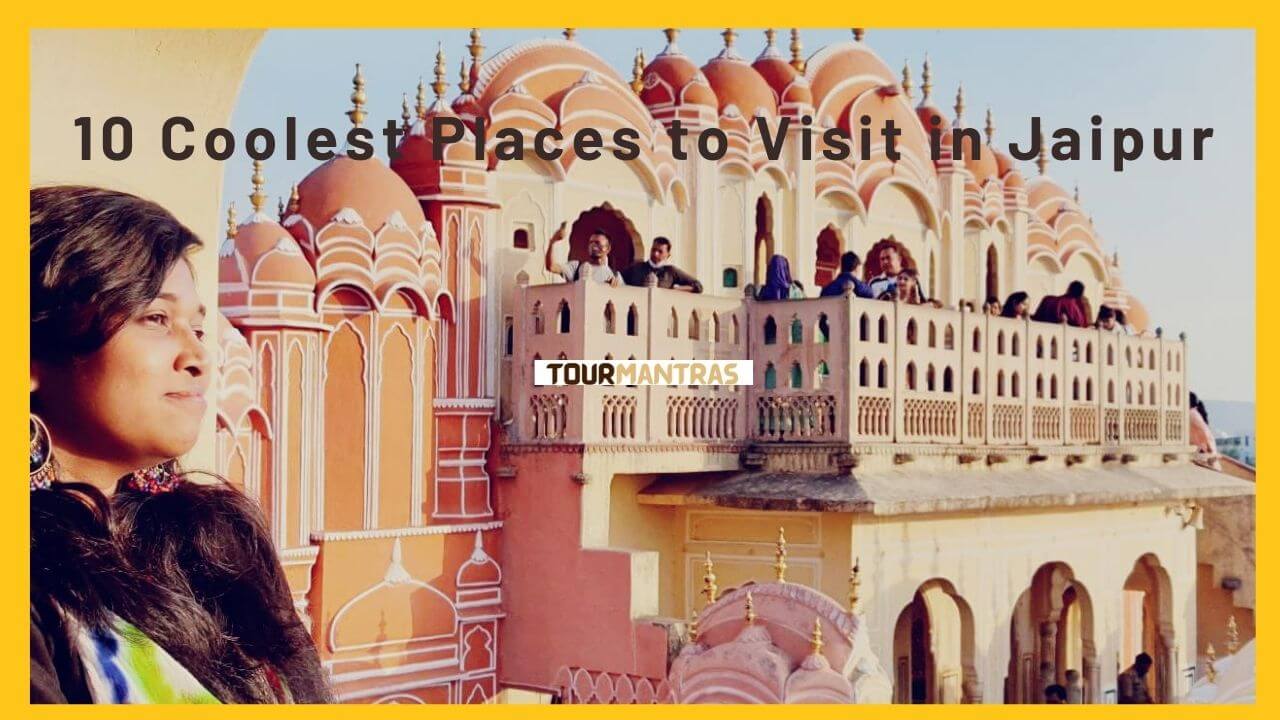 For someone visiting Jaipur for the first time, you're in for a pleasant surprise. You may have heard of its famous forts, tourist spots, and historical stories, but when you spend a few days in some of the coolest places to visit in Jaipur, it starts to feel like home.
Jaipur is lovingly known as the Pink City, but the reason for this you will only realise once you explore and experience the essence of this city. During my recent travel to Rajasthan, I spent almost 3 weeks in Jaipur, exploring its beauty, history, local art, architecture, food joints, heritage, and culture.
Here are some of the coolest places to visit in Jaipur for you to add to your itinerary on your first visit to the Pink City.
Keep reading for an exciting bonus location at the end of the article.
Coolest Places to Visit in Jaipur Now!
Here are the top 10 coolest places to visit in Jaipur as mentioned below.
1. Amer Fort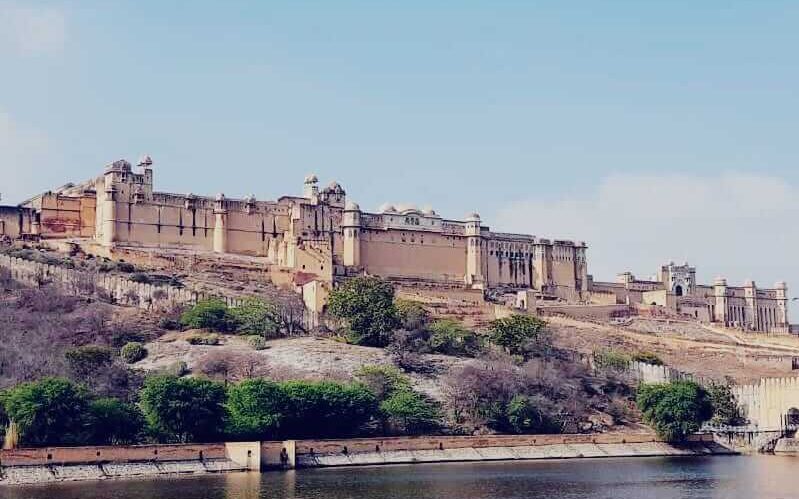 The Amer Fort, located in Amber, 11 kilometres from Jaipur, is one of Rajasthan's most well-known forts and among the coolest places to visit in Jaipur. Prior to Jaipur, Amer served as the state's capital. It is an old citadel built by Raja Man Singh in 1592.
Amber Fort's music and light show was my favourite part as it is a magnificent attempt to resurrect Amber's pride, history, and traditions. The concert commemorates the maestros of folk music who, to this day, continue to give Rajasthan its own personality by highlighting local traditions and culture. The concert is placed in a fantastic setting, with a spectacular view of the Amber Fort & Palace
Complex in the foreground, the rising Jaigarh on the left, and magnificent hills in the background. The story of the fort's splendid past has been written by Gulzar and recounted by Amitabh Bachchan, the most distinguished voice in Indian cinema, along with songs by Ustad Sultan Khan and Shubha Mudgal.
You can also take an elephant ride to the fort to make your trip even more unforgettable. You must, however, arrive early in the morning for the elephant ride.
Timings: The Amber Fort is open from 9.30 a.m. to 5.00 p.m.
Entry fees: Entry price of Rs. 100 for Indian visitors and Rs. 500 for foreign visitors.
Timings: The light and sound display takes place every day between 7.30 and 8.30 p.m. The show tickets cost Rs. 200 in English and Rs. 100 in Hindi.
You can also read: Must Visit Tourist Places in Rajasthan – My Top 7 Picks
2. Nahargarh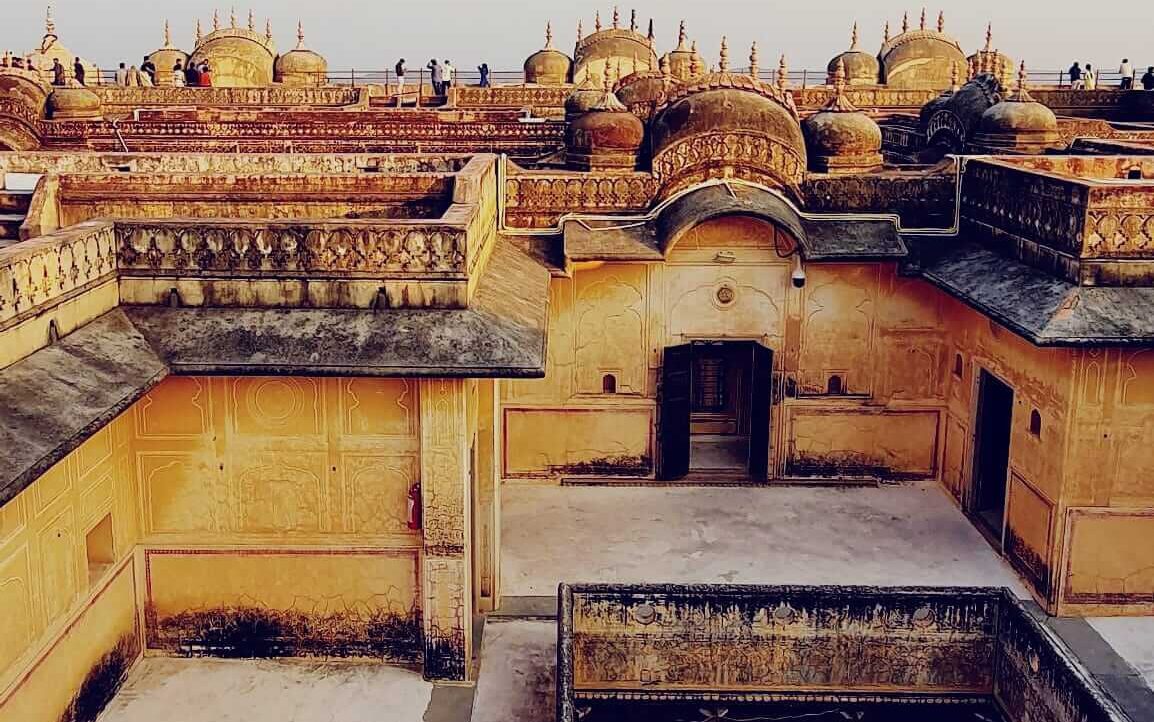 Today, Nahargarh Fort is one of Jaipur's most impressive forts, telling the story of the city's celebrated past. It's also a terrific spot to take in Jaipur's breathtaking sunset vistas. If you love to take photos, you will enjoy your time clicking some amazing pictures of the landscape.
The fort has a spectacular gateway, known as Tadigate, and other impressive structures within its grounds. Within the fort compound, there are a couple of temples, including one dedicated to Nahar Singh Bhomia and another to the emperors of Jaipur.
I absolutely loved the Sheesh Mahal, or the Palace of Mirrors, which is a one-of-a-kind area of the museum, made up of more than 2.5 million pieces of glass in various colours such as blue, green, yellow, and red. In a unique way, this hall brings the Rajputana era's splendour to life. The Sheesh Mahal's interiors showcase floral patterns, elegant chandeliers, and handcrafted paintings.
Fun Fact: The Nahargarh Fort has been featured in various popular Bollywood films, including Aamir Khan's Rang De Basanti and Sushant Singh Rajput, and Parineeti Chopra's Shuddh Desi Romance. The fort was also featured in Satyajit Ray's Bengali thriller Sonar Kella, released in 1971.
Another legend surrounds the origins of the fort's name. Many people believe the fort was once home to tigers, which is why it was given the name Nahargarh, which translates to 'abode of tigers'.
Once Upon a Time and Padao are the two restaurants now operating within the Nahargarh Fort complex. Even though the fort closes in the evening, you can enjoy a magnificent supper at one of these restaurants till late at night while taking in the spectacular night views of Jaipur.
The views from Nahargarh Fort are unquestionably among the best in Jaipur. But the sunset that I witnessed here was the best one I have ever experienced. It fills you with a calm and serene sense of joy that can't be explained in words.
Locals and tourists alike enjoy watching the sunset from the Padao Restaurant in Nahargarh Fort. From up there, you have a bird's eye view of the entire city! This is definitely one of the coolest places to visit in Jaipur.
Although the Nahargarh Fort is not particularly large, it contains a number of unique elements that will keep you intrigued for hours. At the same time, the fort's fantastic position makes it a great place for travellers to get away from the rush and bustle of city life and enjoy some peace and quiet. So, go ahead and discover Jaipur's amazing fort.
Timings: Open between 10:00 am – 5:30 pm every day of a week
The entry fee for Indians: Rs. 50, Rs. 25 for students
The entry fee for foreigners: Rs. 200
3. Coolest Places to Visit in Jaipur: Hawa Mahal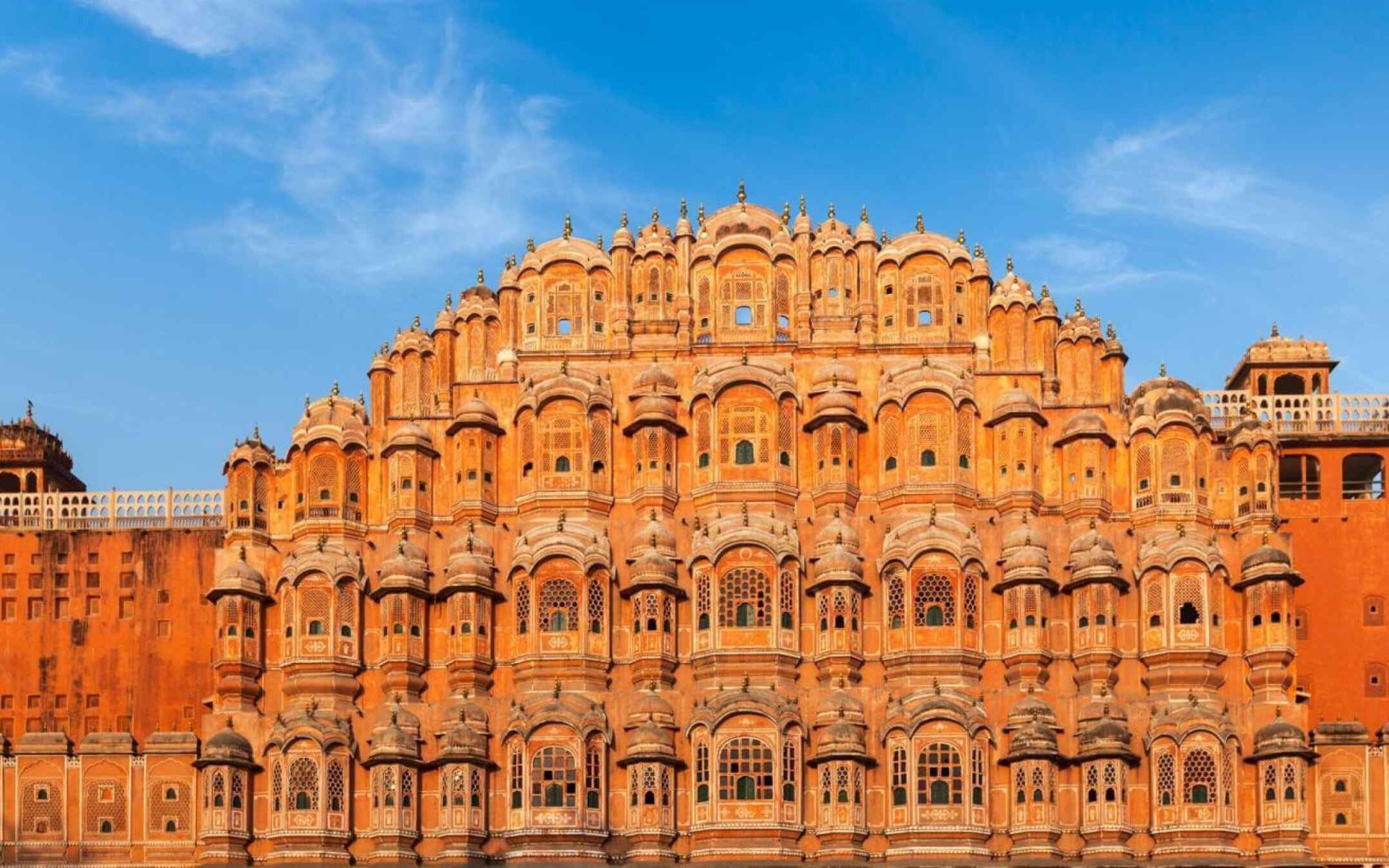 The Hawa Mahal, also known as the 'Palace Of The Winds,' is a notable popular tourist destination and a major landmark in Jaipur. It is located in the centre of the picturesque Pink City of Jaipur, which is recognised for its rich cultural and architectural past.
This structure was created using red and pink sandstones, in accordance with other notable landmarks in the city. There are 953 intricately carved jharokhas, or windows, with some of them made of wood. During the hot summers, these jharokhas were created in such a way that air circulates naturally through them, providing a Venturi effect (doctor breeze) that cools the entire structure.
Each jharokha has a little chamber where visitors can sit and gaze out the window onto the street. The gentle breeze flowing through the jharokhas combined well with the fountains in the centre of each chamber, boosting the cooling effect of the chambers. Structurally and literally, this is one of the coolest places to visit in Jaipur
The building has no stairs, and the upper floors are only accessible by ramps. Here I would like to add a quick note of caution for claustrophobes as the Hawa Mahal's short and narrow hallways can get quite cramped during busy hours times.
Timings: It is open to the public from 9:30 a.m. to 4:30 p.m. on all days, but it is best viewed early in the morning when the golden rays of the Sun fall on this royal structure, giving it a more elegant and beautiful appearance.
4. Coolest Places to Visit in Jaipur: Albert Hall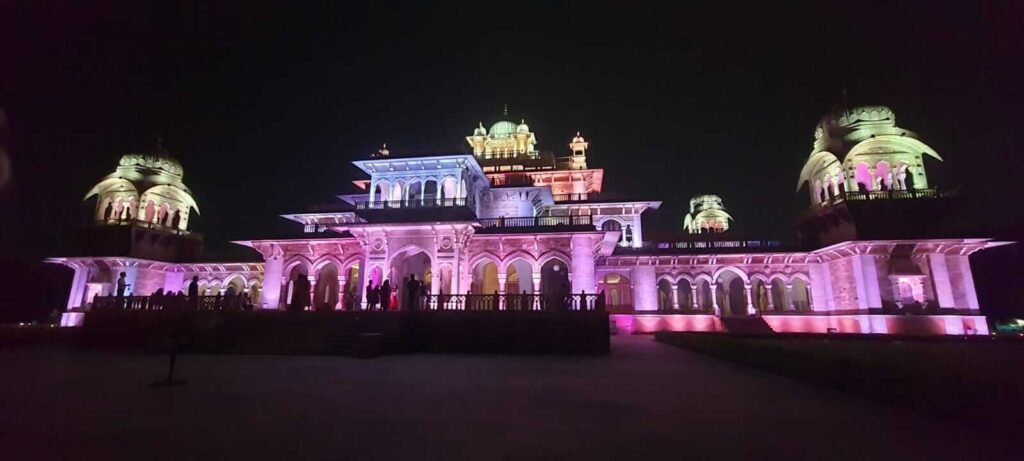 Albert Hall Museum, Jaipur's pride and joy, is a true portrayal of Indo-Saracenic design and architecture. The British adopted this renaissance style of architecture in India during the 19th century, especially for community and national buildings. Every component of the museum is designed to tell a story from the past, offering us a peek at a time before machines were employed to carve the most beautiful sculptures.
This museum is a sight to behold, with brown and tan-tinged stone exteriors, a spacious garden, and interiors decorated with murals and Persian art. The museum consists of 16 galleries. These galleries are full of heritage and antique relics of the royal family of Jaipur.
Egyptian Mummy – The Egyptian Mummy's sarcophagus is the museum's most famous exhibit. It attracts hundreds of tourists each year to see what a mummy looks like because it is kept in a glass case and has been preserved for generations. This definitely makes Albert Hall one of the coolest places to visit in Jaipur.
Every day, a live puppet show is performed for the children. It gives an insight into the life of locals and their puppet-making craft.
This is also a popular photography spot as you will see large flocks of pigeons circling the Hall or gathering at the entrance or on the rooftop.
At night, you will find the museum illuminated with colourful and bright lights. You will surely appreciate the pink, orange, purple, and blue shades of the museum.
On World Heritage Day, World Tourism Day, Rajasthan Day, and World Museum Day, you can explore this museum.
Timings – 9 am to 5 pm and 7 pm to 9 pm
Indian visitor – Rs. 40 per head
Foreign visitors – Rs. 300 per head
5. City Palace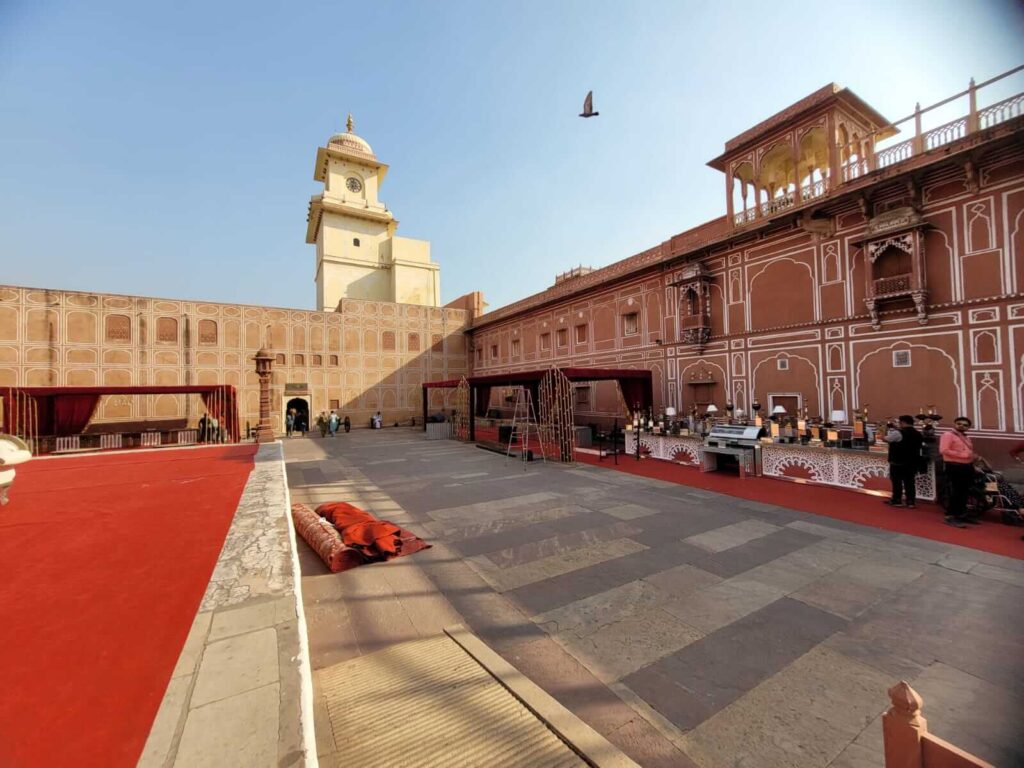 The majestic City Palace in Jaipur is one of the most well-known tourist attractions in the city's historic district. The massive structure of the palace was built by Maharaja Sawai Jai Singh between 1729 and 1732, and it took approximately one-seventh of the walled city. In reality, it was formerly the Maharaja of Jaipur's residence.
The Chandra Mahal and the Mubarak Mahal are two courtyards, structures, and gardens that make up the palace. The museum displays a variety of one-of-a-kind handcrafted items as well as other items from the City Palace's royal collection.
The facade is a combination of Mughal and Rajput building styles, and it is designed with acute and intricate artistry. The exterior wall was completed by Jai Singh II, although the palace has undergone numerous renovations throughout the years, with some of them dating back to the early twentieth century. The Virendra Pol and Udai Pol, two of the City Palace's three gates, are accessible to the public. These beautiful gates are quite loved by photographers and visitors who live to pose for the pictures.
Timings – 09:30 AM- 5:30 PM (All days).
Last sale of ticket – 5:00 PM
The entry fee for Indian visitors: Rs. 75
Foreign tourists: Rs. 300
6. Coolest Places to Visit in Jaipur: Jantar Mantar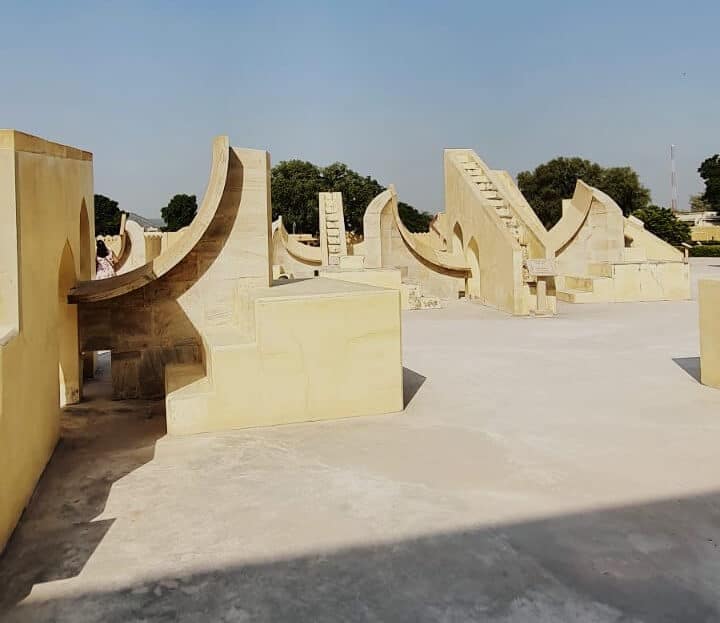 One of the coolest places to visit in Jaipur, the Jantar Mantar is an architectural and astronomical instrument collection. It has 19 key geometric devices and covers an area of 18,700 metres, and several of the instruments are among the world's largest. Sawai Jai Singh II chose stone and marble to construct the observatory instruments because the stone can survive adverse weather conditions considerably better than metal, which is prone to wear and tear.
A handful of the instruments here, on the other hand, are made of copper and yet work with astonishing precision. When compared to its northern Indian equivalents, Jaipur's Jantar Mantar is the largest in terms of area.
The Samrat Yantra sundial is the largest instrument here, and it can tell the local time with a precision of up to 2 seconds. Each of these instruments has an astronomical scale, and the building is made of local stone and marble. The Ram Yantra is utilised to find the position of heavenly monuments while the Jai Prakash Yantra is used to calculate the local coordinates of the altitude and angle of a celestial object.
Other devices on the grounds include the Narivalya Yantra, which continues to remain parallel to the plane of the Earth's equator, the Karnti Yantram for taking measurements of celestial latitude and celestial longitude of an object in the sky, the Raj Yantram for time measurement and the positions of celestial objects, the Unnsyhsmsa Yantra for measuring altitude and the angular height of an object in the sky, and the Chakra Yantra for calculating The "Kapala Yantraprakara" is also used at this observatory, which allows for direct transfer of one coordinate system to another.
It was added to UNESCO's list of World Heritage Sites in 2010 and has become even more popular since then.
Some quick tips I would like to share:
✅ If you're visiting during the summer, try to go early in the morning or late in the evening.
✅ Don't forget to keep yourself hydrated by carrying a bottle of water with you.
✅ You should go to the orientation building, which offers a short film that describes the area.
It is suggested that you hire a guide to help you better grasp how the instruments function. In most cases, they charge roughly Rs. 200.
Also, you can check: Best Places to Visit in Udaipur – Read My Thrilling Experience
7. Patrika Gate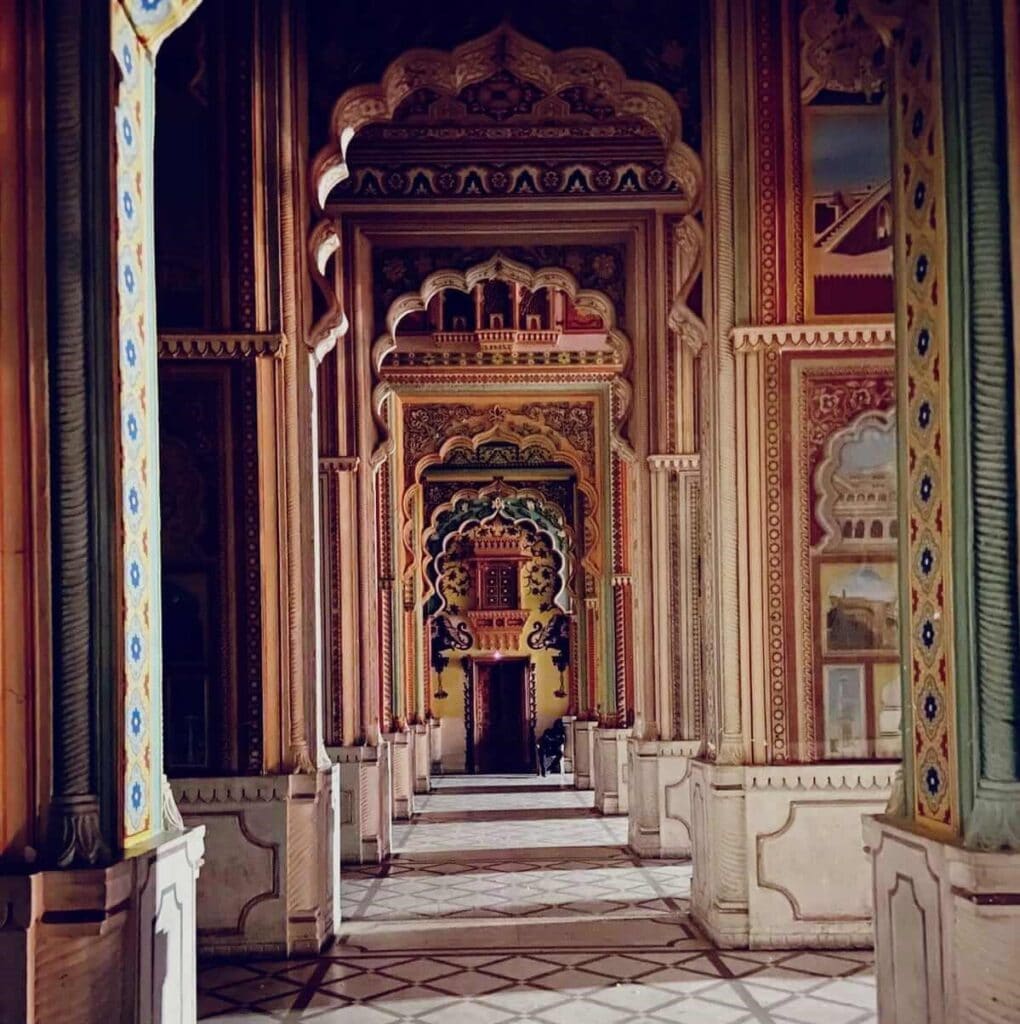 Out of all the beautiful places I visited in Jaipur, this was hands down my favourite spot. If you're visiting the pink city and seeking Instagram-worthy locations, I'm confident that the Patrika Gate Jaipur will be at the top of your list.
With a stunning rainbow walkway that looks like it belongs in a Maharaja palace, Patrika Gate is a massive beautiful pink gate that looms over the peaks of luxuriant trees on the outside. The decoration will captivate you, and it will take some time for you to quit admiring every detail. It's simple to see why this is one of the city's most popular photo spots. It's just stunning.
As you pass through the gate, you'll notice a row of magnificent archways. Each one has been designed to reflect Rajasthani culture. It features important Jaipur sites, such as the Jal Mahal, Hawa Mahal, as well as colourful artwork. Recently, this landmark has become an Instagram sensation and a hit among travel bloggers (like me). This definitely tops every tourist's list of coolest places to visit in Jaipur.
The Patrika Gate is a gateway to the Jahawar Circle Park, which, if you didn't know, is Asia's largest circular park at a traffic signal. It was named after a local news organization called Patrika, and India's Prime Minister, Mr. Narendra Modi, inaugurated this gate through a video conference in 2020.
Some quick tips I would like to share:
✅ Plan on spending at least 2-3 hours at the Patrika Gate. This includes your travel time there and back, as well as any time spent waiting for photos and admiring the stunning building!
✅ Go dressed up as you would not be able to resist taking pictures and videos of yourself for your next Instagram reel. Trust me, you'll thank me later!
✅ Make your visit during daytime hours if possible. Jawahar Circle is generally safe, but visiting late at night is not recommended.
✅ Be cautious of pickpockets, especially if you're alone.
Before leaving, don't forget to pay a visit to Jawahar Circle Park. It's a very tranquil part of the city. At 7 p.m., there is also a fountain show.
8. World Trade Park (WTP)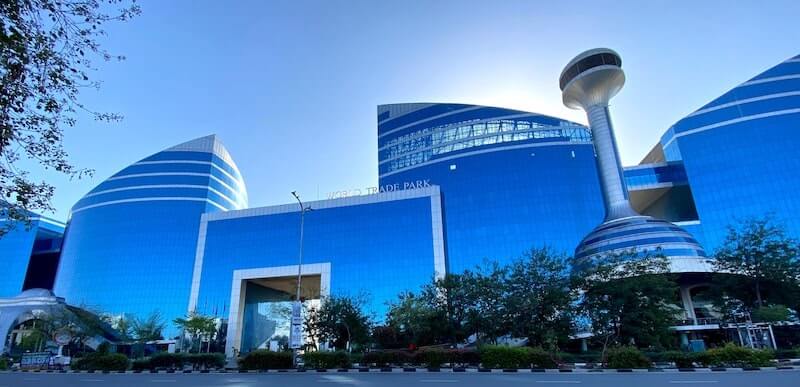 In Jaipur, World Trade Park is a well-known shopping, leisure, and entertainment destination. The World Trade Park is about 8 kilometres south of the city centre, on JLN Road. Yatharth Varshney owns it, and it opened to the public in 2012 following a two-year development period. The park covers 52 acres of land and costs more than 3.5 billion rupees to build.
It consists of two distinct blocks on either side of a major road in Jaipur. Customers can take a bridge to interconnect these blocks and explore the entire mall, which has over 500 retailers, a food court, cinema screens, and other leisure areas. The 11-story tall buildings have a peripheral colour scheme of blue and silver and are beautifully lit every evening for visitors.
Another noteworthy feature of World Trade Park is that it is divided into separate sections known as streets. These streets were developed to provide clients with a rich and thrilling shopping experience, and they were inspired by some of the world's most famous shopping districts.
Ethnic Street, Oxford Street, Johri Bazaar, Roman Street, Pyramid Street, Mexican Street, Kid's Street, Dubai Bazaar, Electronic Zone, Fantasy Street, and Food Street are among the streets named after ethnic groups. Each street is decked out with appropriate artefacts. Customers make purchases while relaxing in the courtyards, which are lined with relevant branded stores.
Mall Timings are: Monday to Thursday – 10 am to 10 pm, Friday to Sunday: 10 am to 11 pm
9. Coolest Places to Visit in Jaipur: Raj Mandir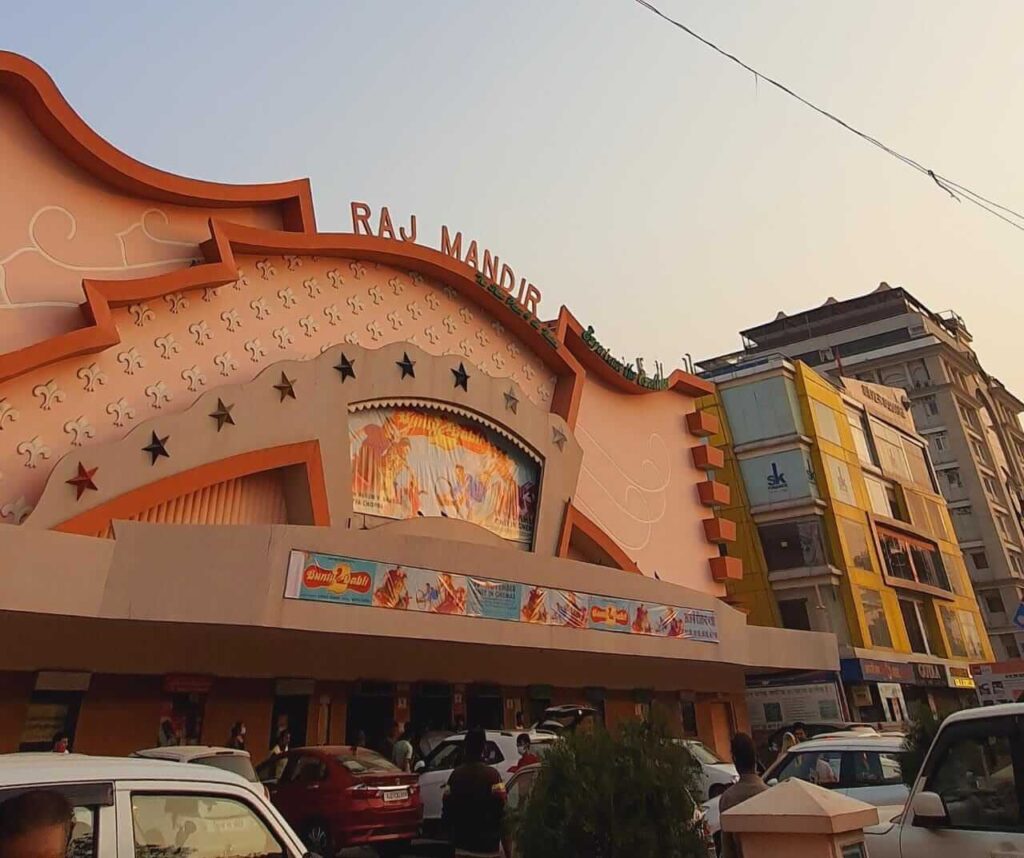 Being a huge movie buff, I just could not leave Jaipur without watching a movie at the most famous and iconic cinema hall in India, Raj Mandir.
Mehtab Chandra Golcha came up with the idea for Raj Mandir Cinema in the late 1960s. His ideal project was to create a sophisticated and exquisite Cinema Hall where audiences would feel as though they were in the presence of royalty. Raj Mandir Cinema was established with the goal of bridging the gap between traditional cinema and delivering a comprehensive experience in addition to films. In Jaipur, a new era of cinema began with the Raj Mandir Cinema.
The building's grandiose construction has an artistic character that evokes a sense of mystery and illusion that each visitor will find intriguing. For its amazing architecture, ambience, and surreal experience it delivers to its audiences, Raj Mandir Cinema is also known as the 'Pride of Asia'. The cinema features a large auditorium that can seat over 300 people at once. The Pearl Seats, Ruby Seats, Emerald Seats, and Diamond Seats are the four different types of seats available.
My amazing 3-week trip to Jaipur ended with a fun movie, a hot cappuccino, and a tub of caramel popcorn at the Raj Mandir Cinema, which is currently one of the continent's largest halls.
And as promised, here is the most exciting bonus location you just cannot miss if you are in Jaipur.
10. Bhangarh Fort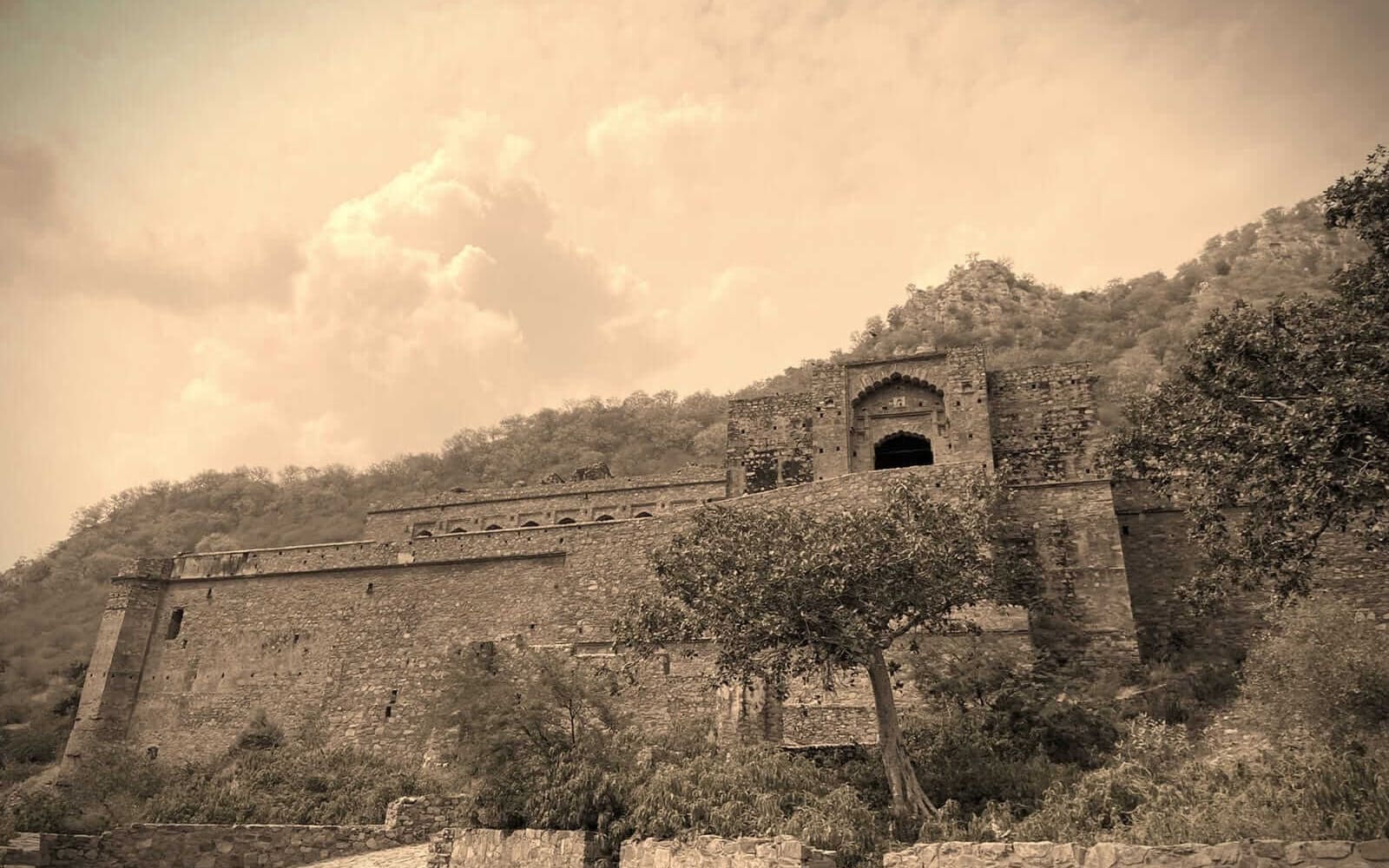 Being an ardent fan of Horror movies, I just couldn't resist the urge to set off on a spine-chilling adventure to the Most Haunted Place in India – The Bhangarh Fort. This was actually the first place I explored as soon as I reached Jaipur. To be honest, this place does have a spooky aura and creepy vibe that can give you goosebumps even on a hot, sunny day.
Due to its haunted history and rumoured supernatural incidences, The Archaeological Survey of India has barred visitors from entering the Bhangarh Fort at night. Being a responsible citizen, I too decided to go during the day, so that I could take my time to explore the entire fort and its ruins.
Quick tip – Be cautious of the monkeys. They are everywhere. One of them almost snatched my phone while I was clicking him, but I ended up getting a good shot and saved my phone too!!
Also, carry a handkerchief or mask to cover your nose as the bat stench in some areas of the fort can be nauseating.
By road, this fascinating fort is 83 kilometres from Jaipur and is open from 6 a.m. to 6 p.m. on all days. Curious visitors arrive in search of adventure and thrills, and while some are disappointed, others can't get enough of the mystery surrounding the narrative of the Bhangarh Fort (again like me!).
Despite the fact that experts have disproved the haunting stories of Bhangarh Fort, the locals continue to believe that something supernatural exists here. Unidentified noises have allegedly been heard frequently. There have been reports of a distinct scent emerging from the Bhangarh Fort, as well as spooky shadows and strange lights.
Some people have reported a feeling of being followed and even struck by an unseen presence. It is said that if one enters the fort after sunset, he or she will never be able to leave. As a result, the doors are kept secured after sundown, and night-time entry into the Bhangarh Fort is strictly prohibited. However, the fort's secluded location and crumbling ruins give it a spooky appearance and will undoubtedly send chills down your spine almost as if you're in a Bollywood horror movie.
Is it true that the Bhangarh Fort is haunted? Curious? Why not pay a visit and find out for yourself?
Best Time to Explore the Coolest Places to Visit in Jaipur
Jaipur's climate is arid due to its location in a semi-desert region. All year, tourists from India and outside throng to Jaipur for tourism. It is known for its forts, temples, lakes, fairs, and festivals all over the world. The winter season from October to March is the ideal time to visit Jaipur.
Finally on Coolest Places to Visit in Jaipur!
I'm sure you must be excited to experience this yourself, after reading my list of the top 10 coolest places to visit in Jaipur. I had an absolutely amazing time exploring the beauty, history, and untold stories of the Pink City.
If you have some of your own experiences of Jaipur, do share them with me in the comments. I'd love to hear! To get a glimpse of all these exciting locations, follow me on Instagram at travella_suzn18 and check out my Pink City video blog. And if this article has been helpful to you in any way, do share your views in the comments or by clicking on one of the smileys below.
FAQs on Coolest Places to Visit in Jaipur
1) Why is Jaipur famous for tourism?
Jaipur is known as the pink city and boasts of a plethora of tourist spots in Jaipur. It is a princely city teeming with culture and heritage. You can visit Nahargarh, Amer Fort, City Palace, and many others.
2) Are 2 days enough for visiting the coolest places to visit in Jaipur?
2 days are enough to visit the coolest places to visit in Jaipur. Within 2 days, you can visit City Palace, Jantar Mantar, Amer Fort, and Hawa Mahal.
3) When is the best time to travel to Jaipur?
To explore the coolest places to visit in Jaipur, plan out your trip between October to March. The winter season is the best time.
A full-time traveler, having explored 40+Indian cities and 1 overseas. Currently freelancing as a travel blogger and creative writer.