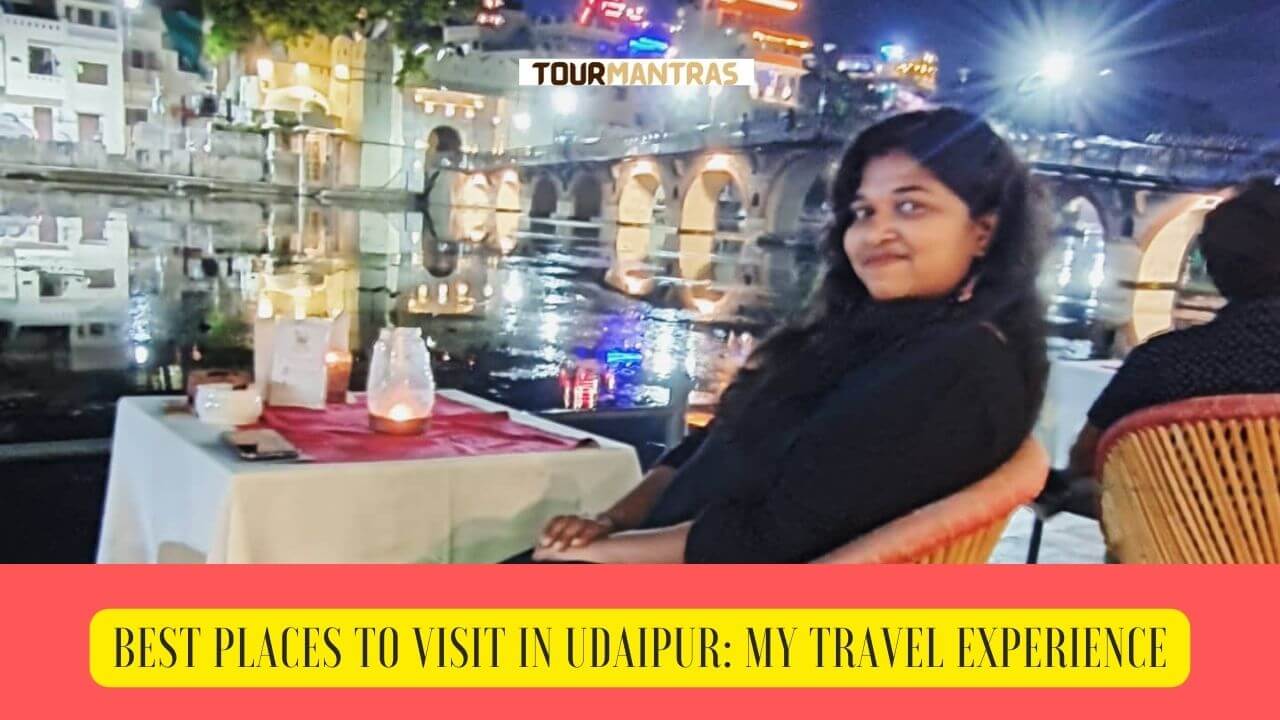 Udaipur, rightly nicknamed the Venice of the East, is one of the most gorgeous and scenic cities of Rajasthan. Udaipur, located in the state's southernmost region, is encircled by the Aravalli Range and is rich in natural beauty. It came into existence in 1559 by Maharana Udai Singh II as the Mewar Kingdom's developmental capital. The city is well-connected by air, rail, and road to the rest of India.
Udaipur, unlike other Rajasthani cities, emanates serenity. It's a mix of imperial majesty, steep hills, and a breathtaking view away from the hustle and bustle of normal city life. Udaipur is known as the 'City of Lakes' as there are numerous interconnected natural lakes in and around the city.
Udaipur is recognised for its medieval forts, colossal palaces, breathtaking temples, museums, galleries, cultural experiences, and rich heritage. The 'City of Lakes', is also known as the 'White City' because the Rajput-style palaces and Forts in Udaipur are made of white marble. White is often used to decorate houses and other structures throughout the city.
Let's dive deep into my experiences about the best places to visit in Udaipur below!
First, You Should Know Where I Stayed!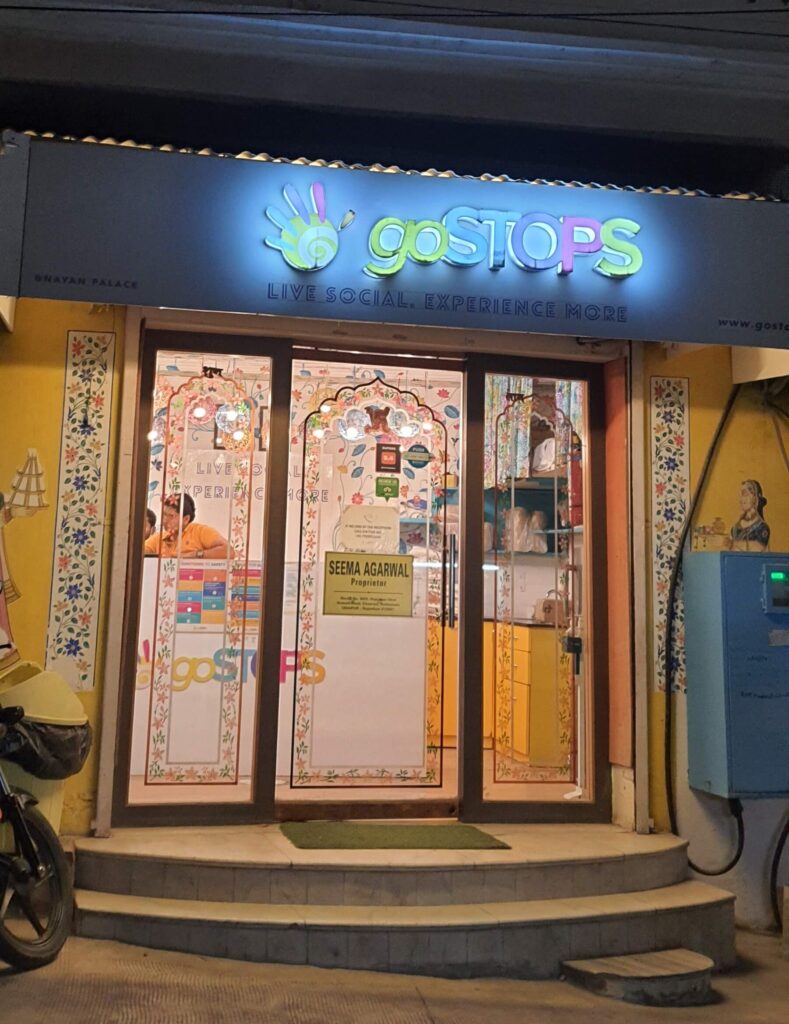 Before going I stayed at the GoStops Hostel on the banks of Lake Pichola, as recommended by a travel buddy in Udaipur. Other hostels in the area include Moustache, Mantra, and the Hosteller, but I found GoStops to be the finest.
I had great views of Pichola lake and its captivating ghats, a comfy warm bunk bed, and a perfectly decorated and lit rooftop café where I had a fantastic time with my dorm-mates. All this just at Rs. 325 (US$ 4.35) per night.
Now, scroll down till the end to learn about my exhilarating tour experience in Udaipur!
Which Are the Best Places to Visit in Udaipur? Sharing My Experiences
The First Place I Visited Was the City Palace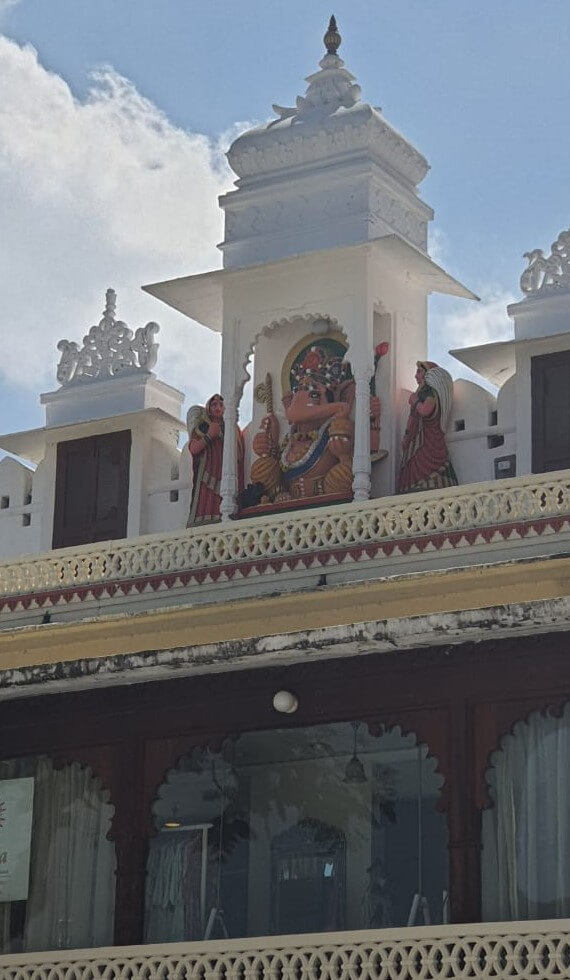 The City Palace in Udaipur is the state's biggest palace complex and one of Rajasthan's architectural wonders. City Palace, Udaipur's most renowned tourist attraction, lies majestically on the eastern shore of Lake Pichola.
The natural features of City Palace, which is flanked by the Aravali Mountains range, are worth appreciating for their stunning views of the Pichola lake and the Taj Palace in the lake's center.
I recommend visiting the City Palace early in the morning or late in the evening to escape the crowds and the burning heat. The winter season, which spans from October to March, is the perfect time to visit City Palace as the weather is mild.
Adults (over the age of 18) pay Rs. 250 (US$ 3.36) and minors (under the age of 18) pay Rs. 100 (US$ 1.34) at the City Palace Museum (5 to 18 yrs age). Admission is free for children under the age of five. The use of a camera is priced at Rs. 250 (US$ 3.36). For students arriving in groups, the entry fee is Rs. 100 (US$ 1.34) per student.
I also went to the City Palace Museum, which is open every day of the week from 9:30 am to 5:30 pm.
Tour guides are available at the City Palace complex, and a Hindi-speaking guide would cost roughly Rs. 300 (US$ 4). The museum guides charge around Rs. 200 (US$ 2.69). There are also audio guides available.
If you want to know more about Rajasthan and plan your next trip, check here -

Must Visit Tourist Places in Rajasthan – My Top 7 Picks
Best Places to Visit in Udaipur – Lake Fateh Sagar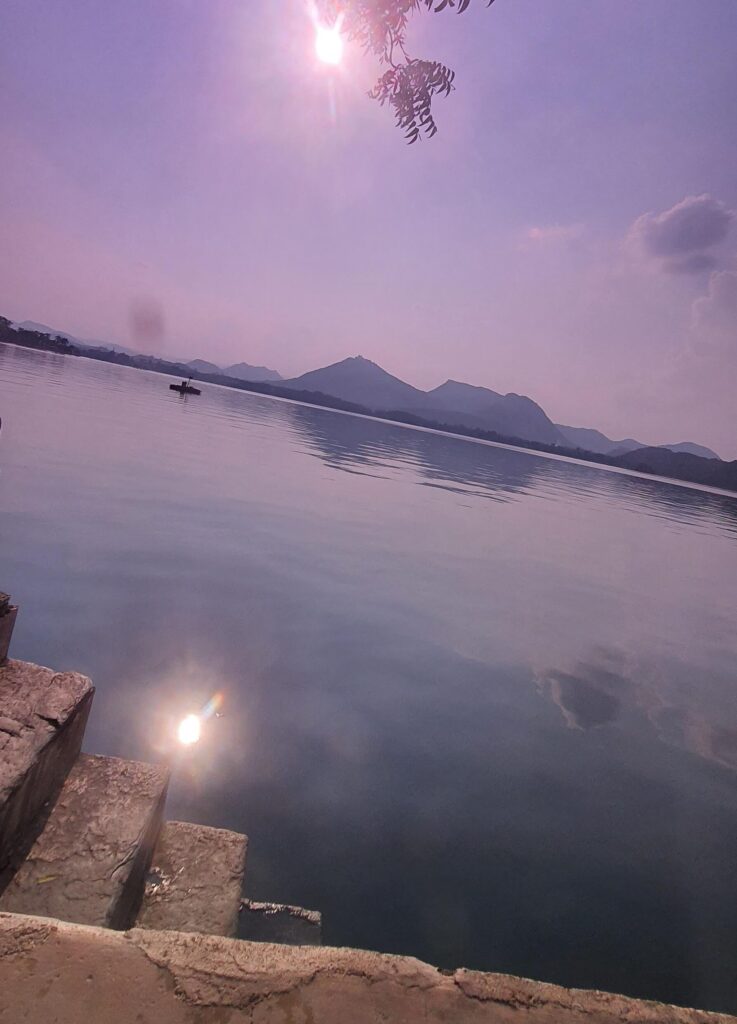 The serenity of the water mirrors the tranquillity of nature, making Lake Fatehsagar one of the most appealing bodies of water. It is one of the most popular and best places to visit in Udaipur, and the fascinating waves and crystal-clear visuals create a unique atmosphere. 
Lake Fatehsagar is India's second-biggest artificial lake, located north of Lake Pichola and across Moti Magri Hill. The lake is the pride of Udaipur. It is flanked on three sides by the towering Aravalli Hills and on the north side by the Pratap Memorial. Three small islands in the lake offer a variety of attractive activities. 
The greatest time to visit Lake Fatehsagar is when the atmosphere is pleasant. It is best to visit Udaipur between October and March to avoid the city's oppressive heat.
Nearby Attractions of Lake Fateh Sagar
Maharana Pratap Memorial
It is a memorial built on the summit of Pearl Hill in honour of Maharana Pratap, a noble and heroic Rajput ruler. The monument features a life-size statue of the monarch and his horse, Chetak, who was formerly regarded as one of the finest horses in the world.
Under the Sun
Under the Sun, one of India's most important public aquariums is a must-see for everyone, especially kids. The aquarium is open from 8 am to 11 pm every week.
Rajiv Gandhi Garden
This is another interesting location to visit in the area. The park has a large lush green picnic area and a food court providing authentic Rajasthani cuisine. The Garden is open between 8 am to 7 pm every day.
Places to Visit in Udaipur – Saheliyon ki Baari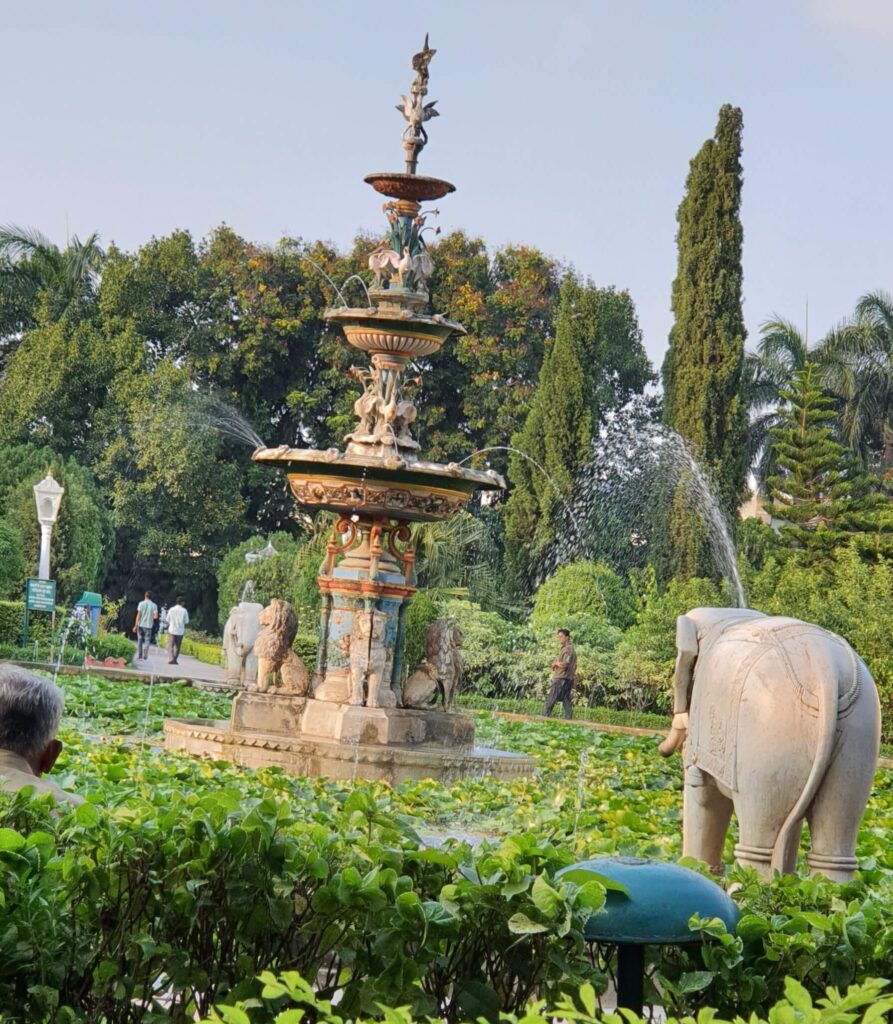 I stopped at the Saheliyon ki Baari (Garden of the Maidens) on my way back from Fateh Sagar Lake. If you love nature and enjoy quiet and peaceful places, this is one of the best places to visit in Udaipur for you.
The bird fountains and lotus pools are two of the Garden's most well-known attractions. Many ornamented fountains surround the Saheliyon Ki Bari in each of the four water pools and sculpted structures and marble elephants. Flowerbeds, beautiful green grass, and marble arches greet you as you enter the park, creating a relaxing atmosphere.
We are all familiar with the Taj Mahal, built in honour of Mumtaz Mahal by Shah Jahan as a symbol of their love. Another symbol of eternal love is Saheliyon Ki Bari. The Garden was established by Rana Sangram Singh, also known as Rana Sanga of the Mewar dynasty, to delight his ladylove. 
The Garden gives you a distinct sensation of joy and deeply relaxes your soul. The Garden was also built for the Queen's 48 maids, brought to Udaipur as a bridal gift.
The park was created to provide the Queen and the royal maidens with a respite from their political duties. The Garden also offered the King and Queen some peace amid nature. It was created specifically for the Queen and her maidens to relax. They walked for lengthy periods, appreciating nature's wonderful splendour.
Saheliyon Ki Baari is open from 9 a.m. to 7 p.m. seven days a week. For Indians, the entrance price is Rs. 10 (less than a dollar), and for foreigners, Rs. 50 (less than a dollar).
Saheliyon Ki Baari becomes hot in the summer, making it difficult to bear the Sun; therefore, it is perfect for visiting the Garden during the cooler months, from September to March.
Subscribe to our newsletter!
The Vintage Car Museum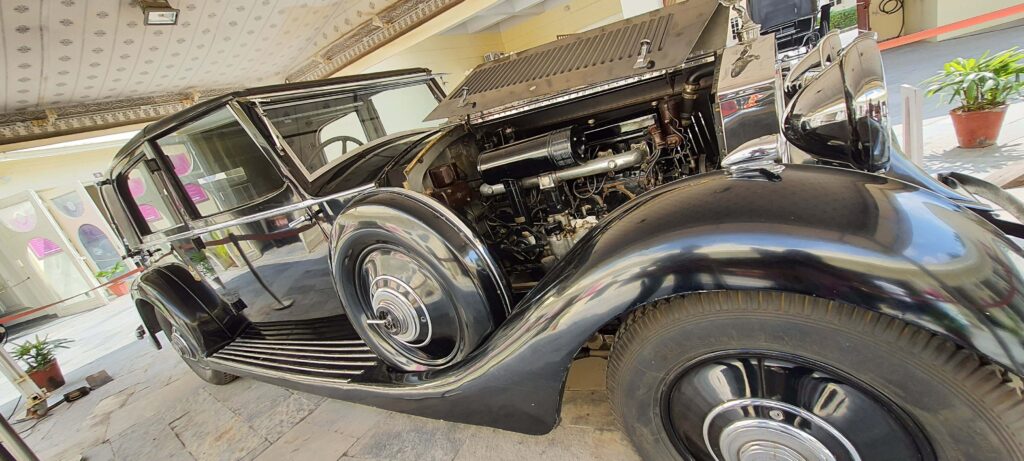 Hearing the words "vintage" and "car" together piques one's interest, and I was no exception. A quick visit to the Vintage Car Museum was both entertaining and educational.
On the Gulab Bagh road, a Vintage and Classic Car Museum houses 20 historic vehicles, including four classic Rolls-Royces, one MG-TC convertible, two 1939 Cadillacs, one Ford-A Convertible 1936 Vauxhall-12, rare Mercedes models, solar-powered rickshaws, and more.
The magnificent collection of automobiles is located in the former Mewar State Motor Garage, which is now a museum. There's a semi-circular car garage with a forecourt surrounded by a much larger yard. You'll be astounded to discover how well the automobiles have been preserved. Vehicles from the late 1800s are still maintained spotless.
The museum will stay open from 9 am to 9 pm. Adult tickets cost Rs. 250 (US$ 3.37), while children's tickets cost Rs. 150 (US$ 2.02).
Vintage and Classic Car Museum is among the best places to visit in Udaipur for any car enthusiast on the planet. You can buy a lunch ticket to go with your museum ticket and enjoy an authentic Rajasthani vegetarian thali. The museum provides a brief glimpse into the royal family's opulent lifestyle. To round out the viewing experience, there is a Shell Petrol Pump and a tiny exquisite café.
If you're lucky, you might catch a glimpse of a member of the royal family driving one of these classic cars.
Places to Visit in Udaipur – Sajjangarh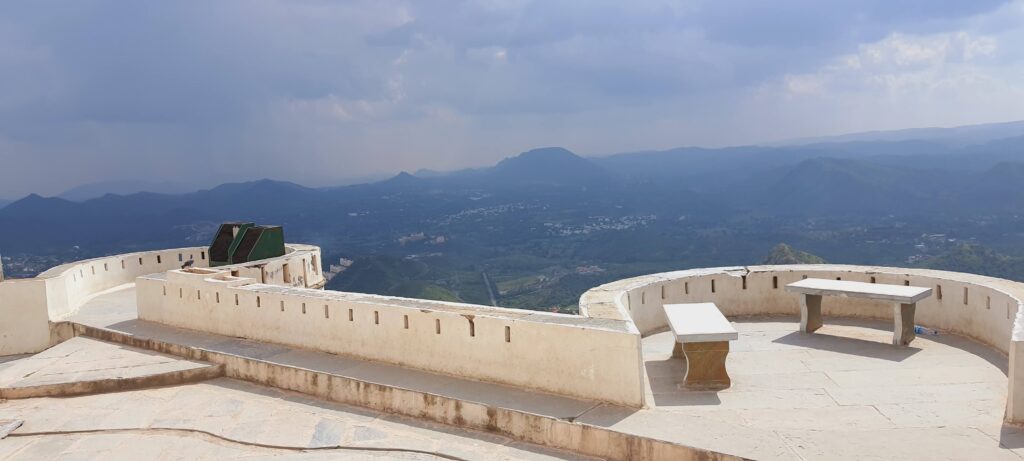 Sajjangarh Fort is a majestic and stunning palace erected on the Aravalli hilltop that has survived the ravages of time. The Sajjangarh Palace, built in 1884, is Maharana Sajjan Singh's stately palace. From the Palace windows, I could see Lake Fateh Sagar, City Palace, and the King's ancestral house, Chittorgarh.
The Royal family utilised the Sajjangarh Palace as a hunting lodge and one of the best places to visit in Udaipur to see the monsoon clouds touching the palace walls, earning it the nickname Monsoon Palace. 
The Fort's base is built on marble pillars with unique floral and leaf designs engraved all over them, along with a large central court with a beautiful staircase, as well as various quarters and rooms.
The Fort has high turrets with guards stationed at each tower. The domes, fountains, and jharokhas surrounding the palaces are stunning Rajasthani architectural masterpieces.
Monsoon Palace has an entrance fee of Rs. 10 (less than a dollar) for Indians and Rs. 80 for foreign visitors and is open from 8 am to 6 pm every day of the week.
A couple of things I would suggest while visiting Sajjangarh –
✅ Don't forget to bring your camera to record the breathtaking views that will unfold right before your eyes. Bringing a video camera will cost you Rs. 20 (less than a dollar).
✅ Please wear comfortable shoes and cotton clothing because the city is hot and humid, and exploring every nook and cranny of the palace will take around an hour.
You can also skim through more such travel tales here -

Places to See in Shimla: My Amazing Experiences!
Manali Tour Experiences: How to Reach Manali, Places, Food, Time, and Cost 
Nainital Tourism: My Solo Nainital Tour experience 
Tourist Places in Udaipur – Dudh Talai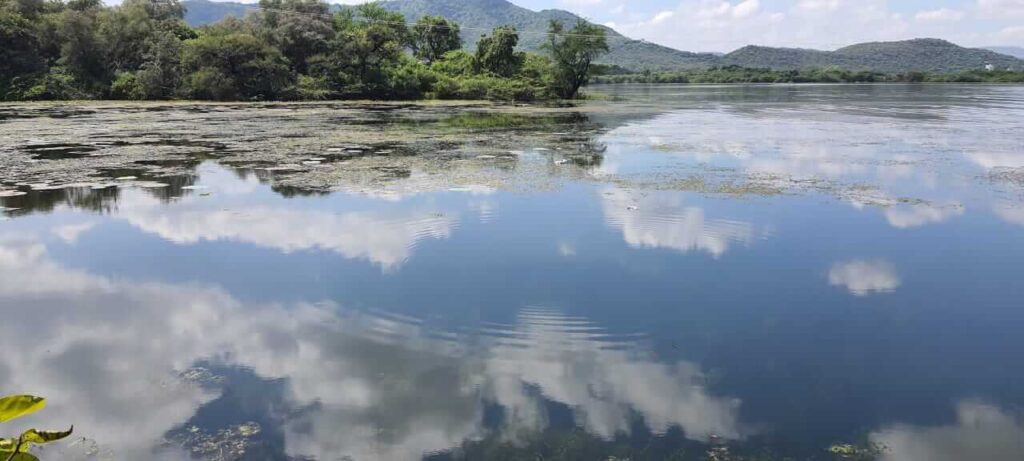 The Dudh Talai Melodic Park is a captivating rock and musical fountain garden with great city views. The Udaipur Urban Development Trust created the Garden, providing some of the most breathtaking views of the stunning sunset point and the lovely Lake Pichola, adding to the value of your visit.
As among the best places to visit in Udaipur, the Dudh Talai Musical Garden, is located on the Lake Pichola banks, with views of several important tourist attractions. The Musical Garden is next to Maharana Fateh Singh's Shiva Niwas Palace, his ancestral residence.
The Dudh Talai Lake offers a variety of activities, including camel rides, authentic Rajasthani cuisine, boating, and horseback riding. Manikya Lal Verma Garden is also worth a visit. The Garden was opened in 1995 and links the Dudh Talai Musical Garden and the Karni Mata Temple.
A ropeway ride from Pandit Deendayal Upadhyay Park to Karni Mata temple is also available. It's a 500-metre ride that takes four minutes and offers breathtaking views of Sajjangarh Fort and the City Palace Complex.
In my opinion, the appeal of this Garden is both mesmerizing and cosy, so if you are looking for a romantic destination, then Dudh Talai Musical Garden is the perfect place for you.
People from across the world come to Dudh Talai Musical Garden to photograph the breathtaking sunset. The tranquillity of the surroundings in the evening cannot be expressed in words; it must be experienced.
The Musical Garden of Dudh Talai is open every day of the week. The Garden's doors open at 9:00 am and close at 10:00 pm. It costs Rs. 20 (less than Dollar) for an Indian adult and Rs. 10 (less than a Dollar) for a child. For a foreign citizen, the ticket is Rs. 30 (less than a dollar) per person.
The musical fountain is open from 7:00 pm to 6:30 pm in the summer and from 6:30 pm to 7:00 pm in the winter.
The best time to visit Dudh Talai Musical Garden is between November and February.
Places to Visit in Udaipur – Lake Pichola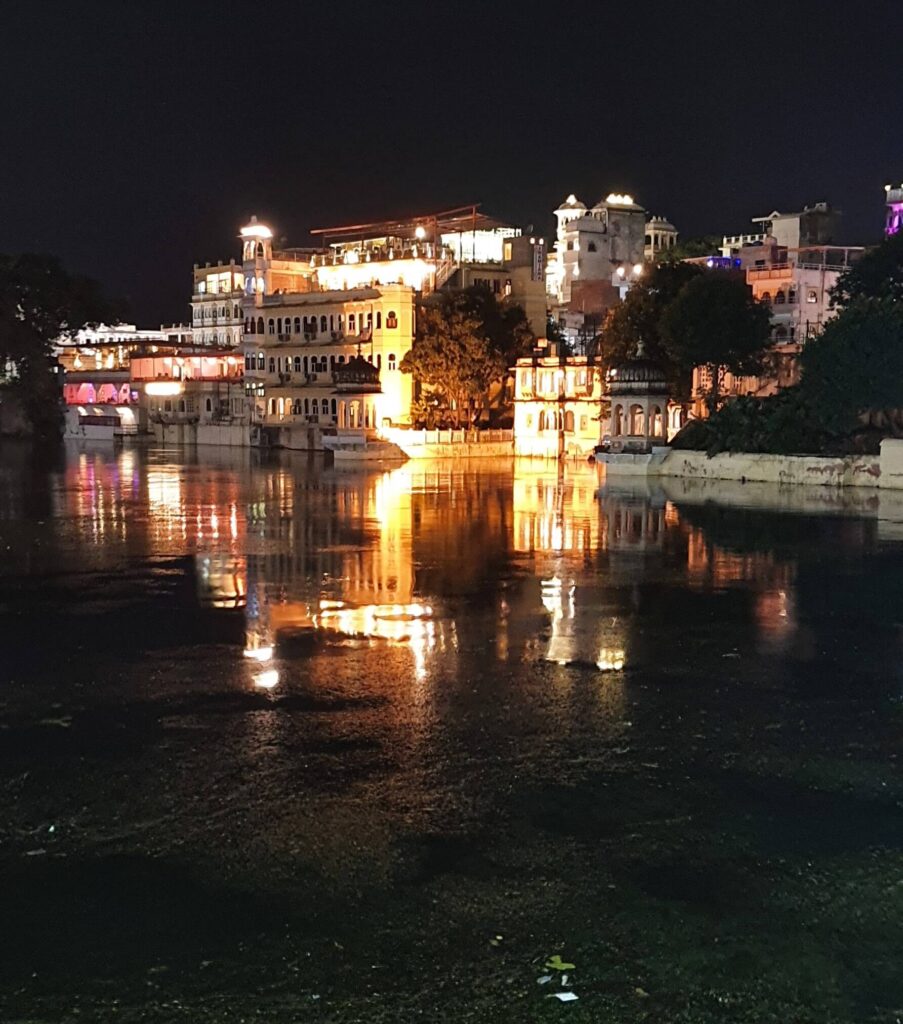 Udaipur is enclosed by several lakes mesmerizing its visitors with its blue waters and picturesque views. One such artificial lake that sits right in the middle of Udaipur city is Lake Pichola, built-in 1362 AD.
Lake Pichola is one of the best places to visit in Udaipur and is named after the neighboring village of Pichola. Lake Pichola, surrounded by isles, castles, temples, ghats, and cafes, has something of interest for everyone. Sunrise and sunset views from the lake are breathtaking and should not be missed by anyone visiting.
Lake Pichola contains four main islands: Jag Niwas, Jag Mandir, Mohan Mandir, and Arsi Vilas, with a length of 3 miles, a breadth of 2 miles, and a depth of 30 feet.
Lake Palace is located in Jag Niwas and converted into a heritage hotel, while Lake Garden Palace is located in Jag Mandir. The King liked to watch the Gangaur festival celebrations from Mohan Mandir every year.
Arsi Vilas, once an ammunition store, now houses a lovely little palace erected by one of Udaipur's Maharanas to rest while watching the sunset over the lake. A bird sanctuary with tufted ducks, cormorants, coots, egrets, terns, kingfishers, and other species is also built here.
Lake Palace, built on Jag Island in the middle of the lake, is one of the most prominent sights in the lake's environs. Picturesque arch bridges further enhance the lake at various spots. Other islands worth seeing include Mohan Mandir, which Jagat Singh between 1628 and 1652 erected, and Jag Mandir.
These bridges are constructed as the lake narrows, allowing the water to approach the shore. Gangaur Ghat, also known as Gangori Ghat, is the primary ghat near Lake Pichola's waterfront.
The ghat, located in the Jagdish Chowk region, is very popular with visitors and residents, who go to it in large numbers during festivities such as the Gangaur Festival and the Jal Jhulni Festival.
An excursion to Lake Pichola isn't complete without a boat ride on the tranquil lake, particularly around sunset. Boating tickets for Lake Pichola are available at City Palace for Rs. 400 to 600 (US$ 5.39 – 8.08) for adults and Rs. 200 (US$ 2.69) for children. Tickets for the sunset cruise cost Rs. 700 (US$ 9.42) for adults and Rs. 400 (US$ 5.39) for youngsters.
The boat journey begins at Rameshwar Ghat and takes passengers to Lake Palace first. The boat then brings them to Jagmandir, where they may relax and enjoy the beautiful scenery. The boats include six to eight people and are covered by a canopy.
The sunset vista, as well as the shifting hues of the ocean from blue in the morning to golden in the afternoon and orange at sunset, is amazing. The reflection of the palace lights on the river at night is another sight that is likely to take your breath away.
Lake Pichola Vintage Walking Tour
A walking tour around Lake Pichola is the greatest way to learn more about historical sites, including City Palace, Bagore Ki Haveli, and Gangaur Ghat.
This walking tour, which costs anything between Rs. 1300 (US$ 17.5) and Rs. 4000 (US$ 53.85) for a guided tour of significant sites near the lake and the old city is a must-do activity for history buffs.
On all days of the week, Lake Pichola is open from 9:00 am until 6:00 pm. The boating season on Lake Pichola begins at 10:00 am and ends at 5:00 pm.
What Are the Best Places to Eat in Udaipur?
Being a big-time foodie, I made sure to visit as many well-known food joints and restaurants in Udaipur to taste the local cuisine, and as expected, it was amazing.
Here are some of my recommendations of some of the best places to visit in Udaipur for foodies:
Jasmine Restaurant
A cute little lakeside restaurant perfect for a romantic candle-light evening, with a stunning view of the lit-up ghats reflecting in the serene waters of Lake Pichola.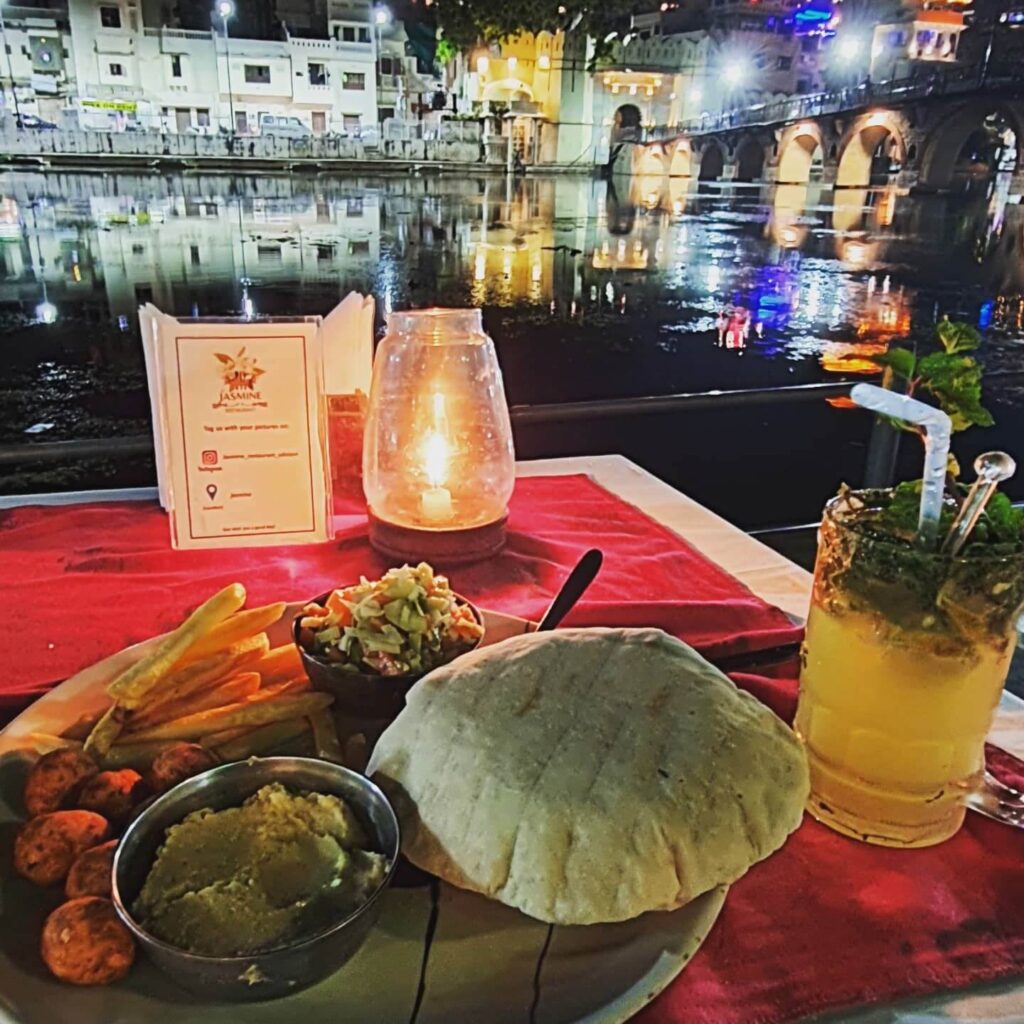 The menu had some interesting items like Humus Meal, Mint Tea, and Rice Pudding, and they were delicious. Since I was travelling solo, this was a great place for me to sit down with a nice hot cup of coffee and write my blogs.
Kitchens of Mewar
A great place with a great view, overlooking the Hanuman Ghat of Lake Pichola, it has some amazing dishes prepared with a secret ingredient: love. I tried dishes like Shakshuka, Dahi Ke Kabab, and Makai Kebab, and the cold coffee was my must-have accompaniment for all the meals I had here.
I loved every dish I tried, and since it was just next door to my hostel, it became my favourite breakfast spot before I set out to explore for the day. 
Street Food Hub Near Fatehsagar
This string of food joints is a must-visit for street food lovers. Explore this food hub after you visit Fatehsagar Lake and try out the wide variety of delicious items and beverages like Pav Bhaji, Burgers, Tandoori Omelette, and Cold Coffee with Ice Cream, etc. You can get the best flavours of the city all in one place.
What Are the Best Shopping Spots in Udaipur?
Shilpgram or Bada Bazaar, Hathipol or Mochiwada Bazaar are great places to shop for fine products like Bandhani sarees, handcrafted juttis, silver jewellery, etc. purses, and real Rajasthani handicrafts.
What Is the Best Time to Visit Udaipur?
An ideal time to visit Udaipur is from November to February during the winter months. The average temperature during this time ranges from 12°Celsius to 28°Celsius. Because the weather in Udaipur remains excellent during the winter, visitors may enjoy the outdoors and take part in different activities.
Finally on Best Places to Visit in Udaipur
That's all about my fabulous tour experience in Udaipur. I will recommend you to explore this beautiful city as soon as the Omicron wave subsides. Do add the best places to visit in Udaipur to your bucket list. Till then subscribe to my blogs on Tourmantras!
A full-time traveler, having explored 40+Indian cities and 1 overseas. Currently freelancing as a travel blogger and creative writer.