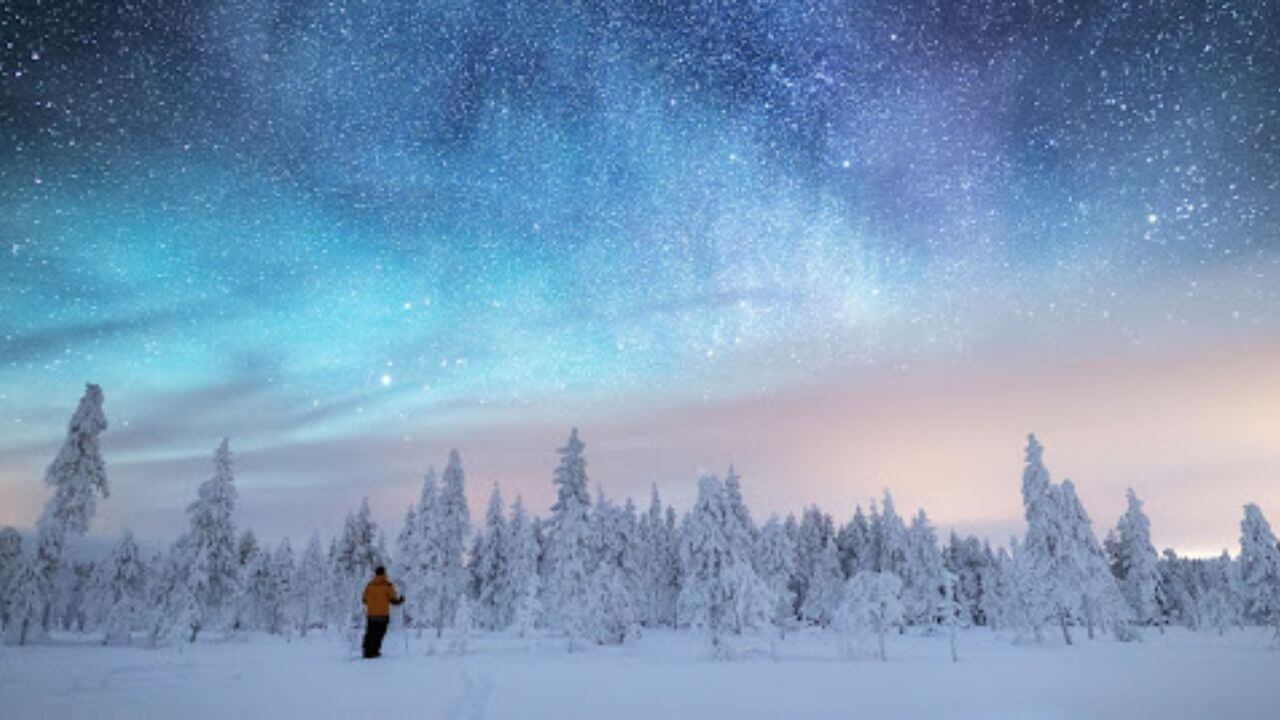 From November to March, cold chilled weather persists in Europe. Planning a trip to the best places to travel in Europe in Winter is not that usual, and without proper preparation, it is actually a wrong thought.
Three main obstacles a traveller can face in winter are bad weather, lesser daylight, and closed tourist spots. Wait, are we sounding negative? Not at all! Touring anywhere at any time always needs planning and no season without any pros as well.
There are some advantages of travelling in winter. You will experience fewer crowds, lower fares in travelling, lower rates in hotels, and unmatched natural beauty of different sorts. In this article, I will discuss the best tourist places to travel in Europe in Winter.
You can also read our Europe Series here -

Top 8 Best Travel Places in Europe in Spring ✨
8 Best Places to Travel in Europe in Summer for that Wanderlust Soul ✨
Best places to travel in Europe in Winter: Austria
Austria is a landlocked country of Central Europe with so many architectural castles, buildings, and palaces. Besides castles and palaces, you can enjoy many winter activities like hiking, skiing, attending holiday concerts, and healing yourself with a thermal spa.
The temperature in Austria in winter ranges from -7 to 5℃. The price range for a solo traveller for a week in Austria in winter costs Rs. 1,00,000 (1400 USD).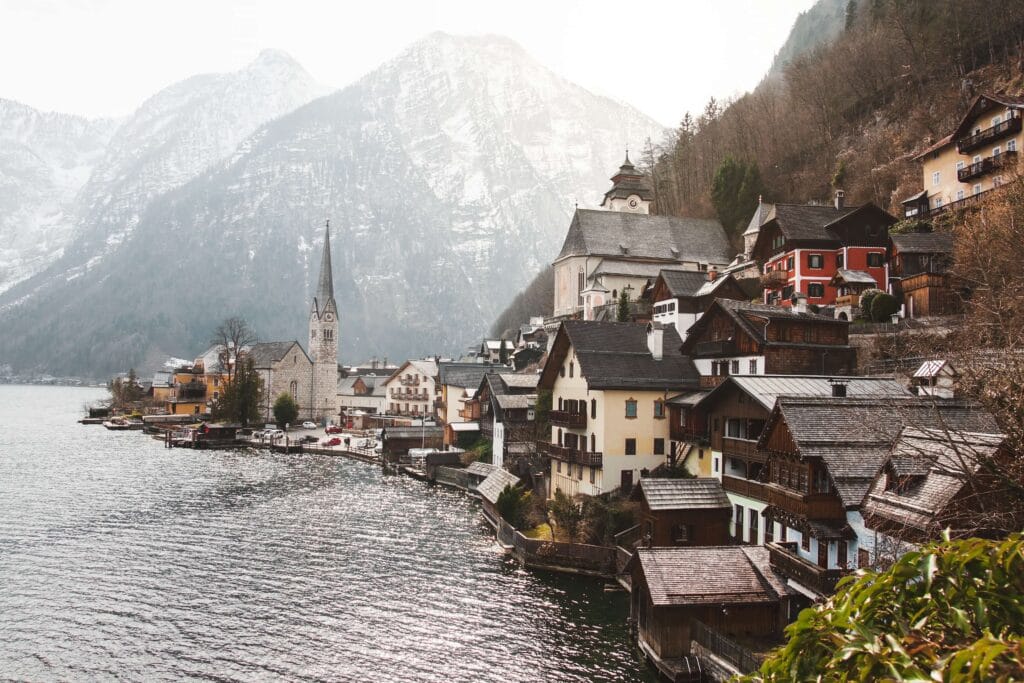 Tourist Attractions in Austria
✅ Vienna – Naschmarkt, Stephansdom Cathedral, Schonbrunn Palace, Schloss Belvedere, etc. are some amazing places you should visit in winter.
✅ Innsbruck – The Nordkette, The Hofburg, Innsbruck cathedral, Grassmayr Bell Foundry, Alpenzoo Innsbruck, The Bergisel's Olympic Legacy are some must visiting places in Innsbruck.
✅ Salzburg – The Christmas event is the most enjoyable experience in Salzburg. The locals wait for this time of the year and perform so many cultural events around the city.
✅ Wildschonau – In Wildschonau you can enjoy skiing, snowshoe walks, and tobogganing runs.
Best Travel Places in Europe in Winter: Italy
Itay is an ever-charming city in Europe. Every season is beautiful in Italy. You can enjoy water riding to mountain hiking in different parts of this country. So many travellers suggest travelling to Italy in winter for a unique and versatile travel experience.
The temperature differs from 6 to 11℃ in different parts of the country. The cost of a 7 to 9 days trip to Italy ranges from Rs. 80,000 to 1,25,000 (1000 to 1700 USD). Thus, Italy is one of the best places to travel in Europe in Winter.
Tourist Attractions in Italy
✅ Venice – You can explore Rialto Bridge enjoy a gondola ride with a cozy blanket and visit Burano Island.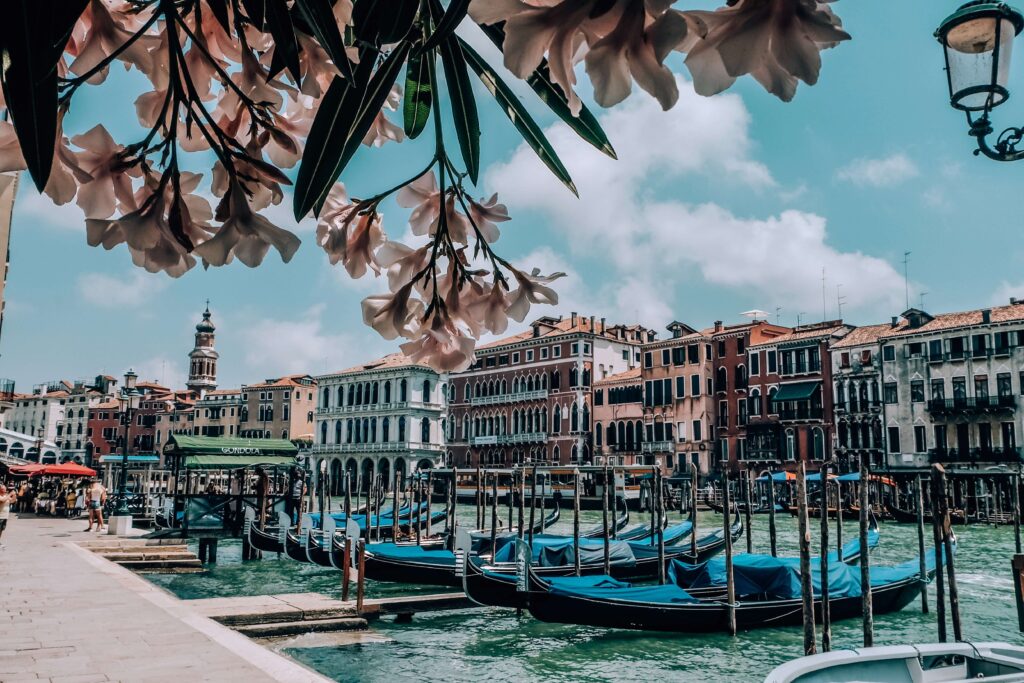 ✅ Palermo & Sicily – As the temperature is a little higher in Palermo, you can enjoy a little spring
✅ Turin – You can enjoy Palazzo Reale, Mole Antonelliana, Egyptian Museum, Basilica di Supergaetc in this great metropolitan city.
✅ Tuscany – The top places to visit in Tuscany are Uffizi Gallery, Pisa's Leaning Tower, the cathedral, Tower of San Gimignano, Roman Volterra, etc.
Best Places to Travel in Europe in Winter: The Netherlands
It is evident that you will experience snow-covered areas in winter, but the fields of tulip flowers, windmills, and bulb fields will blow your mind away. It is a different kind of experience that only fascinated travellers love to feel. Hence, the Netherlands is one of the best places to visit in Europe in winter.
Not only places, but you can also attend the annual Dicken Festival, Christmas market, little handicrafts of villagers.
The Netherlands is located near the North Sea, so the temperature difference is from 2 to 4℃. Without a flight ticket, a traveller can travel to The Netherlands in between Rs. 92,000 to 1,25,000 (1300-1700 USD).
Tourist Attractions in The Netherlands
✅ Amsterdam – During winter, there are some amazing events arranged like the Light Festival, Tulip Day, and obviously Christmas. Other activities like skating on a canal, travelling on a canal cruise, classic winter dishes, and visiting museums can also be adventurous.
✅ Kasteel de Haar – It is a marvellous Dutch architecture that almost every traveller visits.
✅ Marken – It is the most attractive and unique island of The Netherlands. This place is detached from the mainland but has a rustic charm.
✅ Bourtange – Bourtange is a beautiful village that was designed by engineering. People love to explore this village.
Best Tourist Destinations in Europe During Winter: France
France is not that cold but a bit rainy with a bright clear blue sky. France is one of the best places to travel in Europe. It has different charms in different seasons. Christmas brightens up the country.
The temperature of France varies from 2 to 8℃. Surprisingly it becomes 10℃ in mid-January. So winter is also a perfect time to travel to France and enjoy the beauty of Paris with fewer crowds. In winter, a trip to France costs Rs. 75,000 to 1,00,000 (1000 to 1400 USD).
Tourist Attractions in France
✅ French Alps – The Alps is a well-known mountain whose smaller part in France can be enjoyable in winter with so many activities like ice climbing, igloo expedition, fat biking, tyrolean zip-wire, dog sledging, etc.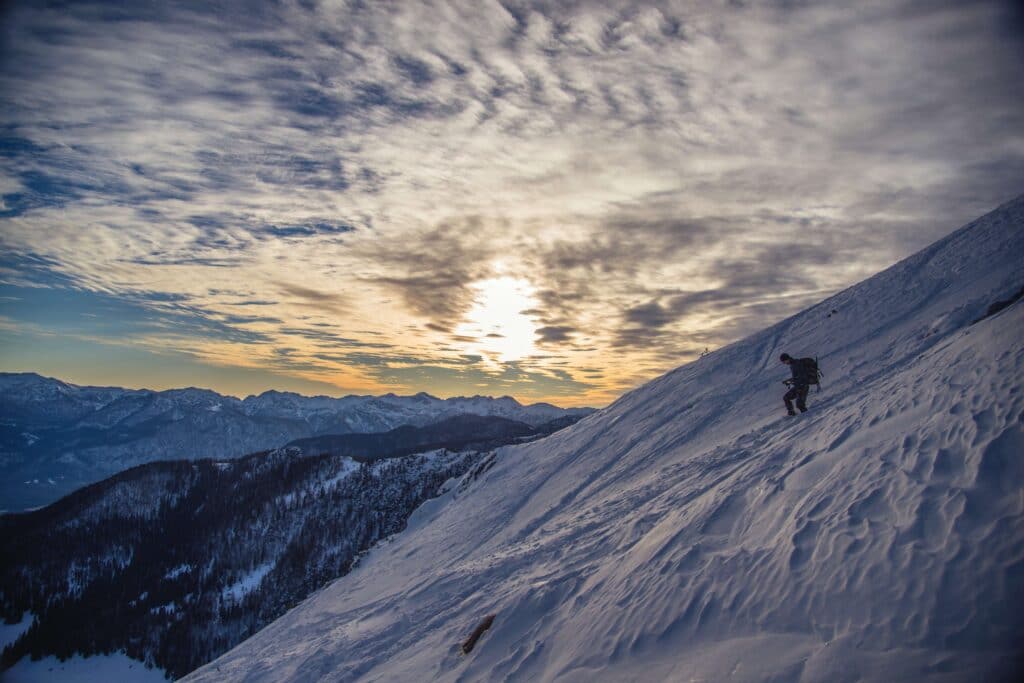 ✅ Loire Valley – It is a charming and magical region in France. The beauty of Loire Valley has attracted many travellers over the years. In winter you can enjoy yourself alone in Chaumont, Chambord, and Cheverny.
✅ Paris – A very beautiful and well-known city in Europe. Every season is charming in Paris. The Eiffel Tower, Louvre Museum, and Arc de Triomphe are some common places to visit.
✅ Menton – If you visit Menton, don't miss the places Promenade du Soleil, Jean Cocteau Museum, and Serra de la Madone.
Best Places to Travel in Europe in Winter: Hungary
Hungary is extremely cold during winter. The temperature can not be more than 1℃ and the daylight is only visible for 8 hours. But the white snow roads, markets, trees, and bridges have another level of scenic beauty.
Some travellers love snow and especially visit during winter seasons to the extremely cold places on Earth to feel the chill. They can be happy to visit Hungary. Besides snow, you can do other activities in Hungary like taking warm therapy, visiting lakes, caves, and other architectural places. So we have included Hungary in the list of best travel places in Europe in winter.
It is said that Hungarian food is made for the winter season, so it will be great to taste and enjoy Hungarian cuisines and meals. The Hungary trip can cost approximately Rs. 70,000 to 1,00,000 (900 to 1400 USD). It may cost more as per your expenses.
Tourist Attractions in Hungary
✅ Miskolctapolca – During winter a good steam bath can give extreme relaxation to your body. Miskolctapolca is a saltwater cave with a customised spa and photogenic places. It is one of the best places to travel in winter in Hungary. 
✅ Lake Balaton – In winter due to heavy cold, we don't like beaches. But Lake Balaton gives little satisfaction like beaches in winter. Kayaking, Ice skating, and skiing also can be performed.
✅ Budapest – St. Stephen's Basilica Christmas Market, Budapest's City Park Ice Rink, and State Opera House are some very popular amazing places to visit in Budapest.
✅ Margaret Island – Margaret Island is situated north of Budapest. During winter, the ice-covered snow island looks fantastic and you can do so many interesting fun activities like ride vehicles throughout the island, climb the water tower, visit Rose and the Japanese garden, and enjoy the musical fountain.
Best Tourist Spots in Europe in Winter: Czech Republic
Both lovers and haters of winter can enjoy the Czech Republic with less airfare. In the Czech Republic, winter is not always cloudy, cold, and rainy.
Weather is sometimes unpredictable, and the locals wait for winter to enjoy outdoor snow activities. These are some reasons that we have included the Czech Republic in the list of best travel places in Europe in winter.
The temperature varies from -5℃ to 10℃, depending on different heights. A 7-10 days package to the Czech Republic costs a minimum of Rs. 75,000 (900 USD).
Tourist Attractions in The Czech Republic
✅ Prague Castle – The main attraction of the Czech Republic is Prague Castle. During winter, due to fewer tourists, it is very satisfying to enjoy the beauty.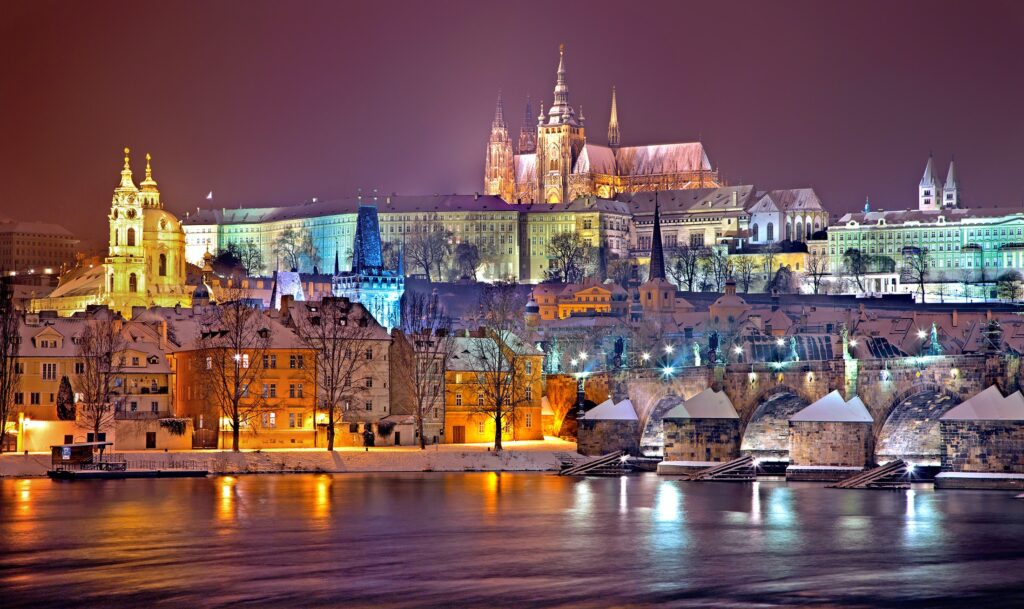 ✅ Charles Bridges – The best place for photoshoots from the snow-covered early morning to the evening. And the enjoyable scenery from the bridge is incredible.
✅ Old Town Square – It feels good when you see a whole city from a long tower. Old Town Square has a long tower from where anyone can see the actual beauty of the whole of Prague, the river, and the bridges.
✅ Krumlov Castle – Krumlov is an Instagram-famous city nowadays. The main attraction in Krumlov is the castle which is beautiful and worth visiting.
Best Places to Travel in Europe in Winter: Finland
If you want adventure in your life and want more winter activities options, then Finland is an ideal tour destination for wanderlust souls. What you want to experience is all available here, from skiing to reindeer sleigh. Finland is a great option that no one should miss on the list of best places to travel in Europe in Winter.
Aurora is another attraction of Finland. The colourful sky can seriously blow your mind. The temperature varies from 0 to 4℃, and it can be as low as -45℃. Travelling to Finland is costlier, which can be between Rs. 1,00,000 to 1,50,000 (1400 to 2000 USD).
Tourist Attractions in Finland
✅ Santa Claus Village – Everyone knows the story about Santa Claus. From childhood, everyone has had a hidden desire to travel to Santa Claus village.
✅ Rovaniemi – Dog sledging, ice fishing, snowmobiling, skiing, and sleeping in an ice room or Igloo are some fun winter activities a traveller should do.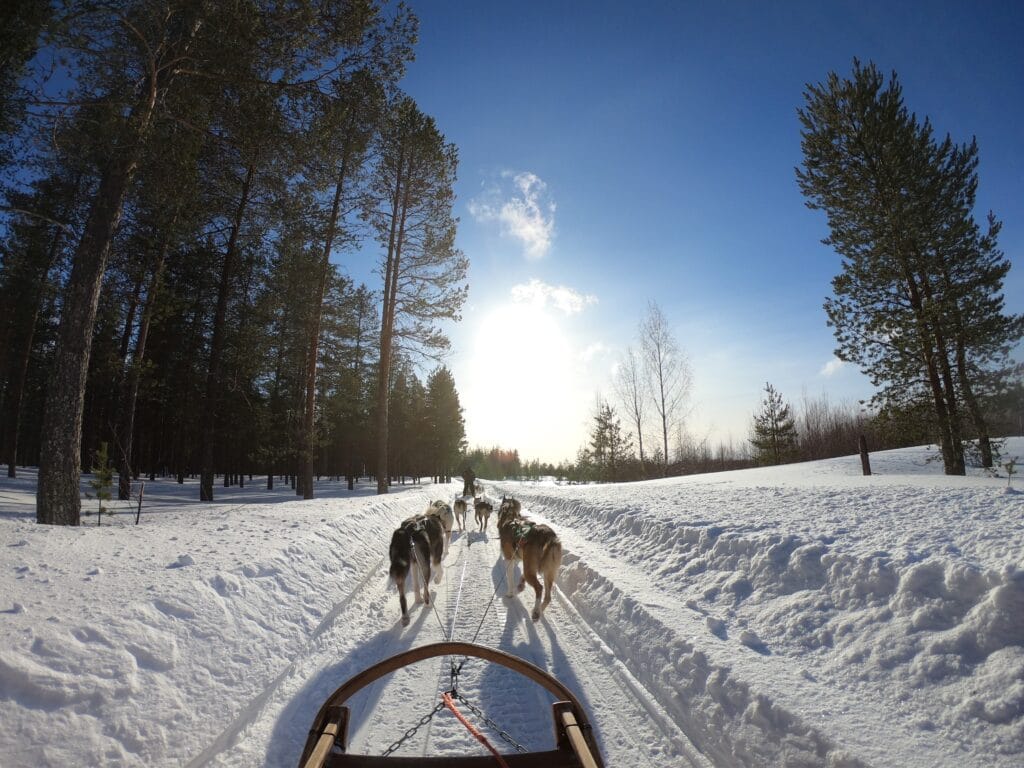 ✅ Helsinki – Beautiful architecture, snow-dusted roads, cosy cafes, and the frozen sea will offer some glorious experiences in winter.
✅ Kemi – Chase the Northern arctic lights and travel on a cruise on the icebreaker Sampo is the most amazing feeling ever, a traveller enjoys.
Best Places to Travel in Europe in Winter: Germany
Germany is a magical wonderland because of the beauty of the black forest, historical castles, and picture-perfect snow-covered landscapes. Affordable prices and fewer crowds can also be an additional point to tour Germany and enjoy the scenery or activity during winter. Germany is one of the best places to travel in Europe in winter.
Like other colder European countries, the temperature in Germany ranges between 0 to 4℃. A 7 to 10 days trip to Germany without airfare can cost from Rs. 80,000 to 1,40,000 (1000 to 1900 USD). A single destination with fewer days can cost as low as Rs. 40,000 (540 USD).
Tourist Attractions in Germany
✅ Cologne – Cathedral, Old Town City, Cologne Zoological Gardens, St. Gereon's Basilica are some interesting places travellers should visit.
✅ Baden – This city has some amazing places like Merker Mountain, Altes Schloss Hohenbaden, Geroldsau Waterfall, The Opera House, the Paradise cascade, etc.
✅ Mosel Valley – It is the home of many storybook castles and during winter the snow and winds add mystery and beauty.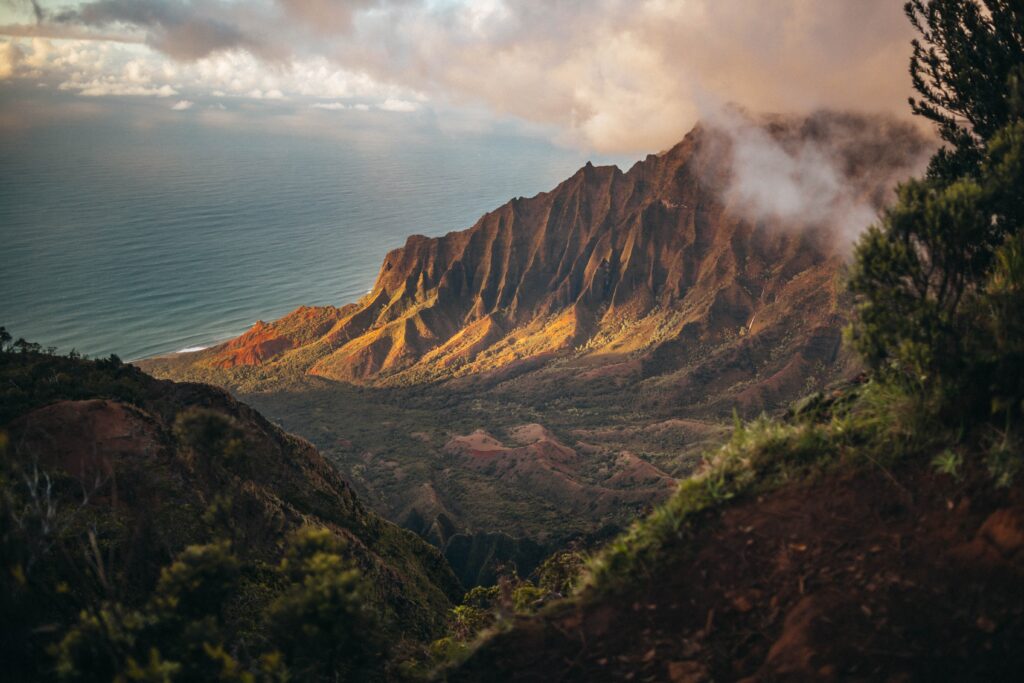 ✅ Hamburg- Speicherstadt, HafenCity, Elbphilharmonie, Planten un Blomen etc. are some amazing places in Hamburg to visit.
Final Words on Best Places to Travel in Europe in Winter
Winter is a season of Christmas, New Year, and merriment. It is also enjoyable weather for tourists. Winter sports and activities are amazing things that can be enjoyed only during the season along with smelling the ice. Often tourists love to travel to European countries to experience the beauty of ice-covered landscapes.
So, I have included the top 8 best places to travel in Europe in Winter. Feel free to comment in case you have some other tourist places in Europe to travel to during winter in your mind!
Best Places to Travel in Europe in Winter – FAQs
1) Which place is the warmest in Europe in winter?
There is no proper warmest place in Europe in winter but the temperature in Palermo, Italy is higher than in other places in Europe. 
2) Is Europe worth visiting in winter?
If anyone wants to experience snow and chilly weather and loves skating, winter sports then the best places to travel in Europe in winter are worth visiting.
3) Is it cheaper to go to Europe in winter?
Yes, in winter Europe is cheaper to go. As winter is very effective and almost many places are snow-covered. Some places have very few daytime hours, so many travellers do not prefer to travel during winter.
4) Which is the best country in Europe to visit in December?
France is the best country in Europe to visit in December. It is one of the best places to travel in Europe in winter.
5) Is December a good time to visit Europe?
To enjoy winter vacation, Christmas, and new year's eve, December is a good time to visit Europe.