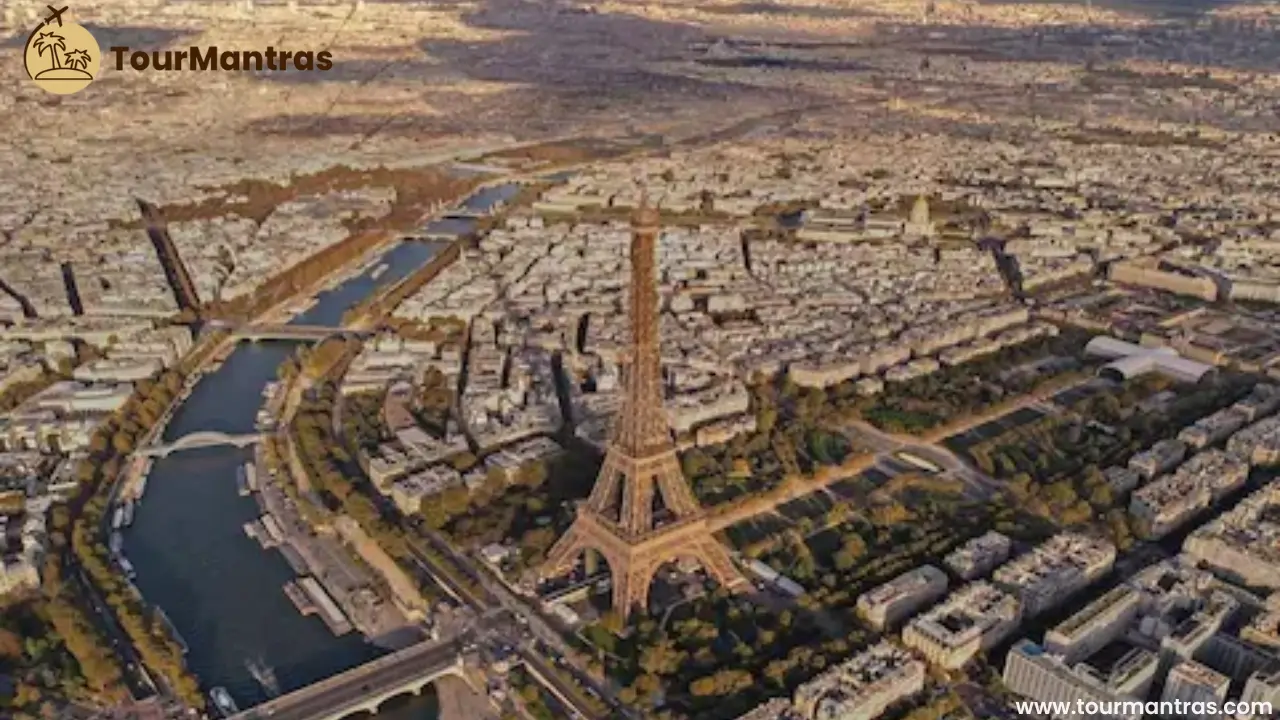 Got one week and want to visit France? This 7-day France itinerary guide may help you to plan your weekend trip. France is enchanted. Of course, most people associate France with Paris that's amazing at any time of year. But France is more than just Paris! If you have a 7-day France Itinerary ready with you, whether, for a vacation or a honeymoon, you'll experience everything this nation has to offer. Let's check it out.
Also, Read...

11 Tourist Attractions in Northern France To Explore Your Holidays
The Ultimate 7-Day France Itinerary
Your week in France begins in Paris. And, it includes day visits to Normandy and Champagne, eliminating the need to change hotels every day. This also provides you with a base in the capital from which to enjoy all of its attractions. We then go south to the French Riviera and Provence before returning north to Lyon. Return to the French capital on your last day to complete your vacation.
Day 1 of Your 7-Day France Itinerary: Trip to Paris
Welcome to France! After landing at Charles de Gaulle or Orly airports and checking into your accommodation, head to a French bakery for breakfast or lunch. It's then time to begin your trip. Purchase some Paris metro tickets and make sure you have a map or access to internet directions.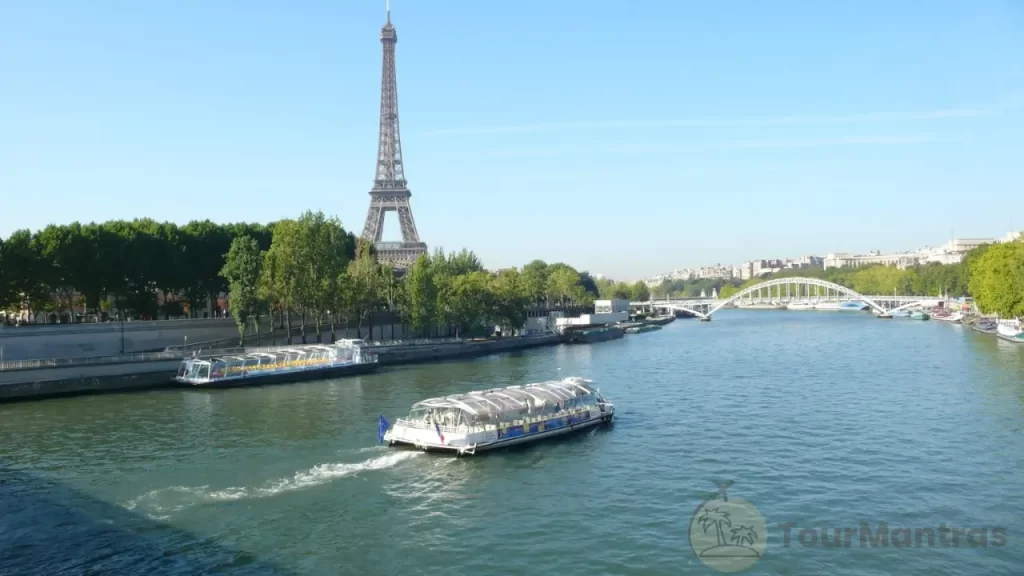 Your first day starts with a sightseeing boat down the Seine River. It gives you a first-hand look at some of the city's most popular landmarks and includes an informative audio guide. Pick a cruise that fits your preferences and financial constraints.
Then, take the subway or stroll to the Latin Quarter, which is noted for its picturesque features and lengthy history. In addition to visiting the area's prominent attractions, we recommend walking at a leisurely pace and stumbling onto peaceful areas to explore at random.
Days 2 of Your 7-Day France Itinerary: Trip to Giverny or Mont St-Michel
The two activities are a visit to Monet's Gardens at Giverny or a guided bus excursion to Mont St-Michel. We advise considering as you only have one day to take in the attractions of Normandy. While Mont St-Michel is fantastic all year round, Giverny is best in the spring and early summer.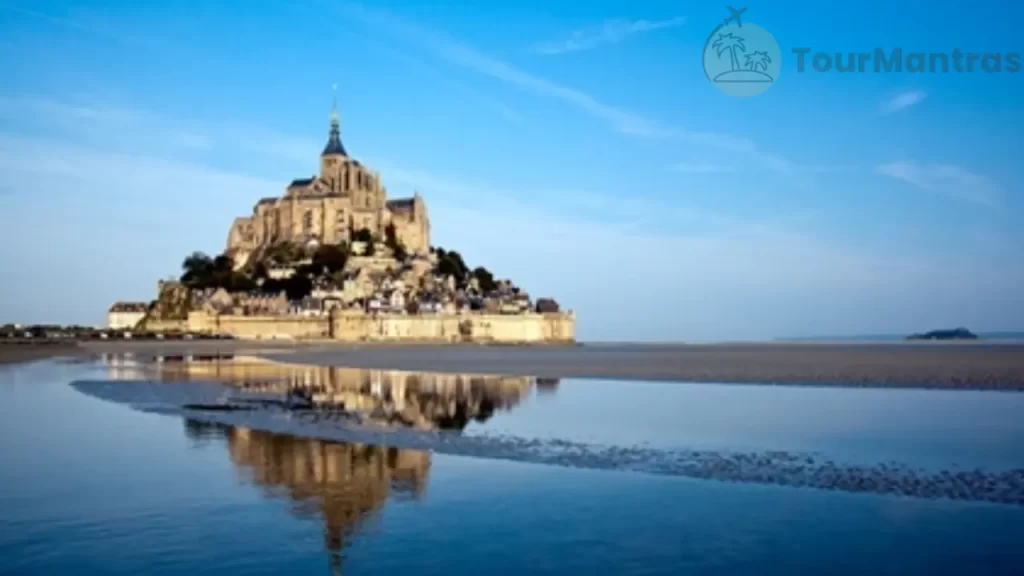 Giverny: Giverny, located on the outskirts of Normandy and just over an hour from Paris by train and a fast shuttle, has long been the home of French impressionist artist Claude Monet. He painted his renowned 'Waterlilies' series here, inspired by his Japanese-style gardens. To appreciate the scenery, arrive around late morning. Stroll around the grounds, look about the home, and then eat lunch at one of the village's wonderful eateries.
Mont St-Michel: The best way to see Mont-St-Michel in a day is to join a bus trip provided by Viator. You can also take a car to rent. The majority of tours start early in the morning. And, it includes lunch in addition to round-trip transportation to the historic monastery and UNESCO World Heritage site. Before heading back to Paris, see the historic location and the surrounding bay's natural attractions.
You May Also Like To Read,

11 Tourist Attractions In Eastern France You Should Visit Now
Days 3 of Your France Itinerary: Trip to Champagne
For a quick third-day excursion eastward to the Champagne area, you'll board a train once more. Cheap trains to the area leave from the Gare de l'Est almost every hour, travelling to major cities like Reims and Troyes.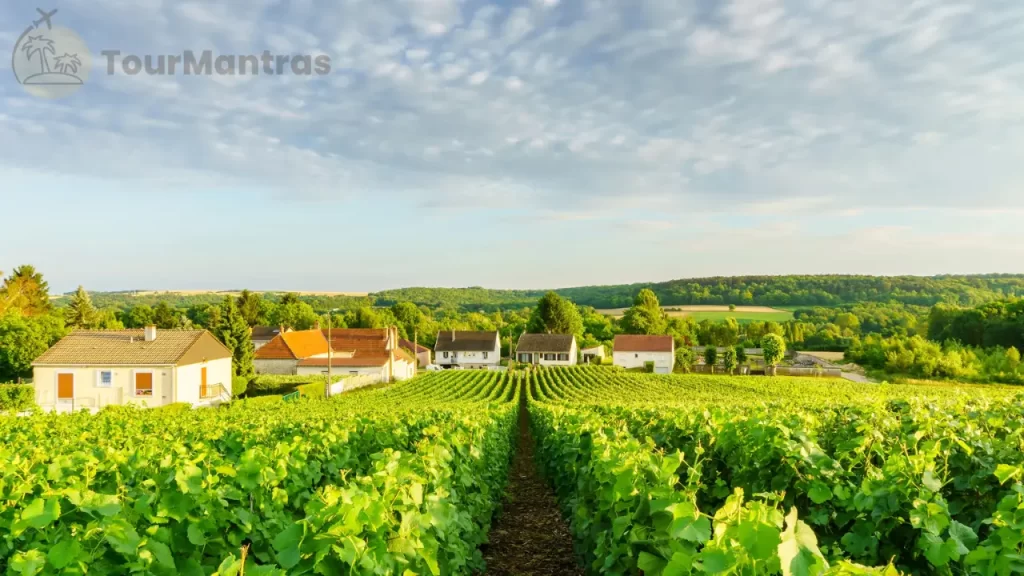 While Champagne is most recognised for its world-class sparkling wines. It also has a lot to offer in terms of architecture, history, gastronomy, and modern life. It's impossible to explore everything in the region in a single day. So, we recommend concentrating on Reims and adjacent Epernay.
Some of the most renowned champagne producers in the area call both of them home, including Taittinger, Veuve-Cliquot, Dom Perignon, and Mercier. They also contain amazing networks of subterranean cellars, some of which date back hundreds of years, as well as beautiful, rolling vines.
After admiring the magnificent Notre-Dame Cathedral in Reims, make sure to explore les crayeres, a vast network of chalk quarries that partially serve as cellars for several wine manufacturers. They were designated a UNESCO World Heritage Site because of their historical significance.
Days 4 of Your 7-Day France Itinerary: Nice
Travel to the south of France to discover a distinct side of France's Itinerary. Nice, a centuries-old Mediterranean and French Riviera city, is your first stop. We propose taking a direct trip from Paris to save time. Daily flights are available from Air France, Easyjet, and Lufthansa.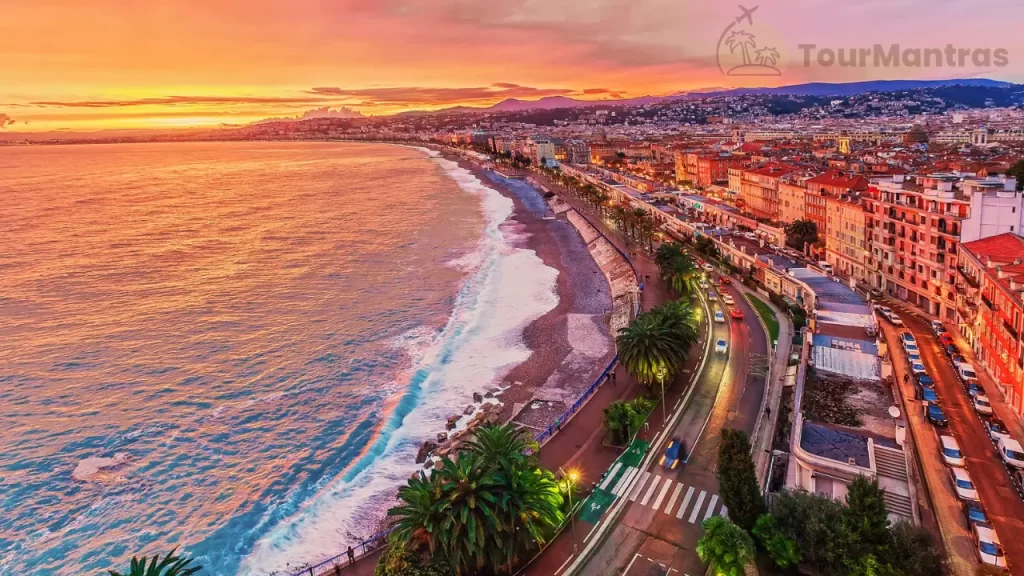 Drop your things and head to the Promenade des Anglais, a 2.5-mile boardwalk that runs along the ocean from the Old Town to the airport. Admire the azure-blue sea water and 18th-century Belle Epoque architecture, such as the famed Le Negresco hotel.
Take the boardwalk to Nice's Old Town (Vieux Nice), which has the Opéra de Nice, meandering cobblestone alleyways, 17th-century squares including the Place Rossetti, and a variety of stores selling typical Provencal goods and souvenirs. Browse the locally produced items there, like soaps perfumed with lavender and olive oil.
Then, at the end of the Quai des Etats-Unis, climb the steps (or Art Deco elevator) to the Colline du Château, or Castle Hill. Nice's original mediaeval city was housed within a fortress that has since been demolished. Enjoy breathtaking views of Old Town and the Baie des Anges from here (Angel Bay).
At one of Nice's best restaurants for supper, sample traditional regional food. Consider returning to the Promenade des Anglais for a nightcap and sipping a beverage with a view of the sea at bars like Waka and Movida.
Also, Read...

11 Tourist Attractions In Western France You Should Visit
Days 5 of Your France Itinerary: Aix-en-Provence
Your fifth day of the 7-day France Itinerary calls for you to go a little inland to Aix-en-Provence. Train service is available from Nice to Aix; the journey takes around three hours and thirty minutes, so we advise leaving early in the day to maximise your time at your destination.
Aix was a favourite of resident Paul Cezanne, who is still very much linked with the town. He painted several landscapes of Aix and its surrounding natural beauty, capturing what many consider to be unequalled light. Begin your tour of Aix by walking along the Cézanne Trail, which will introduce you to some of the city's most renowned monuments while also teaching you about art history. If you wish, you may also take a guided tour.
Next, go to Place Richelme, a food market that opens every day in the town's cherished market square. View the bustling yet laid-back Provencal sights in the plaza, peruse the market booths, and take in the dappled light reflecting off the warm stone structures.
Days 6 of Your 7-Day France Itinerary: Lyon
Lyon is one of France's most important cities in terms of both population and cultural heritage, located in the Rhone Valley and surrounded by stunning vineyards. It is a gastronomic mecca, with great chefs such as the late Paul Bocuse calling it home. It also has a long history, having been the Roman capital of Gaul.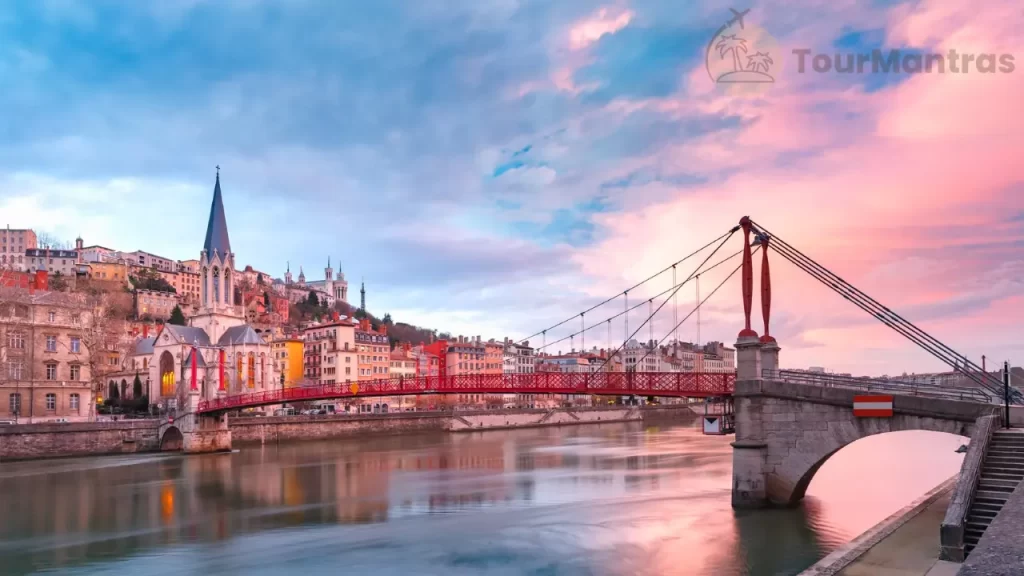 Explore the city by foot, by local bus, or by metro after settling into your accommodation. We highly suggest touring Old Lyon (Vieux Lyon) around the Saone river's banks. Before enjoying a guided tour of the neighbourhood's 'troubles' or passages between buildings that were previously used by silk workers to carry fabrics, see the magnificent St-Jean Cathedral and meander around the streets from the mediaeval and Renaissance eras.
If you have time, go to the Museum of Gallo-Roman Civilization and view the two well-preserved Roman theatres that crest the hill at Fourvière, one of which dates from 15 BC. Views of the city are amazing from here. Enjoy classic regional cuisine and wines at Bouchon, one of Lyon's historic cafes, for supper.
You May Also Like To Read,

11 Tourist Attractions in Southern France To Explore Your Holidays
Day 7: Return Back to Paris
Return to Paris on your last day of the 7-day France Itinerary for one more opportunity to see the city on this trip. You'll travel from Lyon to Paris on the TGV train, which will take around two and a half hours, and end at Gare de Lyon.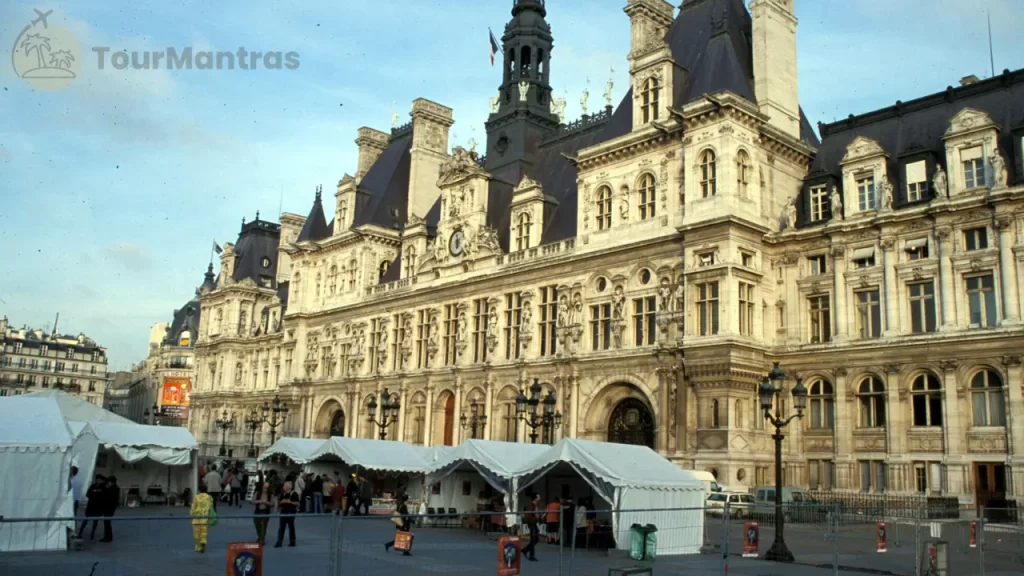 When you arrive, it could be almost time for lunch. If so, we advise going to Le Train Bleu, a lavish restaurant located on the second level of the Gare de Lyon station, for lunch. A spectacular, classic Parisian experience is provided by its elaborate, expansive dining area and traditional food.
Then it's time to go exploring on the right bank. Take the metro (line 1) to Hotel de Ville. Stop to see Paris City Hall before touring the Marais neighbourhood, which features well-preserved Renaissance homes, gorgeous squares, chic stores, and wonderful street cuisine.
Around sunset, walk south from the Marais back to the banks of the Seine and enjoy stunning views of the river and Ile St-Louis from the Pont Marie, one of the city's most beautiful bridges. If you have time, take a walk to the natural island that links to it across the river.
Wrapping Up on 7-Day France Itinerary
France is an absolute jewel. France is a country that draws you back time and time again because of its diversity in landscapes, cuisines, and even temperatures. We hope you will like this article on the 7-day France itinerary. Will you travel to France for seven days? What French location would you choose to be your favourite? Let us know in the comments below.
Frequently Asked Questions
1) Are 5 days enough in France?
The France itinerary of 5 days is plenty to explore the French culture and engage with the friendly inhabitants. There are many things to do in France and experiencing the euphoric mountains and hills is all you can do to make your visit more exciting.
2) What is the best month to visit France?
The best time to visit France is in Spring (April-May), Summer (June-August), and Autumn (September-October).
3) Is 1 week enough in France?
If you plan your time wisely, a week might be enough time to visit Paris and other notable locations in France. The world's largest art museum, the Musée du Louvre, the Eiffel Tower, and Notre Dame are just a few of the prominent Paris landmarks to visit in a 7-day France Itinerary.
4) What is the cheapest month to go to France?
The best season to visit France is between April and June (spring) or September and November (autumn) when there are fewer visitors, reduced prices, and pleasant weather.
5) Is Lyon worth visiting?
Lyon is a lovely French city to visit. You may enjoy wonderful dining, shopping, the Cathedral on the hill, and the Old Town with its beautiful views.
You may also like: