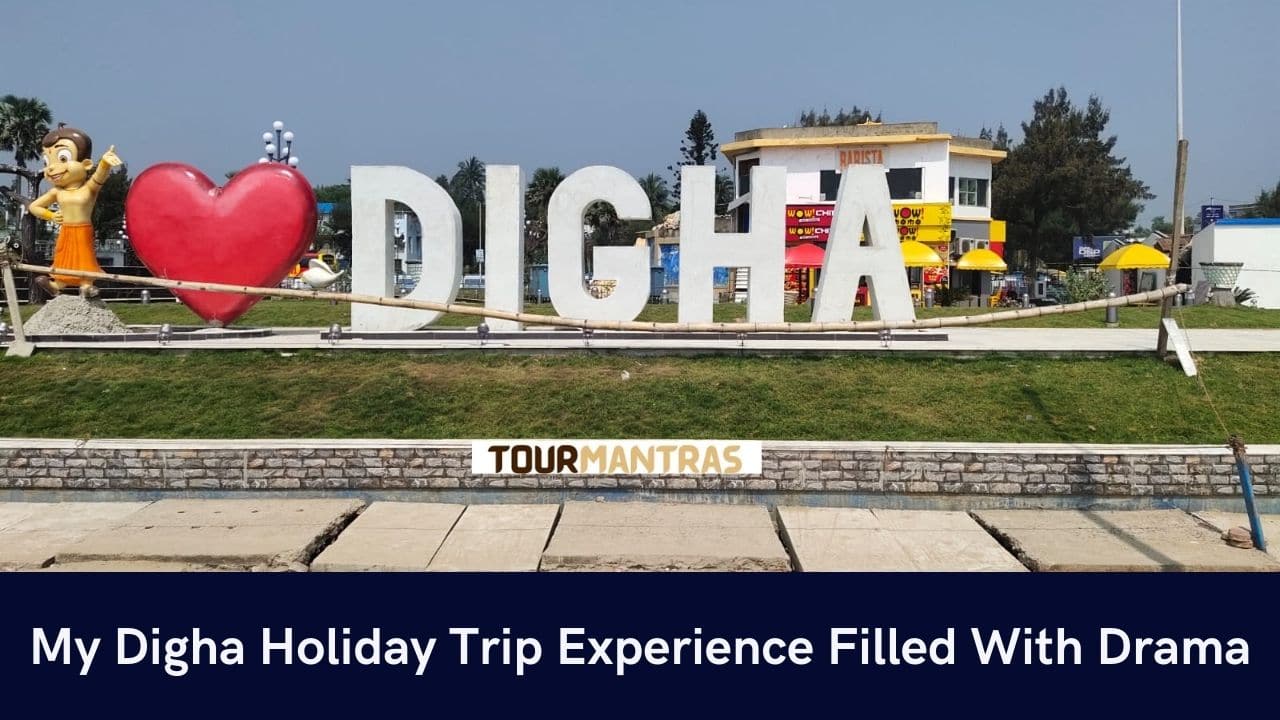 With the pandemic stretching for another year in 2022, it is almost like a death sentence for travel lovers around the world. However, with the Omicron variant gradually weakening in India, it's time to venture out. So, here is my Digha Holiday Trip this year!
Digha is one of the best tourist spots in West Bengal. It is a coastal resort town located in the Eastern Indian state of West Bengal. You can easily spend your weekend relishing the beautiful beaches of Digha. So, here is my travel tale about my recent Digha holiday.
Stay tuned till the end to plan your next Digha holiday trip as I unravel all the events that took place!
My Digha Holiday Trip Post-Omicron Wave in India
I started my Digha holiday trip on 26th February from Kolkata with my mom, cousin, and mother. We 4 people reached Howrah Station by 6 am through our private car. If you don't have a car, I recommend hiring Uber or Ola cabs. It took us a bit long us even after starting at 5 am from our home at Behala because of traffic jams. At some point, I thought we might get late. So, an element of drama and suspense was there right at the start of our Digha holiday trip.
Anyways, we reached on time and quickly checked out the platform number. We availed of the Tamralipta Express or Howrah Digha Express to reach Digha. You may think at which station Tamralipta Express arrives. It is the Old Howrah Railway Station where you will find this train.
The Howrah – Digha Express (Tamralipta Express) was scheduled to start at 6:50 am, and guess what? We started our Digha holiday trip on time!
We reached Digha on time by 10.30 am. It took about 3 hours and 45 minutes for us to reach the coastal town of Digha. After that, we started our memorable Digha holiday trip!
Digha Holiday Trip – Day 1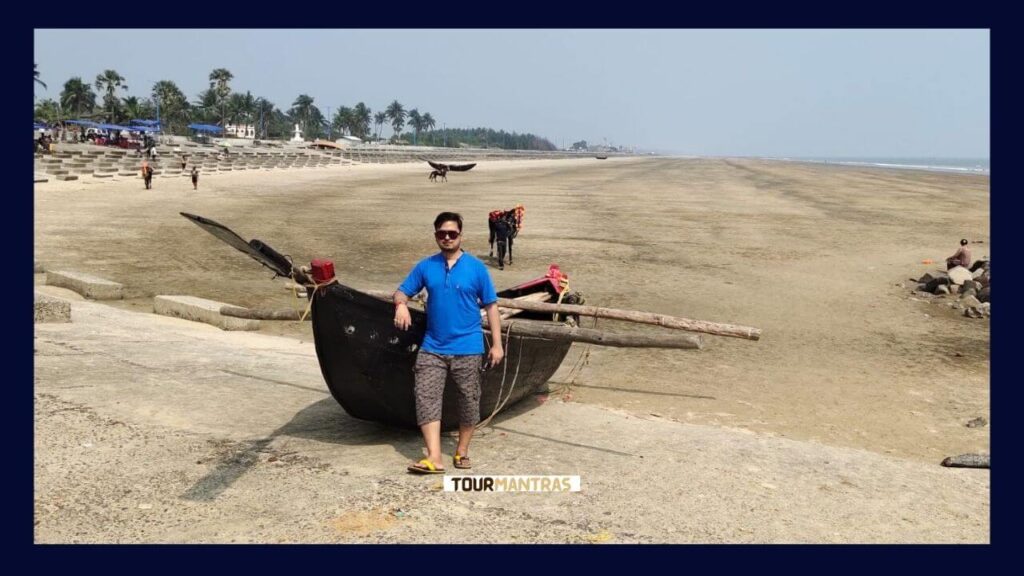 Day 1 started with a smooth arrival to Digha, boarding the Tamralipta Express from Howrah. But we were not able to foresee what was coming at us. Yes, we were soon left disappointed even after reaching Digha in just 3 hours and 45 minutes.
We had booked 2 rooms with Hotel Bhakti Sagar. After reaching Hotel Bhakti Sagar, we verified the documents, and then suddenly, something happened. Yes, we were not allowed to check-in at the hotel!
Due to some reason, my cousin could not get vaccinated, and after reaching hotel Bhakti Sagar, the authorities demanded the vaccination certificate. As we were not provided the same, they asked us to get an RTPCR Test done. We tried every medical center, but the RTPCR test is not conducted at present. Even then, the hotel authorities were not compassionate.
Well, rules are rules! But, my point is if vaccination or RTPCR test is a must, then it should have been communicated during booking. There were no such instructions when we booked this hotel online. We used the online hotel booking app MakeMyTrip. We were stranded for 2 hours under the Sun with all our luggage on the road. So, the advantage of reaching Digha by 10.35 am is lost!
However, the MakeMyTrip agent understood our concern and helped us get a refund of our booking charges by canceling the previous booking. The agent too sided with us as Bhati Sagar Hotel didn't have any advisory or instruction mentioned anywhere regarding COVID protocols.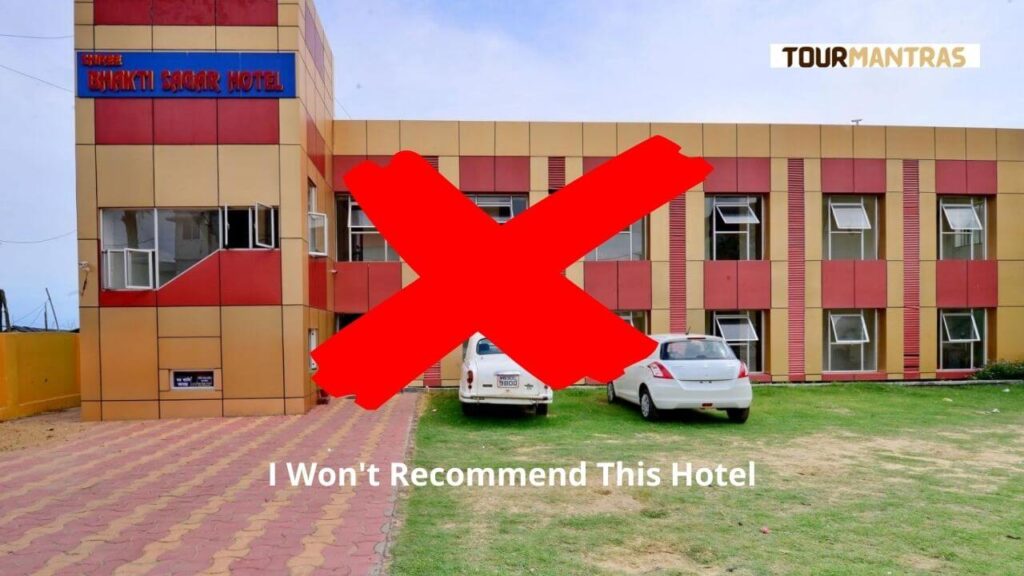 So, our Digha holiday trip started with a bang (on a negative note, though) on the 1st day itself!
Anyways we met a messiah in the form of an agent who helped us find the beach-side Sea Cottage Hotel. We checked the rooms (Which seemed OK) and booked 2 AC rooms after canceling our previous bookings.
Yuppie! So, that's how we started our day!
However, I never faced such harassment before like this on any trip
Pro Tip: Double-check with the hotel authorities specifically about COVID protocols while traveling during pandemic times. Also, beware of scams as, during such situations, the hotel authorities may ask for more money to check in.
On Day 1, we spent time bathing in the sparkling waters of the Bay of Bengal and hanging out on the beach in the evening. Digha has 3 known beaches where you can take a bath. 2 are located in Old Digha, and 1 such beach is located in New Digha. We were based in Old Digha and took a bath on the beach just opposite Hotel Sea Hawk.
Meanwhile, my mom and cousin's mom enjoyed the mild breeze, blue sky, and endless seawater stretch till the horizon sitting under a tent or shack.
We explored the local market in the evening and enjoyed the never-ending waves as they slapped against the boulders placed at the Old Digha Beach. There are stone-made platforms on the beach for you to sit and enjoy the sea. Also, you will find more than a 30 feet stone wall along with boulders to guard the city against cyclones.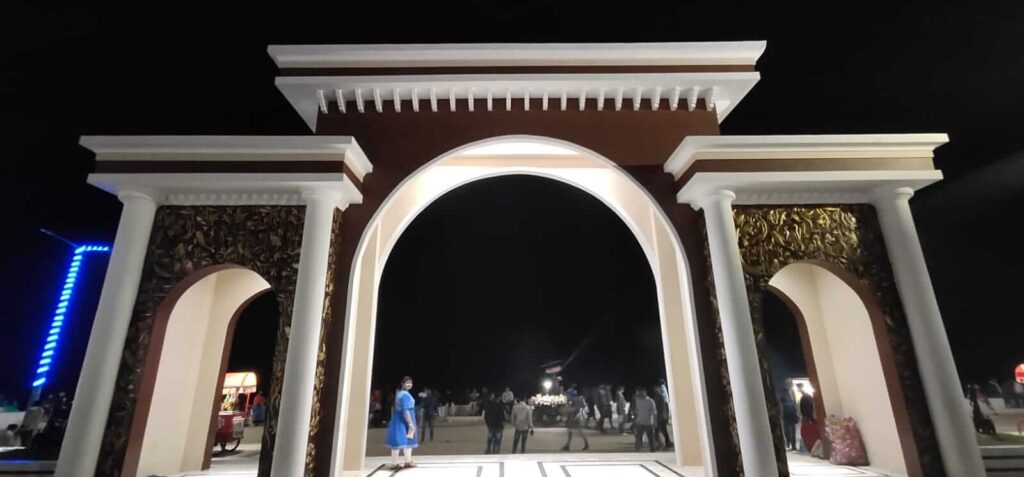 In addition, there is the exquisitely built Biswa Bangla Park, which is a famous hangout spot for both the young and the old. You will find 2 gates of the park, and, guess what? Entry is free!
Biswa Bangla Park is a famous selfie point and worth exploring if you are in Digha. Besides enjoying the hustle and bustle of nightlife around the beach at night, we also explored the park and were mesmerized by its splendid architecture and lighting works.
Thus, our Digha holiday trip started unexpectedly but concluded pleasantly on Day 1 of the Digha holiday trip.
Day 2 of Digha Holiday Trip
After getting a good night's sleep, it's time to explore the coastal town. On Day 2 of the Digha Trip, we explored the following best places to visit in Digha after taking a bath in the sea.
BUT WE GOT SCAMMED!
To keep your belongings or sit under a tent, there is a sort of norm, i.e., to have coconut water for Rs. 30 or Rs. 40. But this guy, under whose tent we kept our belongings, charged Rs. 20 extra for keeping our stuff as well. And guess what? I paid for the coconut water as well. I only realized that we were cheated on the 3rd day, when my mother paid just for the coconut water and nothing else. We searched for that tent owner but could not find him!
Anyways, let's get back to my trip experiences during the Digha holiday trip. We booked an Alto car to explore these 3-4 places in Digha.
So, dive in to read my experiences!
Chandaneswar Temple: We started with Chandaneswar Temple first and decided to visit Udaipur Beach while returning from Talsari. As one of the most famous temples in Orissa, this temple is about 6-8 KM away from Orissa. Over the years, we have visited Chandaneswar Temple and offered our prayers. This time as well, there is no aberration to it.
Chandaneswar Temple is a Shiva Temple that is popular for its folklore and mythology related to its creation and history. Devotees across Orissa and tourists visit this temple during a festival hosted by it on the first day of the Oriya calendar each year.
Talasari Beach: Located in Orissa's Baleswar district, Talsari Beach is 10 Km away from Digha. You will find Talasari beach serene and pristine. Hence, it is one of the best places to visit in Digha.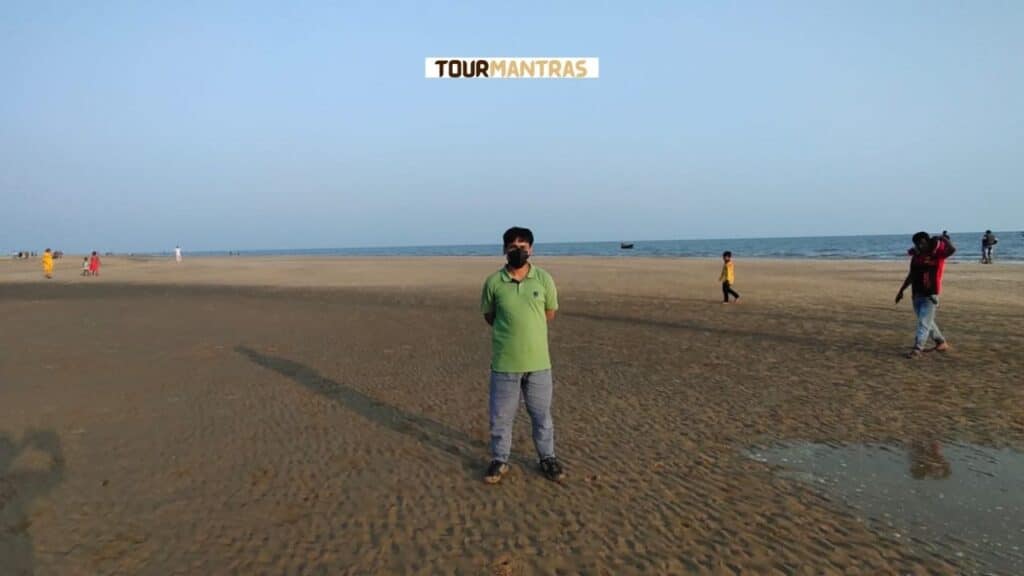 We found this virgin beach loaded with sand dunes, palm trees, coconut trees, cashew trees, a calm atmosphere, and calmer waves. To reach the beach, you will have to cross a channel first. During high tide, the channel is filled with seawater and must be crossed by a boat. In our case, it was low tide. So, my cousin and I decided to travel on foot. You can also hire a bike to explore the beach too!
My cousin's mom and mine refused to cross and stayed back. Meanwhile, we enjoyed the cool breeze, serene scenic beauty clicked pictures before returning.
But, here's something that happened. I slipped and fell while crossing the channel. The end result – I hurt my ankle!
I was in shock and a lot of pain. However, my cousin helped me out to cross the remaining part of the channel, and we had to cut short the Talsari trip. Though my family wanted to return to the hotel, I insisted on visiting the Udaipur beach while returning.
Udaipur Beach: The Udaipur beach in Digha is known as among the most beautiful sea beaches in India. We visited this beach during our Digha holiday trip, which is based on the West Bengal-Orissa border.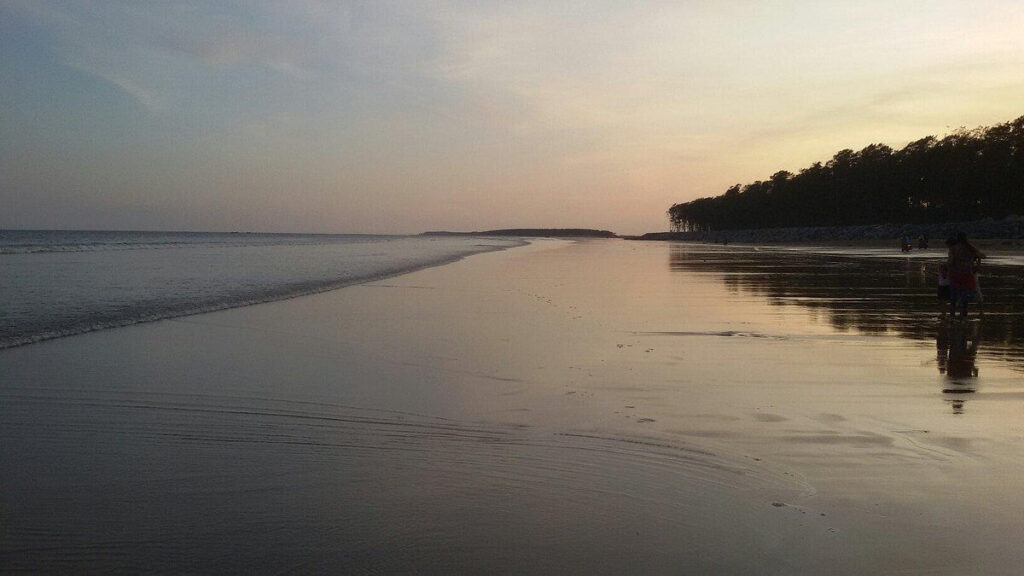 The lonely beach away from the hectic city life is about 3 KM away from Digha Railway Station. We enjoyed the tall casuarina trees, seaside shacks, blue sea waters, the calmness of this place, and picturesque landscape. Also, fishermen happen to sell fried fish and beer on the beach (We are not alcoholics, though).
We decided to visit this beach during our Digha holiday trip because of its scenic beauty and calm atmosphere free from all the city noises. My cousin, his mother, and my mom explored the beach. But, I remained in the car due to my injury.
So, my Digha holiday trip has been full of drama starting from Day 1 to Day 2. To date, I was never injured while traveling. But, something unexpected happened this time.
The learning for me and everyone reading the blog is to ensure more caution while crossing such channels like that of Talsari. Even though there is no water in the channel, the ground still remains soft and slippery during low tide. Your legs seem to dip or stick in the mud or clay. Also, there is a tendency to slip!
I was planning to visit Mohona Beach as well. But, due to my wounded right leg had to cancel it. However, if you plan a Digha holiday trip, add Mohona Beach to your bucket list.
Day 2 of my Digha holiday trip thus ended prematurely. We returned to the hotel, and I decided to take some rest after taking some painkillers. After returning from my Digha holiday trip, it was found that I had a hairline fracture near my ankle on the right leg. And I have not recovered yet! If you are reading this blog, please pray for my recovery!
So, did we return to Kolkata after Day 2? No, we didn't! We stayed for another day as planned and returned on 1st March 2022. I love traveling and getting a chance to enjoy the fresh air and sea; I was not ready to lose 1 day of my Digha holiday trip.
So, what happened on the 3rd day of the Digha holiday trip?
Day 3 of Digha Holiday Trip
On the 3rd day, I actually planned to visit a couple of local places like Amaravati Lake, Natural Aquarium, Science Park & Mohona. However, those plans remained plans only due to my injury. I rested the entire morning till 1 PM afternoon. Then my cousin went to the beach for a regular bath in the sparkling sea waters, and I accompanied him there and my mother. My mother and I took refuge in one of the beach-side shacks or tents enjoyed the picturesque beach views while my cousin bathed.
In the afternoon, at around 2 PM, we lunched and took some rest in the hotel. By 5 PM, I was feeling a little OK as the pain killers started to show some effect. My cousin and I felt that we could at least visit Dheu Sagar and Jahaj Bari before signing off our Digha Holiday Trip.
Dheu Sagar – Dheu Sagar is a recently built amusement park located in New Digha. It is a nice place to hang out with friends and family. But, make sure to visit this park during the evening, say at around 5 – 6 PM. You will be able to enjoy the lighting and various adventure rides inside the park. We paid Rs. 10 entry fee and enjoyed this beautiful park.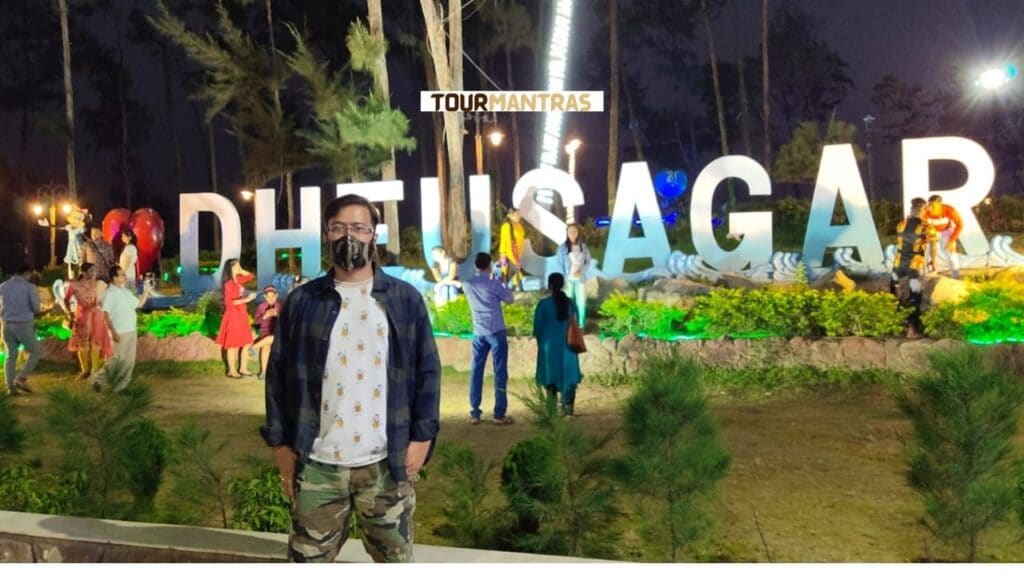 My leg was feeling better, so I could walk a bit. Inside the park, there are various selfie points and food joints to relish on various tasty snacks. We enjoyed some coffee and french fries at one of these food joints and enjoyed the cool and calm atmosphere inside the park. What's accentuates the park's uniqueness is that it is located by the beach-side!
Jahaj Bari – This is a ship-shaped building housing a 7D show, amusement games & restaurants like Koshe Koshe. You can definitely add this place to your bucket list for the Digha holiday trip. We watched the 7D show by paying Rs. 100, and my cousin tried his on a VR-enabled Cricket game for Rs. 100. After that, we clicked some pictures and returned to our hotel as my leg started hurting a bit.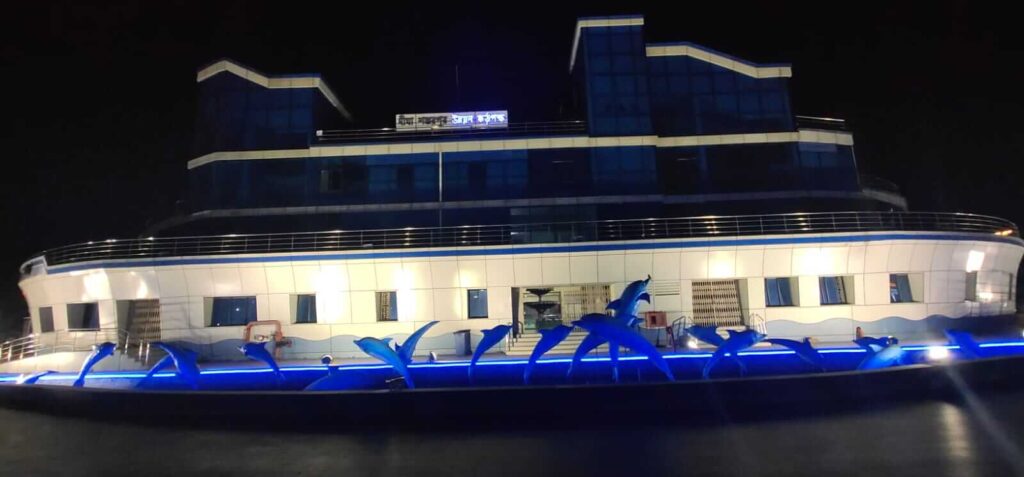 By 9 PM, we again left our hotel for our last dinner of the Digha holiday trip!
Digha Holiday Trip: Hotel in Which We Stayed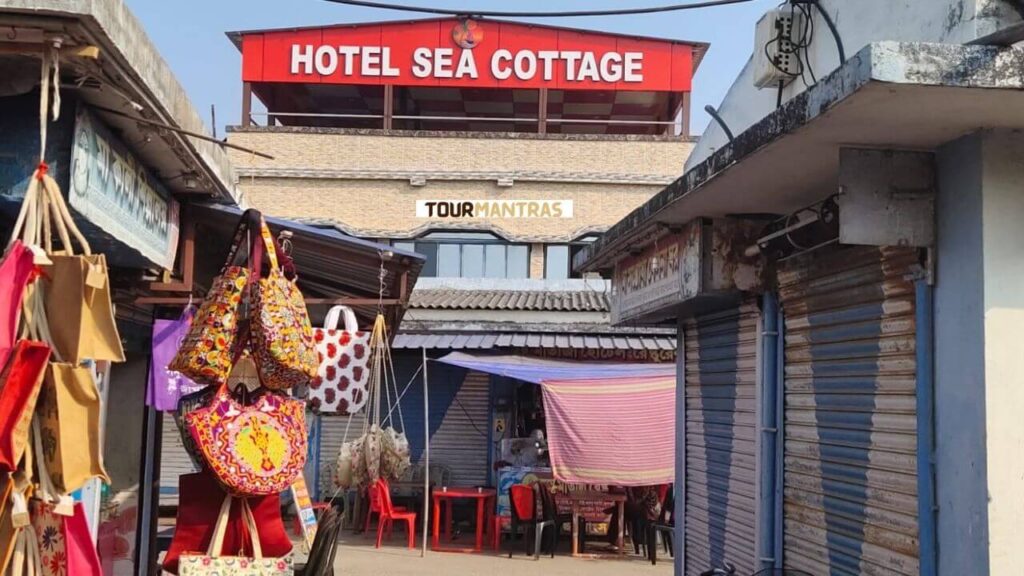 We stayed in Hotel Sea Cottage located in Old Digha just on the beach itself. The hotel boasts of beautifully decorated rooms and a rooftop. Being a beach-side hotel, you can enjoy the scenic beauty of the beach right from the balcony or from the rooftop. There is also provision for AC & Geyser. Along with that, 24/7 WiFi connectivity and TV are some of the other facilities that you can avail of at a budget hotel like this. Hotel Sea Cottage has been the newest discovery of my Digha holiday trip in 2022.
Digha Holiday Trip: Restaurant That I Will Recommend
There are many restaurants in Digha for lunch or dinner. But I will personally recommend Droupodi. Not only their food is awesome, but, their behavior and customer service are top-notch.
Where to Shop During Digha Holiday Trip?
Though I did not purchase anything. My mother and aunt purchased a few souvenirs from the seaside market located adjacent to the Biswa Bangla Park in Old Digha. If you are a shopaholic, you can purchase handicrafts, bags, showpieces, pearl items, and plenty more.
Check Out the Places I Explored in Digha Holiday Trip on Google Maps
Few More Places to Explore in Your Next Digha Holiday Trip
✅ Shankarpur Beach
✅ Mandarmani
✅ Chandpur Beach
✅ Tajpur Beach
Pro Tip: These places are litlle far from Digha. So, you must have time by your side to explore them as well.
Digha Holiday Trip – Approximate Expenses
Here is the detail about approximate expenses incurred by us during our Digha holiday trip. This expenditure is of 4 persons. However, you will get a rough idea of how much it will cost to visit Digha per person.
Digha Holiday Trip Travel Expenses
By Train: You can travel by Tamralipta Express (Howrah-Digha Express). The charges are Rs. 105 for General Class and Rs. 380 for AC chair car. We paid Rs. 105 for each person to reach Digha during our Digha holiday trip.
By Bus: There are plenty of bus services available online. You can directly book them through MakeMyTrip or GoIbibo or Red Bus or any other platform. You can book WBSTC AC buses from https://wbtc.co.in/bus-service/. The charges for bus tickets range between Rs. 250 to Rs. 350 approx. We paid Rs. 250 for each person while returning during the Digha holiday trip.
Digha Holiday Trip Lodging Expenses
We initially booked Bhakti Sagar for Rs 7,400 (for 3 days, Non-AC rooms). This charge is for 2 rooms (Rs. 3,700 each). However, due to the ill-treatment by the hotel authorities, we canceled the booking and got the amount refunded from MakeMyTrip. We then booked Hotel Sea Cottage for Rs. 7,040 (2 rooms for 3 days). These rooms were AC rooms. Check MakeMyTrip or Trivago for hotel price comparison.
Digha Holiday Trip Food Expenses
It had cost us Rs. 400-Rs. 800 on an average for 4 persons during lunch or dinner. Rest depends on the cuisine you ordered, the quantity, and the restaurant. For breakfast, we had to pay Rs. 100 each day.
Digha Holiday Trip – Traveling Expenses
You can book eRickshaws, auto-rickshaws, or cars to enjoy the various tourist places in Digha. We booked an Alto car for Rs. 500 (this is the standard charge to see Udaipur Beach, Chandaneswar Temple, Talsari Beach, and Digha Cashew Garden (You are not allowed to enter, you can only see it from outside).
To explore places like Sankarpur Beach & Mandarmani, it would have cost Rs. 1500. Due to an injury to my leg, we had to cut short the trip to a great extent. If you travel by rickshaws it will cost you somewhat similar.
For local sightseeing, if you stay in New Digha you can easily walk into Amarabati Lake, Jahaj Bari, Science City, and Aquarium. From Old Digha, you will have to avail of a rickshaw service to visit these places and also explore Dheu Sagar. We hired an auto-rickshaw for Rs. 80 to visit Dehu Sagar. While returning we dropped in Jahaj Bari hiring an eRickshaw for Rs. 50. From Jahaj Bari, we hired an eRickshaw again for Rs. 50 to reach Old Digha.
We had to pay Rs. 100 each for watching 7D shows and playing VR-enabled Cricket Game. At Dheu Sagar, we paid Rs. 10 for entry and Rs. 220 for french fries & 3 cups of coffee.
So, for sightseeing, if you are staying in Old Digha, it may cost you around Rs. 150-200 for covering all these places.
Day 1, Day 2 & Day 3 Total Expenses of My Digha Holiday Trip
The total expenses of our Digha holiday trip were:
✅ Day 1: Rs. 2,200 (Starting from home till night in Digha, excluding bus ticket)
✅ Day 2: Rs. 2,080 (Approx)
✅ Day 3: Rs. 2,500 (Approx)
*Train and bus ticket fares are not counted. I have mentioned them already.
Finally……on My Digha Holiday Trip
It's time to conclude our Digha Holiday Trip. On Day 4, we checked out of our Hotel Sea Cottage by 10 AM in the morning. While returning we had to book bus tickets as train tickets were not available. So, I will suggest all of you book train tickets in advance if you are planning for the Digha holiday trip.
We had breakfast and left Digha as scheduled at 11 AM. However, the bus was 2 hours late and we reached Kolkata by 5 PM in the evening. So, I will suggest traveling to Digha by train or car if you want to reach your destination on time.
My Digha holiday trip is a memorable one not because of the mishaps and drama that occurred at the start, middle, and end of the trip. The trip is actually a breather for me due to the prolonged lockdown due to the spread of Omicron and 2nd wave of COVID (Last Year). I enjoyed my stay there starting from bathing in the sparkling sea, food, and places visited.
If you are planning your next Digha holiday trip bookmark this personal travel tale as a reference. Please share your experiences if you have traveled to Digha before. Share your thoughts so that I can plan my next Digha holiday trip better.
Till then happy traveling!
1) How to reach Digha?
If you are planning for Digha holiday trip, you must decide how to travel to Digha first. You can travel Digha by bus, car or train.

2) Which is the best time to travel to Digha?
You can travel to Digha at any time of the year. You can plan your Digha holiday trip during the summers, winter, spring, rainy seasons. However, spring and winter are the best times to travel.
3) Which one is better, Old Digha or New Digha?
New Digha is for people who prefer a lot of crowds and the hustle & bustle of city life. Old Digha is for those who want to chill out for 2-3 days with a relaxed atmosphere around them. Both Old & New Digha boasts of bathing beaches, markets, restaurants, and plenty more.
4) What makes Digha so famous? 
You can plan a Digha holiday trip to enjoy the picturesque landscape, calm and serene atmosphere. You can explore the beaches, mouth-watering seafood, and much more.
5) Who can visit Digha?
You can plan the Digha holiday if you are newly married. Digha is a perfect destination for people who love to spend a weekend enjoying in calm and relaxed seaside place.