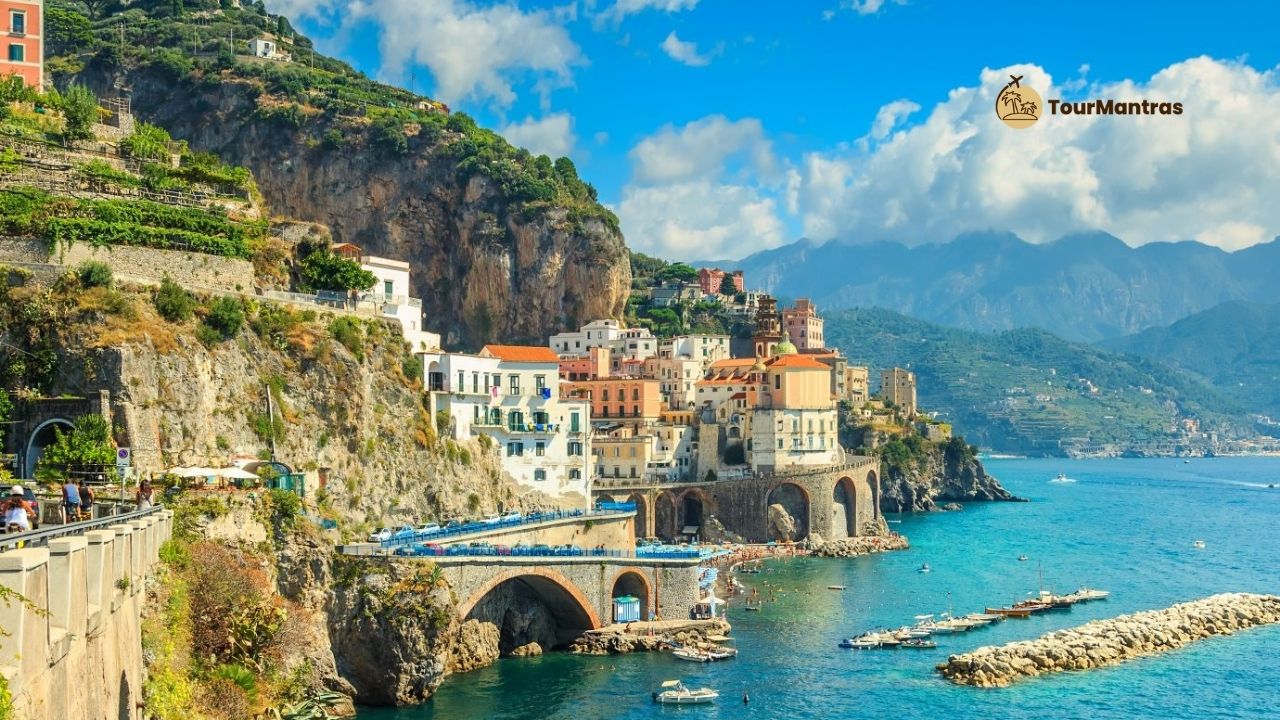 Spring is one of the most beautiful seasons on earth. From the first of March to the first of May, a pleasant spring is delightful. A cool breeze, flowering blooms, and a clear blue sky are some of the best combinations ever for every nature lover. The icy cold places turn into little pleasant places where travellers can enjoy both ice and spring nature.
According to data from ec.europa.eu, the number of people who travel to Europe during spring is one-third less than other seasons in 2019. So the travel costs are a little cheaper during the March to June months. So we will give you a brief idea about European countries where you can travel during spring for the best experiences. Check the list of best travel places in Europe in spring below.
Best Travel Places in Europe in Spring: Croatia
When the flowers start to blossom, Croatia becomes a beautiful natural destination to visit. You can enjoy spending time in blossomy national parks, fabulous beaches, beautiful lakes, and peaceful islands, and can enjoy many outdoor activities like quad safari, Zipline adventure, and cruise. Croatia is one of the best places in Europe in spring.
The temperature during spring fluctuates between 10 to 21℃ between March to May. A complete tour package of Croatia costs between Rs. 90,000 to 1,50,000 (1200 to 2100 USD).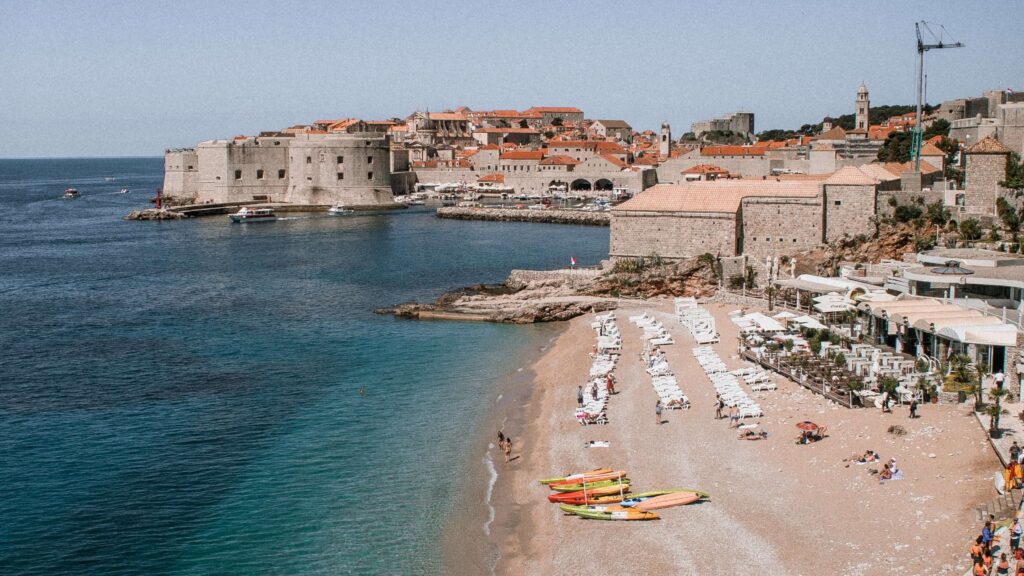 Tourist Attractions in Croatia
✅ Dubrovnik– This location is also known as the 'Pearl of the Adriatic'. The old city walls, Stradun of Dubrovnik, Cathedrals, and Loggia Square are some places where you can visit.
✅ Pula– The most visited place of Pula is The Arena, Brijuni National Park, Temple of Augustus, The Pula Cathedral, etc.
✅ Korcula– Korcula is the famous island of Croatia. Here you can enjoy Pupnatska Luca Beach, Revelin Tower, Town Walls, Kocje, Proizd Island, etc.
✅ Split– The famous Games of Thrones set is here where you can actually visit the organised set. Other than that you should also visit Diocletian's Palace, the Cathedral of St. Domnius, Marjan Forest Park, and Klis Fortress.
✅ Krka National Park– Waterfall, Visovac Monastery, and Kljukica Fortress are some palaces you can enjoy inside the Krka National Parks.
Also, Read –

8 Best Places to Travel in Europe in Summer for that Wanderlust Soul
Best Travel Places in Europe in Spring: Spain
Spring is a perfect time to avoid the extreme heat and enjoy water sports and beach bars. You can save money because transport and hotels are cheaper during spring than in other seasons. The crowd is also meagre during these times. So we have included this beautiful country in the list of best travel places in Europe in spring.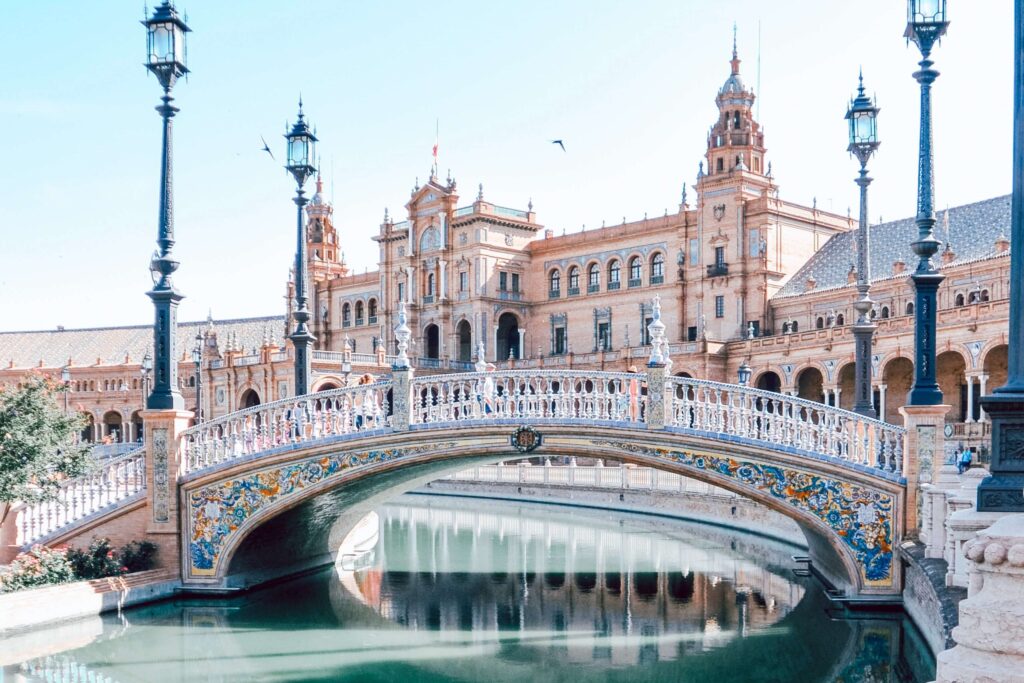 From the beginning of March to the end of June, the temperature fluctuates between 26 to 28℃, the best time for travelling. The Spain trip cost is a little cheaper than other seasons, which starts from Rs. 65,000 to 1,00,000 (900 to 1400 USD).
Tourist Attractions in Spain
✅ Sevilla– Museo de Bellas Artes, Barrio Santa Cruz, Real Alcázar, and Catedral de Sevilla are some exciting places you should visit.
✅ Barcelona– It is an amazing city of art and architecture. The places you need to visit in Barcelona are Casa Mila, Basilica de la Sagrada Familia, Palau de la Música Catalana, Casa Batllo etc.
✅ Granada– Granada is an inherited rich Islamic architecture. Alhambra, Capilla Real de Granada, Catedral Santa María de la Encarnación, and, The Banuelo are some unique places.
✅ Madrid– Museo Nacional del Prado, Royal Palace de Madrid, Santiago Bernabéu Stadium, El Retiro Park, and Plaza Mayor are some must-visited places in Madrid.
✅ Majorca– Alcudia's Old Town, Puerto Portals, The Hilltop Town and Monastery of Valldemossa, Llucmajor Beaches, and Arta's Picturesque Historic Town are some places you need to visit.
Best Travel Places in Europe in Spring: Greece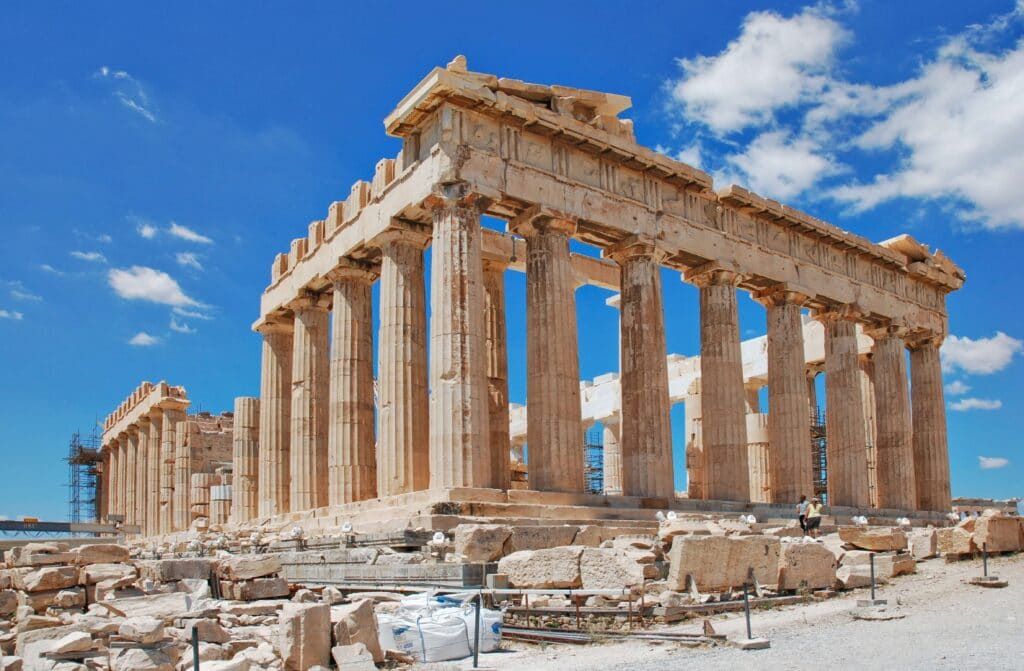 Spring is the best time to visit Greece due to the increase in temperature and few crowds. March can be a little cold, but starting in April, the weather becomes most favourable for everyone. Hiking and river sports are trendy in Greece in spring and summer. It is one of the best travel places in Europe in Spring.
The temperature of the April and June months in Greece remains between 16 to 26℃. A tour package of Greece approximately costs between Rs. 1,15,000 to Rs. 2,00,000 (1300 – 2700 USD).
Tourist Attractions in Greece
✅ Corfu– Corfu is a popular tourist island. Kassiopi, Paleokastritsa Beaches, Glyfada, and Canal d'Amour are the main tourist places from where the city gets maximum revenue.
✅ Athens- Athens is the capital city of Greece whose glorious history attracts travellers. The Acropolis, Ancient Agora, The Roman Library, Olympieion, etc., are some must-visit sights in Athens.
✅ Mykonos– Crystal clear sky, blue waters, and bright sunshine Mykonos attracts people from all over the world.
✅ Santorini– It is known as Greek Paradise for newlywed couples. Fira, Oia, Caldera, Red Beach, etc., are some worth explorable sites you need to visit.
✅ Crete– It is also a beautiful island with amazing beaches and natural wonders. Agios Nikolaos, Chania, Samaria Gorge, Rethymnon, and Preveli Beach are some best travel destinations.
Best Travel Places in Europe in Spring: Portugal
Summer can get very warm; for this reason, many travellers prefer to travel to Portugal during Spring for coldly warm weather. It is the best time to explore the Portugal islands and cities. So, we have included Portugal in the list of the best places in Europe in Spring.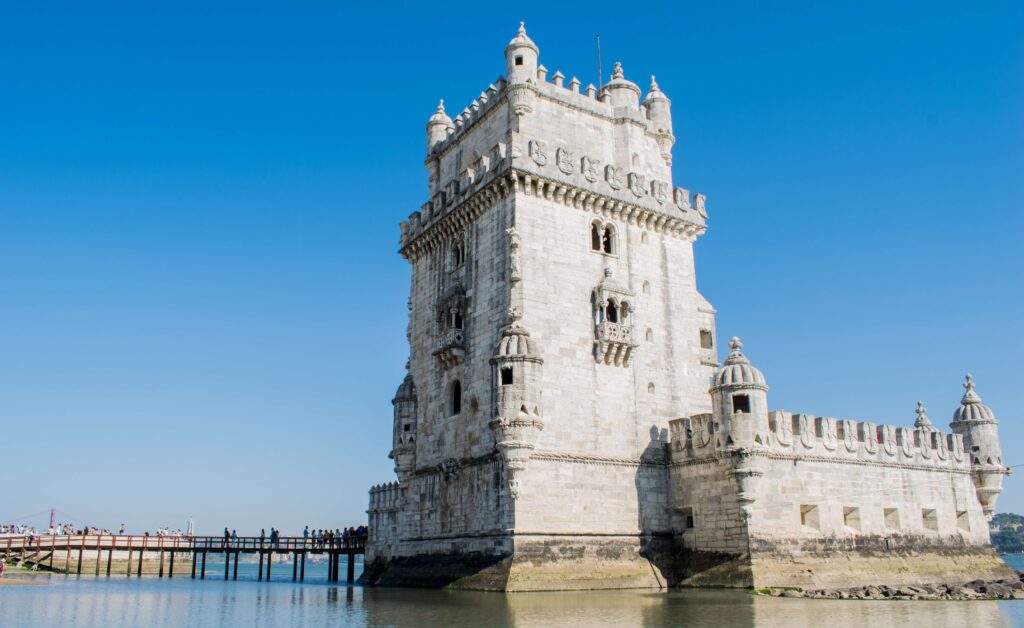 In April, the average daily temperature varies from 15 to 18℃. For a solo traveller, the cost can be as low as Rs. 90,000 and as low as Rs. 1,50,000 (1200 to 2100 USD).
Tourist Attractions in Portugal
✅ Porto– The buildings in Porto are very famous, many buildings are declared as UNESCO World Heritage sites. Palácio da Bolsa, Igreja de São Francisco, Se (Cathedral), etc, are some unique architecture.
✅ Lisbon– World-famous museums, historic monuments, and priceless art museums are located in Lisbon city. If you travel to Lisbon, you need to visit Castelo de São Jorge, Museu Calouste Gulbenkian, and Museu Nacional de Arte Antiga.
✅ Faro District– Parque Natural da Ria Formosa, Igreja da Nossa Senhora do Carmo, Milreu and Estoi, Teatro Lethes are some famous destinations you need to experience.
✅ Lagos– This town has the scenic beauty of the coastline. There you can enjoy beaches, Ponta da Piedade, Kayak Tours along the Coast, and Igreja de Santo António.
✅ Madeira– The city is full of natural wonders. Pico do Arieiro, Casada de Risco, Monte Palace Madeira, Pico Ruivo, and Levada Caldeirao Verde are some amazing sightseeing.
Travel Places to Visit in Europe in Spring: France
France is one of the best travel places in Europe in Spring. The country looks different at different times. National parks, beaches, and cities are at their charm during spring. This blooming season is another beautiful season to explore. In the list of best travel places in Europe in spring, France comes in fifth place as it has beautiful places with enjoyable weather.
The temperature is also very mild, which differs from 12 to 20℃. During spring the tourist spots are not crowded, so the transport and other trip-related costs are cheaper. A 4-5 night France trip may cost you from Rs. 80,000 to 1,00,000 (1100 to 1400 USD).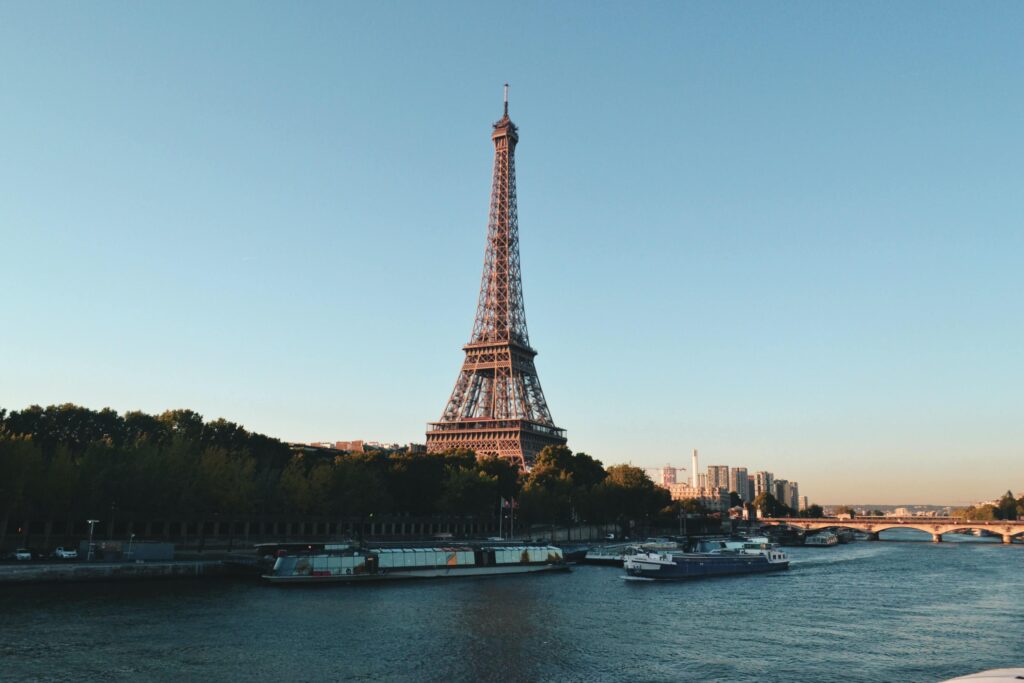 Tourist Attractions in France
✅ Marseille– Marseille has some exciting places to explore like Basilique Notre-Dame de la Garde, Château d'If, MuCEM, Abbaye Saint-Victor etc.
✅ Paris– It is a well-known city but a city of the dream for every traveller. Paris has become a famous destination over the years. The wonderful Eiffel Tower, Louvre Museum, and Arc de Triomphe are some places you must visit.
✅ Bordeaux– The urban charm is pretty dominant in this town. So you can get in touch with the urban architecture by visiting Cathédrale Saint-Andre, Le Grand Theatre, and Place de la Bourse.
✅ Lyon– Roman history and Spanish rich heritage are vibrant in these areas like Catedral de León, Museo Casa Botines Gaudi, and Palacio de los Guzmanes.
✅ Nice– It has been a popular vacation destination in Europe since the 1820s. Promenade des Anglais beaches, Musee d'Art Moderne et d'Art Contemporai, Cathedrale Orthodoxe Russe Saint-Nicolas are most visited places.
Best Travel Places in Europe in Spring: Norway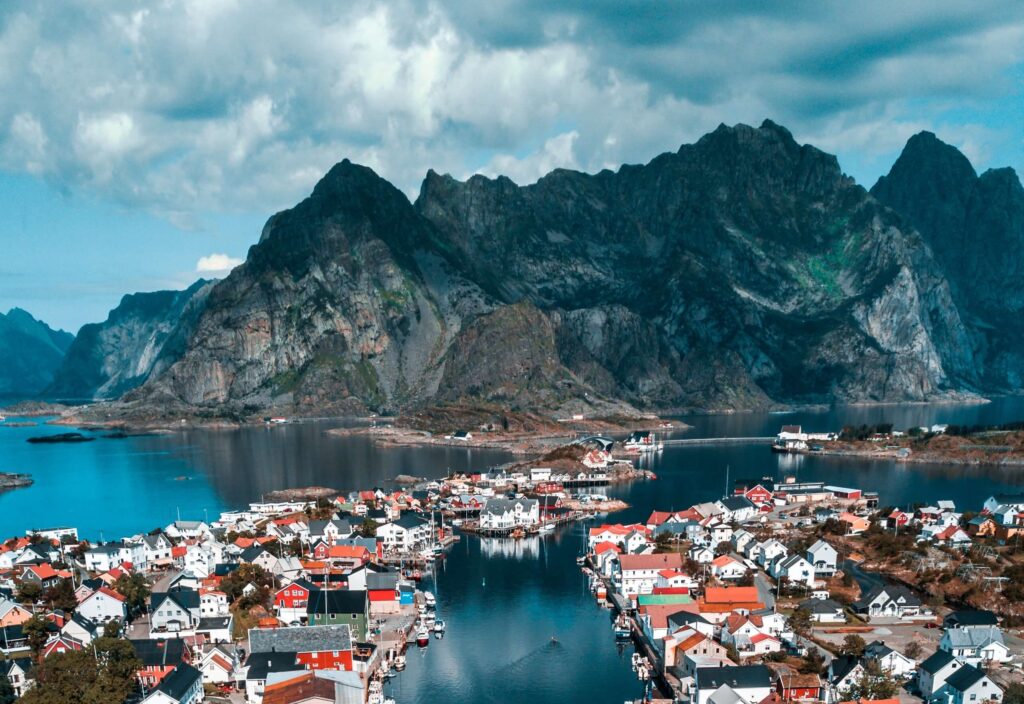 When we hear Norway, the icy cold mountains, and frozen lakes are in our minds. But spring comes earlier in Norway, and days are a little warmer. Trees and flowers are virtually exploding all around Norway. Mountain hiking is the most desirable thing travellers love to do. Traditional and seasonal foods of Norway are also the best delicacies to enjoy during spring.
You have to pack fewer sweaters and more waterproof jackets, as the temperature is 12 to 20℃, but the weather is wetter than in winter. For a nine-day visit to Norway, the trip costs Rs. 2,00,000 to 3,00,000 (2700 to 4100 USD).
Tourist Attractions in Norway
✅ Oslo– In Oslo, you can gather knowledge and also enjoy the cultural history of Norway from Akershus Fortress, Royal Palaces, Kon-Tiki Museum.
✅ Bergen– Bergen is one of the largest cities with beautiful natural places. If you visit Bergen, you must visit Bryggen Hanseatic Wharf, Mount Floyen (Floyfjell), KODE Museums, and Mount Ulriken. It is one of the best places in Europe for camping.
✅ Trondheim– Trondheim is the oldest city in Norway where you can experience awesome places with ice skiing. The amazing places are Nidaros Cathedral, Kristiansten Fortress, Archbishop's Palace and Museum, Tyholttarnet.
✅ Flam– People love this town for its natural scenery all over the area. Brekkefossen, Flam Hiking As, Rjoandefossen, Njoard are the best scenic places to visit.
✅ Geirangerfjord– The best place in Norway is Geirangerfjord. The resorts and lodges are built on the mountain edge so the view is mindblowing. Here Geirangerfjord, seven sisters, skywalk, Flydalsjuvet, and Skagefla are some amazing places.
Best Travel Places in Europe in Spring: Hungary
Hungary in spring is the most fantastic thing one can ever explore. Less crowds, colourful flowers, unique cultural activities, and delicious food are something that everyone wants to experience on a trip. Budget-friendly rates and less crowded places are other reasons to visit Hungary during the blossom season. This is one of the reasons to include the country in the list of the best travel places in Europe in spring.
The temperature may fluctuate between 4 to 22℃ with cool breezes from March to May. The Hungary trip costs Rs. 90,000 to 1,50,000 (1200 to 2100 USD).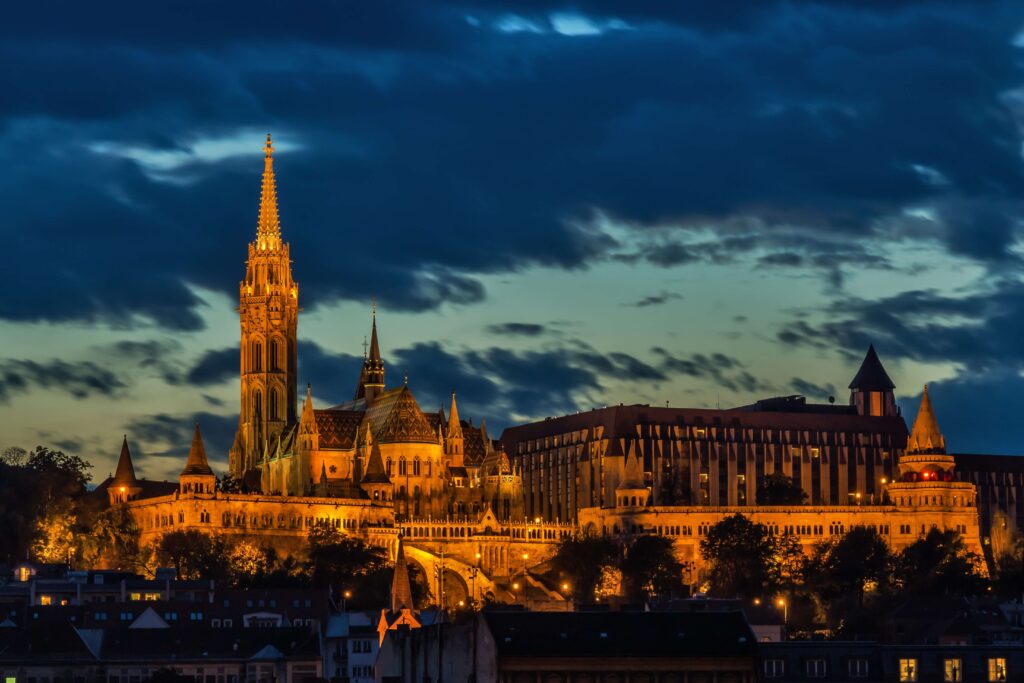 Tourist Attractions in Hungary
✅ Budapest– It is a dynamic city where you can spend more than you have expected. Buda Castle & Castle Hill, Hungarian Parliament Building & Crown Jewels, St. Stephen's Basilica, Fisherman's Bastion, and Matthias Church are some popular points.
✅ Eger– Eger Castle, Bolyki Pinceszet, Dobo Square, and Torok Kori Minaret are some most visited places in Eger.
✅ Pecs– A city with rich Christian culture from ancient times is Pecs situated southwest of Hungary where you can explore the Early Christian Mausoleum, Pecs Cathedral, Szechenyi Square, Mosque of Pasha Qasim.
✅ Debrecen– The trip to Debrecen can make you feel comfortable as it is far from Budapest. Hortobágyi National Park, the Great Reformed Church, the Deri Museum, and The White Rose of the Revolution are some of the symbols of Debrecen.
✅ Lake Balaton– Lake Balaton is the city of some interesting palaces. These are Szigliget Fortress, Vineyards, Tihany Town, Pannonhalma Archabbey, and Lake caves.
Best Travel Places in Europe in Spring: Poland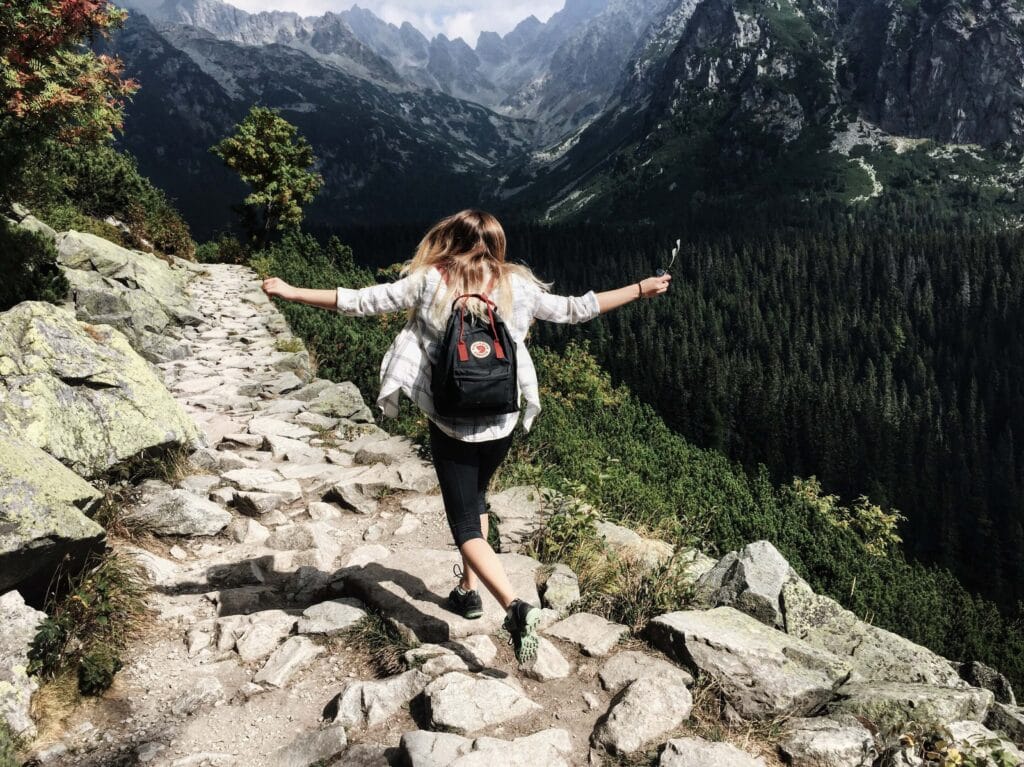 Poland is another country that is included in the list of the best places in Europe in Spring. All year round, Poland is a beautiful country you can travel to. But in spring, travellers can experience snow-covered areas with few bright days. Numerous activities like hiking, trekking, and rafting are things you can enjoy in the spring vacation.
The temperature becomes 15 to 20℃ from May to June. During March, the weather is a little cooler, and the activities do not open. A week's trip to Poland costs between Rs. 1,15,000 to Rs. 2,00,000 (1400 to 2700 USD).
Tourist Attractions in Poland
✅ Krakow- Historical sites, museums, and palaces are highly visited places. Examples- St. Mary Basilica, Royal Castle, Historyland, Wawel Cathedral, etc.
✅ Warsaw– The top attractive places are the Polin Museum, Rynek Starego Miasta, Castle Square, and the Museum. The nightlife and cuisine are something that people like to visit.
✅ Gdansk– A beautiful harbour city with amazing explorable sites like historical sites near Motlawa River, St. Mary's Basilica, Ulica Długa, and Oliwa Cathedral.
✅ Wroclaw– Wroclaw is the most beautiful city in Europe with medieval castles. The best attraction sites are Racławicka, Centennial Hall, Ostrów Tumski, Jas & Malgorzata.
✅ The Tatra Mountains– You can do numerous things in Tatra Mountain like trekking, hiking, river rafting, and exploring national parks.
Final Words on Top 8 Best Places to Travel in Europe in Spring
Little cool breeze, mild sunny days, and the lovely weather in spring can make you feel energetic during travel in Europe. We have included the top 8 best places in Europe in Spring. I hope the summary of Spring in Europe will help you while travelling. The amazing thing about spring is that it's the opening season of tourist spots in Europe, so hotels, transport, and food are a little cheaper than usual. So we prefer spring as one of the best seasons to travel to Europe.
Read More –
Best Travel Places in Europe in Spring – FAQs
1) Where should I go in Europe in spring?
Croatia, Poland, Spain, Greece, Hungary, Norway are some of the best travel places in Europe in spring.
2) Is Europe warm in April?
As Europe is situated slightly towards the northern hemisphere, April is not as warm as compared to other places in the world. At the same time, the temperature of Europe in spring is a little higher than in the winter season. This makes April quite comfortable.
3) Where is Europe warm in April?
From the list of best travel places in Europe in spring, Greece and Spain are a little warmer in the month of April.
4) Is March the right time to travel to Europe?
Comparing the temperature and weather after the summer season, March is the right time to travel to Europe.
5) What are the best European countries to visit in March?
Greece, Croatia, Poland, Spain, France are some best European countries in April.