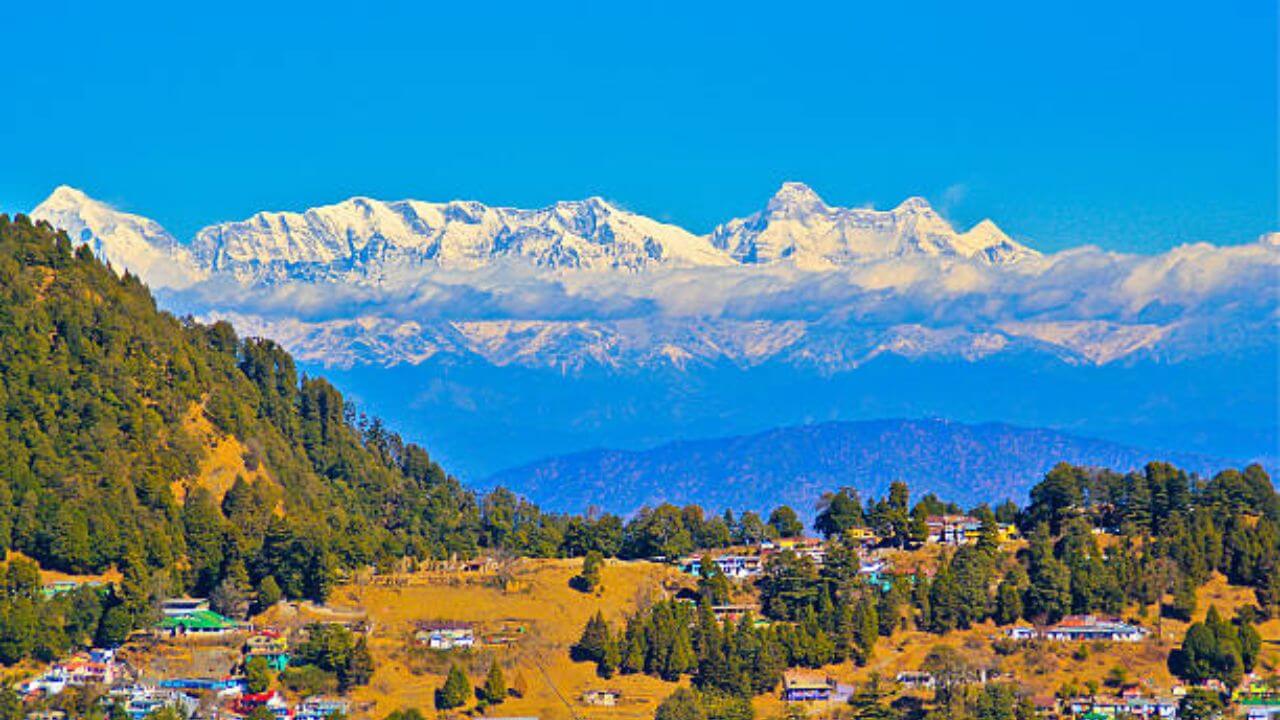 With spectacular waterfalls, majestic mountains, blossoming floral diversity, and the fragrance of lush green foliage in the air, Uttarakhand has got it all. Ranging from peaceful panoramas to busy marketplaces, my Uttarakhand trip has everything to fascinate you for the ultimate holiday to heaven on earth.
The story dates back to 2010 when my parents had planned this wonderful trip to Uttarakhand with 12 other people. Back then, I was in the 11th standard and was too young to understand the concept of travel blogs. Even, the travelogue concept was not so popular during those days. But, all I remember is I was very excited about the Uttarakhand trip and was ready to make the most of it.
This blog is for all the adventure junkies out there who never miss an opportunity to travel. I will start with the places one by one for you to grasp each of my experiences completely. So, all the nomads out there, get ready for the ultimate wanderlust.
Uttarakhand Trip: Sharing My Travel Experiences
1. Haridwar
A sacred abode adorned with aarti chants, lamps, candles, Diyas, and devotees is what describes Haridwar perfectly. We arrived early in the morning at Haridwar. This was our first stop during the Uttarakhand trip.
The mystic aroma of burning camphor in the air, chimes of bells, religious chants, and worshippers everywhere are enough to make my soul happy. Being an atheist that spiritual environment somehow awakened a plethora of obscure senses within me. For an instant escape to the land of devotees, Haridwar is the perfect destination in Uttarakhand.
Distance from Delhi: 219.9 km
Must-visit places in Haridwar: Har ki Pauri, Vishnu Ghat, Birla Ghat, Bhuma Niketan, Swami Vivekanand Park, Daksha Mahadev Temple
Ideal time duration to stay: 3 to 4 days
Things to do: Evening aarti, temple hopping, savouring delicious meals at "
Dada Boudir Hotel"
Places in Haridwar: The Starting of Our Uttarakhand Trip
I always believe in the "Go See Write" theory, and as I wandered around the land of the religious abode, somewhere in my mind, I was planning to write about my experience somewhere. So, here I am. Check out some of the best places to visit in Haridwar.
Har Ki Pauri
One of the most religious Ghats in India, Har ki Pauri is the ultimate destination of devotees. And, the evening Aarti at Har ki Pauri can truly calm your mind, even if you are an atheist like me. We went to seek the blessings of the Holy Ganga.
The mode of the offering was quite different from conventional temples. Here, you can convey your prayers by flowing Diyas and flowers in Ganga. And, being a daughter of religious parents, I did not fail to click my parents worshipping the Ganges.
Vishnu Ghat
As Haridwar is famous for its Ghats, we did not miss the main ones. Vishnu Ghat lies close to Har ki Pauri and is less crowded than other Ghats. It is one of the cleanest Ghats in Haridwar as you can see in the image below.
Birla Ghat
Similar to Har ki Pauri, Birla Ghat is a tranquil and pristine site for devotees. Being adjacent to Vishnu Ghat, Birla Ghat allows worshippers to dip into the water and wash their sins. But, being an artist, I was far from those activities.
As you can see in the image, there are security barriers installed near the stairs to prevent devotees from drowning while dipping in the strong current of Ganga.
Bhuma Niketan
Generally, I am not much into pilgrimage spots, but I found Bhuma Niketan to be amazing. The best part – the way guides narrate the ancient tales seems excellent. The holy shrine houses sumptuous idols of various gods and goddesses.
Nevertheless, the primary attraction of the pilgrimage centre is the carvings of Shiva and Parvati beautifying the entry gates. Check it yourself.
Swami Vivekanand Park
What I mostly found amazing in Swami Vivekananda Park is the giant colossal statue of Lord Shiva that you can even see from a distance. While proceeding on my Uttarakhand trip from Haridwar, this significant feature attracted me and I decided to stop for a picture.
Uttarakhand Trip: Daksha Mahadev Temple
Being the abode of Lord Shiva, this temple is a centre of attraction during the monsoons. As we visited during winter, the temple was quiet and peaceful to visit with a minimal crowd.
2. Uttarakhand Trip: Rishikesh
The small town encircling the Garhwal Himalayas, Rishikesh, remains one of the most well-known tourist destinations in Uttarakhand travels. Being a significant pilgrimage site for the Hindus, my grandmother was truly excited to visit this place. This was our next stop after Haridwar. Being around a few minute's ride from Haridwar, we booked a car to reach Rishikesh.
Popular as the 'Yoga Capital of the World', this pilgrimage site lures a considerable number of religious travel enthusiasts from all across the globe. It is likewise a hotspot for travellers where they can luxuriate in activities such as cliff jumping, bungee jumping, rafting, and much more. Back then, I was too young for my parents to allow me such experiences. Regrets! Yeah, I feel that. But, those activities are on my travel list for the next time.
Distance from Haridwar: 21.1 km
The ideal time to visit: September to June
Must-visit places in Rishikesh: Ram Jhula, Laxman Jhula, Triveni Ghaat, and Tera Manzil Temple
Things to do: Yoga Classes, White Water Rafting, Bungee Jumping, Air Safari
Nomadic Escapes in Rishikesh During My Trip to Uttarakhand
Being the second destination on my list of Uttarakhand travels, Rishikesh has some majestic places to boast of while you are on a trip to Uttarakhand. Take notes from my idyllic escapes to the most beautiful places in Rishikesh.
Triveni Ghat
Triveni Ghat remains a convergence of three divine rivers of India, specifically, the Yamuna, the Ganges, and the Saraswathi. I am lucky to have toured this astonishing place as the site is truly breathtaking for the explorer in me.
Trailing on the stream banks of the Ganga, Triveni is famous for a divine dip to the Ganges. We went down the stairs in the Ghat and felt the waters. Trust me! An environment encircling cold breeze, strong river currents, majestic mountains, and divine aromas of the incense sticks is enough to make you high.
Lakshman Jhula
After admiring the beauty of Triveni Ghat, we went to the Lakshman Jhula. Back then, the place was open for tourists to experience the hanging bridge. I am fortunate to have felt the turmoils in my tummy that caused due to the bridge movements.
Note: Lakshman Jhula has been closed for the last few years due to exceeding carrying capacity.
This popular hanging bridge connects two villages (Tapovan, Tehri Garhwal District, and Jonk, Pauri Garhwal District) across the Ganges. It's only a few kilometres from Triveni Ghat and was a wonderful place to click pictures for your travel journal.
Tera Manzil Temple
Tera Manzil Temple or the Trimbakeshwar Temple is the thirteen-story temple opposite Lakshman Jhula. Enshrining different idols below one roof, this temple boasts impressive architecture. Additionally, I found the Yoga Centre to be wondrous at the peak of its 13th floor.
Ram Jhula
To me, Ram Jhula is an iconic landmark during the Uttarakhand trip that exists in the form of a suspension cable bridge. Spanning 750 feet, this bridge is a splendid work of engineering. Serving as the union source to numerous divine ashrams surrounding the Ganges, Ram Jhula triumphs of a premium bird's eye view of calm and serene nature and the sacred Ganges at the spectacular foothills of the Himalayas. From my perspective, it is a must-visit place if you take a trip to Uttarakhand.
3. Dehradun
After experiencing the splendid sites of Rishikesh, Dehradun was the next stop in the Uttarakhand travel plan. Tucked within the Doon Valley, Dehradun happens to boast a lot of picturesque views for tourists looking forward to visiting the hills.
With the border of the Ganga and Yamuna rivers in the foothills of the Himalayas, Dehradun is the ideal getaway from Rishikesh. There are several interesting things to experience in Dehradun, however, to observe the best of natural creation, you can go cycling throughout the town. Dehradun is one of the most astounding tourist spots near Rishikesh 100 km.
Distance from Rishikesh: 45 km
Must-visit places in Dehradun: Tiger Falls, Robber's Cave, Sahasradhara, and Rajaji National Park
Ideal Time to visit: March to June
Things to do: Nag Tibba Trek, Robber's Cave, Tiger Falls
Places to Visit in Dehradun
Travelling was always an escape from the mundane routine in my life. And, with the panoramic eye-soothing destinations of Dehradun, I was more than happy and grateful to my parents for taking me on this trip to Uttarakhand. Presenting one of the most beautiful places in Dehradun.
Lacchiwala
A famous picnic stop, Lacchiwalla is renowned for its rich green foliage unspoiled by human action. It is positioned at a short car drive away from Dehradun. And, believe me! Staying over at those picturesque hotels and cottages was truly amazing. The shot below can provide you with enough ideas of the serenity of the place.
Sahastradhara
Sahastradhara remains one of the most well-known traveller stops in Uttarakhand. Situated approximately 14 km from the main town of Dehradun, these Sulphur Springs are deemed to have significant medicinal properties.
Note: Take a mask along as the smell of water is quite strong to block your nose.
The cascading waterfalls look amazing when seen from a distance. But, if you want, you can always take a dip or experience the waters from a close distance.
A bath in this Sulphur-rich water feels refreshing and cold and is believed to have exceptional therapeutic benefits.
Joy Land Water & Amusement Park
Owing to its adventure activities and exciting rides, Joy Land Water & Amusement Park, located in Sahastradhara experiences a considerable traveller influx, particularly in summer.
4. Mussoorie
After spending a night at the finest vintage cottage of Dehradun, we headed towards Mussorie after having breakfast at a Punjabi Dhaba by the highway. Aloo ka Paratha, Raita and Masala omelette in the cold weather were truly delicious for the glutton in me.
We reached Mussorie after an hour and truly speaking, the place needs no introduction. The charming natural beauty undoubtedly makes Mussorie one of the fittest destinations for travel junkies.
Recognised with the phrase "The Queen of Hills", Mussorie has various colonial-era structures that are nevertheless working properly. Furthermore, this hilly travel destination has been enticing all sorts of visitors including families, friends, solo travellers, and honeymooners.
Distance from Dehradun: 33.5 km
Must-visit places in Mussorie: Gun Hill Point, Company Garden, Mossy Falls, Lal Tibba Scenic Point, Kempty Falls, Mussoorie Lake
The ideal time to visit: April, May, June, and August-September ( for snowfall )
Things to do: Trekking, Boating, Fishing, Hiking
Local Adventure at Mussorie: Places to Visit During Your Uttarakhand Trip
The Queen of Hills was the perfect getaway for me as I loved the serenity of the places surrounded by lush green hills and clouds all around.
Also, take a look at the places we have visited in Mussorie.
Kempty Falls
The term 'Kempty Falls' is obtained from the words 'camp and tea' intimating the extensive tea gatherings that were previously arranged here in the evenings ultimately leading to the popular name Kempty.
Covered by rich green peaks, I found Kempty Falls to be one of the finest places to visit in Mussoorie.
Mussoorie Lake
Mussoorie Lake is the freshly developed tourist spot developed by the City Board. Furthermore, an ideal spot for boating and picnics, this lake draws a huge number of tourists throughout the year.
If you are looking forward to stealing some romantic moments with your partner, Mussorie Lake also serves to be the perfect abode for lovers like you. Furthermore, the regional costume-trying sessions can be one of your best memories.
Entry fee: Rs 15 per person
5. Nainital
Nainital needs to introduction as there are various things to attract the visitor in you. Ranging from watching the sunset at Tiffin Top to boating in Nainital, there are a plethora of things to satisfy your traveller's soul. Furthermore, you will never be bored with the enchanting beauty of the place.
Distance from Mussorie: 312.8 km
The ideal time to visit: March to June
Must-visit places in Nainital: Tiffin Top, Naini Lake, Naina Devi Hindu Temple
Things to do: Boating, Ropeway rides, Horse trekking
Also, here's come the end of my trip to Uttarakhand. I Hope, the traveller in you will love it.
Overview of My Uttharakand Trip Expenses
Food: Rs 12000 ( for 7 days for 12 people )
Transport: Rs 8000
Accommodations: Rs 10000
Want to share your story? Subscribe to our blog to let us know about your beautiful experiences.
FAQ
1) Which is the best time to visit Uttarakhand?
March to April and September to October are considered as the best time to visit Uttarakhand
2) How many days are sufficient for Uttarakhand?
It depends on which of the destinations you want to visit. But on average 7 to 8 days are enough to cover one part of Uttarakhand
3) Do we need PCR test to enter Uttarakhand?
Passengers travelling to the state of Uttarakhand by air shall need to provide an RT-PCR/Tru- eNAT/CBNAAT/An gen test nega ve test report done 72 hours prior to scheduled departure for the stat
Recommended Posts: